GOLO vs Wegovy: Differences, Pros and Cons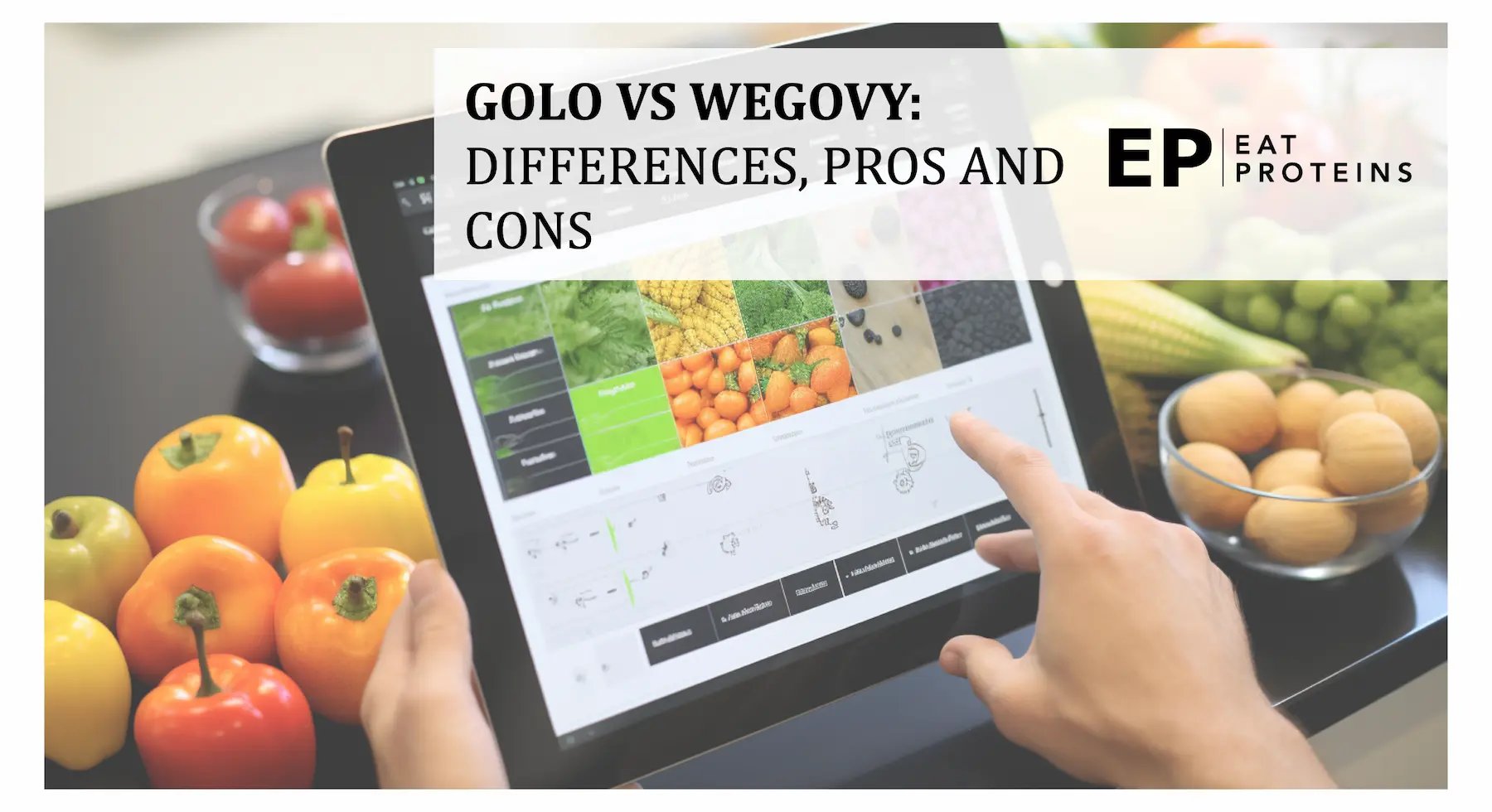 The GOLO refers to a weight management program that focuses on gradual weight loss and balanced nutrition through homecooked meals and herbal supplements called GOLO Release. With a point-based system and a calorie range of 1,300-1,800 per day, individuals can choose foods from all four macronutrient groups. On the other hand, Wegovy (semaglutide) is a new weight loss drug for chronic weight management. It is a GLP-1 receptor agonist that promotes glycemic control and weight loss.
When deciding between GOLO and Wegovy, it's important to consider two key factors: how they work and their classification as either a supplement or medication. Wegovy is a medication containing Semaglutide 2.4 mg (0.75 mL), which has been approved for obesity treatment and has shown significant effectiveness in reducing body weight and improving diabetes management. On the other hand, GOLO is primarily a dietary supplement that includes active ingredients such as chromium, zinc, and magnesium. It also provides a comprehensive 30-day meal plan, a variety of recipes, and the GOLO Metabolic Plan, which focuses on lifestyle changes to naturally improve metabolism and weight.
While Wegovy has received FDA approval and has undergone extensive studies showing a significant reduction in body weight, GOLO is a weight loss option that does not require the same level of medical scrutiny. In a clinical trial, 77.1% of participants on Wegovy achieved a weight loss of at least 5% at week 104, compared to only 34.4% in the placebo group. However, Wegovy does come with potential gastrointestinal side effects reported by 82.2% of trial participants and is recommended for individuals with a specific BMI.
The differences between Wegovy and GOLO, as well as the lack of extensive research on the effectiveness of weight loss supplements like GOLO, contribute to variations in cost, insurance coverage, outcomes, availability, and potential side effects. Therefore, choosing between GOLO and Wegovy is not a simple decision. This article will examine the distinctions between Wegovy and GOLO and also discuss alternative options.
What is Wegovy?
Wegovy is an FDA-approved weight loss drug that is administered subcutaneously once a week via an injection pen. It contains Semaglutide 2400 mcg (750 microliters), a modified peptide similar to glucagon-like peptide-1 as the active ingredient. This medication is used for long-term weight management in adults who are obese or overweight. It has shown significant efficacy in reducing body weight in clinical trials.
According to a 2021 study conducted by John P. H Wilding from the University of Liverpool, once-weekly semaglutide at a dose of 0.24 g, in combination with lifestyle intervention, was found to be effective for weight loss. The study involved 1,961 adults with obesity who did not have diabetes.
The participants who received Wegovy experienced a mean change in body weight of -14.9% compared to -2.4% in the placebo group. Additionally, a higher percentage of participants in the semaglutide group achieved weight reductions of 5% or more, 10% or more, and 15% or more compared to the placebo group, as shown in this diagram.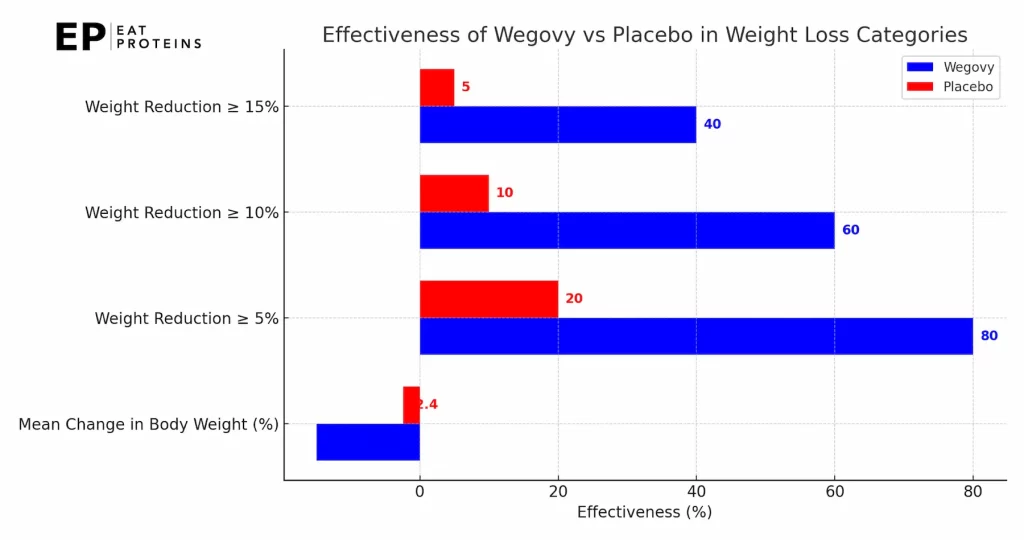 The fundamental difference between Wegovy and GOLO is the frequency of administration. Wegovy is administered once every 7 days through a subcutaneous injection. On the other hand, GOLO is taken in the form of a pill (capsule) three times per day, during, before, and after meals. This means that Wegovy is given less frequently compared to the multiple daily doses of GOLO.
The main benefit of Wegovy is its ability to effectively promote weight loss. This is particularly important as obesity is a widespread issue in the USA and is linked to numerous life-threatening conditions. A recent study conducted in 2022 by Gurdeep Singh from Our Lady of Lourdes Memorial Hospital revealed that Wegovy has shown promising results in managing blood sugar levels and facilitating weight loss in individuals with or without type 2 diabetes. 
The main drawback of Wegovy is its potential for side effects. Common side effects include gastrointestinal issues such as nausea, diarrhea, and vomiting. Some patients may also experience low blood sugar levels, which can lead to symptoms like dizziness, fatigue, and confusion. Additionally, Wegovy is a prescription medication that requires regular injections, which may be inconvenient or uncomfortable for some individuals.
What is the GOLO?
GOLO is a weight loss diet developed by doctors, dietitians, and health professionals, known as the GOLO for Life Plan. According to the GOLO website, Release has been clinically proven to support weight loss through its proprietary formula of 10 ingredients. It is designed to improve metabolism, balance hormones, and help control sugar cravings and hunger, while also minimizing muscle loss.
In a 13-week pilot study conducted in 2019 by Robert J. Buynak, the GOLO diet, augmented with the Release supplement, showed significant benefits in weight loss and other key health metrics. Participants on the Release supplement lost an average of 6.07 kg (approximately 13.36 pounds), significantly outperforming the 3.38 kg (approximately 7.45 pounds) lost by the placebo group.
Additionally, the study demonstrated that the supplement not only reduced waist circumference by 7.26 cm but also significantly lowered diastolic blood pressure by 4.11 mmHg and improved insulin resistance markers, with a 27% reduction in HOMA-IR levels, as shown in this diagram.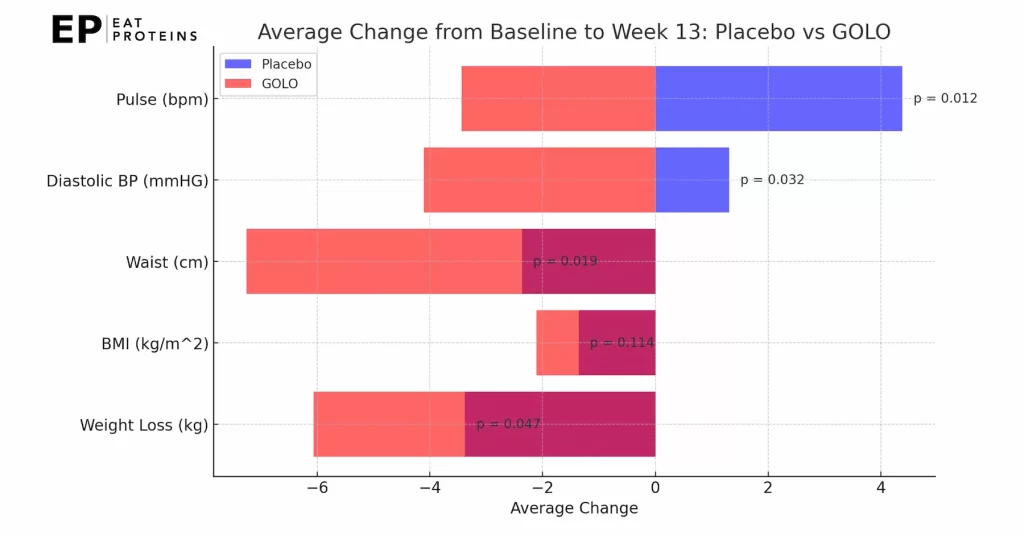 The fundamental difference between GOLO and Wegovy lies in the extent of scientific research supporting each. Wegovy has been extensively studied and its findings published in reputable scientific journals such as the Journal of Investigative Medicine, Nature Medicine, and The New England Journal of Medicine. In contrast, while GOLO includes seven plant-based ingredients and three essential minerals—chromium, inositol, berberine, and zinc—that have been suggested to aid in weight loss, it is backed by only one pilot study, which was funded by GOLO LLC.
The main benefit of the GOLO diet is its holistic approach to weight loss and overall health improvement. Unlike other programs that focus solely on supplements or diet, GOLO provides a comprehensive package that includes lifestyle change tips, a meal plan, and recipes tailored to individual needs. Additionally, GOLO offers an online community for support and accountability, enhancing the likelihood of long-term success.
The main drawback of the GOLO diet is that it may not be suitable for people with kidney or liver disease due to its chromium content. The daily dose in the GOLO supplement includes 210 mcg of chromium, which significantly exceeds the Recommended Dietary Allowance (RDA) for both males and females across various age groups. For example, the RDA for males aged 19-50 years is 35 mcg, and for females of the same age group, it's 25 mcg. Consuming chromium levels that are much higher than the RDA could pose health risks, especially for those with preexisting kidney or liver conditions.
What are the differences between Wegovy and GOLO?
The following list shows the 5 primary differences between GOLO and Wegovy.
Differences in price between GOLO and Wegovy
Differences in insurance coverage between GOLO and Wegovy
Differences in efficacy between GOLO and Wegovy
Differences in availability between GOLO and Wegovy
Differences in meal plans between GOLO and Wegovy
1. Differences in price between GOLO and Wegovy
The pricing structure between GOLO and Wegovy shows a notable difference in cost. In the United States, the list price for a package of Wegovy is $1,349.02. However, in the UK, patients with private insurance or those paying out-of-pocket may spend between $251 and $377 for a month's supply, according to a Reuters article dated September 4.
It's worth noting that many people may not pay the list price if their insurance covers weight-management medications like Wegovy. On the flip side, the GOLO diet is substantially more affordable, with a monthly cost of $59.99 for a single bottle and $39.95 per month when purchasing a 3-month supply. This makes GOLO a more budget-friendly option, especially for those without insurance coverage for weight-management solutions.
2. Differences in insurance coverage between GOLO and Wegovy
The insurance coverage for Wegovy and GOLO differs significantly, largely because Wegovy is a prescription medication while GOLO is not classified as such. Wegovy's insurance coverage can be highly variable, depending on the individual's health insurance plan; some private insurance plans cover it, although preauthorization may be required.
Medicaid provides coverage for Wegovy for eligible beneficiaries who have a BMI of 30 or higher, or a BMI of 27 or higher with weight-related medical conditions. Medicare generally does not cover obesity medications, but some supplemental Medigap and Medicare Advantage plans may offer coverage for Wegovy. In contrast, GOLO is not considered a medical device or medication, making it ineligible for insurance coverage.
4. Differences in efficacy between GOLO and Wegovy
The efficacy of Wegovy and GOLO for weight loss seems to differ both in terms of speed and magnitude, based on available reviews and studies. Wegovy has shown rapid weight loss in some users, with one individual reporting a loss of 8 pounds in just over a week and another losing 24 pounds in 8 weeks. However, Wegovy does come with a range of potential side effects like nausea, vomiting, and bowel issues, which some users reported experiencing multiple days a week.
On the other hand, GOLO, a supplement accompanied by a diet plan, has a TrustScore of 3.5 out of 5 based on 796 reviews on Trustpilot. The reviews are mixed, with 60% giving it a 5-star rating, but a notable 24% rating is just 1-star. While GOLO's approach is more holistic, offering comprehensive lifestyle change tips, meal plans, and an online community, it lacks the robust scientific backing that Wegovy has.
5. Differences in availability between GOLO and Wegovy
Wegovy requires a prescription from a licensed healthcare professional and is usually available through pharmacies. The cost for a 28-day supply is 22.5 times more expensive than GOLO, although insurance may cover some of this amount. Manufacturer savings offers can also reduce the price, potentially allowing insured individuals to pay $0 and save up to $500, but these offers are not available for government-affiliated healthcare plans like Medicare and Medicaid.
In contrast, GOLO can be easily purchased online without the need for a medical consultation or prescription. The product is generally shipped within 2 working days, making it more readily accessible.
6. Differences in meal plans between GOLO and Wegovy
Wegovy does not offer a meal plan, placing the responsibility on the individual or their healthcare provider to create a diet suitable for their needs. This means that users are on their own when it comes to counting calories, serving sizes, and meal preparation.
On the other hand, GOLO provides a comprehensive Metabolic Plan that guides users through their meals. The plan includes step-by-step instructions for breakfast, lunch, dinner, desserts, and snacks. It specifies serving sizes and calorie counts, focusing on easy-to-make recipes that use whole foods and avoid processed items. Unlike some other diet plans, GOLO's Metabolic Plan does not rely on meal replacements or shakes.
What are the overall Pros and Cons when comparing Wegovy and GOLO?

The overall Pros of Wegovy include its proven efficacy in facilitating significant weight loss, with some studies showing up to 15% or more weight reduction. The drug also offers benefits like improved heart health, better blood sugar management, and the convenience of once-weekly injections. On the downside, Cons of Wegovy include the necessity for self-administered injections, a high cost that can reach up to $1,349.02 for a 28-day supply, and the risk of weight regain after discontinuation of the medication.
In contrast, the GOLO diet's Pros focus on insulin management for weight control and overall metabolic improvement. The program also offers a comprehensive meal plan based on portion control and whole foods, costing $59.99 per month. However, the Cons include limited scientific backing for its efficacy, specifically the Release supplement, and the program is not covered by insurance.
What are the alternative weight loss medications to Wegovy and GOLO?
This list shows the alternative weight loss medications to Wegovy and GOLO.
Rybelsus
Ozempic
Trulicity
Mounjaro
Metformin
Saxenda
Bydureon
Victoza
Plenity
What are the alternative weight loss diets to Wegovy and GOLO?
The alternative weight loss diets to Wegovy and GOLO are listed below.
Optavia
Skinny Box
Weight Watchers
Wonderslim
Ketogenic diet
Atkins diet
NOOM
Nutrisystem
Jenny Craig
How do Wegovy and GOLO compare to the Ozempic?
Wegovy, GOLO, and Ozempic cater to different needs in the weight management spectrum. Wegovy is an injectable medication specifically focused on weight loss, using a hormone analogue to suppress appetite. Ozempic, also an injectable, is primarily aimed at controlling type 2 diabetes but has the added benefit of aiding in weight loss.
On the other hand, GOLO offers a more holistic approach through its diet program and a supplement known as Release; which aims to control insulin levels to manage weight. While Wegovy and Ozempic require a prescription and may be partially covered by insurance, GOLO is available without a prescription and is not typically covered by insurance. Therefore, GOLO and Ozempic represent different ends of the medical intervention spectrum for weight management.