5 Best GOLO Meal Delivery and Subscription Options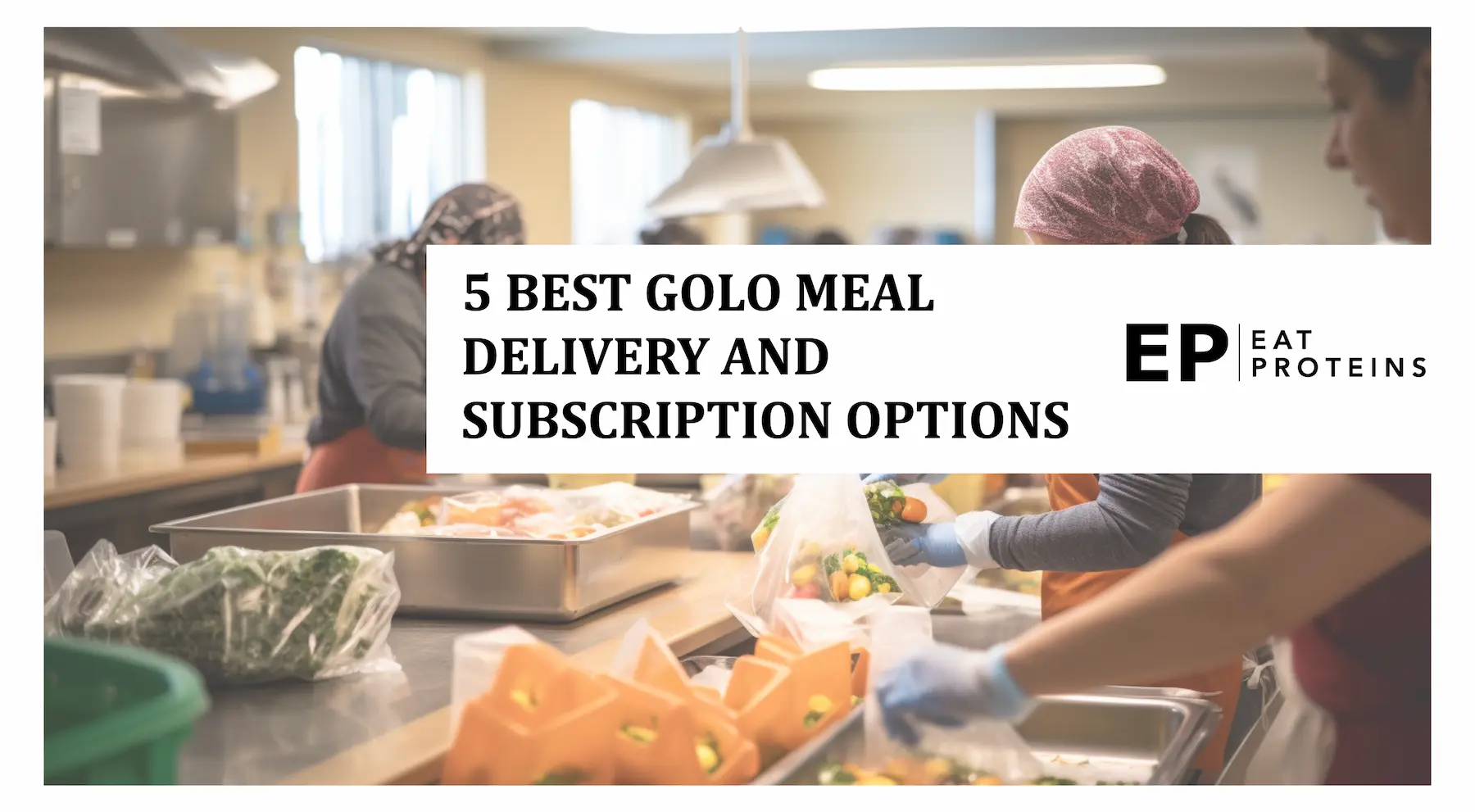 GOLO Meal Delivery refers to a service that allows customers to order meals that align with the GOLO diet plan, which focuses on weight loss and balanced nutrition. If you're looking for GOLO meals delivered to your door, consider some of the top meal delivery companies in the U.S. These services offer GOLO-friendly meals with options for customization, subscription, and one-time orders.
Each meal typically contains 400-600 calories, high protein, and adheres to various dietary restrictions like vegan and gluten-free. According to a 2023 study by Holly E Brophy-Herb from Michigan State University, such meal delivery services have been shown to improve dietary quality among people, although they did not affect meal frequency or body mass index z-score (BMIz).
The main benefit of having GOLO meals delivered to your door is the convenience of receiving pre-portioned, balanced meals that align with the GOLO Diet's focus on insulin regulation and weight loss. Additionally, these meal delivery services offer a variety of fresh, high-quality options that come in secure packaging, allowing you to diversify your diet while maintaining portion control and affordability. The following list shows you the top five GOLO food delivery services that stay in line with the GOLO weight loss diet.
Clean Eatz Kitchen
EveryPlate
Factor
Green Chef
HelloFresh
Eat Proteins is a reader-supported platform. Purchases made through our links may earn us a commission at no extra cost to you. Learn more.
1. Clean Eatz Kitchen
Clean Eatz Kitchen specializes in GOLO-friendly, health-conscious meal delivery services, providing a flexible, non-subscription-based approach to meal prep. When you choose to order, you'll find a diverse and rotating weekly menu that ranges in price, costing $7.30 per meal for orders between 10 and 14 meals. Alongside its five standard meal options, the service also caters to specific dietary needs with additional add-ons and specialty items such as keto and high-protein meals.
Upon placing an order, you'll receive meals that are fully prepared and neatly packaged in microwave-safe containers. These meals are designed for convenience; they come fresh—not frozen—and are good for up to six days when stored in the fridge. If you're ready to eat, you can heat these meals directly in their packaging using a microwave, and they'll be ready in just 2-3 minutes.
As for packaging and price, Clean Eatz Kitchen prioritizes both freshness and affordability. The microwave-safe containers are engineered to keep your meals fresh for up to six days. Cost-wise, the service uses a volume-based pricing model; for example, a batch of 10 to 14 meals will set you back $7.30 per meal.
If you find you can't consume the meals within the six-day freshness window, freezing is recommended. Moreover, for those who prefer frozen meals, the service also offers that option without compromising nutritional value. You can check prices at Clean Eatz Kitchen website.
2. EveryPlate
EveryPlate is a meal delivery service that offers GOLO-friendly meals, providing a cost-effective alternative to dining out or grocery shopping. For $5.99 per serving, you can receive a meal kit for two people for 6 meals that includes all the ingredients and recipes you need to cook a balanced, GOLO-compliant meal at home. This service allows for easy customization, ensuring that your dietary preferences and nutritional needs are met.
EveryPlate operates on a simple premise: you choose from 17 different weekly options, and the service delivers all the ingredients and recipes directly to your doorstep.
Each meal kit comes with pre-measured ingredients and a step-by-step recipe card to guide you through the cooking process. On average, meals take about 30 to 40 minutes to prepare, providing a convenient solution for busy individuals. The service offers flexibility with its subscription model, allowing you to skip weeks or cancel anytime.
EveryPlate puts a strong focus on eco-friendly packaging; all ingredients are packaged in a smaller box inside the main delivery box to reduce waste. The standard two-serving meal plan costs $6.99 per meal, making it one of the most affordable options in the meal kit market.
For larger households, the four-serving per meal plan offers even greater value at $4.99 per meal. EveryPlate also provides premium meal options for an additional cost, giving you the flexibility to splurge when you wish. The full price list is available at EveryPlate website.
3. Factor
Factor is a meal delivery service that offers ready-to-eat, chef-prepared meals designed by dietitians. The service focuses on providing healthy, organic ingredients and caters to various diets, including GOLO-friendly options. Factor meals start at $11 per serving, and they are pre-cooked, requiring only reheating.
Factor operates through a straightforward online ordering system, either via its website or mobile app. Customers can choose from five set meal preferences, such as Chef's Choice, Keto, and Calorie Smart. The minimum order is four meals per week, and the maximum is 18, each meal being one serving. The service offers a large rotating menu of around 35-36 lunch and dinner options that change weekly.
Factor utilizes modified atmosphere packaging to prolong the food's shelf life and maintain freshness. The meals are delivered in well-insulated boxes that can keep the food fresh for up to 48 hours.
Prices for meals range from $15 per serving for a minimum order of four meals per week to $10.99 per serving for 18 meals per week. There is also an additional $11 shipping fee with each order. Although this table shows the prices for the Factor meal delivery service, I recommend checking prices directly from Factor website as they have many discounts available.
| Meals per week | Box price | Price per meal |
| --- | --- | --- |
| 6 | $80.94 | $13.49 |
| 8 | $103.92 | $12.99 |
| 10 | $124.90 | $12.49 |
| 12 | $143.88 | $11.99 |
| 14 | $160.86 | $11.49 |
| 18 | $197.82 | $10.99 |
4. Green Chef
Green Chef is a meal kit delivery service that focuses on offering simple, healthy, and organic meals, including options that are GOLO-approved. Each meal kit contains pre-portioned organic ingredients and an easy-to-follow recipe card. The service offers a variety of meal plans, including 2-serving boxes, with prices typically ranging from $11.99 to $12.99 per serving depending on the plan.
Green Chef operates by sending you a box containing all the ingredients you need for each meal, along with a step-by-step recipe card. The service offers a 30-35 minute cooking time for most of its meals, making it convenient for those with busy schedules. Users can choose from different meal plans and dietary options, and the service accommodates gluten-free diets as well. The calories per serving for most meals range from 500 to 800, giving you the ability to balance your dietary needs.
Green Chef delivers its meal kits in an insulated container filled with ice packs to keep the ingredients fresh during shipping. The packaging is designed to be eco-friendly, and the company encourages recycling of the boxes and insulation. Pricing typically starts at $11.99 per serving for the Balanced Living plan, and shipping usually costs around $9.00, making the total weekly cost approximately $80 for a 2-serving, 3-meal box. For prices and discounts, visit Green Chef website.
5. HelloFresh
HelloFresh is a meal delivery service that offers GOLO-approved meals, catering to those following a Glycemic Index-based eating plan. It provides pre-measured ingredients and easy-to-follow recipes straight to your door, taking the guesswork out of meal planning and shopping. With a focus on fresh, healthy ingredients, the service offers a variety of meal plans that can be customized, typically ranging from $7.49 to $10 per serving.
HelloFresh delivers all the ingredients you need to cook your chosen meals, including fresh produce, proteins, and seasoning packets. Each delivery comes with detailed recipe cards that guide you through the cooking process, usually taking between 30 to 50 minutes to prepare.
It's a convenient option for people who love to cook but don't have time for meal planning or grocery shopping. The service offers flexibility in choosing meals, with options to skip weeks, and is generally priced under $10 per serving depending on the plan.
HelloFresh meals come in insulated, recyclable packaging to ensure that the ingredients stay fresh until you're ready to cook. Each meal's ingredients are separately bagged, making it easy to grab what you need for each recipe. The service also offers promotional discounts and subscription plans that can make it more cost-effective over time. This table shows prices for HelloFresh, but go ahead and visit HelloFresh website and get 40$ off.
| Meals per week | Total servings | Box price | Price per meal |
| --- | --- | --- | --- |
| 2 meals for 2 people | 4 | $49.96 | $12.49 |
| 3 meals for 2 people | 6 | $59.94 | $9.99 |
| 4 meals for 2 people | 8 | $78.32 | $9.79 |
| 5 meals for 2 people | 10 | $97.90 | $9.79 |
| 6 meals for 2 people | 12 | $117.48 | $9.79 |
What recipe types are in GOLO meal delivery boxes?
In GOLO meal delivery boxes, you can find a diverse range of recipe types to cater to different dietary and lifestyle needs. Options include but are not limited to "Quick & Easy" for those on a tight schedule, "Calorie Smart" for weight-conscious consumers, and "Keto" for those following a ketogenic diet. Other popular categories include "Protein Packed," "Plant-Based," "Gluten Free," and "Vegan & Veggie," offering something for everyone following the GOLO diet.
What are the best GOLO recipes for weight loss?
The best GOLO recipes for weight loss include the Seaweed Salmon Bowl (2 proteins, 1 carbohydrate, 1 fat), Autumn Chicken (2 proteins, 2 vegetables, 1 fat), and Pumpkin Chili (2 proteins, 1 carbohydrate, 2 vegetables, 1 fat). These GOLO recipes provide balanced meals with essential nutrients while fitting within the GOLO diet's caloric guidelines.
What is the most affordable GOLO meal delivery option?
The most affordable GOLO meal delivery option is likely to be Clean Eatz Kitchen, with its non-subscription-based model. The service offers meals priced at $7.30 each when you order between 10 and 14 meals for the week. This allows for flexibility in meal planning while still catering to specific dietary needs such as keto and high-protein options.