GOLO 7-Day Meal Plan and Nutrition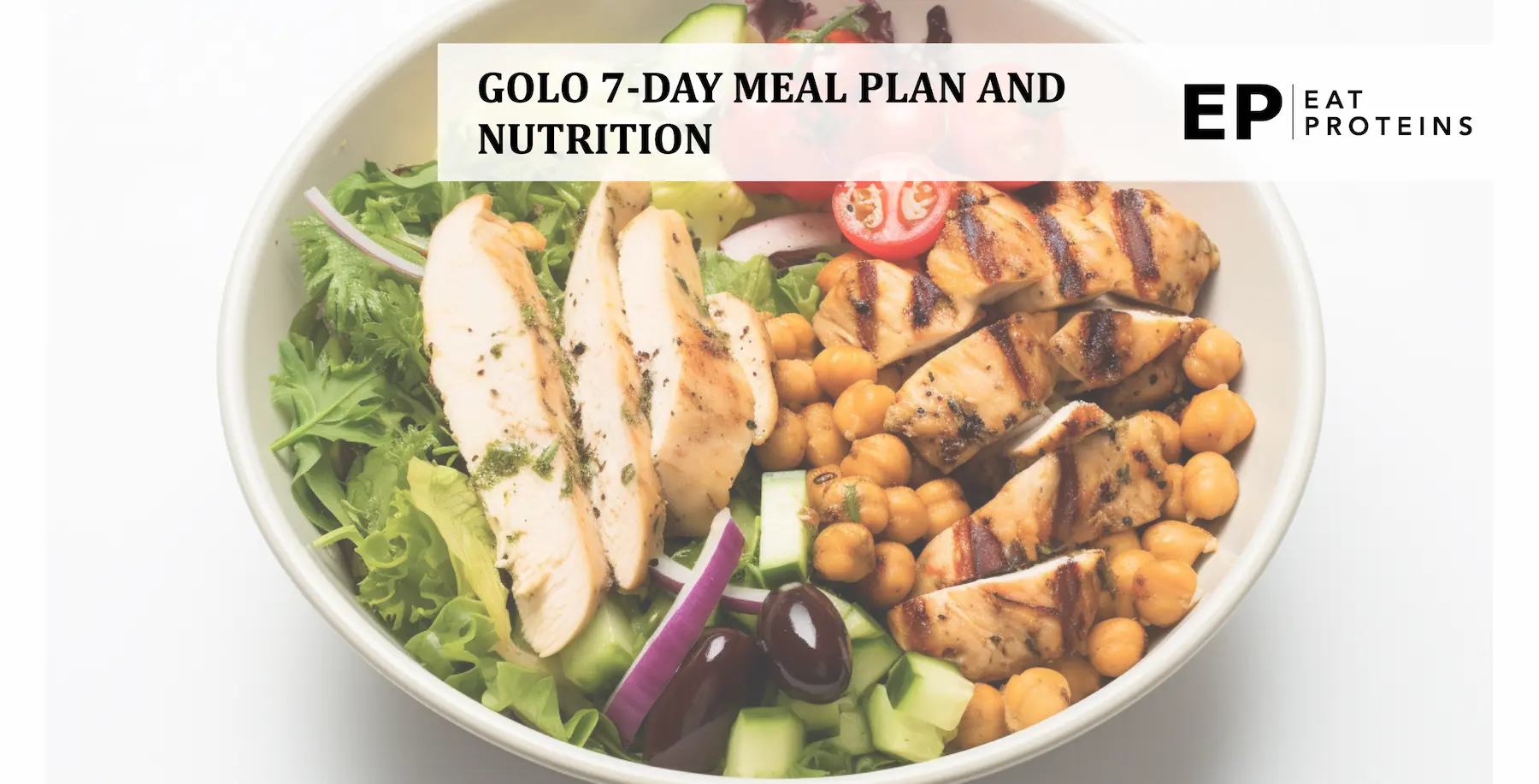 The GOLO diet refers to a weight loss program designed to control sugar cravings, hunger, and minimize muscle loss, allowing individuals to achieve substantial weight loss. The GOLO diet uses a proprietary supplement called Release, containing 7 plant extracts and 3 minerals, to target insulin resistance and improve metabolism. The GOLO 7-day meal plan refers to a structured menu designed to help individuals lose up to 2 pounds and 2 inches from their waistline within a week. It offers 1,300-1,800 calories per day through a variety of GOLO meals.
GOLO meals consist of nutritious breakfasts, lunches, and dinners that emphasize whole foods and quick preparation. Each meal is designed with specified portion sizes, including 20–25 grams of protein, 10–15 grams of carbohydrates, and 5–10 grams of fats. These meals can be prepared in as little as two minutes. The GOLO 7-day meal plan, which features these meals, aims to increase satiety by including nutrient-dense foods and superfoods, targeting quick yet sustainable improvements in weight and overall well-being.
Unlike the GOLO Reset 7, which is a more strict seven-day meal plan that temporarily eliminates certain foods such as refined grains, dairy products, and red meat, and requires you to follow the 2-1-2-1 meal plan, the GOLO 7-day meal plan is more liberal in terms of the food list.
This article presents the GOLO 7-Day meal plan, explains the differences between the GOLO 7-day meal plan and GOLO Reset 7, and compares it to other weight loss meal plans, such as Optavia 5&1.
What is the GOLO 7-day meal plan?
The GOLO 7-Day meal plan is a nutritionally curated regimen that includes a list of GOLO-friendly recipes, designed for three home-cooked meals per day, similar to a Mediterranean diet. The GOLO meal plan emphasizes the consumption of real, store-bought foods such as fresh fruits and vegetables, meats, seafood, grains, and legumes while excluding processed foods high in sodium and sugar content.
The GOLO diet meal plan specifies portion control, recommending 6 ounces of lean meats, a half-cup of grains, two cups of vegetables, and a single serving of fats per meal.
The purpose of the GOLO 7-Day meal plan is to help individuals reduce their caloric intake and achieve a balanced diet for optimized metabolism and fat-burning, ultimately aiming for weight loss and a reduced BMI. Additionally, the plan is designed to simplify meal planning and promote sustainability, making it easier for individuals to maintain these healthy habits long-term.
In terms of portion sizes, you will notice that the GOLO meal plan doesn't use grams or ounces in its recipes. Instead, it uses a simplified version that counts the number of proteins, vegetables, or carbohydrates, that correspond to servings. This table provides a reference for portion sizes and the number of servings recommended for each type of food in the GOLO meal plan.
Food Type
Serving size
Serving Size Examples
Proteins
1
3 oz lean meat
3 oz fish
1 egg
2 oz cheese
1/2 cup milk
3 oz tofu
2 oz nuts
1/4 oz quinoa
Carbohydrates
1
1/2 cup all fruits
1/2 cup potatoes
1/2 cup pasta
1 piece bread
1/2 cup brown rice
1/2 cup oatmeal
Vegetables
1
1 cup most vegetables
1/2 cup peas and corn
1 cup tomatoes
1/2 cup tomato sauce
Fats
1
1 tsp Butter
1 tsp to 1 tbsp of olive, avocado, or coconut oil
2 tbsp Homemade dressing
3 tbsp Unsweetened coconut flakes
8 pieces Olives
What is the GOLO 7-Day sample meal plan?
The GOLO 7-Day sample meal plan is a structured menu that outlines meals for seven days, from Monday to Sunday, divided by breakfast, lunch, and dinner. Here is a table that shows the GOLO 7-Day sample meal plan.
| Day | Breakfast | Lunch | Dinner |
| --- | --- | --- | --- |
| Monday | Oatmeal with fruits | Grilled chicken salad | Turkey Sandwich |
| Tuesday | Scrambled eggs | Veggie wrap | Fish tacos |
| Wednesday | Smoothie | Brown rice and steamed vegetables | Vegetarian curry |
| Thursday | Greek yogurt with honey | Turkey sandwich | Chicken stir-fry |
| Friday | Whole-grain toast | Pasta salad | Spaghetti with meatballs |
| Saturday | Pancakes | Sushi roll | Homemade pizza |
| Sunday | Breakfast burrito | Quinoa and black bean bowl | BBQ ribs |
What are the components of the GOLO 7-Day meal plan?
The components of the GOLO meal plan are listed below.
GOLO Breakfast
GOLO Lunch
GOLO Dinner
GOLO Breakfast
The GOLO Breakfast is a versatile meal that includes at least 2 of the 4 food types: proteins, carbohydrates, fats, and fruits. Made from fresh ingredients, options can range from eggs and bacon, which provide protein and fats, to oatmeal and fruit, offering carbohydrates and natural sugars. With a variety of choices like pancakes, toast, sausage, smoothies, yogurt, tea, bagels, croissants, waffles, muffins, and granola, the GOLO Breakfast aims to kickstart your day with balanced nutrition.
This photo features the GOLO breakfast oatmeal, which includes bananas, strawberries, blueberries, and raspberries.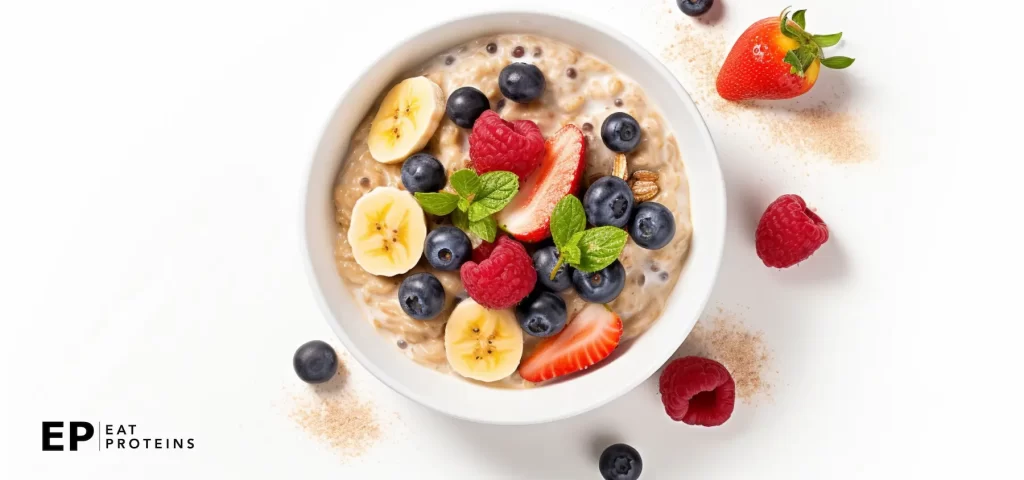 GOLO Lunch
The GOLO Lunch is a balanced meal that includes all four food types: protein, vegetables, fats, and grains. Whether it's a sandwich paired with a salad and a healthy beverage or a takeout meal prepped with an appetizer and dessert, the lunch aims for a comprehensive nutritional profile. Typical GOLO lunches may feature protein portions of 20-25 grams, vegetable servings that fill half the plate, and a fruit serving to round out the meal. This photo shows the GOLO lunch chicken and chickpeas salad.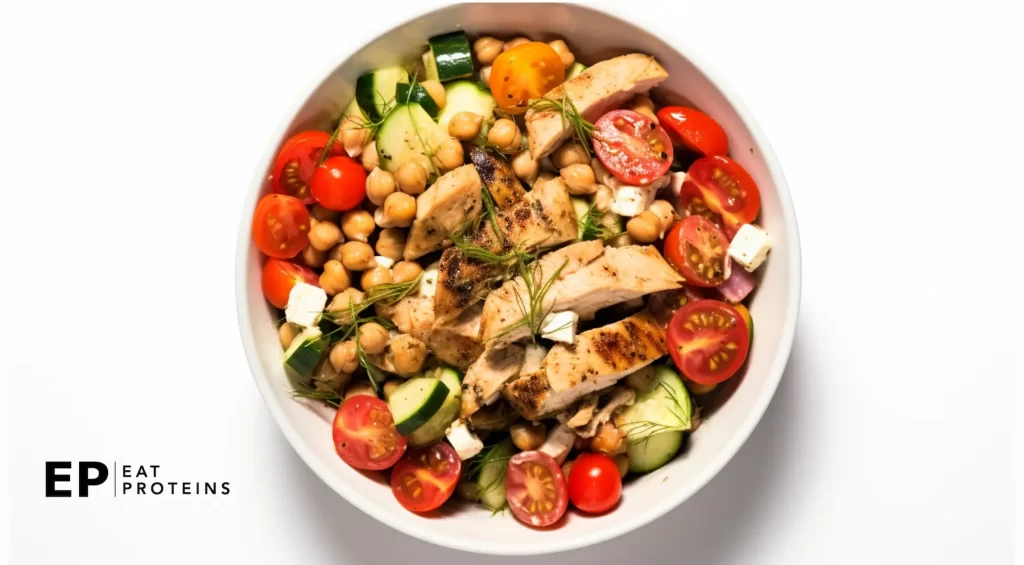 GOLO Dinner
The GOLO dinner is a well-rounded meal that includes all four food types: proteins, carbohydrates, fats, and vegetables, making it the main course of the day. It is typically the biggest meal in terms of calories, aligning with the program's emphasis on balanced nutrition. Often enjoyed at the dining table with family, the GOLO dinner can range from home-cooked recipes to restaurant cuisines, complete with an appetizer, main course, dessert, and beverage, all while adhering to the program's guidelines on portion sizes and nutrient balance. This photo shows the GOLO dinner salmon and asparagus.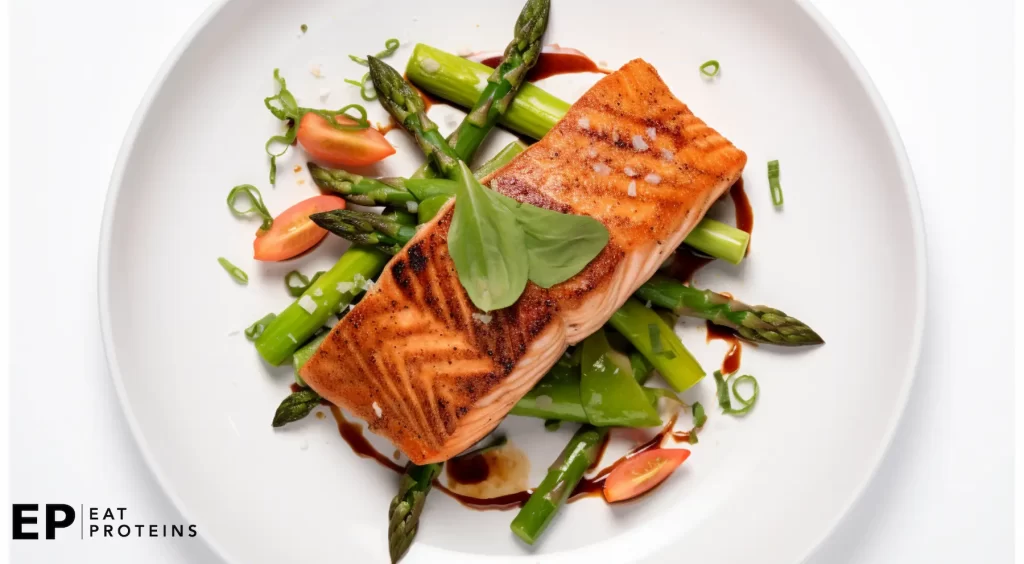 What is the meal frequency in the GOLO 7-Day meal plan?
The meal frequency in the GOLO 7-Day meal plan consists of 3 meals per day, without any snacks, unless you qualify for GOLO Bonus savings which provide extra servings of proteins or carbs. These bonus servings are intended for people who are physically active or engaged in intense labor work.
In the GOLO meal plan, the meals are timed to be consumed every 4-5 hours, aligning with the program's focus on maintaining stable blood sugar levels and insulin response. An eating duration of a minimum of 20 minutes is recommended for each meal, based on a 2015 study by Danielle Ferriday from the University of Bristol, which found that eating slowly promotes self-reported satiation and satiety.
How do GOLO Bonus Servings affect the meal frequency in the GOLO 7-Day meal plan?
GOLO Bonus Servings increase the meal frequency in the GOLO 7-Day meal plan by allowing for additional servings of protein or carbohydrates. Depending on the intensity of exercise, individuals can earn 1-2 Bonus Servings, which can be added to daily meals or used as snacks.
Are GOLO Bonus Servings included in the GOLO Reset 7?
No, GOLO Bonus Servings are not included in the GOLO Reset 7 program. The Reset 7 program focuses on eliminating certain foods for one week to enhance weight loss and improve overall health. Bonus Services are not part of this specific program.
What's the difference between the GOLO 7-Day meal plan and the GOLO Reset 7?
The GOLO 7-Day meal plan and the GOLO Reset 7 serve different purposes and have distinct dietary restrictions. The GOLO 7-Day meal plan is a comprehensive program focusing on real foods, aiming to jumpstart weight loss with meals that can be prepared in just 2 minutes.
On the other hand, GOLO's Reset 7 is a one-week plan that follows the GOLO 2121 plan designed to detoxify the body by eliminating specific foods like refined grains, dairy products, and red meat. While both plans aim for weight loss and improved health, the Reset 7 focuses on detoxification and potentially uncovering food sensitivities, whereas the 7-Day meal plan provides a more sustainable approach to weight loss and metabolism improvement.
What's the difference between the GOLO 7-Day meal plan and other diet meal plans?
Unlike other diets such as Optavia or Skinny Box, which exclude some common foods like grains, fruits, and legumes, the GOLO meal plan has few limitations in terms of types of foods; the only limitation is portion size. Although the duration for the GOLO meal plan is seven days, it can be repeated until the desired weight loss is achieved.
What's the difference between the GOLO 7-Day meal plan and the Optavia meal plan?
The GOLO 7-Day meal plan and Optavia meal plans are distinct in their approach to weight loss. While GOLO focuses on 3 meals per day within a 1,300-1,800 calorie range, Optavia promotes 5-7 small meals totaling 800-1,200 calories per day. Optavia also incorporates meal replacements, whereas GOLO emphasizes whole, nutrient-dense foods.