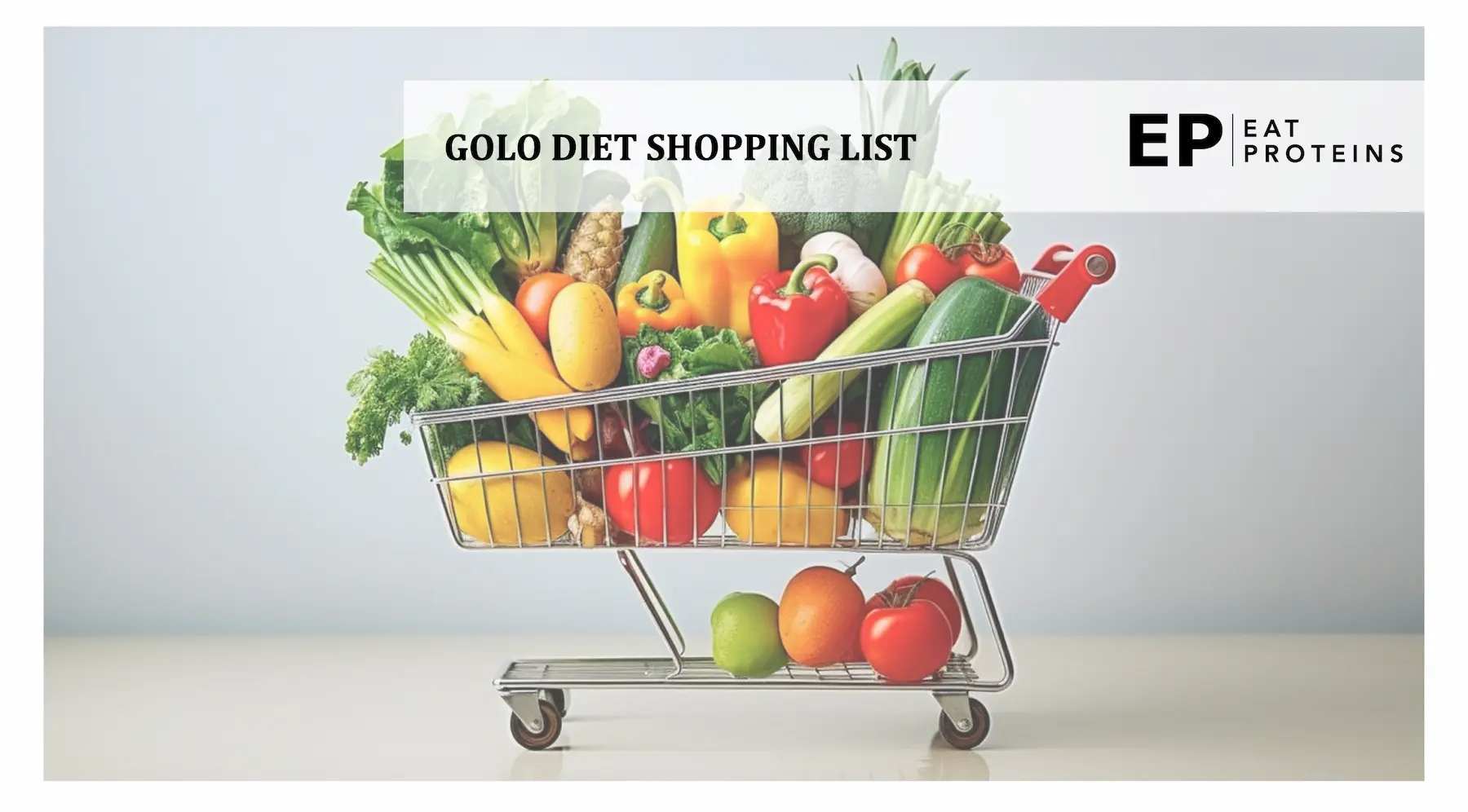 The GOLO Diet shopping list contains guidelines for nutrition and meal planning, focusing on organic, low-fat, and gluten-free options. It recommends fresh produce such as apples, spinach, and tomatoes; whole grains like brown rice (1/2 cup), quinoa (1/4 oz), and oatmeal (1/2 cup); and lean meats such as 3 oz of chicken breast, turkey, or lean beef.
The GOLO Diet shopping list focuses on healthy weight loss, especially for vegetarians. It includes meatless protein options like 3 oz of tofu, 2 oz of raw nuts, or 1 egg. Vegetables are also part of the diet, with servings such as 1 cup of most vegetables, 1/2 cup of peas, or 1 cup of tomatoes. Fruits like 1/2 cup of berries, oranges, or bananas are recommended as well. The diet includes healthy GOLO recipes that fit various preferences, including keto-friendly avocado salad, vegan stir-fry, or gluten-free pasta, and emphasizes staying hydrated.
The GOLO Diet grocery list excludes unnecessary supplements but includes the GOLO Release supplement, which supports insulin management. It avoids snacks high in sugar and recommends using 1 tsp to 1 tbsp of healthy fats like olive oil, avocado oil, or coconut oil. It also limits high-calorie foods and contains dairy options like 1/2 cup of whole milk, 2 oz of natural cheese, or plain yogurt.
The GOLO diet grocery list offers benefits like balanced nutrition, weight loss support, diverse diet options, budget-friendly shopping, ease of meal planning, and compatibility with various U.S. stores including Walmart, Costco, Aldi, Lidl, Trader Joe's, and Target. The following is the GOLO Diet shopping list divided into seven groups.
Fruits
Vegetables
Meat
Dairy
Grains
Oils & Dressings
Nuts & Staples
1. Fruits
Fruits are an essential part of the GOLO Diet, providing natural sugars, essential vitamins, and antioxidants. The selection below emphasizes a variety of fresh and colorful fruits that not only add flavor but also enhance overall well-being.
Fruits
Apples
Oranges
Apricots
Bananas
Berries
Grapefruit
Melon
2. Vegetables
Vegetables offer a rich source of fiber, nutrients, and low-calorie content. The GOLO Diet emphasizes a wide variety of vegetables to ensure balanced nutrition, ranging from leafy greens to nutrient-dense root vegetables, as listed below.
Vegetables
Spinach
Broccoli
Peppers
Green beans
Mushrooms
Carrots
Sweet potato
Salad
Onions
Eggplant
Cucumbers
Celery
Tomatoes
Avocado
Olives
3. Meats
Lean meats provide vital protein and are central to many meal plans within the GOLO Diet. The choices below include a range of options like chicken, beef, and fish, designed to suit various tastes and dietary preferences.
Meat
Chicken
Beef
Pork
Salmon
Tuna
4. Dairy
Dairy products in the GOLO shopping list are carefully selected to offer calcium, protein, and probiotics. With options like whole milk and Greek yogurt, the list below represents a balanced intake that complements other food groups.
Dairy
Whole milk
Greek yogurt
Eggs
Cottage cheese
Fresh cheese
5. Grains
Whole grains like brown rice and oatmeal are recommended in the GOLO grocery list to provide energy, digestive health, and satiety. The grains listed below are chosen for their nutritional value and compatibility with a balanced diet.
Grains
Brown rice
Oatmeal
Lentils
Quinoa
Whole wheat pasta
Multigrain bread
6. Oils & Dressings
The GOLO Diet emphasizes the use of healthy fats like olive oil and coconut oil, not just for cooking but also for enhancing flavor and providing essential fatty acids. The selections below are key components for making satisfying and nutritious meals.
Oils & Dressings
Olive oil
Coconut oil
Butter
7. Nuts & Staples
Nuts and staples, including various seasonings and cooking essentials, are a vital part of the GOLO Diet, adding texture, flavor, and nutritional value to meals. From crunchy nuts to versatile seasonings, the items listed below support a wide array of culinary creations.
| Nuts | Staples |
| --- | --- |
| Walnuts | Apple cider vinegar |
| Cashews | Tomato sauce |
| Pecans | Honey |
| Almonds | Lemon juice |
| | Soy sauce |
| | Broth |
| | Coffee |
| | Tea |
| | Sea salt |
| | Pepper |
| | Garlic |
| | Ginger |