Optavia Lean and Green Chicken Mason Jar Thai Salad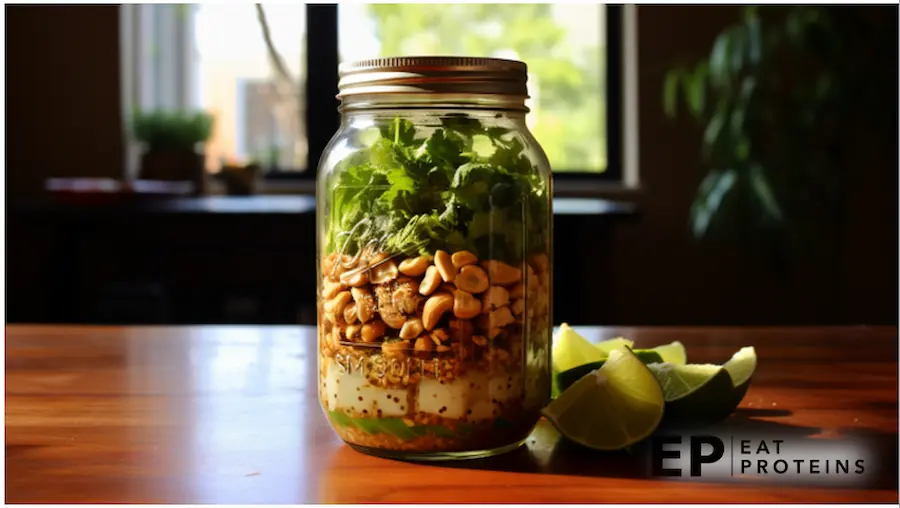 Are you tired of the same old salad recipes? Looking for a healthy and delicious option that will keep you satisfied? Look no further than the Optavia Lean and Green Mason Jar Thai Salad!
This salad is not only packed with fresh and vibrant ingredients, but it is also easy to prepare and perfect for those following the Optavia program. Whether new to Optavia 5 and 1 or a seasoned pro, this salad will become a go-to favorite in your meal rotation.
In this article, I will walk you through the steps to create this flavorful and nutritious salad, highlighting the key ingredients and offering tips for customization. Get ready to elevate your salad game with this Optavia Lean and Green Mason Jar Thai Salad!
Optavia Lean and Green Chicken Mason Jar Thai Salad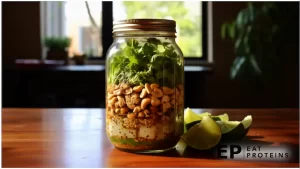 Whip up this delightful Mason Jar Thai Salad for a burst of Thai-inspired flavors! With shredded chicken, crunchy jicama, and mung bean sprouts, it's a refreshing and protein-rich meal. The zesty dressing, made with crushed peanuts, lime juice, Sriracha, and soy sauce, adds a tangy kick. Conveniently prepared in a mason jar, it's perfect for on-the-go lunches or quick dinners. Simply refrigerate for up to 2 days and mix before savoring the deliciousness. Enjoy a healthy and satisfying treat with this salad, providing 6 oz. of cooked chicken breast, 370 calories, and a delightful blend of textures and tastes.
Type: Lean and Green Main Course
Cuisine: Thai
Keywords: optavia chicken salad
Recipe Yield: 1
Calories: 370
Preparation Time: 10 Minutes
Cooking Time: 20 Minutes
Total Time: 30 Minutes
Recipe Ingredients:
6 oz. cooked, shredded chicken breast
1/3 oz. roasted peanuts
2 tsp lime juice
1 tsp Sriracha sauce
1/2 Tbsp light soy sauce
1 Tbsp water
1/2 cup diced jicama
1 cup mung bean sprouts
1/4 cup chopped cilantro
Recipe Instructions:
Preparation:
Let's start with the dressing! Grab a mortar and pestle and crush the roasted peanuts into a delightful coarse paste. Now, add 2 tsp of tangy lime juice, 1 tsp of zesty Sriracha sauce, ½ tbsp of light soy sauce, and 1 tbsp of water to create a flavor-packed dressing.
Next, it's time to build layers of goodness in the mason jar. Pour the sensational dressing into the jar first.
Follow up with the star of the show – the 6 oz. of tender, shredded chicken breast. Then, add the crunchy delight of ½ cup of diced jicama and the refreshing touch of 1 cup of mung bean sprouts.
Last but not least, sprinkle in the fragrant goodness of ¼ cup of chopped cilantro to complete the ensemble of flavors.
Seal the jar with excitement, and your Mason Jar Thai Salad is ready to be enjoyed! Store it in the refrigerator for up to 2 days, making it the perfect option for quick and delicious meals.
When you're ready to relish this delightful creation, give the jar a good shake with a fork to mix all the incredible flavors together.
Pros
The combination of diced jicama, mung bean sprouts, and chopped cilantro provides a refreshing and crunchy texture to the salad.
The dressing made with lime juice, Sriracha, and soy sauce adds a tangy and spicy kick to the salad, making it a burst of delightful flavors.
Cons
The use of roasted peanuts in the recipe may be a concern for individuals with nut allergies.
More About Optavia Lean and Green Mason Jar Thai Salad
Okay, I know this might sound a bit off-beat, but trust me on this one. When you're crushing your peanuts for the dressing, throw in a small clove of garlic. The unexpected kick of garlic will bring a whole new depth to your dressing.
Instead of buying cooked chicken, why not smoke or grill your own chicken breast? The smoky flavor will take your salad to the next level and it's an easy way to impress your taste buds and guests. Plus, you get to control the seasonings.
Have you ever tried adding a little zest? When you're squeezing that lime juice, don't forget to grate some of the peel into your dressing. It might seem small, but that hint of citrus zest can brighten up the entire dish.
Feel free to experiment with fresh herbs like mint or basil. You'll be surprised at how these small changes can dramatically alter the flavor profile (without extra calories) and elevate your salad game.