Optavia Lean and Green Air Fryer Popcorn Shrimp Salad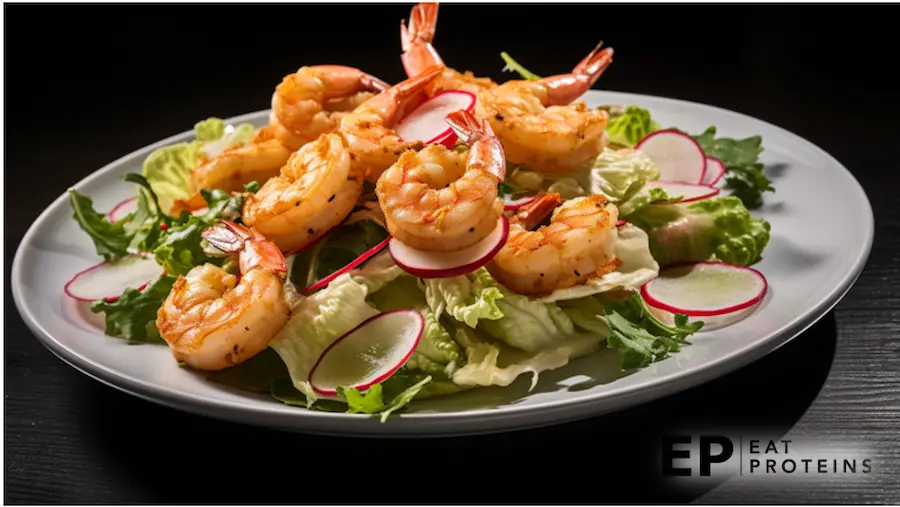 Craving a delicious and healthy salad that is packed with flavor? Look no further than the Optavia Lean and Green Air Fryer Popcorn Shrimp Salad. This mouthwatering dish combines the crunch of popcorn shrimp with the freshness of a salad, creating a satisfying and nutritious meal option.
If you love the convenience and taste of air fryer recipes, then this salad is a must-try. Not only does it offer a creative twist on traditional salads, but it also incorporates the popular Optavia Lean and Green program, which focuses on balanced meals for weight loss and overall wellness.
In this article, we will dive into the ingredients, preparation steps, and nutritional benefits of the Optavia Lean and Green Air Fryer Popcorn Shrimp Salad, helping you create a tasty and guilt-free meal that will leave you feeling satisfied and energized.
Optavia Lean and Green Air Fryer Popcorn Shrimp Salad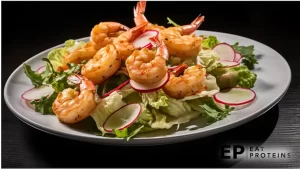 Enjoy a delightful and wholesome meal with our Air-Fried Almond-Crusted Shrimp Salad. This recipe combines succulent shrimp coated in a crispy almond flour crust with a bed of fresh romaine lettuce and thinly sliced radishes. Drizzled with light balsamic vinaigrette, this dish offers a burst of flavors and textures that satisfy your taste buds and keep you feeling satisfied. Perfectly air-fried for a golden crunch, this shrimp salad is a balanced and delicious option for a quick and nourishing lunch or dinner.
Type: Lean and Green Main Course
Cuisine: American
Recipe Yield: 2 Serving
Calories: 370 Calories
Preparation Time: 10 Minutes
Cooking Time: 20 Minutes
Total Time: 30 Minutes
Recipe Ingredients:
1 lb. small shrimp, tail off, peeled, and deveined
¼ tsp kosher salt
1 well-beaten egg white
1/3 cup almond flour
1 1/2 cups thinly sliced radishes
3 cups chopped romaine lettuce
1/4 cup light balsamic vinaigrette
Recipe Instructions:
Preparation:
Begin by patting the shrimp dry with a paper towel.
In a mixing bowl, coat the shrimp evenly by tossing them with salt and the beaten egg white.
Add the almond flour to the bowl and continue tossing until the shrimp are well-coated.
Preheat your air fryer to 400°F.
Arrange the coated shrimp in a single layer at the bottom of the air fryer's basket.
Air fry the shrimp for 5 minutes, then stir them with a spoon for even cooking. Continue air frying for an additional 4 minutes, until the shrimp turn a delicious golden brown.
For the salad preparation, mix the chopped romaine lettuce and sliced radishes in a bowl. Pour the light balsamic vinaigrette over the mixture and toss everything well to combine.
Divide the vibrant salad and the crispy air-fried shrimp into two equally satisfying portions. Each plate will have about 2¾ cups of the refreshing salad topped with half of the batch of savory shrimp.
Pros
The inclusion of radishes and romaine lettuce contributes to a colorful array of nutrients, such as fiber, vitamins, and minerals, enhancing the overall nutritional value of the meal.
Cons
While this dish offers a balanced combination of protein and veggies, the portion size might be insufficient for those with larger appetites, requiring additional sides to feel fully satisfied.
How to make Optavia Lean and Green Air Fryer Popcorn Shrimp Salad taste better?

Alright, let's kick this Optavia shrimp salad recipe up a notch while keeping it in the "Lean and Green" zone. First off, marinate your shrimp in 1 tablespoon of lemon juice and a sprinkle of smoked paprika for at least 30 minutes. Trust me, it's a game-changer for flavor.
Now, let's talk coating. Add a tablespoon of grated Parmesan to your almond flour. It not only adds taste but also gives the shrimp that extra crispiness we all love.
When you're ready to cook, make sure your air fryer is preheated to 400°F for a good 5 minutes. This ensures each shrimp gets that perfect golden touch. And here's a pro tip: instead of just stirring the shrimp halfway through, use tongs to flip each one. It makes a difference in how evenly they cook.
For the dressing, let's upgrade that basic balsamic vinaigrette by whisking in a teaspoon of Dijon mustard and a minced garlic clove. It's a small tweak but elevates the whole dish.
Last but not least, right before serving, throw a quarter cup of toasted almonds into the salad for that irresistible crunch.
There you have it! With these tweaks, you'll still be within one Leanest serving, two Healthy Fats, three Greens, and three Condiments. But I promise, the taste will be next-level.