Optavia Lean and Green Blackened Shrimp and Asparagus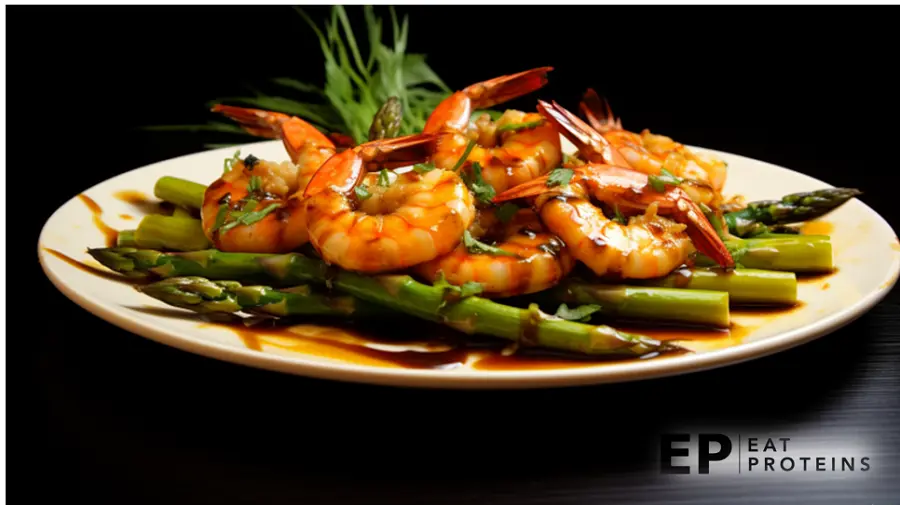 If you're following the Optavia diet and looking for a delicious and healthy meal option, look no further than this recipe for Lean and Green Blackened Shrimp and Asparagus. With its bold flavors and nutritious ingredients, this dish is sure to satisfy your cravings while keeping you on track with your weight loss goals.
Say goodbye to boring and tasteless diet food, and say hello to a flavorful and satisfying meal that will leave you feeling satisfied and nourished. The combination of blackened shrimp and asparagus creates a perfect balance of protein and vegetables, making it an ideal option for your Lean and Green meal.
This Optavia shrimp recipe is not only delicious, but it's also easy to prepare, making it a convenient choice for busy individuals who are following the Optavia program. Whether you're cooking for yourself or your family, this dish is a winner that everyone will enjoy.
In this article, we'll take a closer look at the ingredients and steps involved in making this Optavia Lean and Green Blackened Shrimp and Asparagus recipe. Get ready to elevate your diet and enjoy a flavorful and nutritious meal that will keep you on track with your weight loss journey.
Optavia Lean and Green Blackened Shrimp and Asparagus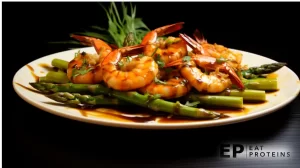 Elevate your Optavia Lean and Green meal with this delightful Spiced Shrimp with Sauteed Asparagus recipe. Succulent shrimp marinated in a blend of aromatic spices is paired with tender sautéed asparagus, creating a harmonious combination of flavors and textures. This dish offers a burst of savory and zesty notes that will satisfy your taste buds while supporting your nutritional goals.
Type: Lean and Green Main Course
Cuisine: Fusion
Recipe Yield: 2 Servings
Calories: 380 Calories
Preparation Time: 8 Minutes
Cooking Time: 15 Minutes
Total Time: 23 Minutes
Recipe Ingredients:
18 oz large uncooked shrimp, peeled and deveined
1/2 tsp chili powder
1/2 tsp paprika
1/4 tsp onion powder
1/2 tsp cumin
1/2 tsp garlic powder
1/4 tsp salt
2 tsp lemon juice
4 tsp olive oil, divided
3 cups Asparagus
Recipe Instructions:
Preparation:
In a large bowl, combine the shrimp, chili powder, paprika, onion powder, cumin, garlic powder, lemon juice, and salt. Set aside to marinate briefly.
In a medium-sized skillet over medium-high heat, add 2 tsp olive oil and asparagus. Sauté the asparagus until tender, approximately 5-7 minutes. Slide the sautéed asparagus to the side of the skillet.
Add the remaining 2 tsp of olive oil to the skillet and add the marinated shrimp. Cook the shrimp for 2-3 minutes on each side, or until they are no longer pink.
Divide the dish into 2 equal portions, and savor the delectable blend of spiced shrimp and sautéed asparagus.
Pros
This recipe can be whipped up in minimal time, making it an ideal option for busy schedules.
Cons
The dish's spiciness might not be suitable for individuals with low tolerance to heat.
How to make Optavia Lean and Green Blackened Shrimp and Asparagus taste better?
To make this Optavia shrimp recipe really shine while sticking to the "Lean and Green" guidelines, let's tweak a few things. First, marinate those shrimp for at least 20 minutes in the spice mix and lemon juice. Trust me, the flavors will just meld beautifully.
Now, when you're chopping the asparagus, aim for uniform 2-3 inch pieces so everything cooks evenly during that 5-7 minute sauté. And speaking of sautéing, let's get the heat just right. Start with medium-high for the asparagus, but when it's shrimp time, dial it down to medium. Shrimp cook super fast and you don't want them rubbery.
For a pro touch, let the shrimp sit for a minute on one side before giving them a flip. You'll get this nice, slight crispiness on the outside. Make sure to measure out those 2 teaspoons of olive oil for each of the asparagus and the shrimp; we want to keep it healthy, right?
Finally, to make sure each serving is on point with one Leanest, two Healthy Fats, three Greens, and three Condiments, use a kitchen scale. There you go, a Lean and Green meal that's restaurant-quality!