How To Cancel Optavia Diet Without Losing Money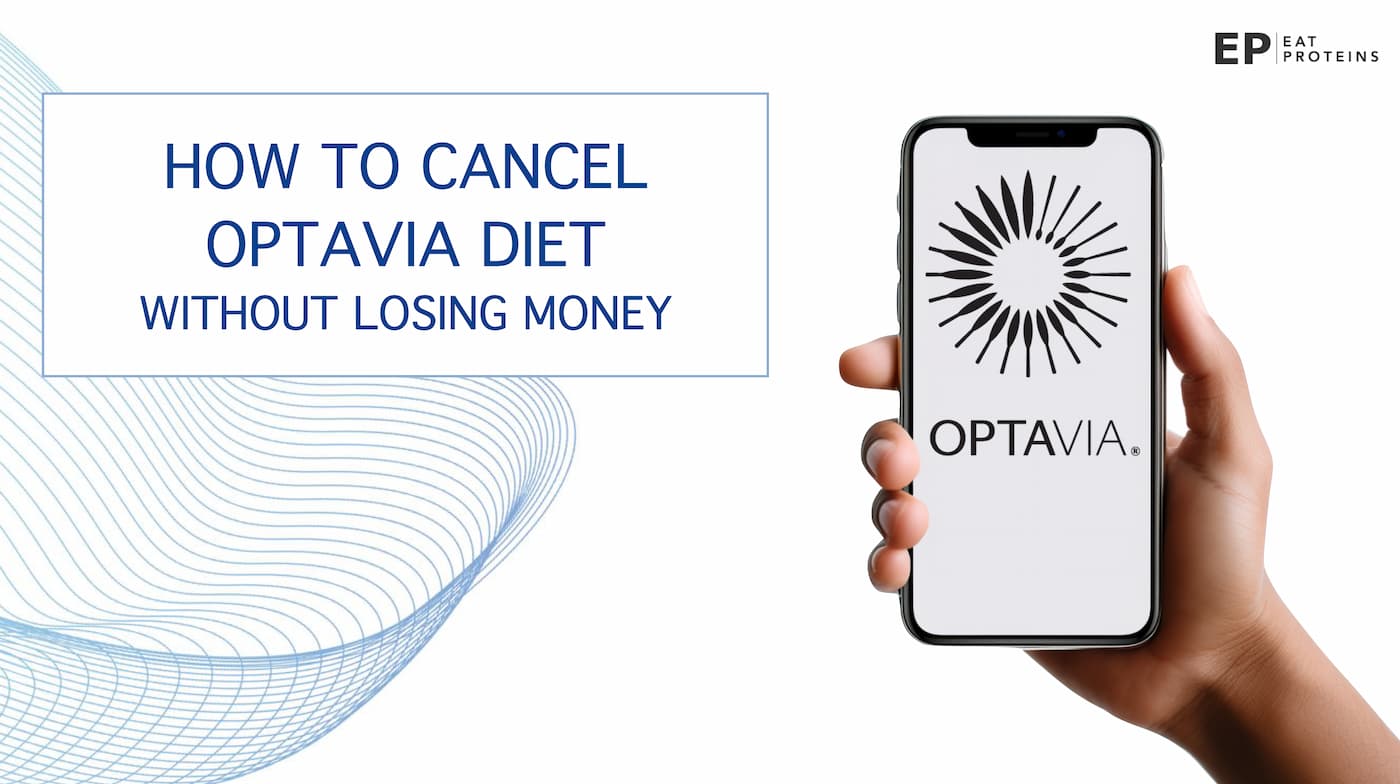 To cancel Optavia refers termination of your membership or subscription with Optavia. This includes ending any monthly deliveries, and automatic billing cycles, and discontinuing participation in Optavia's programs. The intent is to stop any upcoming or all services or transactions related to Optavia.
When asking how long it takes to cancel the Optavia diet, we can point to the 2023 Optavia Cancellation Policy, which states that the cancellation of the Optavia Premier membership takes effect immediately once the cancellation request has been made.
However, based on the complaints from the Better Business Bureau (BBB), it appears that customers have had significant difficulties canceling subscriptions or orders with Optavia, including unexpected charges, difficulty changing or canceling orders, problems with refunds, and poor customer service. These are seven steps to cancel the Optavia diet without losing time and money.
Review the Optavia terms and conditions
Log into your Optavia account online
Navigate to your Optavia Premier membership details
Choose to cancel your Optavia subscription
Confirm the Optavia cancellation
Review your Optavia Membership status
Stop automatic debits for Optavia from your bank account
1. Review The Optavia Terms and Conditions
To officially cancel your Optavia subscription, start by reviewing the Optavia terms and conditions. This will help you understand any potential fees or consequences associated with canceling your membership. Make sure to read these terms thoroughly so you know exactly what you're getting into before making the final decision.
2. Log Into Your Optavia Account Online
To deactivate your Optavia account, first login via the Optavia website using your preferred internet browser. Alternatively, you can use the Optavia mobile app if you're on a smartphone or tablet. Once logged in, you'll be able to manage your account and proceed with deactivation.
3. Navigate To Your Optavia Premier Membership Details
To terminate your Optavia membership, you must first access your Optavia Premier Membership details by logging into your Optavia account and going to the "My Account" page. Scroll down to find the "My OPTAVIA Premier" section and look for the option to cancel your Premier Membership, located in the bottom-right corner, as shown in this photo.
4. Choose to Cancel Your Optavia Subscription
To cancel your Optavia subscription, make sure to do so before 6:00 p.m. ET the day before your Optavia Premier order is processed. Look for the 'Cancel Premier Membership' button and confirm the date and time. Click on the button and follow any prompts that appear, as illustrated in this photo.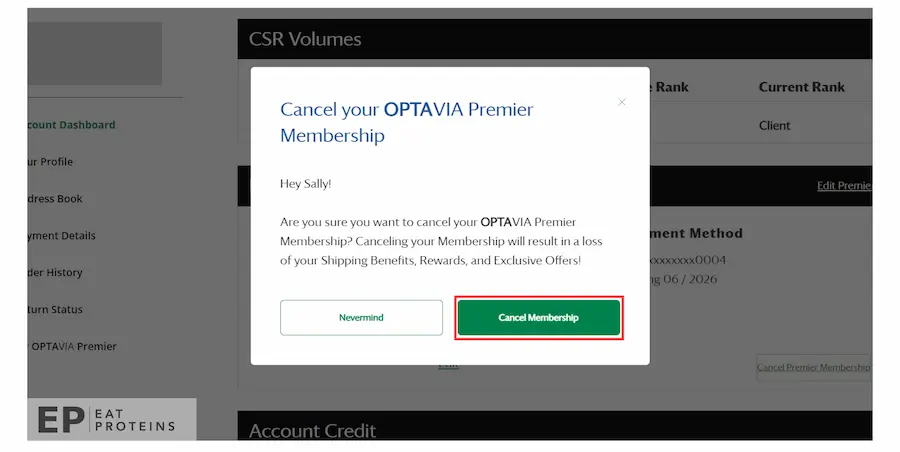 5. Confirm The Optavia Cancellation
Confirming the cancellation means you need to verify the cancellation process. A window will pop up informing you that by canceling your Premier membership, you will lose any associated benefits.
At this point, you have the choice to either continue with the cancellation by clicking 'Cancel Membership' or revert by selecting 'Nevermind' if you decide to maintain your membership. When available, keep any confirmation messages or emails you receive as proof of your cancellation.
6. Review Your Optavia Membership Status
To ensure that you stopped an Optavia order before it was dispatched, review your Optavia membership status. After confirming the cancellation of your Premier membership, you'll be redirected to the 'Premier Details' page. Look for a green notification banner at the top of the page, which will confirm that your membership and any associated orders have been successfully canceled.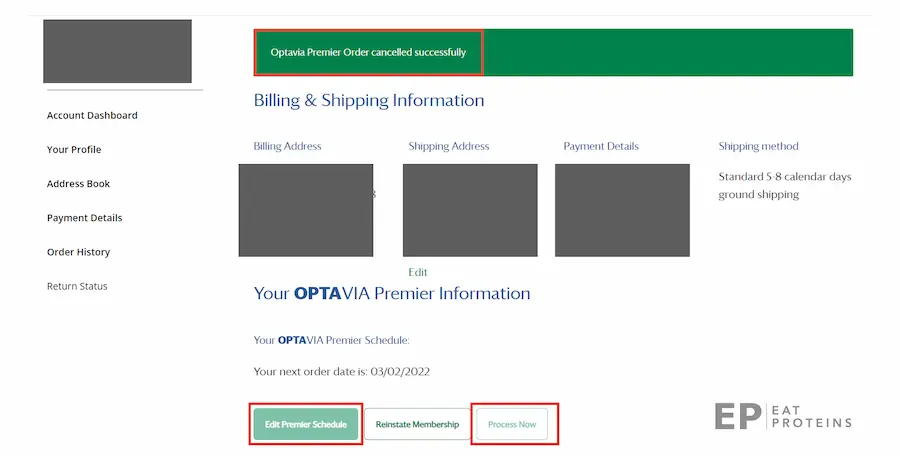 7. Stop Automatic Debits For Optavia From Your Bank Account
To ensure your Optavia autoship is no longer active and stop automatic debits from your bank account, it's recommended to issue a "stop payment order" with your bank. This can be done in person, over the phone, or in writing, and should be submitted at least three business days before the next payment is due. This step is especially crucial given that, according to the Better Business Bureau (BBB), many customers have faced difficulties in changing or canceling their Optavia orders within the company's stated time frames.
While not strictly required, numerous Optavia complaints have been lodged regarding Optavia's cancellation policy. Therefore, for the sake of safety and to avoid potential complications, it's better to take the necessary precautions.
How to cancel the Optavia diet Account?
To cancel your Optavia diet account, follow these nine steps.
Review Optavia's cancellation policy thoroughly.
Access your Optavia account online.
Navigate to the 'My Account' section where you'll be able to manage your Optavia account.
Look for an option that allows you to cancel your membership.
Follow the instructions provided to cancel your account.
Ensure to submit your cancellation request before 3:00 p.m. PT the day before your order processing date.
Wait for an email or any form of confirmation from Optavia to ensure that your membership has been canceled.
Regularly check your bank statements to ensure no further charges are made.
If you encounter any difficulties or if the cancellation doesn't take effect, contact Optavia customer support.
How To Cancel Optavia Order?
To cancel an Optavia order, follow these ten steps.
Visit the Optavia website or open the Optavia App on your device.
Navigate to the "Orders" or "My Account" page.
Locate and select the order you wish to cancel.
Look for the option to "Cancel order request" and click on it.
A window will pop up with a list of reasons for cancelation.
Choose the appropriate reason by clicking on the open circle beside it.
Once you have selected the reason, click the "Request order cancelation" button to submit your cancelation request.
After clicking the button, you should see a confirmation message indicating that your request has been submitted.
Close the inset window by clicking on the "Done" button.
You will see on the Order Details page that your cancel order request has been submitted successfully.
Is There an Optavia Cancellation Fee?
No, there is no cancellation fee when terminating an Optavia Premier membership.
Can I Cancel Optavia Online?
Yes, you can cancel your Optavia Premier order online via your account.
Do I Need To Return Any Unused Products When Canceling Optavia?
No, you don't have to return any unused products when canceling Optavia. However, if you have received an order that you don't want, the Optavia Return Policy allows Premier Clients to return a full or partial Optavia Premier order to receive a refund. But note that free boxes of Fuelings cannot be returned or exchanged.
Are there any alternatives to Optavia that I should consider?
Yes, there are several alternatives to the Optavia diet you might consider, such as Nutrisystem, Jenny Craig, or even DIY meal prep following a specific dietary guideline. Each of these options has its own set of meal plans, nutritional focus, and cost structure. Your choice would depend on your specific health goals, budget, and how much meal prep time you're willing to invest.