SlimFast Diet: A Beginner's Guide and Meal Plan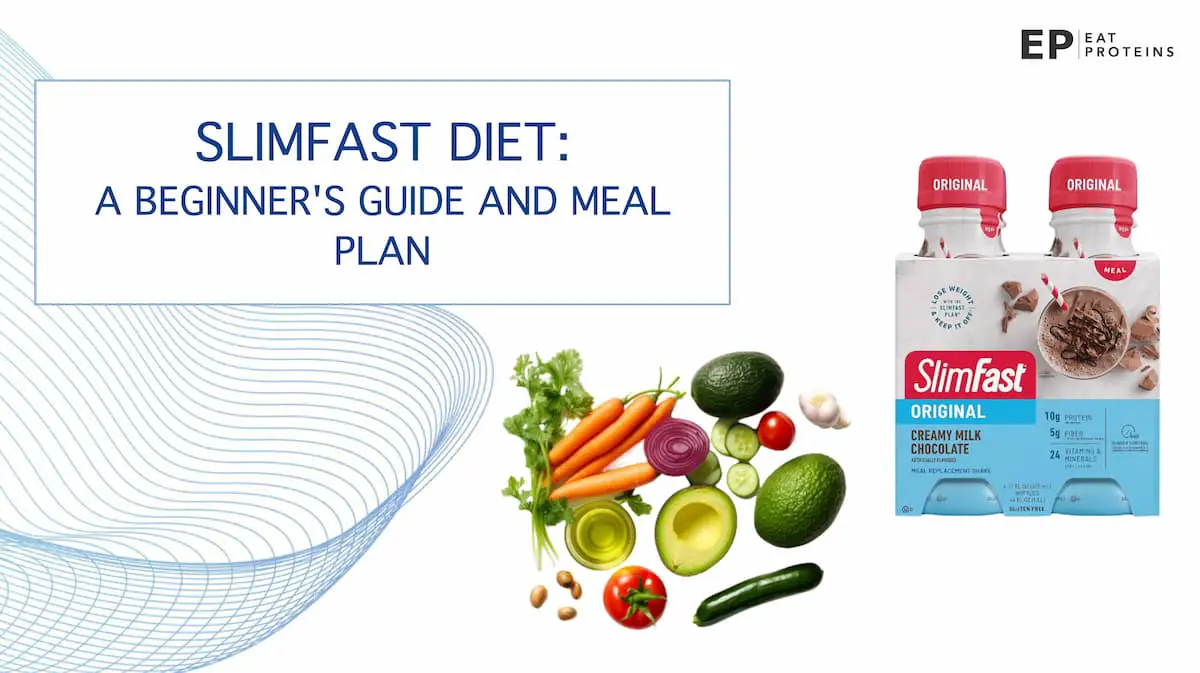 The SlimFast Diet, which gained popularity as a fad diet in the 1980s, primarily focuses on meal replacement shakes and bars to facilitate weight loss. It is designed to simplify calorie counting and portion control, making it easier for people to lose weight.
The main benefit of the SlimFast Diet is its convenience and effectiveness in aiding quick weight loss through portion-controlled, low-calorie meal replacements. On the contrary, the main risk associated with the SlimFast Diet is potential nutritional deficiencies, especially when relied upon for extended periods. Over the long term, it may also be challenging to maintain weight loss once traditional meals are reintroduced unless proper eating habits are established.
What is the Slimfast Diet?
The SlimFast Diet is a commercial diet plan from an American company that offers shakes, bars, snacks, and packaged meals designed to aid in weight loss. In the initial phase, you are advised to replace two meals per day with SlimFast meal replacements, while consuming a balanced 1,200-1,500 kcal diet.
The diet has garnered mixed evidence regarding its effectiveness, with some studies suggesting it performs no better than behavioral counseling for long-term weight loss. The plan has evolved over time, from being just a diet shake product line to including meal bars and other foods. While convenient, the diet's long-term sustainability and impact on overall nutritional health remain topics of discussion.
What is the origin of the SlimFast Diet?
The SlimFast diet, originating in 1977, has evolved from being considered a fad diet to becoming a well-known meal replacement diet with specialized lines like SlimFast Keto and SlimFast Diabetic.
It has undergone multiple ownership changes, including acquisitions by major companies like Unilever and Glanbia Plc. Despite its history and changes in ownership, the diet has sustained its popularity, supported by clinical studies that show its effectiveness in weight loss.
What is the current popularity of the SlimFast Diet?
The current popularity of the SlimFast Diet appears to be waning, with a decrease of -165.88% in social discussions over the past year. However, it is still featured in 124 restaurants' menus. The most popular SlimFast recipe for September 2023 is the 'Coffee SlimFast smoothie in magic bullet.'
How does the Slimfast Diet work?
In the SlimFast Diet, you have four different plans to choose from, with each of the plans offering you varying caloric intakes ranging from 1,300-1,950 kcal per day, tailored to your activity level and weight loss goals.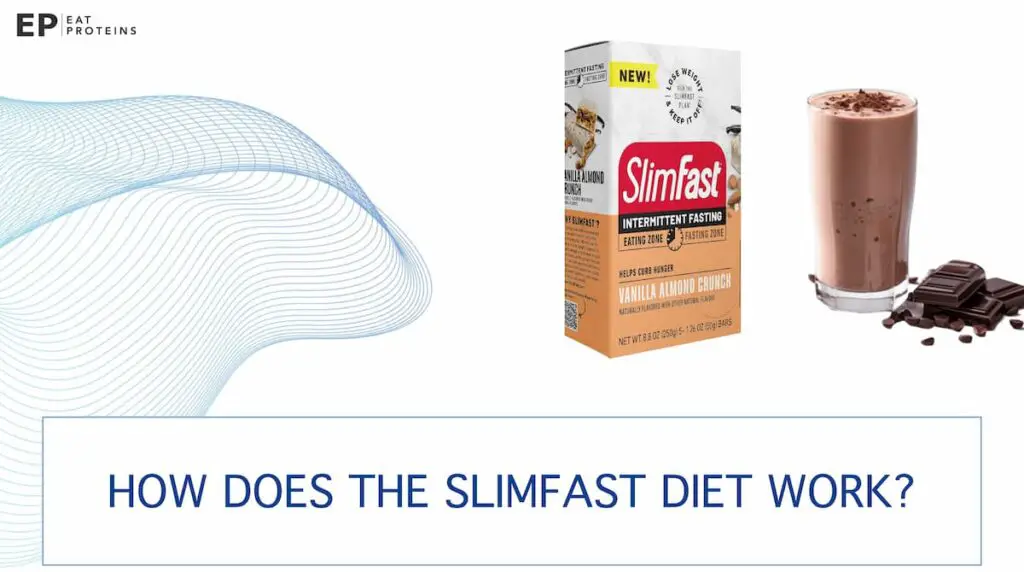 Slimfast 3.2.1 Plan: This plan aims for straightforward weight loss, the 3.2.1 Plan offers 1,300-1,350 kcal per day.
Slimfast Healthy Maintenance: For Slimfast Healthy Maintenance, you'll swap out one meal a day for a shake to keep your weight stable, targeting a caloric intake of 1,600-1,650 kcal. This plan is ideal if you've reached your desired weight and want to maintain it. You'll still enjoy two regular meals, making it easier to stick to in the long run.
Slimfast Active: With Slimfast Active, your focus is on weight loss while maintaining an active lifestyle. You'll consume 1,800-1,850 kcal per day, ideal for those who are relatively active throughout the week, like hitting daily steps or attending Pilates or Zumba classes. This balanced caloric intake supports your higher energy needs while helping you shed pounds.
Slimfast Energised: On the Slimfast Energised plan, you'll aim for a calorie count of 1,900-1,950 kcal per day, designed for those who are highly active or engage in high-intensity workouts. This is the plan for you if you're pushing your physical limits and need an eating plan that can keep up with your rigorous exercise regimen.
Although the SlimFast Diet doesn't provide weight loss coaching, you can take advantage of support through social media forums, Facebook groups, and other online resources. These platforms serve as avenues to swap tips, share stories, and seek advice, giving you a sense of community as you work towards your weight loss goals.
How does the Slimfast Diet work after you lose weight?
The SlimFast Diet works after initial weight loss by transitioning you to a 9-month maintenance plan, which may either continue the use of meal replacements or introduce a reduced energy-density eating program.
Physical activities such as brisk walking, Pilates, or Yoga are recommended, with a goal of at least 150 minutes of exercise per week. This maintenance phase is designed to help you sustain your weight loss while gradually integrating more traditional meals back into your diet.
What products are included in the Slimfast Diet?
The SlimFast Diet primarily includes a variety of meal replacement shakes, bars, and snacks designed to help with weight loss and maintenance. These products range from traditional shakes to keto-friendly options and intermittent fasting packs.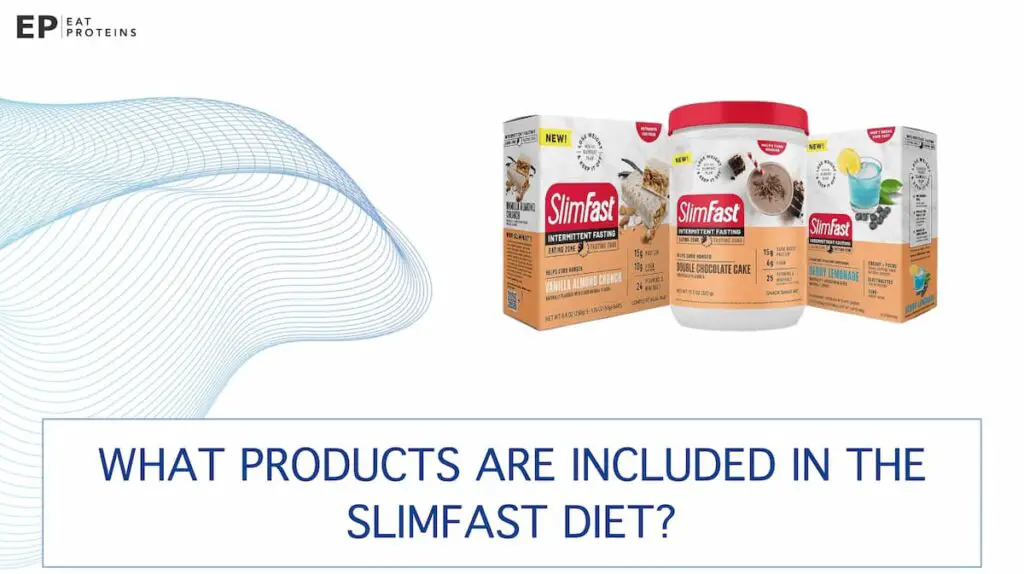 SlimFast Shakes: These are meal replacement shakes designed to be low in calories but high in nutrients, often used to replace breakfast or lunch.
SlimFast Powder: This is a powder mix that can be added to milk or water to create your own shakes at home.
SlimFast Keto Fat Bombs: These are keto-friendly snacks designed to satisfy your hunger while keeping you in ketosis.
SlimFast Bars: These are meal replacement bars that offer a convenient and portable way to stay on track with your diet.
SlimFast Keto Meal Shake: This is a keto-friendly meal replacement shake designed to help you stay in ketosis.
SlimFast Intermittent Fasting: These are products specifically designed to support those who are following an intermittent fasting regimen.
SlimFast Snacks: These are lower-calorie snack options to help you manage your hunger between meals.
SlimFast Apple Cider Vinegar Gummies: These gummies offer a tasty and convenient way to incorporate apple cider vinegar into your diet.
SlimFast Drinks: These are ready-to-drink beverages that can serve as meal replacements or as a quick source of nutrition.
What are the key ingredients in SlimFast shakes?
The key ingredients in SlimFast shakes include protein, fiber, and 24 essential vitamins and minerals. These ingredients help to curb hunger, support weight management, and provide necessary nutrients for a balanced diet.
Here is the table listing the ingredients found in the Slimfast Keto Vanilla Powder.
SlimFast Ingredients
MCT Oil Blend (Palm, Coconut, Grass-Fed Butter)
Protein Blend (Whey Protein Concentrate, Whey Protein Isolate, Grass-Fed Collagen Peptides)
Erythritol
Natural Flavors
Xanthan Gum
Salt
Soy Lecithin
Carrageenan
Dextrose
Stevia Leaf Extract
Silica
Guar Gum
Additionally, SlimFast shakes contain aspartame, which may cause adverse reactions in some individuals.
What are the artificial ingredients in Slimfast products?
The artificial ingredient in SlimFast products is aspartame. Aspartame is a sweetener used in SlimFast shakes and mixes, but it may cause adverse reactions. According to a 2018 study by Arbind Kumar Choudhary from Universiti Sains Malaysia, aspartame has been linked to various neurophysiological symptoms including headaches, seizures, anxiety, and depression.
What is the calorie content of SlimFast Diet products?
The calorie content of SlimFast diet products varies depending on the flavor and serving size. However, on average, each serving contains around 110-140 calories. It is important to check the specific nutritional information on the packaging for accurate calorie content.
What are the flavors available in SlimFast Diet meal replacement shakes?
The flavors available in SlimFast diet meal replacement shakes are Milk Chocolate, Rich Chocolate Royale, French Vanilla, and Strawberries & Cream. The flavors available in SlimFast ready-to-drink meal replacement shakes include Creamy Chocolate, Vanilla Cream, Strawberries & Cream, Bananas & Cream, and Orange Cream Swirl. These delicious and satisfying flavors provide a variety of options to suit different taste preferences.
How accessible are SlimFast products?
SlimFast products are widely accessible and available in a variety of retail stores, including Walmart, Sam's Club, and Costco, as well as online platforms like Amazon and Instacart. They are also found in grocery chains such as Publix, Kroger, and Meijer. The brand's own website, "Shop SlimFast," also offers a full range of products for direct purchase.
What Slim Fast products are available at Walmart?
Walmart offers a wide array of SlimFast products including shakes, meal replacement bars, snacks, and specialized products like SlimFast Keto and SlimFast Diabetic. The selection at Walmart is extensive, covering almost all product lines of SlimFast. Prices at Walmart are generally competitive, making it a popular choice for SlimFast shoppers.
What are the health benefits of the Slimfast Diet?
The health benefits of the Slimfast Diet include weight loss, improved body composition, and metabolic improvements such as reduced blood glucose levels.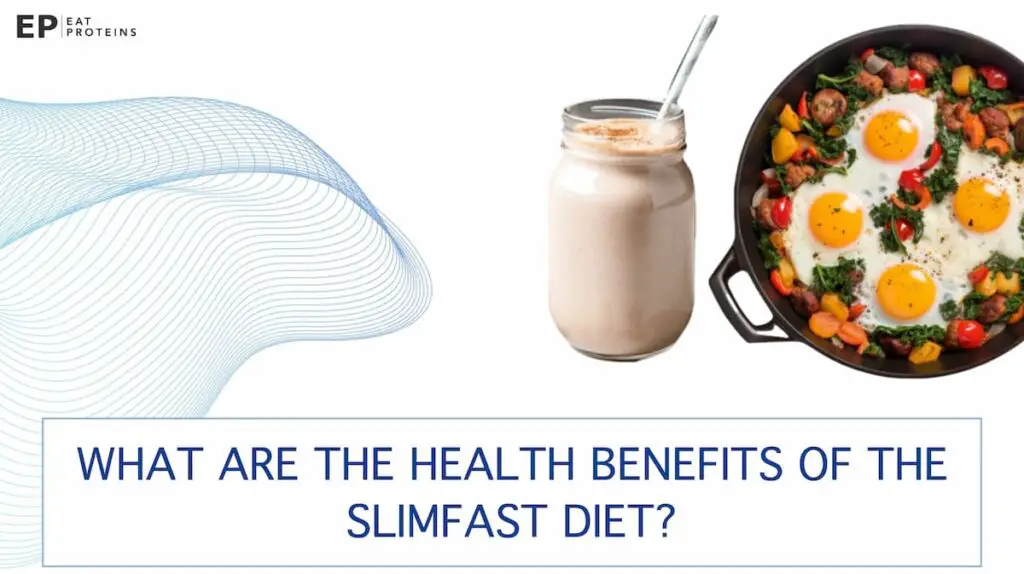 Weight loss: According to a 2008 study by Xiaohui Guo from Peking University, a partial meal replacement diet, such as the SlimFast diet, promotes weight loss by providing a calorie-controlled meal replacement plan. This leads to a reduction in body weight and body mass index (BMI).
Improved body composition: Slimfast Diet helps to improve body composition parameters, including reductions in waist circumference, fat-free mass, and body fat mass.
Metabolic improvements: The Slimfast Diet results in metabolic improvements such as decreased blood glucose levels, highlighting the potential benefits for individuals with overweight or obesity.
Reduced visceral fat area: Consuming the Slimfast Diet at dinner time for 12 weeks leads to a significant reduction in visceral fat area, which is linked to improved metabolic health.
Lower blood pressure: Following the SlimFast Diet leads to a reduction in both systolic and diastolic blood pressure, thereby contributing to overall cardiovascular health.
Nutrient intake improvement: The Slimfast Diet provides a structured meal replacement plan that ensures participants consume a well-balanced blend of macronutrients, helping to improve overall nutrient intake.
Sustainable weight management: The Slimfast Diet offers a practical and convenient approach to weight loss and maintenance, providing individuals with overweight or obesity an effective long-term strategy for managing their weight and promoting a healthier lifestyle.
What are the health benefits of the SlimFast diet for people with diabetes?
SlimFast meal replacement diet offers several health benefits for Type 2 Diabetes patients. They significantly reduce HbA1c levels, fasting blood glucose, body weight, and BMI while improving other cardiometabolic risk factors. Both partial and total meal replacements are well-tolerated, and their benefits are observed regardless of whether patients are using insulin.
Significant reduction in HbA1c levels, improving glycemic control.
Lowering of fasting blood glucose levels.
Decrease in body weight, aiding in weight management.
Reduction in BMI, which is beneficial for overall health.
Improvement in cardiometabolic risk factors, enhancing heart health.
How much weight can you lose in 4 weeks on Slim Fast Diet?
You can lose approximately 3.1 kilograms (about 6.8 lbs) in 4 weeks on the SlimFast diet, according to a 2013 study by Michael R. Lowe, Ph.D., from Drexel University. The research involved primary care patients and revealed that they initially lost an average of 6.1 kg (around 13.4 lbs) during the 12-week weight loss phase.
However, the study also emphasized that maintaining the weight loss can be challenging; some participants experienced weight regain during follow-up assessments. Despite this, the study suggests that the SlimFast meal replacement diet can be effective for initial weight loss. Keep in mind that the specific amount of weight you can lose may vary depending on individual factors and how closely you adhere to the diet plan.
Does the SlimFast work for long-term weight loss?
Yes, SlimFast is effective as a meal replacement for long-term weight loss when combined with a healthy diet that includes a variety of nutrients, not just shakes.
What are the side effects of the Slimfast Diet?
The SlimFast meal replacement diet does not show significant adverse effects on liver function, renal function, or bone density over a one-year period, according to a 2010 study by Zhaoping Li from the David Geffen School of Medicine at UCLA. Both high-protein and standard-protein meal replacements were well-tolerated.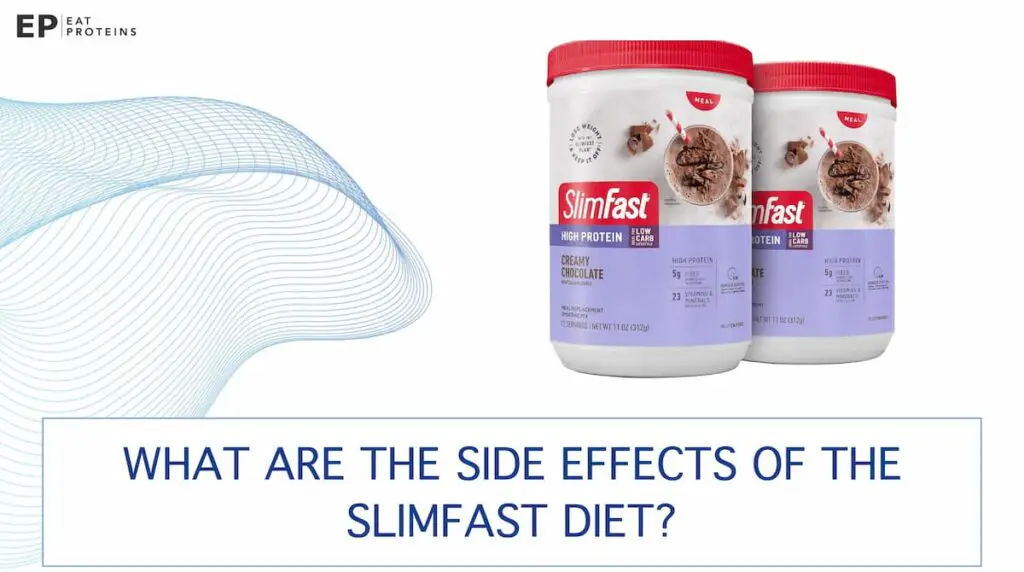 When asked about the long-term side effects of the SlimFast Diet, it's worth noting that the artificial sweeteners in SlimFast shakes can lead to digestive symptoms. These symptoms may include bloating, gas, and diarrhea, particularly for individuals with sensitivities or intolerances.
What are the common side effects mentioned in SlimFast reviews?
Based on the reviews collected by ConsumerAffairs, some users did mention certain issues or concerns they experienced while using SlimFast products.
Tasted bad, like a chemical: One reviewer mentioned that the SlimFast shake tasted unpleasant and like a chemical.
Doesn't keep you feeling full: A user reported that the SlimFast shake did not keep them feeling full.
Struggled to open a bottle with plastic wrapping: One reviewer had difficulty opening the SlimFast shake bottle due to the plastic wrapping, which required them to use their teeth.
May not work well with certain conditions: One user mentioned that the SlimFast diet may not work well for everyone, particularly those with certain medical or health conditions.
Made one user feel more hungry: One reviewer reported feeling hungrier than usual after consuming SlimFast shakes, which led to weight gain.
Feeling depressed after consuming SlimFast: Another user mentioned feeling depressed after consuming SlimFast products and decided not to repurchase them.
These reported experiences are subjective and may vary from person to person. As with any weight loss program or dietary product, it is advisable to consult with a healthcare professional before starting the SlimFast Diet or any other weight loss regimen.
How to Start a SlimFast Diet
To start a SlimFast diet, you can sign up on the SlimFast website or download the Together app. From there, you can choose the SlimFast plan that suits your needs, replace two meals a day with SlimFast products, and incorporate healthy snacks and one 600-calorie meal into your daily routine.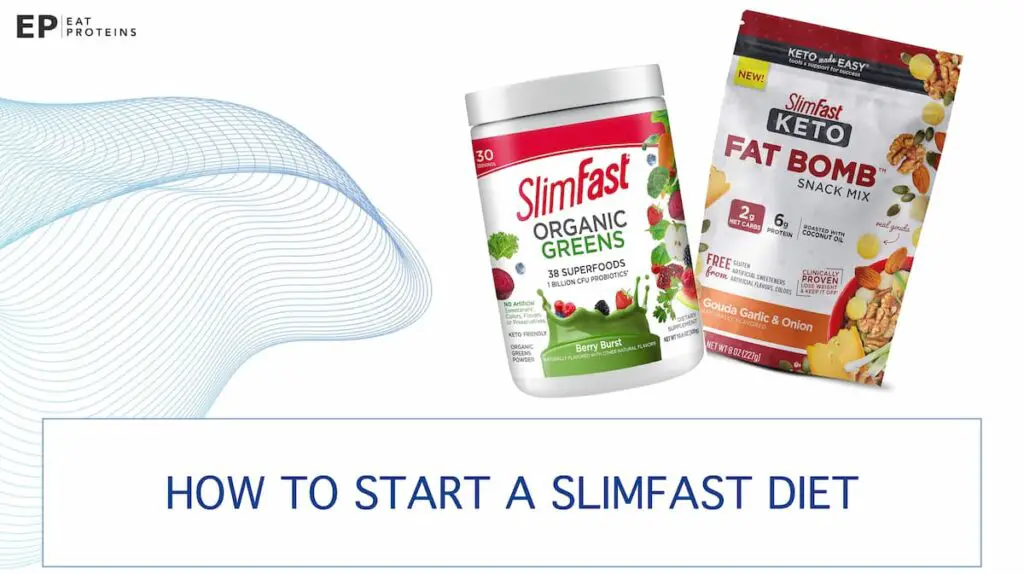 You should also drink plenty of water, exercise for 30 minutes a day, and consult with a healthcare professional before starting any weight loss program.
Begin by signing up on the SlimFast website or downloading the free SlimFast Together app.
Choose the SlimFast plan that suits your dietary needs, including options like Favorite Foods, Low Carb, Keto, and SlimFast Original.
Replace two meals a day with SlimFast meal replacement shakes or smoothies.
Enjoy one 600-calorie meal that fits within the recommended calorie range for your goals.
Incorporate three low-calorie snacks between meals, choosing from SlimFast's range of sweet and savory options.
Drink plenty of water and aim to exercise for at least 30 minutes every day.
Use the SlimFast Together app for personalized meal planning, recipe ideas, progress tracking, and product purchasing.
Follow the SlimFast plan consistently for short-term weight loss results.
Transition to the SlimFast maintenance plan once you've reached your target weight, replacing one meal with a shake or snack to sustain your progress.
How to start a Slimfast diet when you have diabetes?
To start a SlimFast diet when you have diabetes, follow the outlined steps below.
Consult with your healthcare provider to ensure a SlimFast diet is suitable for your diabetes management plan.
Work with a registered dietitian to create a personalized meal plan that incorporates SlimFast products and is tailored to your specific dietary needs.
Monitor your blood sugar levels regularly and make adjustments to your medication or insulin as needed.
Start by replacing one meal with a SlimFast shake or meal replacement bar per day, following the recommended serving size and carbohydrate content.
Choose snacks from the SlimFast range that are diabetes-friendly, such as those low in added sugars and carbohydrates.
Incorporate a balanced, diabetes-friendly meal for your remaining meals to ensure adequate nutrition and a variety of food groups.
Stay hydrated by drinking plenty of water throughout the day.
Monitor your weight and blood sugar levels regularly to track your progress and make any necessary adjustments to your diet or medication.
Stay in regular communication with your healthcare provider and registered dietitian to monitor your diabetes management and ensure the SlimFast diet is helping you reach your health goals.
Is Slim Fast suitable for diabetics?
Yes, SlimFast offers products designed to be low in sugar and high in protein, and clinical studies indicate that it can help in maintaining blood sugar levels, making it a potentially effective approach for those with Type 2 diabetes.
However, it is essential for individuals with medical conditions like diabetes to consult their doctor or medical professional before starting any weight loss program, including the SlimFast diet.
What does a SlimFast 7-day meal plan look like?
The SlimFast 7-day meal plan consists of structured meals and snacks spread throughout the day, with each day totaling around 1,300 kcal.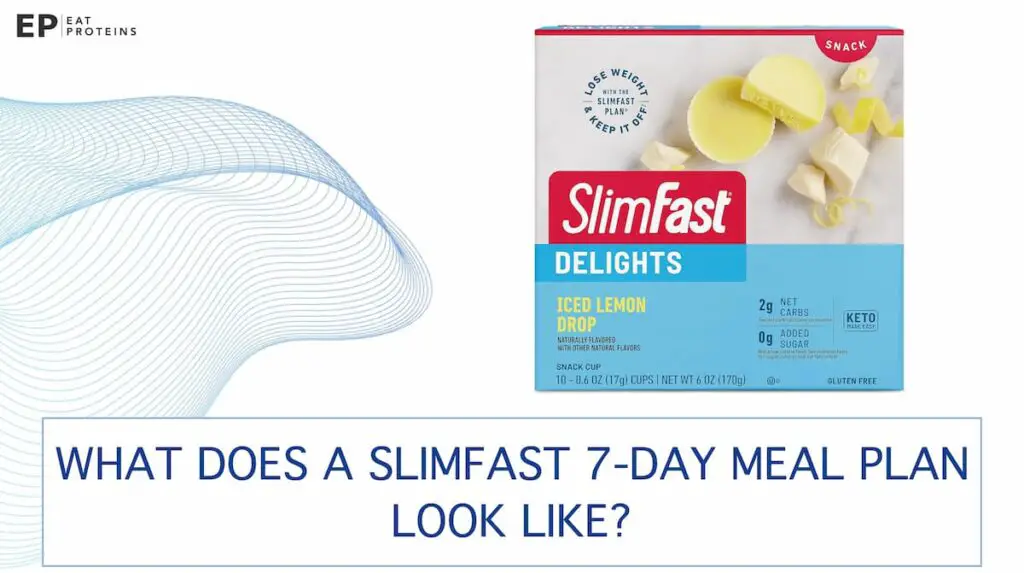 For example, you could start your day with a SlimFast shake for breakfast, followed by a meal bar for lunch, and a 600kcal dinner such as "Pizza Primavera." In between, you'll have various snacks like a boiled egg, snack bags, or snack bars to keep you fueled, as outlined in this table.
Day
Breakfast
Lunch
Dinner
Snacks
Day 1
Shake
Meal Bar
Pizza Primavera
Snack Bar
1 large boiled egg
Snack bag
Day 2
Meal Bar
Shake
Chicken & Broccoli Pasta
3 squares of dark chocolate
Snack Bar
Snack Bag
Day 3
Shake
Meal Bar
Mushroom, Asparagus & Bacon Risotto
Snack Bar
Carrots & Hummus
Snack bag
Day 4
Shake
Meal Bar
Bangers
& Mash
Snack Bar
Green Smoothie
Snack bag
Day 5
Meal Bar
Shake
Chicken & Broccoli Pasta
Banana
Snack Bag
Snack Bar
Day 6
British Breakfast
Meal Bar
Shake
Snack Bar
Pearl
Snack bag
Day 7
Shake
Meal Bar
Roasted Chicken Dinner
Snack Bar
Mandarine
Snack bag
What food can you eat on the SlimFast Diet?
On the SlimFast Diet, you can enjoy a dinner or breakfast made from healthy foods, capped at 600 calories.
Grilled Chicken Breast
Steamed Broccoli
Quinoa
Avocado
Sweet Potato
Spinach
Blueberries
Almonds
What items should be on the shopping list for the SlimFast Diet?
For the SlimFast Diet, your shopping list should include SlimFast shakes, meal bars, and snack bars, along with lean proteins, vegetables, fruits, whole grains, dairy or dairy alternatives, and seasonings.
SlimFast Shakes
SlimFast Meal Bars
SlimFast Snack Bars
Lean Proteins (e.g., chicken, turkey, fish)
Vegetables (e.g., spinach, broccoli, peppers)
Fruits (e.g., apples, berries, oranges)
Whole Grains (e.g., brown rice, whole wheat pasta)
Dairy or Dairy Alternatives (e.g., skim milk, almond milk)
Seasonings (e.g., herbs, spices, low-sodium sauces)
What food should you avoid on the SlimFast Diet?
On the SlimFast Diet, you should avoid additional processed foods, fast food, alcohol, sweets, and sugary foods. Although SlimFast products are also processed, stick to the plan and consider substitutes like Premier Protein, Huel, or Atkins shakes if needed.
What are the best SlimFast diet recipes?
The SlimFast Diet offers a wide range of recipes tailored to different needs and preferences, with almost 300 options to choose from. Whether you are in the weight loss phase, active phase, or maintenance phase, you'll find recipes suitable for diabetics, gluten-free diets, vegetarians, vegans, and those looking for high-protein options.
Each meal is designed to be around 600 kcal, and examples of popular recipes include Spicy Chickpea & Kale Bowl, Chicken Vegetable Teriyaki Bowl, Feta and Spinach Pie with a Chopped Salad, Hearty Cottage Pie, and Mediterranean Pasta.
How does the Slimfast Diet compare to other meal replacement diets?
The SlimFast diet is focused on low-calorie shakes and bars for weight loss, making it distinct in the meal replacement diet landscape when compared to Soylent and Huel, which aim to provide nutritionally complete meals.
Exante Diet, another meal replacement diet, is more similar to SlimFast in its weight loss focus but offers a wider variety of meal options like soups and desserts. While SlimFast has specialized lines such as SlimFast Keto and SlimFast Diabetic, Soylent and Huel offer a balanced macronutrient profile designed for general nutrition.
What are the best Slimfast diet alternatives?
There are several alternatives to the SlimFast diet that can help you achieve your weight loss goals. These shakes provide a convenient option when you're pressed for time but should not replace regular meals.
It's important to choose shakes that offer a good balance of proteins, fats, and carbs to meet your nutritional needs. Here are some of the best meal replacement shakes recommended by dietitians.
Orgain Organic Meal Replacement Shakes: Reviewers love the chocolate flavor of these shakes, which contain 16 grams of grass-fed whey protein powder and are more substantial than other meal replacements with 250 calories per drink.
Premier Protein Meal Replacement Shakes: These shakes are highly rated and come in delicious flavors like caramel, chocolate, cookies & cream, and vanilla.
Ripple Vegan Protein Shakes: These lactose-free shakes are suitable for dairy-sensitive individuals or those avoiding added sugars. They contain 20 grams of vegan protein and have no sugar.
Iconic Grass-Fed Meal Replacement Shakes: These shakes have 20 grams of grass-fed milk protein, 4 grams of fiber, and no sugar per bottle. They are low in fat and provide calcium, magnesium, and vitamin B12.
Evolve Plant-Based Protein Shakes: These pea-derived shakes are dairy-free, soy-free, and gluten-free. They provide 20 grams of plant-based protein, calcium, iron, vitamin B12, and zinc.
Is SlimFast considered a healthy diet?
Yes, SlimFast can be considered a part of a healthy diet plan when used as a partial meal replacement and not relied upon for long-term sustenance. The diet is most effective when incorporated into a balanced meal plan that includes a variety of healthy foods.
Is SlimFast considered a fad diet?
Yes, SlimFast is generally considered a fad diet, although it has been around since the 1970s and offers a structured meal replacement plan backed by some clinical studies. However, its long-term efficacy for weight maintenance is still a subject of debate.