Where To Buy GOLO Release? (eBay and Craigslist)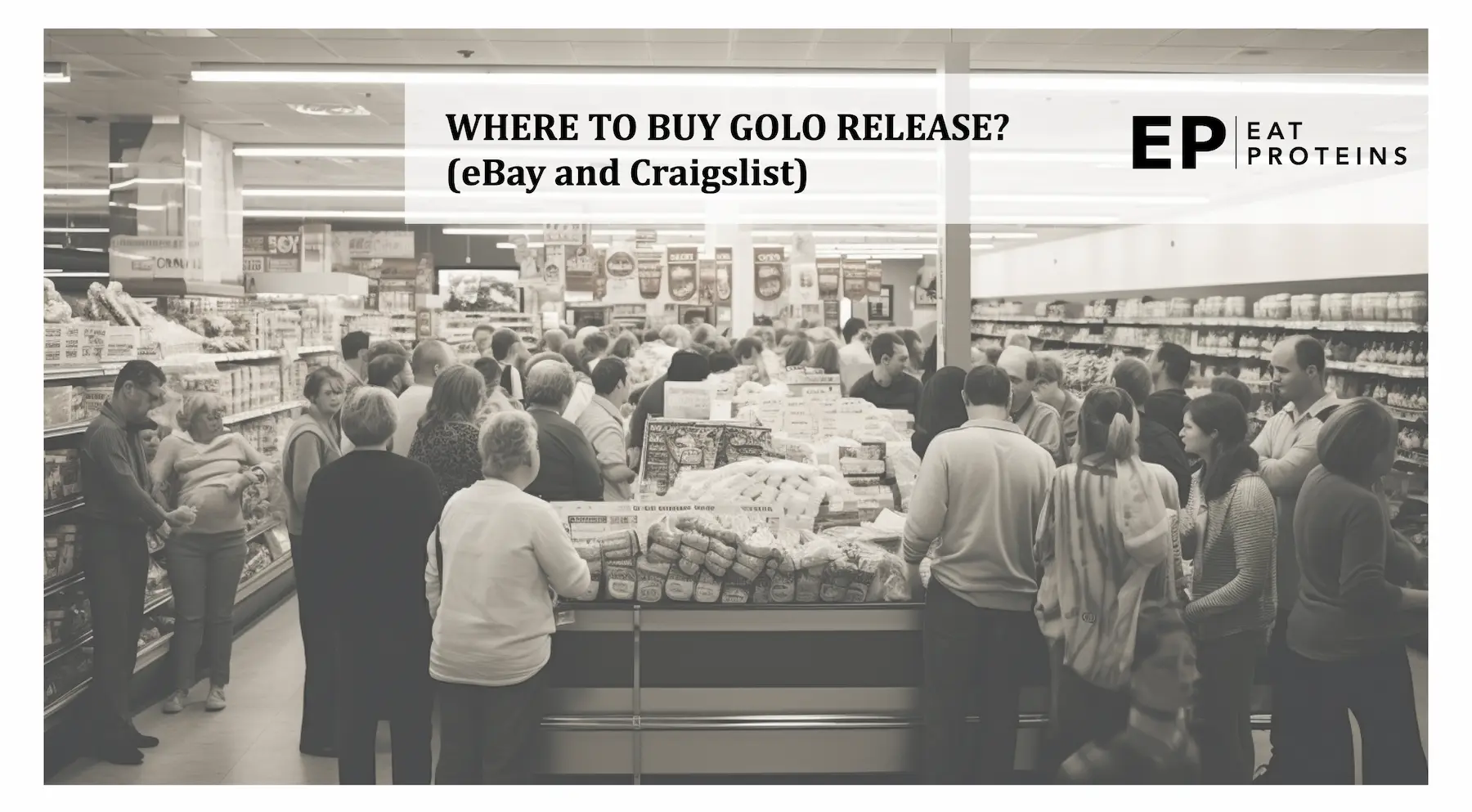 The GOLO diet is a dietary plan focused on improving metabolic health through the inclusion of a specific dietary supplement known as "GOLO Release". Adherents are required to consume between 1,300 and 1,500 nutritionally rich calories per day, while also taking the Release supplement as directed.
According to a 2019 study conducted by Robert J Buynak and published in Trends in Diabetes and Metabolism, the GOLO diet, combined with the Release supplement, has demonstrated significant benefits for individuals suffering from obesity and related metabolic issues.
The phrase 'where to buy GOLO' refers to the locations or types of retailers where one can find GOLO diet products, specifically the Release supplement, available for offline purchase. Despite being a non-prescription weight loss supplement, the GOLO Release products aren't readily available at big box retailers like Walmart, Target, Costco, Walgreens, or Amazon.
So, can you buy the GOLO release in stores? No, the GOLO release is not available in stores and over-the-counter pharmacies like CVS or Walgreens. Although the weight loss supplement used to be sold at Walmart and Amazon, right now you can only buy GOLO release from their official site, and some third-party websites like eBay, Facebook Groups, and Craigslist.
In this article, we delve into commonly asked questions about where to purchase GOLO Release supplements and considerations to keep in mind before choosing the store to make your purchase. We also compare the availability of GOLO supplements to other weight loss diets, like the Optavia 5 and 1 plan, giving you a comprehensive view to make an informed decision.
What Stores Carry The GOLO Diet Pills?
The GOLO diet pills (also known as the Release supplement) aren't readily available in many brick-and-mortar stores such as Target, Kroger, or Aldi. Some individuals might sell their unopened pills on third-party websites like eBay or Craigslist, which could also include related items like books and recipes.
However, please be aware that purchasing from these sources may not offer the same protections, as the 60-day money-back guarantee, provided when buying directly from the official GOLO website.
Therefore, while some third-party websites may sell GOLO diet pills, for the most secure purchase with a guarantee, it is recommended to buy the GOLO diet pills directly from the official GOLO website.
Can You Buy GOLO at Walmart?
No, currently, GOLO supplements are not available for purchase at Walmart. Although Walmart used to stock GOLO and other weight loss supplements claiming to curb hunger in the past, at this time, they have ceased selling this specific product.
It's always good to check Walmart's online store or inquire in person at a local Walmart for the most accurate, up-to-date information about product availability.
Can You Buy GOLO at Walgreens?
No, GOLO pills are not (and have never been) available for purchase at Walgreens. However, Walgreens does offer alternative weight loss supplements. For instance, you can find products like Alli, which contains the active ingredient Orlistat 60 mg.
Additionally, they sell Goli, a popular brand of apple cider vinegar gummies. These alternatives might serve similar purposes but it's important to consult with a healthcare provider before starting any new supplement regime.
Can You Buy GOLO at Target?
No, GOLO supplements are not available for purchase at Target. While Target does carry weight loss supplements and dietary aids, they do not include GOLO Release. Nevertheless, Target does stock weight loss products such as R3SET, Alli, Goli, HEALTHS' Water Weight Loss, Nobi Nutrition's Night Time Fat Burner Gummies, and Hydroxycut.
Please remember to consult with a healthcare provider before starting any new supplement regime, as some of these GOLO alternatives contain high levels of caffeine.
Can You Buy GOLO Over The Counter?
No, you cannot buy GOLO over-the-counter (OTC). Though it is a supplement that does not require a prescription and includes ingredients common in some OTC weight loss pills like PhenQ or Leanbean, GOLO is not available in this way.
What Are The Best Places To Buy GOLO Diet Pills?
Best places to buy GOLO diet pills refer to the most reliable, convenient, and potentially cost-effective locations or platforms where one can purchase the GOLO diet pills, along with any additional resources or services that might be offered with the product.
When asked about the best place to buy GOLO diet pills, the answer is the official GOLO website. This platform not only sells the GOLO diet pills, but it also provides additional resources and tools to support your weight loss journey. These include the GOLO for Life Plan and myGOLO, which offers access to online resources and recipes. The GOLO Smartcard, a quick checklist of tips for weight loss, is another helpful resource provided on the official site.
What Should I Consider Before Purchasing GOLO From The Stores?
These are the things to consider before purchasing GOLO products.
Refund Policy: When considering where to buy GOLO products, it's crucial to note that purchases made in stores may not be returnable. Understanding the company's refund policy is vital. Make sure to review the terms and conditions comprehensively. This will provide you with insights on what the policy includes and excludes, and the duration within which you can ask for a refund if the product doesn't fulfill your expectations.
GOLO Booklet: Before deciding where to purchase GOLO, particularly from online platforms like eBay or Craigslist, make sure the offer includes additional resources such as the GOLO booklet. This booklet, which accompanies the product, details the diet plan and instructions for using the product. Before making your purchase, you might want to check if preview content is available to ensure the plan's guidelines and recommendations align with your lifestyle and goals.
Access to Online Community: If you're pondering where to buy GOLO, consider purchasing directly from their official website. One major benefit is that it grants you access to their exclusive Facebook group, requiring proof of purchase for entry. This vibrant online community, boasting over 70,000 members, allows you to exchange experiences and share your weight-loss journey with others. Peer support is a crucial part of this process, and the GOLO community provides ample opportunities for engagement through their support forums and Facebook group, where members routinely share their progress, experiences, and helpful tips.
Ingredients: While considering where to buy GOLO products, it might seem self-evident but it's vital to examine the list of ingredients in GOLO's offerings. This ensures you don't inadvertently consume something you're allergic to. Furthermore, if you have dietary restrictions or are on medication, consulting with a healthcare provider can help you steer clear of any potential adverse effects.
Cost: While it might seem attractive to buy GOLO products from other sources, it's crucial to note that purchasing directly from the GOLO website offers substantial discounts, including up to $60 off. When contemplating where to buy GOLO, factor in the cost-effectiveness of the products. Diet programs and supplements, including GOLO, can be significantly expensive. Therefore, assessing whether such an expense is sustainable for you in the long term is an important consideration.
Does The Cost of GOLO Vary Between the Official Store and Online?
Yes, there can be a variance in the cost of GOLO supplements between the official store and other online platforms. The official GOLO store often provides savings and discounts, particularly if you are buying in larger quantities.
For instance, purchasing one bottle of the Release supplement, containing 90 vegetarian capsules, from the official GOLO store costs $59.95. If you opt to buy two bottles, containing a total of 180 capsules, the cost is $99.90, allowing you to save $20. For three bottles, supplying 270 capsules, the cost is $119.85, resulting in a saving of $60.
Compare these prices to those on other platforms to ensure you're getting the best deal. It's also essential to consider purchasing from the official store to guarantee product authenticity and quality.
How Does the Availability of GOLO Diet Pills Compare To Other Weight Loss Products?
The availability of GOLO diet pills primarily through the official website is similar to the distribution of Optavia 5 and 1 weight loss products, which are also typically available via their official website, limiting their points of sales. If you're asking where can I buy Optavia Fuelings, there are four options available such as Facebook, eBay, Poshmark, and the Optavia website.
On the other hand, Wonderslim products have a wider distribution and are easily accessible through large online stores like Walmart, Amazon, and Costco. Even though Wonderslim is not a diet pill, it still offers weight-loss meal replacements that can be accessed through these different platforms.
Therefore, while GOLO and Optavia have more controlled and limited distribution, other weight loss products like Wonderslim are widely accessible across various retail and online platforms.