4 Ways You Can Buy Optavia Fuelings (Without a Coach)
Ordering Optavia on your own can seem like a daunting task, but with a few simple tips, you'll be able to get them in no time!
In this article, I'll show you places where you can buy Optavia products.
I will also provide more detail about each of these online stores, and explain which ones are good (and which you should avoid).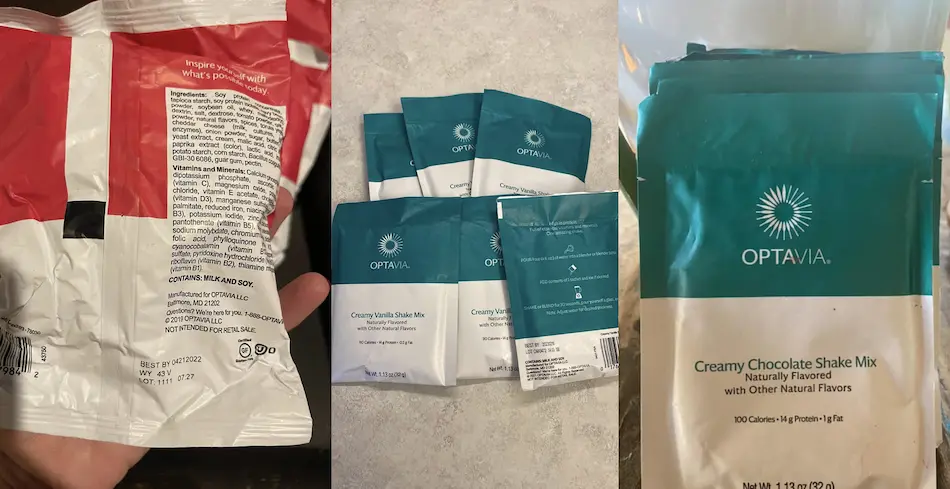 First, let's talk about Optavia fuelings for sale
Optavia doesn't have an outlet store available locally, so the only way I can buy their products is online.
For me, the easiest way to buy Optavia fuelings is via their website, however, I need to spend over $300 to get free shipping.
To save money and time, I either look for fuelings similar to Optavia or use third-party websites like eBay, Poshmark, or Picclick.
I also get discounted prices when I buy Fuelings via social media groups and marketplaces.
The price for the Optimal weight 5&1 plan is around $400, which is way above my budget.
So to meet my monthly budget, I needed to find Optavia bars for sale near me (for a lower cost).
Do you know what's funny?
There are hundreds of people who are selling Optavia fuelings online. They bought the products (but haven't used them all) and are selling them left and right.
Here's the photo of 9 Optavia boxes with 63 shakes that I bought for a total of $150 from eBay, including shipping.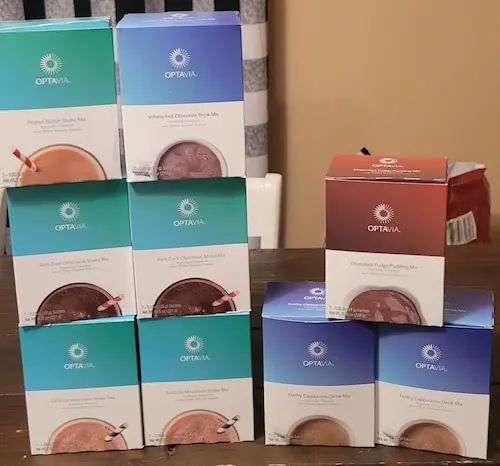 (Those 9 boxes lasted me for almost two weeks.)
I didn't have to connect to any Optavia coach.
The boxes you see were brand new, and all products had a valid expiration date.
If I were to buy these Fuelings via the Optavia website, I would have to pay $230 (including shipping). 
Where can you find Optavia fuelings for sale?
For me, the best places are the ones that offer the best price, variety, and low shipping costs.
So whenever you run out of Optavia stock, or you're looking for something new, below I listed a few websites where I usually go.
They all have some pros and cons, so read on to get more details.
eBay
eBay is the heaven on earth for Optavia fuelings. This is the biggest marketplace to buy (and sell) Optavia products outside of the official website.
They have separate categories for each of the Fuelings, like shakes, bars, meal replacements, and soups.
Here's the photo.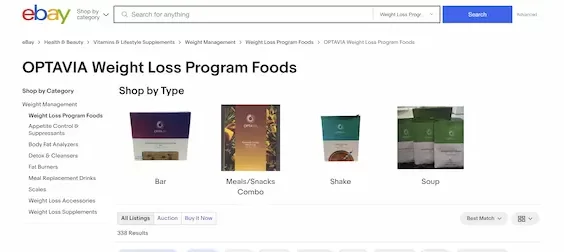 I like to buy Optavia fuelings on eBay becasue they accept a variety of payment methods like Paypal, and Google pay, not only my credit card.
Keep in mind that most of the best deals on eBay are sold in the auction-style listing, where you bid against other buyers.
(That's where I catch the best deals!)
Here's a photo of my Optavia bars that I bought on eBay.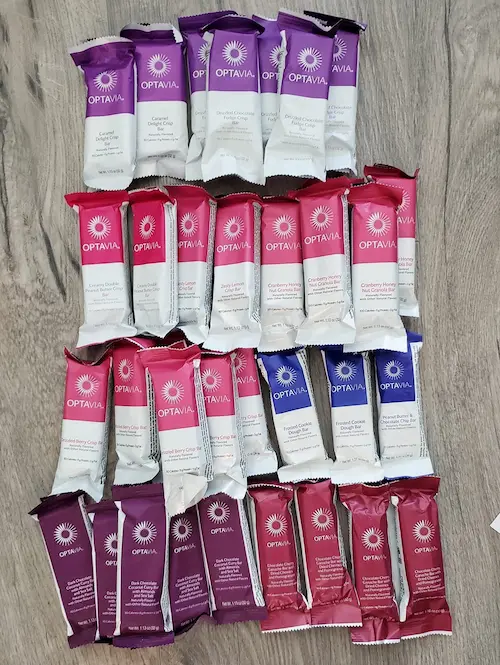 Here you see 35 bars, for which I won the bid with $65 (including shipping.)
This means I paid $1.85 per Fueling, which is almost half of the regular price!
(That was my best Optavia deal on eBay.)
I know that these hot offers don't happen too often. But when they happen, you usually have to spend time bidding against others.
When buying Optavia products on eBay, always check the seller's details.
See how much percentage of positive feedback they have. Look up how many products they already sold.
(I often stay away from sellers who have less than 90 percent positive feedback.)
Check the product picture and description. See if it's brand-new, unused, unopened, or undamaged. Ensure you can clearly see the expiration date.
Optavia website
The Optavia website is the official place to buy Optavia fuelings. However, it has some pros and cons.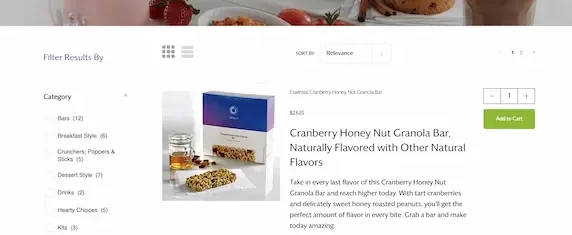 The pros of buying your supply directly from their website are:
You have a guarantee of quality and an expiration date;
You have an unlimited variety of all fuelings from different plans, like Optavia essential fuelings or Optavia select fuelings; and
Your coach gets a commission (assuming you're working with a coach).
The cons of buying Optavia products from their shop are:
You need to pay the standard price for each fueling;
You need to pay additional shipping costs for orders below $300; and
You need to be assigned to a coach or be willing to connect with one.
You cannot buy Optavia fuelings directly from their website if you're not connected with a coach.
Although the website offers all of its products at full price, sometimes has sales or promotions going on.
One of the best ways to find deals is to sign up for email updates from Optavia.
You will get notifications about special offers and promotions happening year-round. To do this, go to the website and enter your email address when prompted.
Poshmark
Poshmark is a website where you can buy clothes from people whose styles you like. However, there are many people buying and selling Optavia products, too.
For me, Poshmark is like a combination of eBay and Facebook. You can list all the different items, and you can connect with others via social media.
Just like eBay, they have separate subcategories for all Optavia products. They even include categories like "crunchers", "expired", or "hot chocolate".
Here's the photo.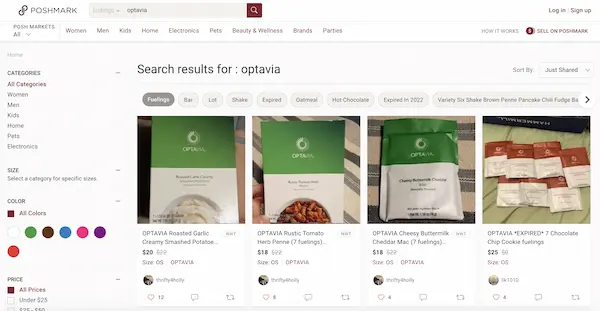 Although I don't shop on Poshmark too often as most of the offers are related to small orders under $30, I did manage to find some nice deals.
Here's a photo of the 7 Optavia Drizzled Chocolate Fudge Crisp bars I got for $15 on Poshmark.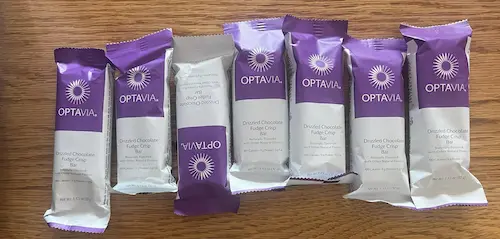 This place is full of small deals like that.
For example, you can find a box of Optavia Rustic Tomato Penne for $18 (or less). However, you need to be careful with "used by date".
(Some of the Fuelings are expired.)
Although it's ok to eat expired Optavia products, the taste and texture may be different.
Find a seller that has the biggest amount of likes and positive comments. Once you find a good seller, follow them. Set up notifications for all the listings related to Optavia.
The cons of buying on Poshmark is the 7 days delivery. (At least this is how long I needed to wait.)
Facebook
Facebook groups are another place where you can buy Optavia products without a coach.
There are several groups that are selling and buying a variety of Fuelings, shakes, and bars.
The difference between Facebook and other places is that here you reach out directly to the seller and you have to arrange the payment method, shipping method, and delivery options.
For example, you need to reach out to the seller via comment, then call or text the person and discuss the delivery arrangements.
The benefit of buying Optavia via Facebook is the price.
There are many great deals where people genuinely want to sell their inventory, as they stopped doing Optavia (for a variety of reasons).
The cons of Facebook are there are many scams going on where people list Optavia products for sale and take payment, but they never send the products.
So keep that in mind.
(Too much hassle for me.)
The bottom line
These are just a few of the places where I usually buy Optavia fuelings, but I'm sure there are many other options out there too.
Ultimately, it all comes down to finding what works best for you based on your needs and budget.
My best choice is eBay as you get to verify upfront who is selling the products and have a solid return policy in place.