Herbalife Diet: Reviews, Products, and Weight Loss Efficacy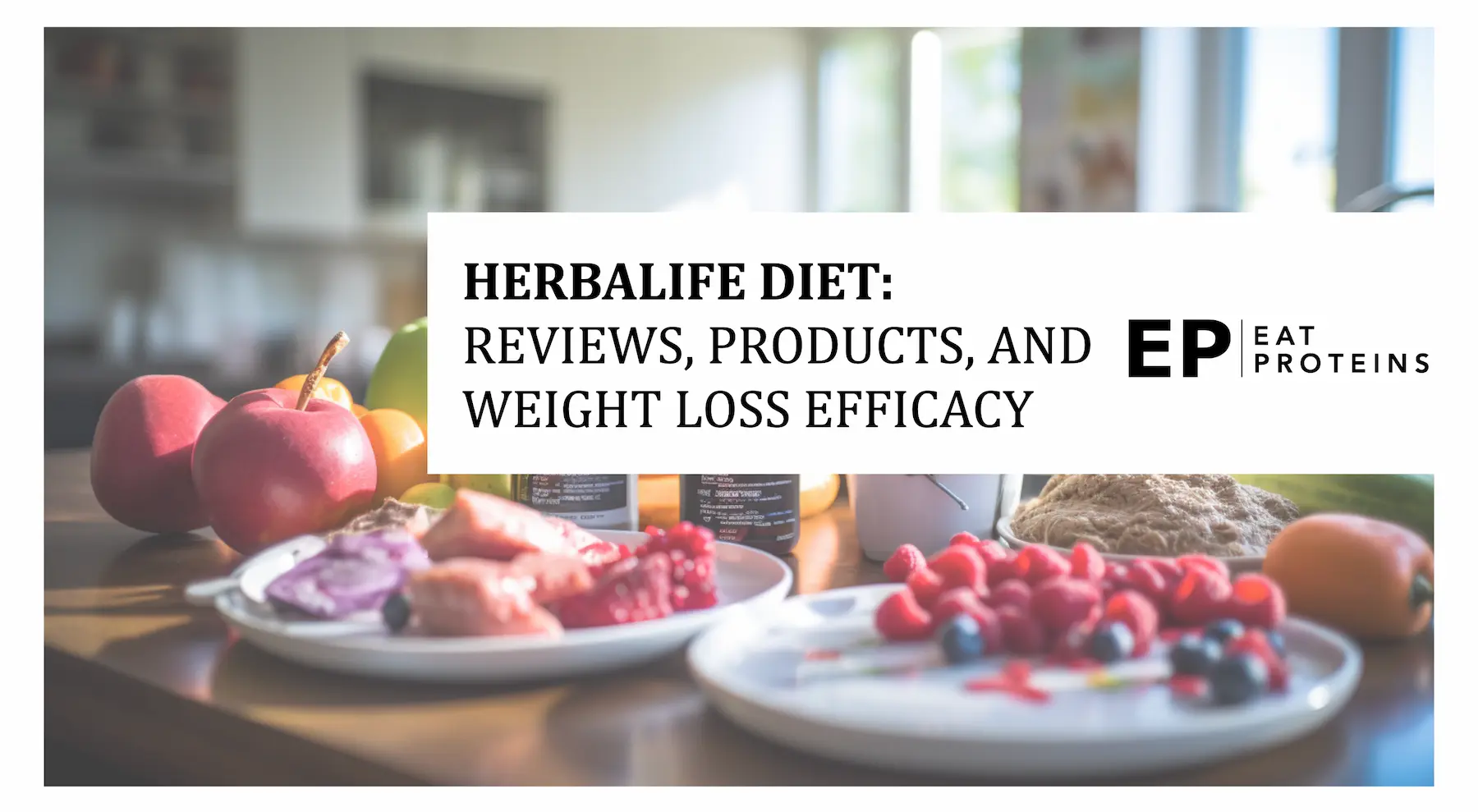 Herbalife refers to a global multi-level marketing corporation founded in 1980, making it over 40 years old. It specializes in the development and sale of dietary supplements and meal replacement products primarily for weight loss. Headquartered in Los Angeles, California, Herbalife gained significant popularity through a decade-long partnership with soccer superstar Cristiano Ronaldo as its Official Nutrition Sponsor.
Despite facing criticism and allegations of being a "sophisticated pyramid scheme," Herbalife's stock has seen an all-time increase of 307.20%, or +11.31, since the year 2004. A notable documentary, "Betting on Zero" released in 2016, investigated these allegations. As of now, the CEO of Herbalife is Michael O. Johnson.
Herbalife reviews refer to consumer feedback, expert opinions, and academic investigations into the efficacy, safety, and legitimacy of Herbalife products and the business model. These reviews range from positive testimonials to criticisms and allegations of the company being a pyramid scheme. For instance, the 2016 documentary "Betting on Zero" and studies from 2019 by Dragan Jurčić and 2007 by Eran Elinav have scrutinized the safety and effectiveness of Herbalife's products, highlighting potential risks such as hepatotoxicity.
Herbalife products refer to weight management and nutritional supplements manufactured by Herbalife International. These products contain proteins, amino acids, vitamins, minerals, and botanicals like aloe vera and green tea. Some popular Herbalife products include the Formula 1 Healthy Meal Nutritional Shake, Herbal Tea Concentrate, and the new Herbalife V Plant-Based Greens Booster.
Based on information from LiverTox, a resource provided by the National Institute of Diabetes and Digestive and Kidney Diseases as of April 11, 2018, there have been a minimum of 50 reported cases of liver damage linked to the use of Herbalife products, as shown in this diagram.

These incidents have been noted in multiple countries. The time between starting Herbalife product usage and the onset of liver injury varies widely, from as short as one month to more than a year, with an average latency period of 2 to 9 months.
Consequently, questions are raised about the healthiness of Herbalife, allegations of it being a scam, the benefits and risks associated with Herbalife products and programs, the effectiveness of Herbalife in weight loss, and possible alternative weight loss diets to Herbalife.
What is the Herbalife Diet?
The Herbalife diet is a weight management program that uses Herbalife products, such as shakes and supplements, to replace meals and support weight loss. The program typically lasts for 1 to 2 months and involves consuming products like the Formula 1 Shake Mix. The weight loss regimen recommends replacing two meals with shakes, consuming 2-3 high-protein snacks, and maintaining a total caloric intake of 1500 calories. To get started on the Herbalife weight loss program, one needs to connect with an independent Herbalife distributor and choose a specific weight loss plan.
What is the purpose of the Herbalife Diet?
The primary purpose of the Herbalife Diet, like many other weight loss diets, is to promote fat loss through meal replacement shakes and dietary supplements. Herbalife offers four meal plan options (A, B, C, and D) to support different goals, which are listed below.
Weight maintenance
Weight loss (with up to two meals replaced by shakes)
Weight gain (with up to three shakes per day)
How does the Herbalife diet work?
The Herbalife diet replaces two meals a day with low-calorie (90 calories per serving) and high-protein (10 grams per serving) meal replacement shakes, aiming to facilitate an average weight loss of 12.5 pounds in 12 weeks.
To complement the shakes, the diet also includes Herbalife's range of dietary supplements, such as Herbalife Loaded Tea, Herbalife Liftoff-Energy Drink, and Herbalife Fat Release, to further support the goal of weight loss by reducing calorie intake and boosting protein consumption.
How does the Herbalife diet work for weight loss?
The Herbalife diet, specifically its high-protein meal-replacement product line, was found to be effective for weight loss in a 2020 study by Yijia Zhang and Xiwei Chen from Indiana University. The study, titled "Efficacy and Safety of a Specific Commercial High-Protein Meal-Replacement Product Line in Weight Management," analyzed the impact of Herbalife's high-protein products on 934 participants.
It found that those using Herbalife experienced greater weight loss, with a score of -0.24, and a more significant drop in BMI, marked at -0.31. While the study did not specify the weight loss in pounds or kilograms, these scores indicate that Herbalife products were more effective than control diets in reducing weight and BMI, as shown in this diagram.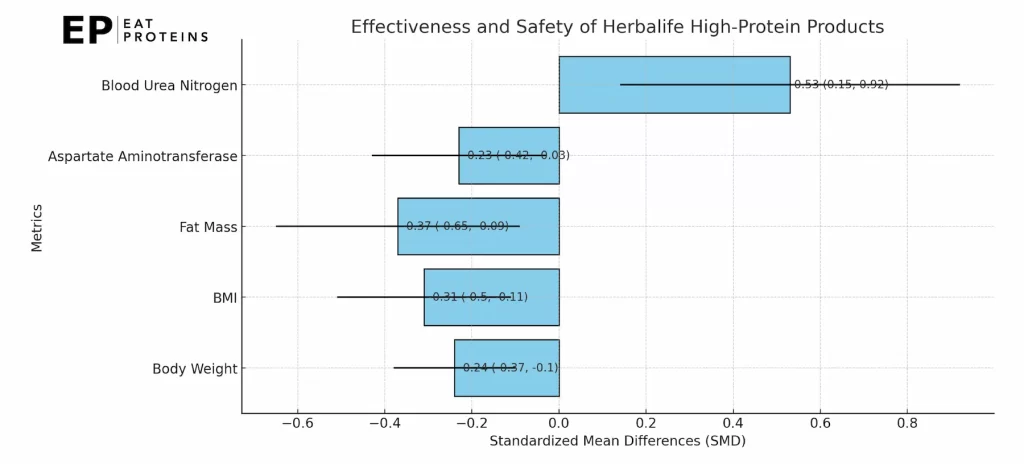 Additionally, Herbalife users saw a greater decrease in body fat, represented by a score of -0.37, as opposed to scientific reviews that might suggest otherwise. While the study was funded by Herbalife International, the company reportedly had no control over the study's execution, data analysis, or manuscript preparation, according to the authors.
What are the Herbalife diet reviews?
The reviews for Herbalife diet products appear to be polarizing based on the data from ConsumerAffairs and Trustpilot. On ConsumerAffairs, Herbalife has an overall rating of 1.1 out of 5, with 46% of reviews being 1-star. Customers have various complaints, including side effects related to liver health, difficulties in getting membership refunds, and unprofessional behavior from distributors.
On Trustpilot, the company fares slightly better with a 2.7 out of 5 rating, but still, 38% of the reviews are 1-star. The Trustpilot reviews accuse Herbalife of being money-minded and claim that the products are detrimental to health. However, there are also positive reviews, with some consumers stating that Herbalife helped them with weight loss and lifestyle changes. Overall, the reviews suggest that while some people have had positive experiences with Herbalife products, there are significant concerns about product safety, customer service, and the behavior of distributors.
What are the Herbalife reviews by doctors?
Reviews of Herbalife by doctors and medical professionals tend to be mixed but generally lean toward skepticism. Many doctors caution against the use of Herbalife products for weight loss or wellness, citing the lack of rigorous scientific evidence supporting their efficacy. Concerns are often raised about the sub-therapeutic doses of ingredients in their supplements and the potential for liver toxicity, as there have been reports linking Herbalife products to liver issues.
Additionally, the multi-level marketing business model of Herbalife is frequently criticized for being exploitative. However, it's worth noting that some healthcare providers may find value in certain Herbalife products for specific use cases, such as meal replacement in controlled settings.
On the nutritional side, the registered dietitian Kat Benson criticizes the use of fructose as a primary ingredient in some Herbalife products and the lack of third-party testing for quality control. She also notes that the Herbalife wellness evaluation is flawed and that their products can be easily replaced by more natural, whole-food options.
What are the Herbalife products?
The list of Herbalife products are listed below.
Herbalife V Plant-Based Series: Herbalife V is a new line of organic, plant-based products launched by Herbalife, designed to cater to the growing number of people interested in a plant-based lifestyle. The product range includes plant-based protein shakes in classic and chocolate flavors, plant-based immune and digestive support supplements, and a plant-based greens booster. These products come with third-party certifications such as USDA organic, certified vegan, non-GMO project verified, and kosher certified, adding an extra layer of credibility to their quality.
Herbalife Herbal Teas: Herbalife's herbal teas are specially formulated beverages designed to support various wellness goals such as energy boosting, relaxation, and weight management. The line includes different types such as Herbal Tea Concentrate, NRG Tea, Green Tea, and Relaxation Tea, each with unique key ingredients and benefits. The caffeine content varies across these teas, making them suitable for different user preferences and needs.
Herbalife Protein and Meal Replacement Shakes: Herbalife protein shakes and meal replacements are part of a nutrition program designed to aid in weight management and overall wellness. These shakes are often made by blending Herbalife Formula 1 powder with Protein Drink Mix and can be personalized with added fruits, nuts, and specialized Herbalife boosters like probiotics or fiber. With a range of products including various flavors and forms, these shakes can serve as a convenient, nutrient-rich alternative to traditional meals.
Herbalife Weight and Fitness Management: Herbalife Weight & Fitness Management products encompass a wide range of tablets, supplements, and programs designed to support weight loss, improve fitness performance, and enhance overall well-being. The offerings range from Thermo-Bond and Total Control tablets for weight management to the Herbalife24 series for athletic performance, as well as specialized supplements for joint support, immunity, and sleep quality. These products are often used in various combinations, allowing for personalized nutrition and wellness plans.
Herbalife Energy Drinks: Herbalife energy drinks, primarily sold under the Liftoff and N-R-G brands, are formulated to provide a quick boost of energy and mental clarity. These products come in various flavors and formats, including tablets and tea mixes, and often contain ingredients like caffeine and guarana for enhanced performance and focus. They are marketed towards athletes, fitness enthusiasts, and individuals looking for an energy lift during their day.
Herbalife Hair and Skin Care Products: Herbalife hair and skin care products encompass a range of items designed for personal care, including shampoos, conditioners, and skincare programs. Products like the Herbal Aloe Strengthening Shampoo & Conditioner aim to fortify hair, while the Herbalife SKIN series offers comprehensive skincare solutions with various programs for different needs. These products often contain natural ingredients, such as aloe vera, and are formulated to nourish, protect, and enhance the skin and hair.
What are the best Herbalife products for weight loss?
The 10 best Herbalife products for weight loss are listed below.
Herbalife Tea
Herbalife Protein Powder
Herbalife Liftoff
Herbalife Fat Release
Herbalife Formula 1
Herbalife CR7
Herbalife Protein Bar
Herbalife Niteworks
Herbalife Total Control
Herbalife Coffee
What are the best Herbalife shake flavors?
The following list shows 12 of the best Herbalife shake flavors.
Banana Caramel
Café Latte
Cookies n Cream
Dulce de Leche
Dutch Chocolate
French Vanilla
Instant Creamy Chocolate
Mint Chocolate
Orange Cream
Piña Colada
Vanilla Dream
Wild Berry
What are the Herbalife tea recipes?
Herbalife tea recipes refer to a collection of recipes that incorporate Herbalife products, such as Herbalife Tea Concentrate, into various flavorful and nutritious beverages. These recipes typically combine Herbalife Tea Concentrate with other ingredients, such as fruits, herbs, and spices, to create delicious and healthful drinks. They are designed to provide a boost of energy, support weight management, and enhance overall wellness.
What are the benefits of Herbalife tea?
Herbalife tea is a low-calorie beverage that claims to boost metabolism and provide increased energy through its caffeine content. According to Herbalife tea nutrition facts, each serving is formulated with a blend of orange pekoe and green teas, which are known for their antioxidant properties. It is often promoted as a part of weight management and wellness programs, although individual results can vary.
What are the ingredients in Herbalife weight loss products?
The ingredients in Herbalife's most popular weight loss product, the Formula 1 shake, are diverse and include a range of proteins, sweeteners, emulsifiers, and vitamins. The primary protein source is soya protein isolate, making up 40% of the product. It also contains fructose as a sweetener and various thickeners like guar gum, carrageenan, xanthan gum, and pectin. Essential vitamins and minerals included are L-ascorbic acid, ferrous fumarate, zinc oxide, and cholecalciferol, among others.
What are the ingredients in Liftoff Herbalife?
This table shows the ingredients in Liftoff Herbalife.
| Ingredient | Amount Per Serving | % DV |
| --- | --- | --- |
| Calories | 15 | – |
| Total Carbohydrate | 4 g | 1% |
| Dietary Fiber | <1 g | 2% |
| Total Sugars | 0 g | 0% |
| Sugar Alcohol | 0 g | – |
| Vitamin C | 60 mg | 67% |
| Thiamin | 3 mg | 250% |
| Riboflavin | 1.7 mg | 131% |
| Niacin | 20 mg | 125% |
| Vitamin B6 | 6 mg | 353% |
| Vitamin B12 | 12 mcg | 500% |
| Biotin | 300 mcg | 1000% |
| Pantothenic Acid | 20 mg | 400% |
| Sodium | 290 mg | 12% |
| Proprietary Blend | 351 mg | † |
The other ingredients in Herbalife Liftoff include citric acid and maltodextrin, which are commonly used as food additives for flavor and texture. Sodium bicarbonate and natural tropical fruit flavor are also part of the formula, likely contributing to the effervescence and taste of the product. Additional components like ascorbic acid, Rebaudioside A from Stevia leaf extract, and isomaltulose provide nutritional benefits and sweetness without added sugars.
What are the Herbalife side effects?
Herbalife products are generally considered safe when used as directed, and the company asserts that they adhere to safety and quality standards. However, a 2022 study by Michelle Hoff de Assis suggests that some Herbalife products could be associated with liver injury, particularly when contaminated with Bacillus subtilis.
The study identified these products as one of the most frequent agents linked to liver damage, along with other substances like green tea and Hydroxycut products. Additionally, a legal claim filed in August 2017 alleged that Herbalife products caused irreversible liver damage
What evidence links Herbalife to liver damage?
The available evidence linking Herbalife to liver damage is largely anecdotal and stems from individual lawsuits and claims. For instance, various lawsuits have been filed against the company, where individuals claimed to have suffered from liver damage after using Herbalife products.
A 2009 study by Felix Stickel from the University of Bern identified the presence of the bacteria Bacillus subtillis in Herbalife products, which was investigated in relation to liver damage cases. Additionally, allegations have been made that some Herbalife products contain high levels of lead, a toxic substance that can negatively affect the liver.
Is Herbalife bad for you? (No)
No, Herbalife is not universally bad for you. The low scores on Trustpilot and CustomerAffairs, along with reports of potential liver damage, raise concerns but do not definitively prove that Herbalife products are harmful to all users. As with any supplement or diet plan, individual experiences may vary, and it's crucial to consult healthcare professionals for personalized advice.
What is the Herbalife meal plan?
Herbalife meal plans are a comprehensive guide to building balanced meals based on individual weight goals. These plans provide specific calorie counts and grams of protein for optimal nutrition. There are four suggested meal plans, A, B, C, and D, based on gender, weight, and height. Each plan offers options for daily nutrition, weight loss, or weight gain. This table shows different Herbalife meal plans.
Meal Plan Type
Includes
Herbalife Weight Loss Plan A
Herbalife Formula 1 Shake Mix (2 containers)
Herbalife Protein Drink Mix (1 container)
Herbalife Weight Loss Plan B
Herbalife Formula 1 Shake Mix (2 containers)
Herbalife Protein Drink Mix (1 container)
1 Instant Herbal Beverage 50g
Herbalife Weight Loss Plan C
Herbalife Formula 1 Shake Mix (2 containers)
Herbalife Protein Drink Mix (1 container)
1 Phyto Complete
How to use Herbalife meal plan for weight loss?
These 6 steps show how to use the Herbalife meal plan for weight loss.
Start by using the Meal Plan Selection Tool, which will recommend a plan based on your weight goals. Let's assume the tool suggests Meal Plan C for weight loss.
Refer to the Meal Plan Chart for Meal Plan C, which provides a typical day's meals, snacks, and shakes. This plan recommends replacing two meals with Herbalife Nutrition Formula 1 Shakes.
Use the Meal Builder Tool to create balanced meals using the recommended food categories. Let's assume your calorie goal is 1500 calories.
Build your meals using the Meal Builder Tool, aiming for approximately 400-500 calories per meal. Include a variety of protein sources, whole grains, fruits, vegetables, and healthy fats.
For example, a 1500-calorie weight loss plan may include a Formula 1 Shake (90 calories, 9 grams of protein) for breakfast, a balanced meal with 400 calories and 20 grams of protein for lunch, another Formula 1 Shake for dinner, and protein snacks throughout the day.
Follow the meal plan consistently, and combine it with regular exercise to maximize weight loss results. Additionally, take advantage of the free resources provided by Herbalife Nutrition, such as the meal plan selector and recipe page, to support your journey towards a healthy weight.
Consider visiting one of the nearly 100,000 Herbalife Nutrition Clubs around the world. These clubs offer nutritious meal replacement shakes for weight management and also feature community-driven group fitness activities, providing a supportive environment that can positively influence long-term behavioral changes for a healthier lifestyle.
How effective is the Herbalife Nutrition Club for weight loss?
Herbalife Nutrition Clubs appear to have positive effects on weight management and overall health, based on a 2017 study by Sai Krupa Das from Tufts University. The study found that Herbalife Nutrition Club members had significantly lower fasting insulin and lower HbA1c levels, as well as higher levels of 25 hydroxy-vitamin D compared to community-matched controls.
Additionally, 86% of Herbalife Nutrition Club members reported feeling in "much better or somewhat better health" compared to the previous year, a significantly higher percentage than the controls. However, it's important to note that causality cannot be inferred from these findings, meaning the study does not prove that the Herbalife Nutrition Clubs are the direct cause of these health improvements.
Where can you find Herbalife Nutrition Club?
Herbalife Nutrition Clubs can be found in various locations, including densely populated areas, suburbs, and even homes. However, the vast majority of these clubs fail, with approximately 90% of new Herbalife distributors failing each year. Despite their popularity, only a small percentage of distributors, around 1 in 10,000, have a chance of joining the prestigious president's team.
Where can you buy Herbalife products?
You can buy Herbalife products from a variety of sources, including the official Herbalife website, authorized distributors, and online marketplaces like Amazon. Some retail stores like Walmart may also offer Herbalife products.
What is the cost of Herbalife products?
The cost of Herbalife products varies widely, ranging from $13.50 to $366.30. For example, the Quickstart Program in the weight loss category is priced at $157.40, while the Herbalife SKIN Ultimate Program – For Normal to Oily Skin costs $366.30. These prices reflect the diverse offerings of the brand, from weight loss programs to skincare products.
What are the cheaper alternatives to Herbalife?
The weight loss diets in the following list are cheaper alternatives to Herbalife.
Optavia: Optavia is a low-calorie, reduced-carb diet program that combines packaged foods, homemade meals, and personalized coaching. Although both Optavia and Herbalife aim to promote weight loss by limiting calorie intake, the Optimal Weight 5&1 plan provides 800-1,000 calories per day through 5 Optavia Fuelings and 1 Lean and Green meal.
Shakeology: Shakeology, developed by Beachbody, serves as an alternative to Herbalife in the health and wellness industry. With its 17 grams of protein, 140-160 calories, and 4-6 grams of fiber per serving, Shakeology is designed as a meal replacement option that can aid in weight loss due to its low-calorie and nutrient-rich profile.
Isagenix: Isagenix offers 30-day weight loss programs, meal replacement shakes, and cleanses as an alternative to Herbalife, although it should be noted that the company's products lack scientific evidence and its business model, operating as a multilevel marketing (MLM) company, raises ethical concerns.
Yes You Can: The Yes You Can weight loss program is a viable alternative to Herbalife, offering a range of products such as meal replacement shakes, supplements, and a structured meal plan. Similar to Herbalife, its goal is to increase metabolism, burn fat, and provide energy. While some users have experienced weight loss and other positive effects, the program's low-calorie approach and potential challenges in maintaining long-term adherence may not be suitable for everyone.
Huel: Huel is a popular brand of nutritional powdered food that offers a convenient and balanced alternative to Herbalife. Designed to provide all the necessary nutrients, Huel can be used as a meal replacement for one or two meals a day as part of a well-rounded diet. With a macronutrient split of 37% carbohydrates, 30% fats, 30% proteins, and 3% fiber, Huel ensures you're getting the essential nutrients your body needs.
Amway: Amway is an alternative company that provides a variety of products for weight loss and management, offering a different approach than Herbalife. They offer a range of high-quality supplements and meal replacements, such as Nutrilite™ Fibre Powder and the Meal Replacement Bar Tropical Fruits, which are specifically designed to support weight control and provide proper nourishment for the body. In addition to these weight management products, Amway also offers a wide range of other nutrition products, including foundational supplements, targeted food supplements, and sports nutrition support.
Plexus: Plexus is an alternative to Herbalife, a multi-level marketing company that has been around since 1979. They offer a range of weight loss supplements and other health and wellness products. One notable aspect of Plexus is their commitment to giving back, as they have donated over 35 million meals to families in need. However, it's important to note that the safety and effectiveness of Plexus products for weight loss are a subject of controversy. Currently, there is no scientific evidence to support the claims made by Plexus regarding weight loss.