Optavia vs Herbalife: Which one is better for weight loss?
Are you looking to lose weight and improve your overall health? With so many weight loss programs on the market, it can be overwhelming to choose the right one. Two popular options are Optavia and Herbalife, but which one is better?
Both programs offer meal replacement options and coaching, but there are important differences to consider. In this article, we'll compare Optavia vs Herbalife to help you make an informed decision about which program is right for you.
So, let's dive in and explore the similarities and differences between Optavia and Herbalife.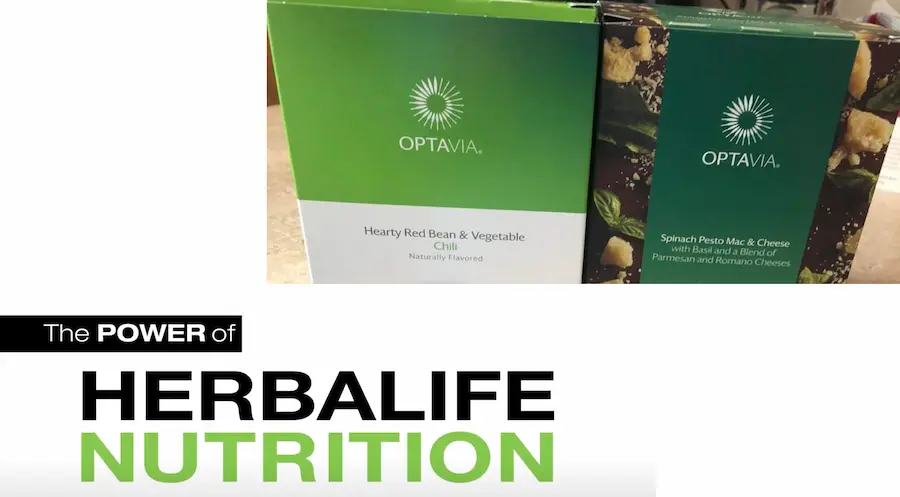 What is Herbalife?
Herbalife is a global multi-level marketing (MLM) company that produces and sells nutritional supplements to promote healthy habits around the world.
Founded by businessman Mark Hughes in 1980, Herbalife has since grown to be an international enterprise with more than 11,000 employees across 90 countries.
The company's website emphasizes its commitment to providing science-backed, delicious nutrition products that help people achieve optimal health by getting the right balance of nutrients.1
One of Herbalife's popular products is the Formula 1 Healthy Meal Nutritional Shake Mix, which contains 170 calories and 17 grams of protein per serving. This product is marketed as a weight loss shake and "kick-starter" for healthy eating habits.
How does the Herbalife diet work?
Instead of sticking to the traditional three meals per day, the Herbalife diet work by replacing two of those meals with Herbalife Formula 1 shakes.
You'll then have the option to either have one meal or snack on low-calorie options throughout the day. On top of the shakes, you also have to take their vitamin complex and Formula 3 Cell Activator which provides mitochondrial and nutrient absorption support, according to the website.2
Starting the Herbalife diet is a breeze. Just like Optavia, you need to connect with a "coach" to begin the program.
These distributors understand the ideal product pairings. They also may provide you with unique advantages such as reduced prices, monthly deals, and support systems that enhance the effectiveness of Herbalife supplements.
After enrollment, you can choose to kickstart your journey with The Quickstart Program or opt for the Advanced Program, which includes all the items in the Quickstart Program plus two extra supplements – Cell-U-Loss and Total Control.
Herbalife pros and cons
Pros
Easy and quick to make
Offers 14 different flavors to choose from
Helps with short-term weight loss
Can replace meals and reduce calorie intake
Suitable for vegetarians
One of the most affordable weight loss programs
Cons
May cause side effects such as nausea, stomach upset, or headaches.
May not be sustainable in the long term.
Some people may view Herbalife as a fad or gimmick
The Journal of Hepatology raised concerns about the safety of using Herbalife products, especially for individuals with underlying liver disease.3
It's marketed through multi-level marketing strategies.
What is the Optavia Diet?
Optavia is a brand under Medifast, another MLM weight loss company. Their diet program is designed for weight loss and involves consuming Optavia Fuelings, which are meal-replacement shakes.
With the Optavia Diet, you'll be following the 5 and 1 plan. This means you'll be eating five Optavia Fuelings and one lean and green meal every day.
Now, in addition to your Fuelings, you'll need to make your own lean and green meals. That means you'll want to focus on eating lean proteins, low-carb veggies, and healthy fats.
The diet provides meal plans that give you around 800-1,000 calories per day, no matter your age, gender, or physical activity level.
Although Optavia Fuelings are high in protein and fiber, they do contain soy and dairy. And while Fuelings do not contain artificial sweeteners, some products contain erythritol.
How does Optavia work?
Optavia and Herbalife work almost identically. You'll need to connect with a coach who can help you choose the plan that's right for you.
Unlike Herbalife, Optavia offers three different plans:
Optimal weight 5 and 1 plan
Optimal Weight 4 and 2 plan
Optimal Health 3 and 3 plan
The Optimal Weight 5 and 1 plan is the most popular choice. Once you're signed up, the program focuses on calorie restriction to help you lose weight.
You'll be consuming five Optavia Fuelings each day, which are generally around 100-110 calories each, and you'll also be preparing one lean and green meal (250-400 calories).
Optavia diet pros and cons
Pros
It may be effective for fast weight loss.
Doesn't require a lot of cooking and meal planning.
All meal replacements are nutritionally balanced.
Cons
It can be expensive.
It may lead to side effects such as constipation, stomach upset, or headaches.
It may be difficult to sustain for the long term.
Optavia vs Herbalife cost comparison
When it comes to cost, Herbalife and Optavia offer different approaches to their products and programs.
Herbalife cost
Herbalife Quickstart Program ($152.10)
Herbalife Advanced Program ($230.30)
With Herbalife, you have a wide range of products tailored to various health goals, and their prices can vary depending on what you choose.
For example, their top-selling Formula 1 Select meal replacement shake costs $43.30 for 30 servings, while the Protein Drink Mix is priced at $53.10 for the same number of servings.
If you want to make the most out of your Herbalife products, investing in a program that offers discounts and additional benefits may be worth considering.
Optimal Weight 5 and 1 plan ($511.50 per month)
Optimal Weight 4 and 2 plan ($515.15 per month)
Optimal Health 3 and 3 plan ($485.10 per month)
Optavia's cost varies depending on the plan you choose. The Optimal Weight 5 and 1 plan is the most popular for weight loss, costing $511.50 per month, which includes 22 boxes of Fuelings.
Optavia does not offer discounts on their products, except for a 23% discount for first-time buyers who sign up for auto-subscription. Additionally, shipping cost discounts are available if you sign up for Optavia Premier Membership. Unlike Herbalife, most Optavia fuelings are priced the same.
Products
When comparing Optavia and Herbalife products for weight loss, there are some key differences.
Optavia provides a range of meals called "Fuelings," including shakes, bars, desserts, puddings, and hearty options, which need to be either baked or microwaved.
Optavia does not offer weight loss teas, antioxidant capsules, or vitamins. Although the Optavia meal plan allows for flexibility, you cannot include fruits or whole grains in your meals.
On the other hand, Herbalife offers mostly shakes, specifically the Formula 1 Select meal replacement shakes, which contain 90 calories (per one scoop), 10 grams of protein, and 1 gram of fat.
They also sell:
Protein Bites
Personalized Protein Powders
High Protein Iced Coffees
These shakes are designed to be mixed with nonfat milk or soy beverage for added protein and nutrients. No need to bake, cook, or microwave.
Herbalife shakes provide a balanced source of essential vitamins and minerals, are low in fat, and have no added sugars.
They are pre-portioned for easy control of daily nutrition intake, making them convenient for those who need a quick, healthy meal or snack on the go.
Both shakes are highly processed
Both Optavia and Herbalife products are highly processed and contain a variety of natural and artificial ingredients.
Although these products are marketed as healthy options, it is important to be aware of the potential health risks associated with consuming highly processed foods regularly, including allergic reactions.
In other words, don't rely solely on the Optavia meal plan for weight loss. It's important to also eat a variety of whole foods to get the nutrients you need. While the plan can be convenient, don't forget about the importance of a balanced diet.
Supplements
Herbalife is a nutrition company that offers a wide variety of natural supplements and weight loss programs to help people achieve their health and fitness goals.
They provide a range of supplements such as:
Multivitamins
Cell Activator
Herbal Tea Concentrate
Cell-U-Loss
According to the Herbalife website, these supplements offer benefits like improved nutrient absorption, energy boost, and support for healthy fluid balance.
Moreover, Herbalife also offers specialized products for specific health concerns like joint pain, inflammation, digestion, prostate health, skin health, and personal care products like shampoos and conditioners.
These supplements are formulated with natural ingredients and can assist individuals in achieving their wellness goals.
In contrast, Optavia focuses mainly on weight loss and healthy lifestyle programs and does not sell any supplements.
They offer pre-packaged meals and snacks as their primary product to help people with weight management and overall well-being.
Weight loss results
Studies have shown that meal replacement intake at dinner time can improve body composition and metabolic parameters in overweight/obese individuals.4
While both Optavia and Herbalife weight loss products may lead to weight loss, it is important to consider the potential risks associated with using these products.
The case report cited in Acta Clinica Croatica suggests that Herbalife products may be associated with liver damage, which highlights the importance of strict regulation and monitoring of these products.5
The people who did the research said that people should be careful if they want to use Herbalife, especially if they already have a problem with their liver.
In 2015, the Nutrition Journal published research showing that the Medifast 4 & 2 & 1 Plan is an effective weight loss method. Participants on this plan lost at least 5% of their starting weight within 12 and 24 weeks.6
They also maintained their lean mass while losing weight. Additionally, their blood pressure, pulse, and waist-to-hip ratio improved. The plan was also easily followed and did not cause any negative side effects.
Customer reviews
When it comes to customer reviews, there seems to be a stark contrast between Optavia and Herbalife.
Optavia reviews
Optavia has been in business for 20 years but is not BBB accredited, and has had 474 complaints closed in the last 3 years, and 57 complaints closed in the last 12 months.
The average customer review for Optavia is 1.54 out of 5, which is not ideal.
However, there are still some positive reviews, such as one from a customer who lost weight and had no issues with the 5 and 1 plan.
On the other hand, another customer reported losing 30 pounds on Optavia but experienced negative effects such as brittle hair and sagging skin all over their body.
Herbalife reviews
In comparison, Herbalife has been in business for 27 years and has BBB accredited since 1990. It has had 22 complaints closed in the last 3 years, and 3 complaints closed in the last 12 months.
The average customer review for Herbalife is 1.8 out of 5, which is slightly better than Optavia.
However, there are still some negative reviews for Herbalife, such as one customer who reported fraud by someone from the company illegally using their UPS account.
Another customer reported difficulty returning unopened products because they didn't have an order number.
Overall, it seems that both Optavia and Herbalife have received mixed reviews from customers.
While some have had positive experiences with the programs, others have reported negative effects and difficulties with the company. I suggest you consider both the positive and negative reviews when deciding which program to try.
My thoughts about Optavia and Herbalife
When it comes to choosing between Optavia and Herbalife for your weight loss journey, I would strongly recommend Optavia.
While the Optavia 5 and 1 plan may not be ideal with its limited calorie intake, some unappetizing fuelings, and constant hunger, it's still a better option than Herbalife.
Herbalife has been linked to liver damage issues, which is a significant concern when considering any weight loss plan.
In terms of long-term results, it's common for people to regain the weight they lost after trying various diets. Even with the Optavia 5 and 1 plan, many people struggle due to its restrictions on carbs like rice, potatoes, and pasta.
So what is my advice?
The key to successful weight loss is developing healthy habits that you can maintain for the long run, rather than just focusing on shedding pounds quickly.
Of course, the Optavia 5 and 1 plan may not work for everyone, especially those with an active lifestyle.
But if you're looking for fast results without any harmful side effects, the 5 and 1 plan can be a decent way to kickstart your weight loss journey. Alternatively, go ahead and check out other weight loss programs that are similar to Optavia.
Just remember to focus on developing healthy habits that you can maintain over time, rather than relying solely on the plan itself.
References
1 (Herbalife) https://www.herbalife.com/about-us/
2 (Herbalife Formula 3 Cell Activator) https://www.herbalife.com/products/formula-3-cell-activator/
3 (The Journal of Hepatology) Elinav E, Pinsker G, Safadi R, et al. Association between consumption of Herbalife nutritional supplements and acute hepatotoxicity. J Hepatol. 2007;47(4):514-520. doi:10.1016/j.jhep.2007.06.016
4 (Journal of Obesity) Guo, X., Xu, Y., He, H., Cai, H., Zhang, J., Li, Y., Yan, X., Zhang, M., Zhang, N., Maddela, R. L., Nicodemus-Johnson, J., & Ma, G. (2018). Effects of a Meal Replacement on Body Composition and Metabolic Parameters among Subjects with Overweight or Obesity. Journal of obesity, 2018, 2837367. https://doi.org/10.1155/2018/2837367
5 (Acta Clinica Croatica) Jurčić D, Gabrić M, Troskot Perić R, et al. HERBALIFE® ASSOCIATED SEVERE HEPATOTOXICITY IN A PREVIOUSLY HEALTHY WOMAN. Acta Clin Croat. 2019;58(4):771-776. doi:10.20471/acc.2019.58.04.26
6 (Nutrition Journal) Coleman CD, Kiel JR, Mitola AH, Langford JS, Davis KN, Arterburn LM. Effectiveness of a Medifast meal replacement program on weight, body composition and cardiometabolic risk factors in overweight and obese adults: a multicenter systematic retrospective chart review study. Nutr J. 2015;14:77. Published 2015 Aug 6. doi:10.1186/s12937-015-0062-8