Jenny Craig Closing and Re-Opening: An Analysis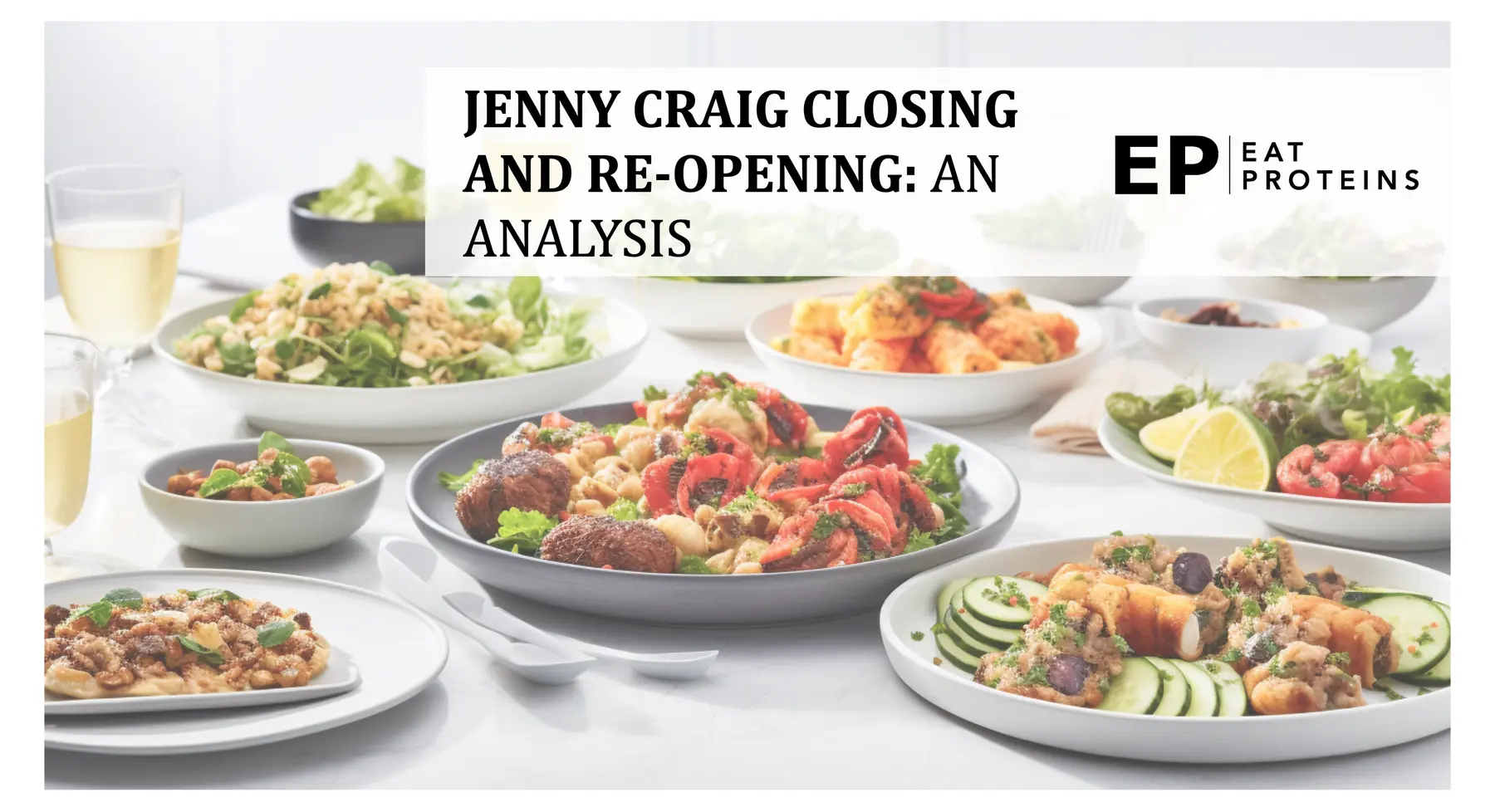 Jenny Craig is a commercial weight loss diet that was established over 40 years ago, focusing on individual counseling, ready-to-eat meals, and nutritional education. The company went under in May 2023 after decades in the wellness industry. The closure came amid a steady decline in consumer engagement, raising questions about the brand's previous popularity and trust. The bankruptcy impacted thousands of employees and members who relied on the company's services. The closure marked the end of an era for a brand that once had a strong following and celebrity endorsements.
In July 2023, just two months after declaring bankruptcy, Jenny Craig was acquired by Wellful Inc., the parent company of Nutrisystem. The acquisition aims to revitalize the once-prominent brand by integrating it into Wellful Inc.'s direct-to-consumer wellness business model. As a result, the Jenny Craig program is expected to undergo various changes to adapt to the current market needs. The acquisition offers a second life for a brand that had been in decline, indicating potential for future growth and renewed consumer interest.
What's the reason for Jenny Craig's closing?
Jenny Craig closed due to a combination of factors. Firstly, their reliance on physical weight loss centers and personalized consultants led to heavy debt. Secondly, the shift to online coaching during the Covid-19 pandemic made their brick-and-mortar approach unsustainable. Thirdly, the rise of Noom, a digitally-native weight-loss company, offered a more scalable model. Lastly, Jenny Craig's meal delivery service was expensive, ranging from $600 to $1,000 per month, making it less affordable for customers.
What was the main reason for Jenny Craig's closing?
The main reason for Jenny Craig's closing was a lack of additional financing, as mentioned in the company's email to employees. The closure comes after four decades in the weight loss and nutrition business. Jenny Craig, which operated approximately 600 stores in the US and Canada, employed over 1,000 people.
How many locations did Jenny Craig close?
Jenny Craig closed all of its 600 locations. The closure of these physical weight loss centers was announced in April 2023 as part of the company's shift towards e-commerce. The closure affected all of Jenny Craig's locations across the United States. The decision to close these centers was a significant factor in the company's bankruptcy filing.
What happens to the Jenny Craig staff?
According to an email sent by the company, the Jenny Craig staff has been terminated in a wave of mass layoffs. This action affects over 1,000 employees, including both corporate and salaried workers. For hourly center employees, their last day was earlier this week. This termination comes as the company faces financial difficulties and plans to transition to an e-commerce model, leading to the shutdown of its physical operations.
Were there any more reasons for Jenny Craig's closing?
Yes, there were multiple reasons for Jenny Craig's decline and eventual closing.
First, the company was slow to adapt to the digital revolution, losing ground to apps and online platforms that offered more convenience and flexibility.
Second, changes in consumer attitudes toward body positivity and mental health made Jenny Craig's traditional marketing approach outdated.
Third, financial struggles, including a reduction in physical locations and staff layoffs, signaled the brand's dwindling relevance and value.
Lastly, increasing competition from direct-to-consumer meal delivery services and medically supervised weight loss programs further eroded its market share.
The success of direct-to-consumer brands like HelloFresh and Blue Apron in the meal delivery space presented a formidable challenge to Jenny Craig's prepared meal program. These brands offered more customization and fresher ingredients without the stigma attached to "diet food."
What's more, Medically supervised weight loss programs and pharmaceuticals also cut into Jenny Craig's market share. Drugs like Orlistat and programs like Optavia offered science-backed methods, appealing to a segment of the population who were looking for "clinically proven" methods of weight loss.
What happened to Jenny Craig after closing?
After closing, Jenny Craig was bought by Nutrisystem's parent company, Wellful. The brand will be relaunched in a convenient direct-to-consumer delivery model. The weight loss centers will not be reopened, and Jenny Craig will operate solely online. The intellectual property of Jenny Craig was priced at up to $10 million in court filings.
When did Nutrisystem buy Jenny Craig?
Nutrisystem acquired Jenny Craig in July 2023. The acquisition took place after Jenny Craig Diet went bankrupt in May 2023. This happened after over four decades in business.
When did Jenny Craig reopen?
Based on the tweet from Jenny Craig dated September 1, it appears that Jenny Craig has relaunched or reopened its services as of that date. The company announced the "NEW Jenny Craig" along with a revamped menu plan available for order. This suggests that they are back in operation and offering new products or services.
What are Jenny Craig's plans after reopening?
This list summarizes five of Jenny Craig's plans after reopening.
Digital Transformation: Understanding the importance of digital technology in modern life, Jenny Craig is launching a robust mobile app, integrating features like personalized coaching via video calls, real-time meal tracking, and AI-based diet adjustments.
Brand Messaging: Given the sensitivity surrounding body image and weight loss, the brand has refined its messaging to focus on "comprehensive wellness" rather than just weight loss. This encompasses mental health, work-life balance, and holistic well-being.
Product Innovations: In addition to its signature pre-packaged meals, Jenny Craig is innovating its product line. New offerings include Keto-friendly options, vegan meals, and organic choices, appealing to a broader range of dietary preferences and needs.
Market Share Goals: While the financial details are confidential, Jenny Craig aims for a 20-25% market share within the first two years of reopening. With solid financial backing, the company has the resources to sustain operations while working toward profitability.
Financial Backing: Another crucial element has been the securing of financial backing. Investors who still see value in the Jenny Craig name and its tried-and-tested methods have provided the necessary capital to attempt this ambitious reboot.