Optavia Lean and Green Chicken Caesar Wraps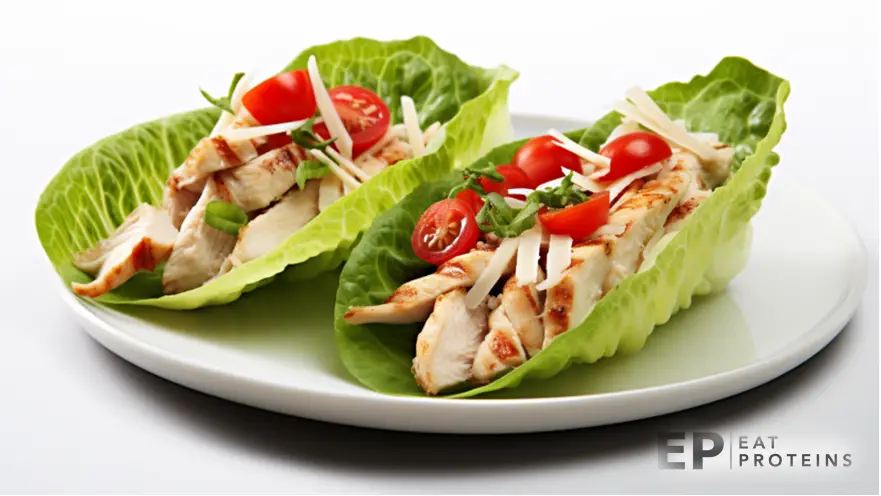 The Lean and Green Chicken Caesar Wraps are a flavorful meal option, low in calories, and high in protein, which makes them conducive to weight loss and overall health. The wraps consist of lean protein (chicken in this case), fresh vegetables, and a flavorful dressing.
These ingredients combined provide a satiating meal that can help manage hunger and curb cravings, supporting weight loss and maintenance efforts. The appeal of these Optavia chicken recipes lies in their ability to offer a satisfying and tasty meal that is still in alignment with diet plan guidelines, serving as an alternative to more traditional options like salads.
Optavia Lean and Green Chicken Caesar Wraps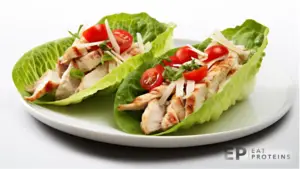 Try our Grilled Chicken Caesar Lettuce Wraps on Optavia Diet for a refreshing twist on the classic Caesar salad. These protein-packed wraps feature succulent grilled chicken, juicy cherry tomatoes, and a creamy Caesar dressing. Wrapped in crisp lettuce leaves, they offer a light and delicious meal option that's both satisfying and nutritious.
Type: Lean and Green Main Course
Cuisine: Italian
Recipe Yield: 1 Serving
Calories: 360 Calories
Preparation Time: 5 Minutes
Cooking Time: 15 Minutes
Total Time: 20 Minutes
Recipe Ingredients:
6 oz. grilled chicken breast strips
4 large lettuce leaves, such as green leaf, red leaf, or romaine
1/2 cup cherry tomatoes, quartered
1 Tbsp Caesar dressing
2 tsp slivered toasted almonds
1 Tbsp shredded parmesan cheese
Recipe Instructions:
Preparation:
Lay two lettuce leaves on top of each other on a flat surface and repeat with the other two lettuce leaves to create a sturdy wrap base.
In a mixing bowl, combine the grilled chicken strips, quartered cherry tomatoes, Caesar dressing, and slivered toasted almonds. Toss well to evenly coat the chicken with the dressing.
Divide the chicken Caesar filling in half and place each portion in the center of the lettuce wraps.
Sprinkle the shredded parmesan cheese over the chicken filling.
Tip: If you prefer a time-saving option, look for pre-made grilled & ready chicken breast strips in the fresh or frozen section at the grocery store. Alternatively, you can make your own grilled chicken strips.
Pros
These lettuce wraps provide a light and refreshing option for a meal, especially during hot weather or when you're looking for a lighter alternative to traditional sandwiches or wraps.
Cons
While the recipe includes grilled chicken and cherry tomatoes, there may be limited options for customizing the filling to suit individual preferences.
Optavia Counts and Recipe Tips
This Optavia chicken recipe includes grilled chicken breast strips, lettuce leaves, cherry tomatoes, Caesar dressing, toasted almonds, and shredded parmesan cheese. It is a low-carb, high-protein meal with 360 calories, 49 g of protein, 9 g of carbs, and 15 g of fat, as shown in this graph.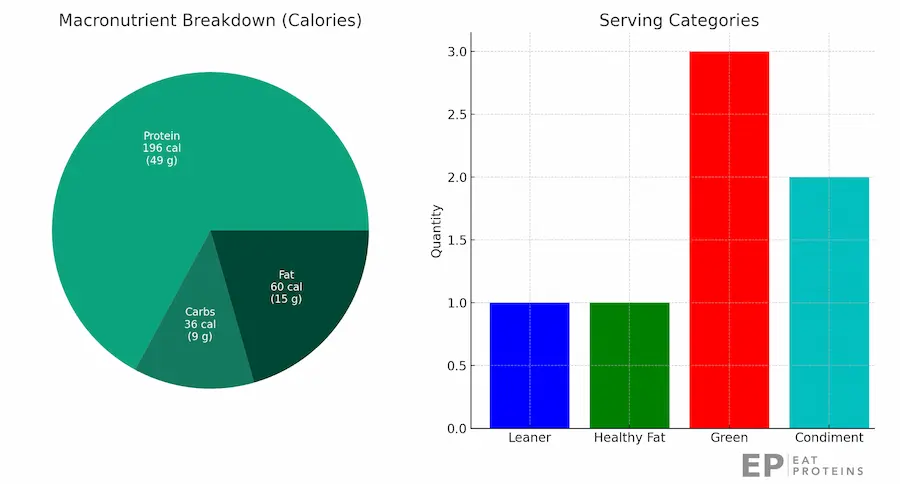 This bar chart on your right shows the quantities of each serving category (Leaner, Healthy Fat, Green, Condiment) in this Optavia chicken recipe.