Optavia Lean and Green Chicken & Shrimp Cauli-Jambalaya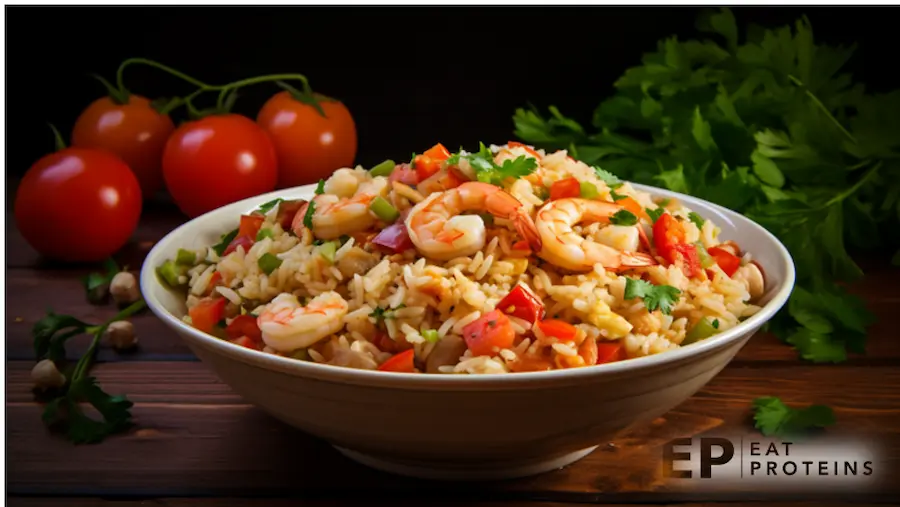 Are you looking for a delicious and healthy recipe to add to your meal rotation? Look no further than Optavia Lean and Green Chicken & Shrimp Cauli-Jambalaya! This flavorful dish is not only packed with protein and vegetables, but it's also easy to make and perfect for those following the Optavia 5 and 1 plan.
With the Optavia Lean and Green program, you can enjoy tasty and nutritious meals while still reaching your weight loss goals. And this Chicken & Shrimp Cauli-Jambalaya is a standout recipe that will satisfy your taste buds and keep you on track. So, let's dive in and learn how to make this delicious and satisfying dish.
In this recipe, I'll provide you with step-by-step instructions on how to prepare the Optavia Lean and Green Chicken & Shrimp Cauli-Jambalaya, along with some tips and variations to make it your own. Get ready to enjoy a healthy and flavorful meal that will have you coming back for more!
Optavia Lean and Green Chicken & Shrimp Cauli-Jambalaya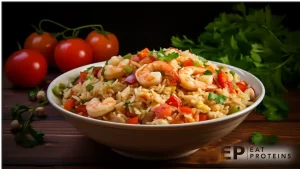 Introducing our mouthwatering Cajun Chicken & Shrimp with Cauliflower Rice recipe – a delightful fusion of flavors that will transport your taste buds to a whole new level of culinary excitement. Get ready to savor tender, perfectly seasoned chicken and succulent shrimp, sautéed to perfection in a tantalizing blend of Cajun spices. Paired with the subtle crunch of diced celery and tomatoes, this dish showcases the wonderful harmony of textures and tastes. And the star of the show? Riced cauliflower, simmered to tender perfection in low sodium chicken stock, creating a satisfying and healthy alternative to traditional rice. Topped with a sprinkle of fresh scallions, each plate offers a delectable and beautifully balanced meal. Prepare to embark on a flavor journey with this Cajun-inspired delight, guaranteed to leave you craving more.
Type: Lean and Green Main Course
Cuisine: Cajun
Recipe Yield: 4 Serving
Calories: 320 Calories
Preparation Time: 10 Minutes
Cooking Time: 20 Minutes
Total Time: 30 Minutes
Recipe Ingredients:
1 lb. boneless, skinless chicken breasts, cubed
1 lb. raw, peeled and deveined shrimp (any size)
1 1/2 Tbsp Cajun seasoning mix
2 Tbsp olive oil
4 cups riced cauliflower
3/4 cup diced celery
1 cup diced tomatoes
1 cup low sodium chicken stock
1/4 cup thinly sliced scallions
Recipe Instructions:
Preparation:
Start by tossing the chicken and shrimp in the Cajun seasoning for a burst of flavor.
Heat up the olive oil in a spacious skillet (13 to 14-inch), and quickly stir-fry the chicken and shrimp over high heat for about 2 minutes. Once they're cooked, remove them from the skillet and set them aside for later.
In that same skillet, add the celery and tomatoes, and cook them over high heat for about one minute to infuse their delicious flavors.
Now, introduce the riced cauliflower and low sodium chicken stock to the mix, and let it all come to a satisfying boil.
Time to bring back the star players – the shrimp and chicken! Distribute them evenly over the bed of cauliflower and cook everything over high heat. Allow the chicken stock to evaporate as the cauliflower becomes tender, which should take around 6 to 8 minutes.
To add a delightful finishing touch, sprinkle thinly sliced scallions over the dish. Then, divide this scrumptious Cajun Chicken and Shrimp with Cauliflower Rice into four equally-sized portions (approximately 2 1/4 cups per serving).
Tip: If you want to make your own Cajun spice mix, it's easy! Just combine equal parts of onion powder, garlic powder, dried oregano, dried basil, ground black pepper, cayenne pepper, and salt. All parts should be equal by volume.
Pros
The Cajun seasoning mix adds a delicious and bold flavor profile to the dish, making it a flavorful and spicy delight for those who enjoy a kick of heat in their meals.
This recipe comes together in a short amount of time, making it a convenient and satisfying option for busy weeknight dinners.
Cons
This recipe contains shellfish (shrimp) and chicken, which can be allergens for some individuals. It's important to be cautious and mindful of any food allergies or sensitivities before preparing this dish.
Optavia Lean and Green Chicken & Shrimp Cauli-Jambalaya Cooking Tips
When possible, choose fresh, high-quality ingredients. For instance, opt for organic chicken and wild-caught shrimp whenever possible. Fresh produce, like ripe tomatoes and crisp celery, will make a notable difference in the dish's flavor and texture.
Don't limit your seasoning to just the initial toss. As you add components to the skillet, season in layers. A sprinkle of salt when sautéing the celery and tomatoes will help to release their natural juices and enhance their flavors. Just be cautious not to over-season if your Cajun mix already contains salt.
After removing the chicken and shrimp from the skillet, there might be flavorful bits (called fond) stuck to the pan. Pour a small amount of chicken stock or even white wine into the skillet and scrape these bits off with a wooden spoon. They'll add a depth of flavor to your dish.
To add a slight crunch and contrast to the soft texture of the cauliflower and proteins, consider adding toasted nuts like slivered almonds or pine nuts. Toss them in just before serving.
Finish with a splash of acid to brighten up the dish. A squeeze of fresh lemon juice over the top just before serving can elevate the flavors. Alternatively, a sprinkle of fresh chopped herbs like parsley or cilantro can add a burst of freshness and color.
This table shows the serving size and macronutrients for this Lean and Green chicken recipe, including calories, protein, and healthy fats.
Per 1 Serving
Per 1 Serving
1 Leaner
1 Healthy Fat
3 Green
3 Condiment
320 Calories
49 g Protein
8 g Carb
11 g Healthy Fat