Optavia Grilled Chicken Kabobs with Cucumber Mint Yogurt Sauce and Roasted Radishes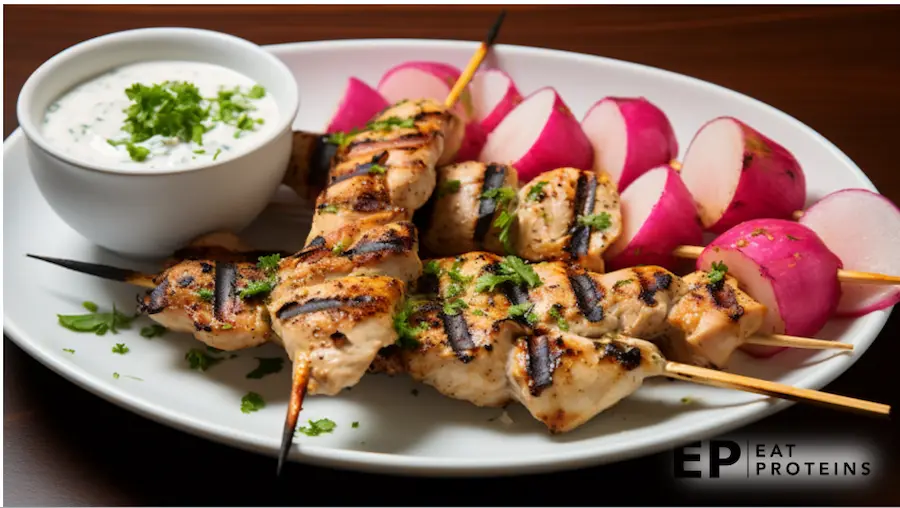 Are you tired of the same old grilled chicken recipes? Do you want a fresh and flavorful twist to your summer grilling?
Look no further than these delicious grilled chicken kabobs with cucumber mint yogurt sauce and roasted radishes. This recipe combines juicy chicken, refreshing cucumber, and aromatic mint to create a mouthwatering dish that will impress your family and friends.
Grilled chicken is a classic summer dish, but it can sometimes be boring and dry. However, with the addition of the cucumber mint yogurt sauce, these kabobs are anything but ordinary. The cool and creamy sauce adds a burst of freshness and tanginess to the smoky grilled chicken, elevating the flavors to a whole new level.
And don't forget about the roasted radishes! They add a unique and unexpected element to the dish, bringing a hint of sweetness and earthiness that complements the chicken perfectly.
In this article, I will guide you through the process of making these delicious grilled chicken kabobs with cucumber mint yogurt sauce and roasted radishes. From marinating the chicken to assembling the kabobs and preparing the sauce, I will provide step-by-step instructions and helpful tips to ensure your dish turns out flavorful and perfectly cooked.
Grilled Chicken Kabobs with Cucumber Mint Yogurt Sauce and Roasted Radishes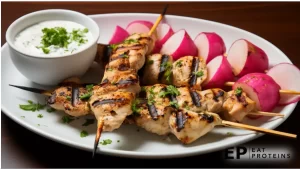 Experience the delightful flavors of Grilled Chicken Kabobs with Cucumber Mint Yogurt Sauce and Roasted Radishes. This mouthwatering dish offers a perfect balance of protein, freshness, and bold spices, making it a satisfying and healthy choice for your Optavia 5 and 1 meal.
Type: Lean and Green Main Course
Cuisine: Middle Eastern
Recipe Yield: 2 Servings
Calories: 350 Calories
Preparation Time: 20 Minutes
Cooking Time: 40 Minutes
Total Time: 60 Minutes
Recipe Ingredients:
1 lb. boneless skinless chicken breasts
2 tsp extra virgin olive oil, divided
1/2 tsp ground allspice
1/4 tsp kosher salt
1/4 cup plain low-fat Greek yogurt
1/4 cup shredded cucumber, squeezed dry
1/4 tsp minced garlic
1 tsp lemon juice
2 tsp fresh mint leaves, finely chopped
12 oz. radishes, trimmed and cut in half
1/8 tsp ground black pepper
Cooking spray
Recipe Instructions:
Preparation:
Begin by cutting the chicken into 1½-inch cubes or pieces and placing them in a large bowl.
Drizzle the chicken with 1 tsp of olive oil, then add the ground allspice and half of the kosher salt. Toss the chicken well to ensure even coating.
Cover the bowl and refrigerate the chicken for 30 minutes to allow the flavors to marinate.
While the chicken marinates, prepare the refreshing yogurt sauce. In a small bowl, combine the minced garlic, lemon juice, shredded cucumber, low-fat Greek yogurt, and finely chopped fresh mint. Mix the ingredients well and set the sauce aside until ready to serve.
In a separate large bowl, toss the radishes with the remaining 1 tsp of olive oil, ground black pepper, and the remaining half of the kosher salt. Spread the seasoned radishes on a small parchment-lined baking sheet in a single layer.
Preheat your oven to 450°F, and roast the radishes for 10 to 15 minutes or until they become fork-tender.
While the radishes roast, prepare your outdoor grill (or indoor griddle) by spraying the grates with nonstick cooking spray and heating it.
Thread the marinated chicken pieces evenly onto four 8-inch long skewers (if using wooden skewers, soak them in water for about 20 minutes prior to use).
Grill the chicken skewers over medium-high heat, turning each kebab one-quarter turn every couple of minutes. Cook the chicken until it becomes browned all over, which should take about 10 to 12 minutes.
To serve, divide the roasted radishes evenly onto two plates. Place two chicken kabobs on each plate and generously drizzle the yogurt sauce over the chicken.
Note: If using wooden skewers, soak in water for about 20 minutes prior to use.
Pros
This recipe can be easily customized by adjusting the spice level or incorporating additional vegetables to suit individual preferences.
The cucumber mint yogurt sauce adds a refreshing and tangy flavor to the grilled chicken, enhancing the overall taste of the dish.
Cons
Grilling the chicken on skewers requires an outdoor grill or indoor griddle. If you don't have these tools, it might be challenging to replicate the exact presentation.
More About
Want to take your Optavia grilled chicken recipe to the next level? Try marinating your chicken overnight instead of just for 30 minutes. This will allow the flavors to really seep into the meat, resulting in an incredibly flavorful and juicy chicken.
Are you a fan of smoky flavors? When grilling your chicken kabobs, consider using a grilling wood like hickory or mesquite. This will infuse the chicken with a delightful smoky flavor.
To keep things fresh and interesting, why not experiment with the yogurt sauce? Try adding a dash of cayenne pepper or a sprinkle of dill. You might discover a new flavor combination that you absolutely love!
In case you're worried about your wooden skewers burning on the grill, I suggest soaking them in a mixture of water and lemon juice for an added zesty flavor (the acid in the lemon will also help to keep the skewers from catching on fire).
If you find that your radishes are getting too soft when roasting, try roasting them at a lower temperature for a longer time. This will allow them to cook through without becoming too mushy. Just remember to keep an eye on them so they don't dry out!
That's it! This graph shows the macronutrient composition of this Optavia chicken recipe.