Optavia Lean and Green Chicken Lo Mein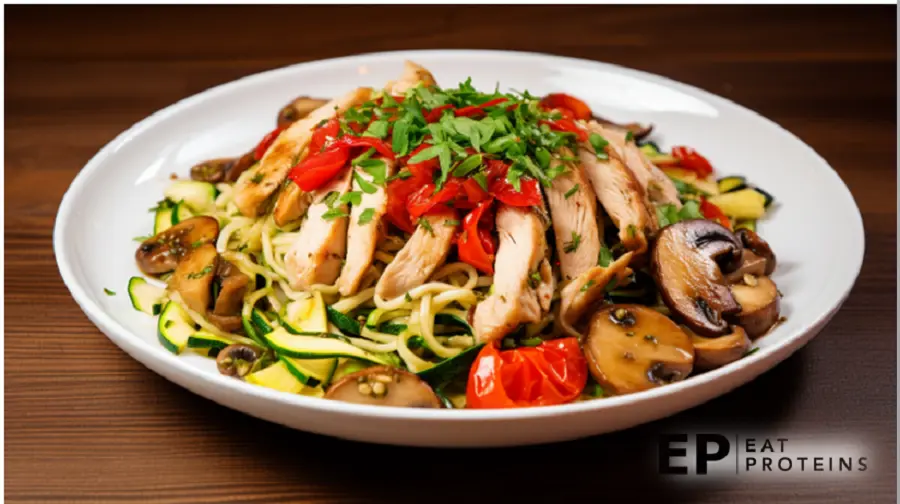 Are you on the Optavia diet and craving some delicious Chinese takeout? Look no further because I have the perfect recipe for you! With Optavia Lean and Green Chicken Lo Mein, you can satisfy your cravings while staying on track with your weight loss goals.
Say goodbye to boring, tasteless meals and hello to a flavorful and nutritious dish. This recipe combines lean chicken, fresh vegetables, and a savory sauce to create a guilt-free version of your favorite takeout dish. Whether you're new to the Optavia diet or a seasoned pro, this recipe is sure to become a staple in your meal rotation.
In this Optavia chicken recipe, I'll walk you through the step-by-step process of making Optavia Lean and Green Chicken Lo Mein, including the ingredients you'll need and the cooking techniques to achieve the perfect balance of flavors.
Get ready to enjoy a satisfying and healthy meal that will leave you feeling satisfied and proud of your food choices.
Optavia Lean and Green Chicken Lo Mein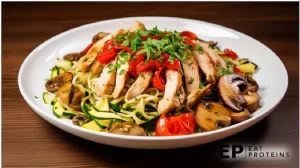 This Chicken Lo Mein is a delicious and healthy dish that will delight your taste buds. Thinly sliced chicken is cooked to perfection with a flavorful blend of soy sauce and oyster sauce, while fresh vegetables like mushrooms, bell peppers, and zucchini "noodles" add a delightful crunch. The fragrant garlic, ginger, and scallions infuse the dish with a savory aroma. With its vibrant colors and enticing flavors, this stir-fry is a quick and satisfying meal that you can enjoy any day of the week.
Type: Lean and Green Main Course
Cuisine: Chinese
Recipe Yield: 4 Servings
Calories: 330 Calories
Preparation Time: 10 Minutes
Cooking Time: 20 Minutes
Total Time: 30 Minutes
Recipe Ingredients:
2 Tbsp + 2 tsp sesame oil, divided
1 3/4 lbs. boneless skinless chicken breasts, thinly sliced
1/4 tsp ground black pepper
2 Tbsp soy sauce
2 Tbsp oyster sauce
1 garlic clove, minced
2 tsp peeled and minced fresh ginger root
2 scallions, trimmed and sliced with white and green parts separated
4 oz. fresh mushrooms (any kind), sliced
1 medium red bell pepper, seeds and membranes removed, sliced
3 cups zucchini "noodles"
Recipe Instructions:
Preparation:
Heat 1 teaspoon of sesame oil in a large wok or skillet over medium-high heat. Add the thinly sliced chicken to the wok, season with ground black pepper, and cook until the chicken is fully done with an internal temperature of 165⁰F. Once cooked, remove the chicken from the wok and set it aside.
While the chicken is cooking, prepare the flavorful sauce. In a bowl, combine soy sauce, oyster sauce, and 2 tablespoons of sesame oil, whisking the ingredients together. Set the sauce aside for later use.
In the same wok or skillet used for cooking the chicken, add 1 teaspoon of sesame oil. Toss in the minced garlic, minced ginger, and the white parts of the sliced scallions. Sauté the mixture until the delightful aromas fill the air, which should take about 1 minute.
Now, add the sliced mushrooms and red bell pepper to the wok, and continue cooking until they reach a tender yet crisp texture, which typically takes about 3 minutes.
Next, introduce the zucchini "noodles" to the wok, tossing them together with the other ingredients to create a harmonious blend.
Pour the previously prepared sauce into the wok, and add the cooked chicken. Continue cooking until the zucchini "noodles" are tender and the entire mixture is thoroughly heated, which should take approximately 3 to 5 minutes.
Finally, for a fresh and vibrant touch, garnish the stir-fry with the green parts of the sliced scallions.
Pros
The recipe is versatile, allowing you to modify the ingredients based on your preferences and dietary needs. You can add other vegetables or adjust the level of spiciness to suit your taste.
The combination of sesame oil, soy sauce, oyster sauce, garlic, and ginger adds layers of flavor and aromatic richness to the dish, making it a delight to the senses.
Cons
Zucchini "noodles" can become soggy if overcooked, so it's essential to be careful and not overcook them to maintain a pleasant texture.
More Cooking Tricks For Optavia Chicken Recipe
So, when cooking your thinly sliced chicken, aim for a beautiful golden sear. This not only adds a delightful texture but also enhances the flavor. Before adding the chicken to the wok, ensure it's hot and shimmering. Add the chicken in batches if necessary, to avoid overcrowding and steaming the meat.
Before combining your soy and oyster sauce, consider reducing them together in a small saucepan. By letting it simmer and reduce by a third, you'll intensify the flavors, giving your dish a richer, more robust taste.
Instead of just mincing, try using a mortar and pestle to grind the garlic and ginger into a paste. This technique releases more of their aromatic oils and will produce a smoother integration of flavors into the stir-fry.
Elevate your garnish game. Besides the green parts of the scallions, consider sprinkling some toasted sesame seeds or even a dash of chili flakes for those who like a little heat. This adds both a visual and textural contrast, rounding off your Optavia chicken recipe beautifully.
This graph shows your serving size and macros for Optavia Lean and Green Chicken Lo Mein.