Optavia Lean and Green Grilled Chicken Quesadillas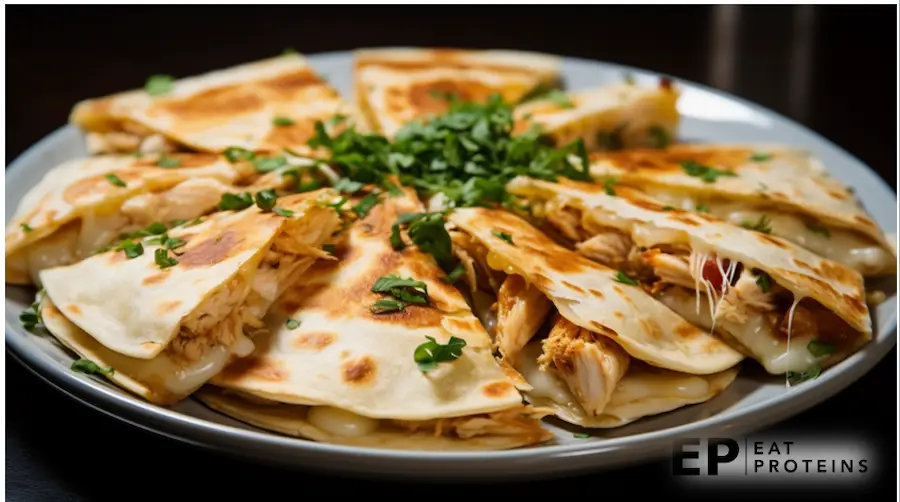 Are you on the Optavia diet and looking for a delicious and satisfying meal option? Well, look no further because I have the perfect recipe for you! Optavia Lean and Green Grilled Chicken Quesadillas are not only packed with flavor, but they also fit perfectly into your Optavia meal plan.
Say goodbye to boring and bland diet food, because these quesadillas will have you feeling satisfied and excited about your weight loss journey.
With the Optavia diet, it's important to find creative ways to incorporate lean proteins and vegetables into your meals. These Grilled Chicken Quesadillas do just that!
By using lean chicken breast, low-carb tortillas, and a variety of colorful veggies, you can enjoy a delicious and nutritious meal while staying on track with your Optavia goals. Plus, who can resist the gooey cheese and crispy tortilla that comes with every bite?
In this article, I will guide you through the simple steps to make these Optavia Lean and Green Grilled Chicken Quesadillas.
Whether you're a seasoned chef or a beginner in the kitchen, this recipe is easy to follow and will leave you with a satisfying and guilt-free meal.
Optavia Lean and Green Grilled Chicken Quesadillas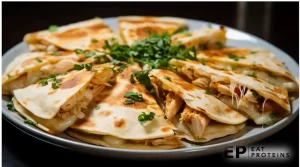 "Grilled Chicken Jicama Quesadillas" – a delectable blend of shredded chicken, reduced-fat mozzarella, tomatillo salsa, roasted green chili peppers, and fresh cilantro. These quesadillas are wrapped in jicama slices or tortillas, offering a low-carb twist that's both wholesome and satisfying. Cooked to perfection with a touch of extra virgin olive oil, they make for a delightful and diet-friendly treat. Enjoy the crunchy goodness and flavors of this nutritious dish – perfect for those following the Optavia 5 & 1 Plan. A guilt-free and delicious way to elevate your mealtime!
Type: Lean and Green Main Course
Cuisine: Mexican
Recipe Yield: 2 Serving
Calories: 370 Calories
Preparation Time: 10 Minutes
Cooking Time: 20 Minutes
Total Time: 30 Minutes
Recipe Ingredients:
8 oz. cooked and shredded chicken breast
3/4 cup reduced-fat grated mozzarella
1/4 cup tomatillo salsa
1/4 cup canned roasted green chili peppers, drained
1/2 cup fresh chopped cilantro, plus 1-2 Tbsp extra for garnishing if desired
1 scallion, trimmed and minced
12 slices jicama or jicama tortillas (no added ingredients)
2 tsp extra virgin olive oil
Recipe Instructions:
Preparation:
In a mixing bowl, combine the shredded chicken, mozzarella, tomatillo salsa, roasted green chili peppers, chopped cilantro, and minced scallion.
Lay 6 jicama slices or tortillas on a flat work surface. Top each slice with about ½ cup of the chicken mixture and place another jicama slice or tortilla on top to make 6 quesadillas in total.
Preheat a nonstick 12-inch skillet over medium heat with olive oil.
Carefully place the assembled quesadillas in the hot skillet and cook for about 6 minutes. Use a large flat spatula to carefully flip the quesadillas and continue cooking for another 6 minutes or until they turn golden brown. If any chicken mixture falls out, gently tuck it back into the quesadilla. Alternatively, you can bake the quesadillas on a parchment-lined baking pan at 425°F for 8 minutes, with no flipping required.
Garnish the quesadillas with 1-2 tablespoons of cilantro if desired. Enjoy this flavorful and nutritious twist on classic quesadillas!
Pros
By using jicama slices instead of traditional tortillas, this recipe becomes a great low-carb alternative for those watching their carb intake.
Cons
Some individuals may find the overall flavor profile of the quesadillas to be relatively mild, as it doesn't include strong spices or seasonings. Adjusting the seasonings to personal taste may be required.
More About Optavia Lean and Green Grilled Chicken Quesadillas
Always season your shredded chicken while cooking. A simple mix of salt, pepper, and maybe a dash of cumin or garlic powder can elevate the depth of flavor in the quesadilla filling. Seasoning in layers ensures that every bite is flavorful.
If possible, consider making your own tomatillo salsa. Fresh ingredients, when roasted and blended together, will give a richer and more authentic flavor. If using store-bought salsa, opt for a high-quality, artisanal brand with minimal preservatives.
Mozzarella is a great melting cheese, but if you're looking for a deeper flavor, consider blending it with another cheese. A mix of mozzarella and sharper cheese like pepper jack or aged cheddar can give more dimensions to the taste.
If using jicama as a tortilla substitute, ensure that the slices are uniformly thin. This ensures even cooking and a better texture. Also, slightly salting and resting the jicama slices can help in removing excess moisture which in turn will give a crisper finish.
When searing the quesadillas in the skillet, make sure it's hot enough before adding them. This will give a nice crispy exterior without overcooking the inside. If you have a cast iron skillet, it's perfect for this job as it retains heat well and gives an even sear.
This graph shows the nutritional facts for this lean and green grilled chicken recipe.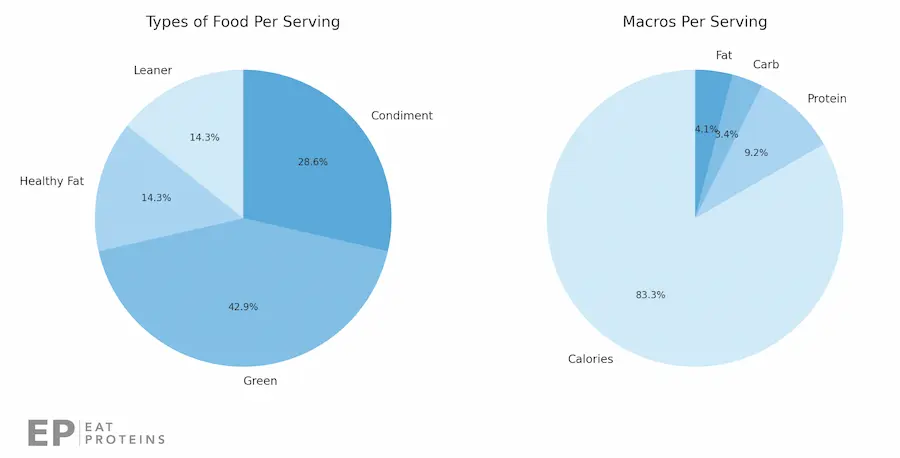 Nutrition Per Serving: 370 calories, 41g protein, 15g carb, 18g fat