Optavia Lean and Green Roasted Chicken with Broccoli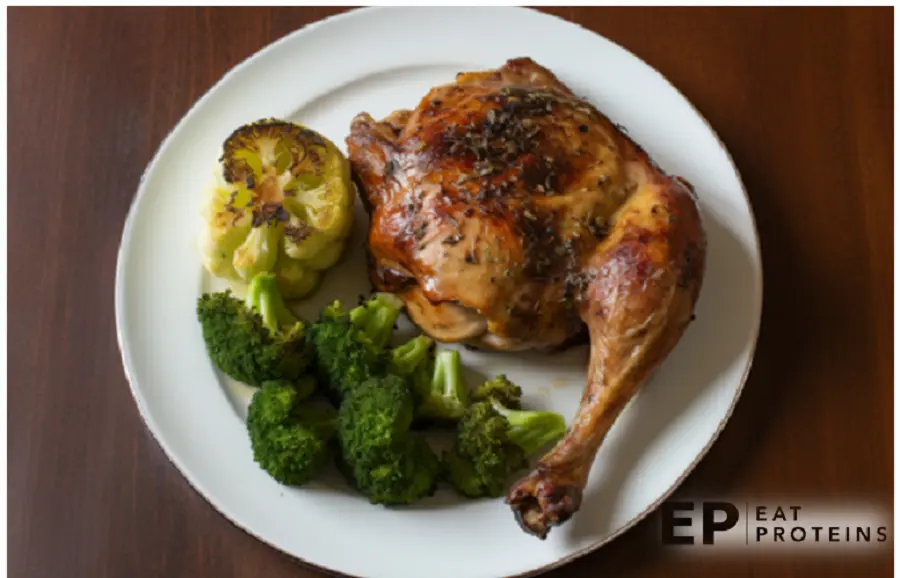 Optavia Lean and Green Roasted Chicken with Broccoli refers to a recipe that is part of the Optavia Lean and Green plan. This meal is not only nutritious, being packed with protein and fiber, but it's also flavorful and easy to prepare.
It provides a delicious alternative to common diet meals like salads and plain grilled chicken. The recipe involves a step-by-step process and requires just a few simple ingredients and minimal prep time. When prepared successfully, it results in a satisfying and energizing meal.
Optavia Lean and Green Roasted Chicken with Broccoli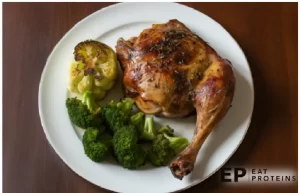 Enjoy a delightful and healthy meal with this easy-to-make Baked Chicken with Tender Broccoli recipe. Juicy bone-in chicken leg with a hint of pepper and salt, paired with perfectly cooked broccoli florets, makes for a satisfying and flavorful dish. Whether you bake it in the oven or opt for the air fryer method, this meal is sure to become a family favorite. So, savor the goodness and nourish your body with this delicious chicken and broccoli combo!
Type: Lean and Green Main Course
Cuisine: American
Recipe Yield: 1 Serving
Calories: 380 Calories
Preparation Time: 5 Minutes
Cooking Time: 25 Minutes
Total Time: 30 Minutes
Recipe Ingredients:
1 bone-in chicken leg, skin removed
1/4 tsp kosher salt, divided
1/8 tsp ground black pepper
1 1/2 cups broccoli florets
Recipe Instructions:
Preparation:
Preheat your oven to 425°F (220°C).
Start by removing any visible fat from the chicken leg. Then, generously rub in 1/8 teaspoon of salt and black pepper until the flavors meld.
Place the seasoned chicken on a small sheet pan, ready to be roasted to perfection.
Slide the sheet pan into the preheated oven and let it bake for 10 minutes, giving the chicken a head start.
After 10 minutes, take the sheet pan out and arrange the tender broccoli florets closely next to the chicken. Allow them to roast together for another 13 minutes, until the broccoli turns tender and the chicken becomes beautifully well-browned with an internal temperature of 165°F (74°C).
Sprinkle the remaining 1/8 tsp of salt onto the broccoli, enhancing its delightful taste.
For a faster option, you can also use the air fryer method: cook the chicken at 400°F (200°C) in the air fryer for 10 minutes, then add the broccoli and continue to cook for an additional 5 minutes until the chicken reaches its perfect internal temperature of 165°F (74°C).
Pros
This recipe is straightforward to prepare, making it an excellent option for a quick and delicious meal.
The combination of tender roasted chicken with seasoned broccoli results in a delightful and satisfying meal.
Cons
As a simple recipe focused on chicken and broccoli, it may not offer a diverse range of flavors or ingredients.
More About Optavia Lean and Green Roasted Chicken with Broccoli
I've been preparing this chicken and broccoli recipe for quite some time now and I've gathered some unconventional tips that can really elevate your dish. Trust me on this!
I always brine my chicken in a mixture of salt and water before starting. It doesn't just season the chicken thoroughly but also ensures it stays juicy during cooking.
I also learned the hard way that guessing when the chicken is cooked just doesn't cut it. Using a cooking thermometer changed everything for me – no more overcooked or undercooked chicken, just perfect juiciness every time.
You may wanna know that lightly oiling and seasoning the pan before arranging the chicken and broccoli adds an extra layer of flavor and prevents sticking. It's a small step that makes a huge difference.
I used to throw away the broccoli stems until I tried peeling, slicing, and roasting them along with the florets. They're surprisingly tasty and add more volume to the meal without many additional calories.
Let your chicken rest for a few minutes after it comes out of the oven before digging in. This simple pause allows the juices to redistribute throughout the meat, making it even more flavorful and moist.
This chart illustrates the macronutrient composition per serving of the bone-in chicken leg with broccoli recipe.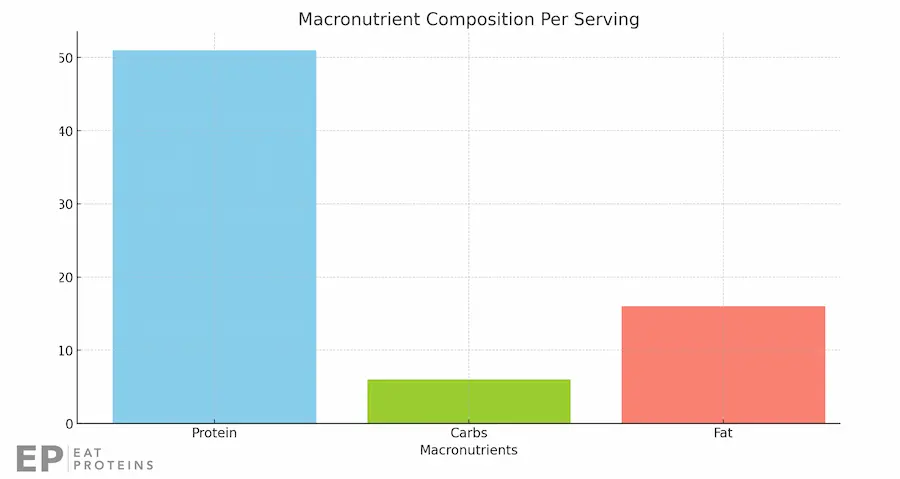 This Optavia chicken recipe is high in protein (51g), moderate in fat (16g), and low in carbohydrates (6g), making it a suitable choice for those following a low-carb or high-protein diet.