Optavia Lean and Green Chicken Tikka Masala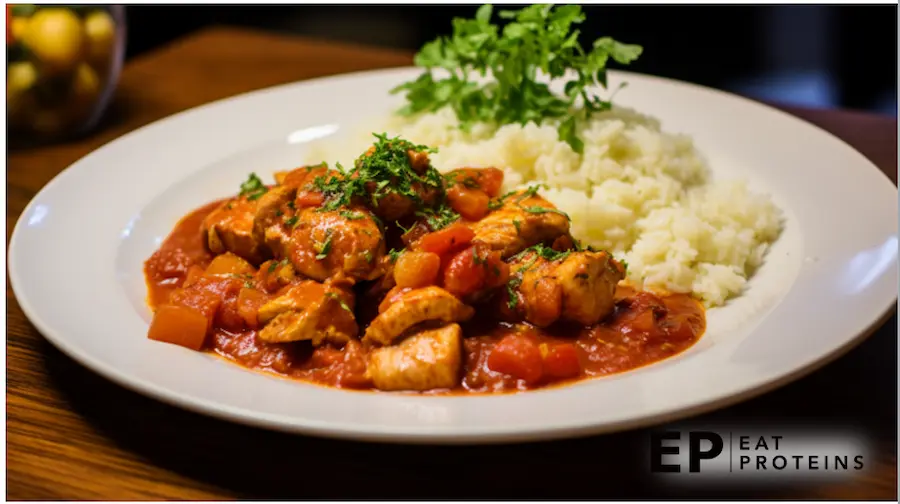 If you're on the Optavia 5 and 1 plan and craving a flavorful and satisfying meal, look no further than this Lean and Green Chicken Tikka Masala recipe.
Tikka Masala is a classic Indian dish known for its rich and creamy tomato-based sauce, and this healthier version fits perfectly into the Optavia plan.
With the right combination of spices and lean protein, you can enjoy a delicious meal that keeps you on track with your weight loss goals.
Whether you're new to the Optavia program or a seasoned participant, finding delicious and compliant recipes can be a game-changer.
This Chicken Tikka Masala recipe provides a tasty way to incorporate lean protein and vegetables into your daily meals. By following the Optavia guidelines and using the recommended ingredients, you can enjoy a flavorful dish that satisfies your cravings without derailing your progress.
In this article, we'll walk you through the process of making Optavia Lean and Green Chicken Tikka Masala step by step. From marinating the chicken to simmering it in the creamy sauce, we'll provide all the necessary details and tips to ensure your meal turns out perfectly.
Optavia Lean and Green Chicken Tikka Masala
Delicious Chicken Tikka Masala with Cauliflower Rice: A mouthwatering blend of tender, cubed chicken thighs seasoned with tikka masala spice mix and scallions, simmered in a flavorful tomato-based sauce. Finished with a creamy touch of sour cream and served over a bed of fluffy cauliflower rice. Garnish with fresh cilantro for a pop of color and added freshness. This low-carb, high-protein recipe is a delightful twist on a classic favorite!
Type: Lean and Green Main Course
Cuisine: Indian
Recipe Yield: 2 Servings
Calories: 290 Calories
Preparation Time: 10 Minutes
Cooking Time: 30 Minutes
Total Time: 45 Minutes
Recipe Ingredients:
3/4 lb. boneless skinless chicken thighs, cubed
1/8 tsp salt
11/2 tsp tikka masala or tandoori masala spice mix
2 scallions, trimmed and minced
11/2 cups canned diced tomatoes
1/2 cup water
3 Tbsp sour cream
1 cup cauliflower rice
2 Tbsp fresh cilantro, chopped
Recipe Instructions:
Preparation:
In a bowl, toss the cubed chicken with the salt, tikka masala (or tandoori masala) spice mix, and minced scallions.
In a saucepan, combine the canned diced tomatoes and water. Bring to a boil, then add the seasoned chicken. Gently return to a boil while stirring frequently.
Simmer the mixture without a lid for about 15 minutes, allowing the tomatoes to reduce into a thick sauce. Stir occasionally, and if needed, add more water during cooking.
Once the sauce thickens, add the sour cream and mix well. Set aside.
To cook the cauliflower rice, either microwave it in a microwave-safe bowl for 5 to 6 minutes or spread it on a parchment-lined sheet pan and bake in the oven at 425°F for 20 minutes. Alternatively, sauté the cauliflower rice in a nonstick skillet for 3 to 4 minutes.
For each serving, arrange ½ cup of cauliflower rice on a plate and top it with about 1¾ cups of the chicken tikka masala. Garnish with 1 tablespoon of chopped cilantro.
Tip: For a thicker sauce, consider pureeing the tomatoes in their juices.
Note: The color of the dish may vary depending on the spice mix you choose to use. Enjoy the delightful flavors of this Indian-inspired cuisine!
Pros
The recipe involves simple and straightforward steps, making it accessible even for novice cooks. You can have a delicious and nutritious meal ready in just about 30 minutes, making it a convenient option for busy days.
Cons
While this recipe is a good fit for those on the Optavia Diet or other low-carb plans, it may not be suitable for individuals with specific dietary restrictions, such as lactose intolerance (due to the sour cream) or those avoiding certain spices in the masala mix.
What Are The Cooking Tips For Optavia Lean and Green Chicken Tikka Masala?
Allow the cubed chicken to marinate in the salt, tikka masala spice mix, and scallions for at least 2 hours (or overnight for best results). This will help the chicken absorb more flavor and ensure a deeper, richer taste.
Before adding the tikka masala or tandoori masala spice mix to the chicken, briefly toast it in a dry skillet over medium heat for 1-2 minutes until aromatic. This will intensify the flavor of the spices.
If you have access to fresh tomatoes, consider using them in place of canned. Simply blend 2 to 3 ripe tomatoes to get a puree. The fresh tomatoes will give the dish a more vibrant and fresh flavor profile.
Consider using full-fat Greek yogurt or plain yogurt instead of sour cream. This can give the dish a more authentic taste, and the tangy flavor of yogurt complements the spices in the dish well.
To enhance the flavor of the cauliflower rice, consider sautéing it with a little ghee or butter, some minced garlic, and a pinch of turmeric and cumin. This will not only add a beautiful golden color but also infuse the cauliflower rice with flavors that complement the chicken tikka masala.
Take a peek at these side-by-side charts: The one on the show is a pie chart showcasing serving size for lean and green chicken dish. And over on the right, we're looking at protein, carbs, and fat distribution.