Optavia Lean and Green Grilled Chicken With Tomato Bruschetta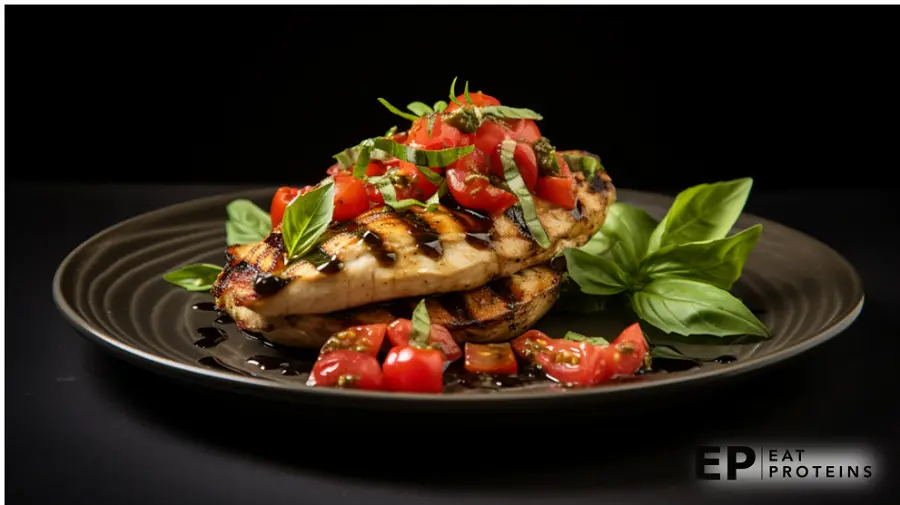 Are you following the Optavia program and looking for a delicious and healthy recipe to add to your meal plan? Look no further!
This Optavia Lean and Green Grilled Chicken with Tomato Bruschetta recipe is the perfect addition to your menu. With its fresh and vibrant flavors, it's sure to satisfy your taste buds while keeping you on track toward your health and weight loss goals.
Grilled chicken is a staple in many healthy diets, and when paired with a flavorful tomato bruschetta topping, it takes your meal to a whole new level. This recipe is not only delicious but also easy to make, making it a great option for busy weeknights or weekend gatherings. Whether you're a seasoned cook or just starting your culinary journey, this recipe is accessible to all skill levels.
In this article, I will guide you through the steps of preparing this Optavia Lean and Green Grilled Chicken with Tomato Bruschetta recipe, providing you with helpful tips and variations along the way.
Optavia Lean and Green Grilled Chicken With Tomato Bruschetta Recipe
Here is delightful grilled chicken with tomato bruschetta recipe. It features tender boneless skinless chicken breast, bursting with protein and essential nutrients. This low-calorie option promotes heart health and healthy hair growth, thanks to the selenium and vitamin B found in chicken breast. Plus, it's perfect for those on a low-carb or keto lifestyle, as it's made without bread. With just 6 minutes of preparation and cooking time, you'll have a mouthwatering meal that satisfies your taste buds and supports your health goals. Try it today and indulge in a lean, green, and delicious Italian feast!
Type: Lean and Green Main Course
Cuisine: Italian
Recipe Yield: 4 Servings
Preparation Time: 20 Minutes
Cooking Time: 6 Minutes
Total Time: 26 Minutes
Recipe Ingredients:
3 medium Vine Ripe Tomatoes, chopped
2 small Garlic Cloves, minced
2 Tbsp Fresh Basil, chopped
1/4 cup Red Onion, finely chopped
4 tsp Extra Virgin Olive Oil
1 Tbsp Balsamic Vinegar
1/4 tsp Salt
1/2 tsp Black Pepper
36 oz Raw Chicken Breast
Pros
This recipe is packed with fresh ingredients like vine-ripe tomatoes, garlic, basil, and red onions, providing essential vitamins and minerals. The use of raw chicken breast ensures a high-protein, low-fat option for a wholesome meal.
Cons
Chicken breasts can easily become dry and tough if overcooked, so it's crucial to monitor the grilling time and ensure the internal temperature reaches 165°F without exceeding it.
Key Cooking Tips
Before marinating the chicken, consider bringing it for about an hour in a simple saltwater solution (1/4 cup kosher salt dissolved in 4 cups water). This process will help retain moisture, ensuring that your chicken remains juicy after grilling. After brining, pat the chicken dry and proceed with your marinade.
For the bruschetta, source the freshest and ripest tomatoes you can find. Using heirloom tomatoes or cherry tomatoes can add depth of flavor. Similarly, investing in high-quality olive oil and fresh basil will significantly enhance the flavor profile of the bruschetta.
Instead of serving the bruschetta on the side, consider making garlic toast points. Take slices of baguette, brush them with olive oil, and toast them on the grill until they have a nice char. Rub a garlic clove over the hot bread. This will give an additional garlic punch and a crunchy texture to complement the softness of the bruschetta and the tenderness of the chicken.
Add a touch of sweetness and acidity by drizzling a balsamic glaze over the finished dish. You can buy a balsamic glaze or reduce regular balsamic vinegar over low heat until it thickens. This adds another layer of flavor and a beautiful finish to the presentation. The following is the Optavia serving guide for this lean and green chicken recipe.
1 Lean
1 Healthy Fat
1/2 Green
3 Condiment
Key Takeaways
Lean Green Healthy Grilled Chicken with Tomato Bruschetta is a quick and easy recipe suitable for a healthy meal plan.
Boneless skinless chicken breast is a low-calorie, high-protein ingredient that is beneficial for a healthy diet.
The recipe is approved for a weight loss plan and can be adapted to a low-carb or keto lifestyle.
Other lean and green recipes, as well as quick chicken recipes and healthy chicken recipes, are available on this site.