Optavia Lean and Green Buffalo Chicken Waffles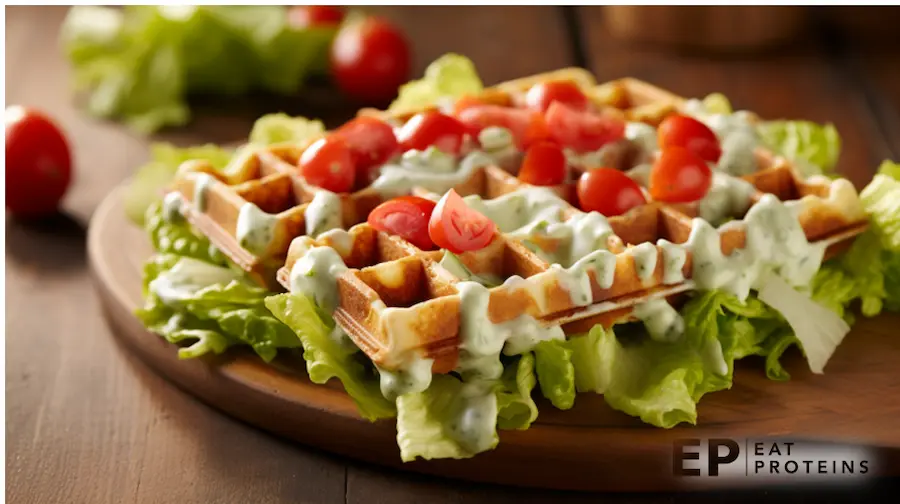 Are you tired of eating boring, bland diet food? Do you crave something delicious and satisfying, but still want to stay on track with your weight loss goals?
Well, I have the perfect recipe for you – Optavia Lean and Green Buffalo Chicken Waffles! These waffles are not only packed with flavor, but they are also a healthy and nutritious option for those following the Optavia program.
If you're unfamiliar with Optavia, it is a weight loss program that focuses on portion-controlled, nutritious meals. The Lean and Green meal is a key component of the program, as it consists of a lean protein source and green vegetables.
With this Optavia chicken recipe, you get the best of both worlds – a lean protein in the form of buffalo chicken, and a serving of green vegetables in the waffle batter.
In this article, I'll walk you through the steps of making these delicious Buffalo Chicken Waffles, as well as provide some tips and tricks for incorporating them into your Optavia meal plan. Get ready to satisfy your cravings and stay on track with your weight loss goals!
Optavia Lean and Green Buffalo Chicken Waffles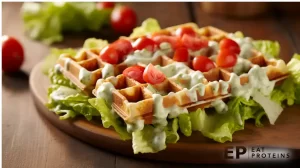 This recipe is for a mouthwatering Buffalo Chicken Waffle Salad that is not only delicious but also fits perfectly into a lean and green meal plan. The dish combines the bold flavors of buffalo hot sauce, creamy cream cheese, and tangy blue cheese with tender shredded chicken and crisp vegetables. Whether you're following a lean and green meal plan or simply looking for a creative and flavorful meal, this Buffalo Chicken Waffle Salad is sure to impress. Enjoy the perfect blend of spicy, creamy, and tangy flavors in every bite, making it a satisfying and delightful option for lunch or dinner.
Type: Lean and Green Main Course
Cuisine: American
Recipe Yield: 4 Serving
Calories: 380 Calories
Preparation Time: 5 MInutes
Cooking Time: 25 Minutes
Total Time: 30 Minutes
Recipe Ingredients:
1/2 cup Light cream cheese
3 large eggs, beaten
4 Tbsp Buffalo hot sauce
1 cup minced celery
1 cup part-skim shredded mozzarella cheese
1/4 cup reduced-fat blue cheese crumbles
4 scallions, minced
12 oz. shredded cooked white meat chicken (~ 2 cups)
Cooking spray
4 cups romaine lettuce, cut into ¼-inch strips
1 cup celery, cut into1/2-inch chunks
1 cup cherry tomatoes, halved
4 Tbsp reduced-fat blue cheese dressing
Recipe Instructions:
Preparation:
Begin by beating the cream cheese in a mixing bowl until smooth, using a spatula or wooden spoon. Then, whisk in the beaten eggs and buffalo sauce until thoroughly combined.
Stir in the minced celery, shredded mozzarella, blue cheese crumbles, and minced scallions into the egg-cream cheese mixture. Pour this flavorful mixture over the shredded chicken and toss everything together to combine the flavors.
Preheat your waffle iron and apply cooking spray to both sides to prevent sticking. Place an adequate amount of the waffle mixture onto the waffle iron, adjusting the amount depending on the size of the waffle iron. Cook the waffle mixture until it becomes almost golden brown, which usually takes about 10 minutes.
Once the waffles are done, carefully remove them from the waffle iron and place them on a wire rack.
Repeat the waffle-making process until all the mixture is used up.
Assemble the salad by combining the romaine lettuce with the celery and halved cherry tomatoes.
To serve, divide the waffles evenly among four plates. Create a refreshing salad on each plate using 1 cup of romaine, ¼ cup of celery, and ¼ cup of cherry tomatoes per serving. Drizzle 1 tablespoon of reduced-fat blue cheese dressing onto each salad to add a delightful finishing touch.
Pros
With shredded cooked white meat chicken as a key ingredient, this salad provides a significant amount of lean protein. Protein is essential for muscle repair and maintenance, helping to keep you feeling satisfied and energized.
The use of light cream cheese, reduced-fat blue cheese crumbles, and dressing helps keep the calorie count in check, making it suitable for those looking to manage their calorie intake while still enjoying a flavorful meal.
Cons
Some of the condiments used in this recipe, such as buffalo hot sauce and soy sauce, can be high in sodium. Individuals watching their sodium intake should be mindful of the amount used in the recipe or opt for low-sodium versions of these ingredients.
This recipe requires several steps, including cooking the waffle mixture in a waffle iron and assembling the salad. While the end result is delicious, it may not be the most time-efficient option for those looking for a quick meal.
More About Optavia Lean and Green Buffalo Chicken Waffles
Optavia chicken recipes are a series of culinary instructions designed to fit within the Optavia diet plan, which emphasizes lean proteins, healthy fats, and greens.
The Optavia Lean and Green Roasted Chicken with Broccoli offer flavorful alternatives to traditional diet meals while ensuring nutritional balance, as shown in this diagram.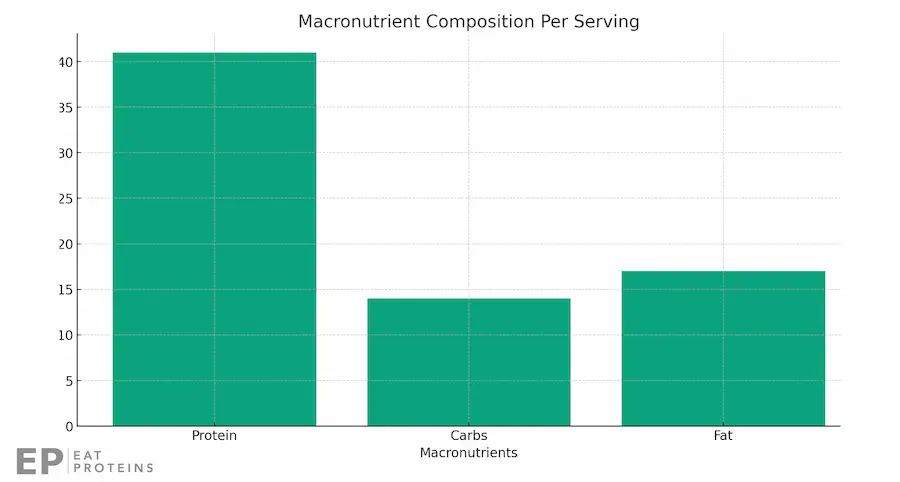 Simple to prepare and packed with proteins and fibers, these Optavia chicken recipe is a game-changer for anyone following the 5 and 1 plan, providing satisfying and energizing meals.