Optavia Lean and Green Chicken Zoodle Alfredo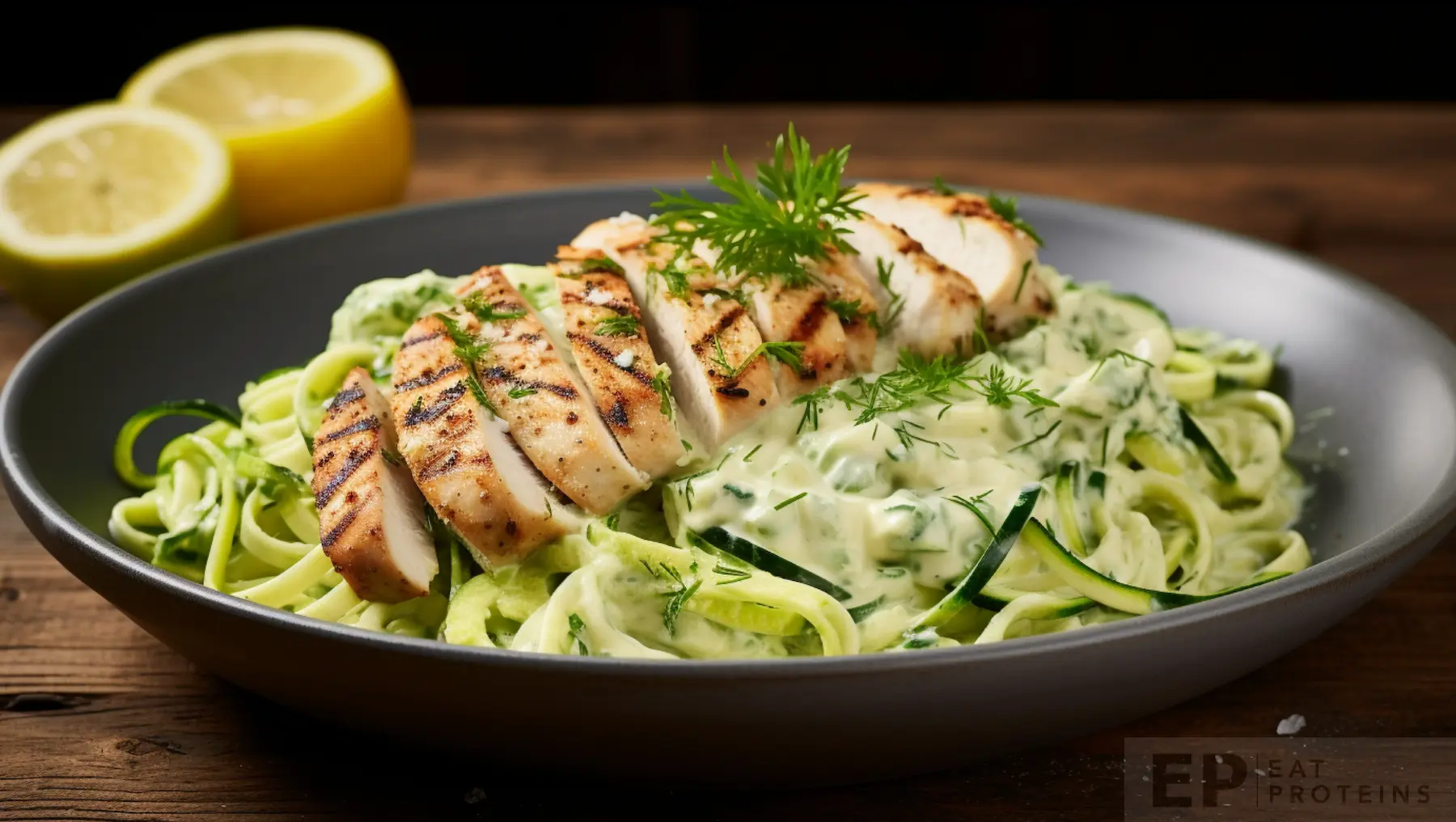 Do you want a healthier alternative to traditional chicken alfredo? Try the Optavia Lean and Green chicken zoodle alfredo, a family-friendly Italian recipe that's packed with nutrients and flavor.
This Optavia chicken recipe is perfect for those who're looking for a lighter option without sacrificing taste. One of the main benefits of using boneless skinless chicken in this recipe is that it's a healthy, low-calorie option. It's also rich in selenium and vitamin B, which are essential for heart health.
To make the zucchini noodles, simply spiralize the zucchini or use pre-made zucchini noodles from the store. These noodles are a great substitute for traditional pasta, as they're low in calories and carbs.
So, if you're looking to enjoy a delicious and nutritious meal, give the lean green chicken zoodle alfredo a try!
Optavia Lean Green Chicken Zoodle Alfredo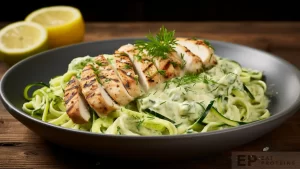 The dish is medium in difficulty and takes about 15 minutes to cook. It offers several health benefits, including being low in calories and fat, high in protein, and rich in essential nutrients like selenium and vitamin B. Additionally, the recipe includes frozen riced cauliflower for added vitamins and fiber. Optavia Lean Green Chicken Zoodle Alfredo provides a satisfying and nutritious meal option while maintaining the flavors of a classic Italian dish.
Type: Main Lean and Green Meal
Cuisine: Italian
Recipe Yield: 4 servings
Calories: 360 per serving
Preparation Time: 10 Minutes
Cooking Time: 10 Minutes
Total Time: 20 Minutes
Recipe Ingredients:
650 grams Rotisserie Chicken Breast, shredded
450 grams Frozen Riced Cauliflower
2 medium Scallions, minced
2 medium Laughing Cow Cheese Wedges
85 grams Reduced Fat Parmesan Cheese, divided
4 cup Zucchini Noodles
2 tsp Extra Virgin Olive Oil
2 pinch Fresh Parsley
1/2 tsp Salt
Recipe Instructions:
COOKING STEPS:
Place the cauliflower in the microwave and cook for exactly four minutes or until it has softened.
In a blender, combine the now soft cauliflower with two cheese wedges, a pinch of salt, a ½ cup or approximately 50g of parmesan cheese, one finely minced scallion, and 1½ cups or around 360ml of water; blend all these ingredients until the mixture has a smooth consistency.
Once blended, set the mixture aside and ensure it remains warm.
In a scorching hot skillet, sauté the zucchini noodles in approximately two tablespoons of olive oil for about two minutes.
Then add the previously prepared shredded chicken and the smooth cauliflower Alfredo sauce to the skillet.
Partition the sautéed zucchini noodles into four equal portions and evenly sprinkle each portion with about one tablespoon or around 5g of parmesan cheese.
If desired, Garnish each portion with finely chopped parsley.
Pros
Nutritious and Low-Calorie Lean and Green meal.
High protein content (over 25 grams per serving).
Cons
It is not suitable for vegans or those on a dairy-free diet due to the inclusion of cheese and chicken.
Recipe Notes & Optavia Counts
The total calorie content of this Optavia chicken recipe is estimated to be around 1441 calories, but it provides 4 servings, which is approximately 360 calories per serving.
In terms of lean and green, this recipe counts as follows:
1 Leaner
3 Green
1 Healthy Fat
2 Condiments
Helpful Cooking Utensils
Equip your kitchen with essential utensils that'll make your cooking experience easier and more enjoyable. Having the right cooking utensils is crucial for preparing healthy meals in your kitchen.
Start with a good set of knives, including a chef's knife for chopping vegetables and a paring knife for peeling and slicing smaller ingredients.
A quality cutting board is also a must-have for safe and efficient food preparation. Other helpful tools include a non-stick skillet for cooking without added oils or fats, a grater for shredding cheese or vegetables, and a whisk for mixing sauces and dressings.
Additionally, invest in measuring cups and spoons for accurate portion control, and a food scale for weighing ingredients.
These cooking utensils won't only assist you in creating delicious and nutritious meals, but they'll also contribute to maintaining a healthy kitchen environment.