Optavia Lean and Green Chicken Zucchini Noodle Soup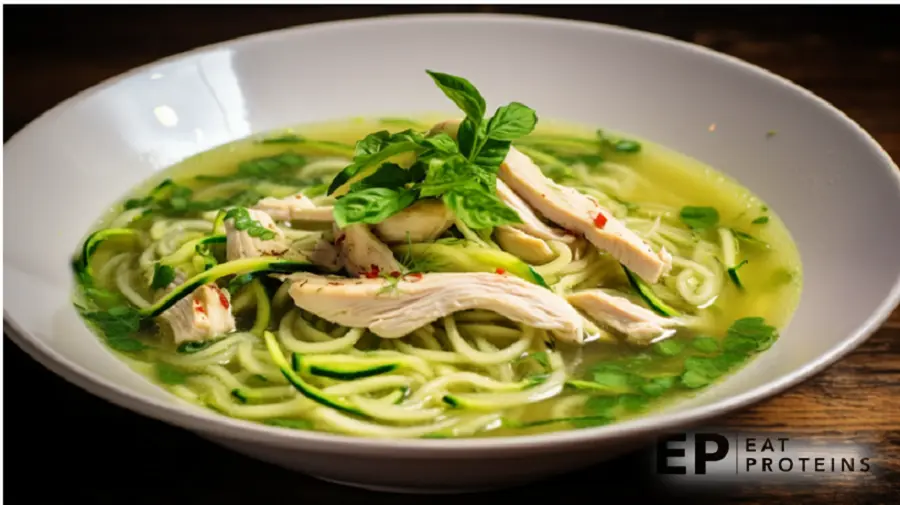 Are you looking for a delicious and healthy recipe to add to your Optavia Lean and Green meal plan? Look no further! This Chicken Zucchini Noodle Soup is the perfect option to satisfy your taste buds while staying on track with your weight loss goals.
With its combination of lean protein from the chicken and low-carb zucchini noodles, this soup is not only flavorful but also packed with nutrients. Plus, it's easy to make and can be prepared in just a few simple steps.
In this recipe, I'll walk you through the process of making this delicious Optavia Lean and Green Chicken Zucchini Noodle Soup and share some tips to make it even more delicious. Get ready to enjoy a comforting bowl of soup that will leave you feeling satisfied and energized.
Optavia Lean and Green Chicken Zucchini Noodle Soup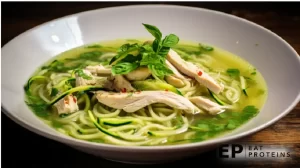 Chicken Zucchini Noodle Soup - A comforting and flavorful bowl of goodness! This hearty soup features tender chicken thighs and breasts, infused with lemongrass and Kaffir lime leaves. Spices like black peppercorns, cumin seeds, and turmeric add depth to the broth, while scallions, garlic, and ginger create a delightful paste. Topped with zucchini noodles, celery leaves, and a hint of lime, it's a nutritious and satisfying meal. Perfectly spiced with a touch of sambal for those who love a bit of heat. Enjoy a nourishing and delicious bowl in no time!
Type: Lean and Green Main Course
Cuisine: Thai
Recipe Yield: 4 Servings
Calories: 250 Calories
Preparation Time: 20 Minutes
Cooking Time: 40 Minutes
Total Time: 60 Minutes
Recipe Ingredients:
3/4 lb. bone-in, skinless chicken thighs
1 lb. boneless, skinless chicken breasts
3 lemongrass stalks, smashed
6 Kaffir lime leaves
1/2 tsp salt
1/2 tsp black peppercorns
1/2 tsp cumin seeds
1 Tbsp coriander seeds
1 tsp turmeric
3 scallions, white part only, trimmed and chopped
2 cloves garlic
2 tsp peeled fresh ginger root
1 Tbsp oil
5 cups zucchini noodles
1 cup celery leaves
1/2 lime, sliced into quarters
2 tsp sambal
Recipe Instructions:
Preparation:
In a pot, combine chicken thighs, chicken breasts, lemongrass, Kaffir lime leaves, and salt. Cover with water by 1-inch. Bring to a gentle simmer and cook for 45 minutes. Remove chicken and set it aside until cool enough to shred. Strain the broth and discard lemongrass and Kaffir lime leaves.
In a blender, add black peppercorns, cumin seeds, turmeric, scallions, garlic, and ginger. Puree the mixture into a paste, adding a small amount of water if needed.
Heat oil in a small skillet and add the paste. Cook until aromatic, then pour it into the broth.
Simmer the broth for 10 to 15 minutes.
In 4 bowls, portion zucchini noodles, celery leaves, and shredded chicken. Ladle hot chicken broth over the ingredients. Squeeze a lime wedge and serve with a ½ teaspoon of sambal per serving. Enjoy this flavorful and aromatic dish!
Pros
The use of lemongrass, Kaffir lime leaves, and spices infuses the soup with a delightful and aromatic Thai-inspired flavor.
This soup can be easily adapted to suit various dietary preferences, such as keto, low-carb, or gluten-free diets.
Cons
Preparing this soup may require a bit more time due to the various ingredients and steps involved.
More About Optavia Lean and Green Chicken Zucchini Noodle Soup
If possible, use fresh ingredients, especially herbs and spices. For this Optavia chicken soup recipe, freshly ground black peppercorns, fresh lemongrass, and freshly plucked Kaffir lime leaves will make a world of difference in the aroma and depth of flavor. For the ginger root, try to use young ginger if available, as it's more tender and has a milder, fresher taste.
Before blending the black peppercorns, cumin seeds, and coriander seeds, consider toasting them lightly in a dry skillet over medium heat. This helps to release their essential oils and amplifies their flavors. Once they become fragrant, remove them from heat and then proceed to blend.
When simmering the chicken, ensure the heat is really gentle to prevent the meat from becoming tough. You want the water to be just below boiling, with only a few bubbles coming up. This slow cooking will result in tender, juicy chicken.
Zucchini noodles can become soggy if overcooked. If you prefer a firmer texture, you can blanch them briefly in boiling water for about 30 seconds, then immediately plunge them into cold water to stop the cooking process. Alternatively, you can just ladle the hot broth over them as directed in the recipe to soften them slightly.
Southeast Asian dishes, like this one inspired by those flavors, thrive on the balance of sweet, salty, spicy, and sour. After you've added the paste to the broth and let it simmer, taste the broth. Adjust the seasoning as needed.
You might find you want a touch more salt or perhaps a splash of fish sauce for depth. Remember, the lime and sambal at the end will also add sourness and heat, so factor that into your adjustments.
Here is the side-by-side chart for the Optavia chicken soup recipe: the chart on the left represents the serving sizes for each category, while the chart on the right represents the macros per serving.