8 Optavia Chocolate Chip Cookie Hacks you should try
Hey! Welcome to our Optavia Chocolate Chip Cookie hack guide!
My wife spent hours in our small kitchen stirring, mixing, and baking (and wasting a lot of Optavia chewy chocolate chip sachets) trying to find ways to add some swag to this Fueling.
Feel free to gamble and use the standard cooking instructions to get the same dry and tasteless effect. But if I were you, I'd try something new, delicious, and satisfying (and never look at Optavia Chocolate Chip Cookie the same way again).
Let me show you how you can make your own Optavia Chocolate Chip Cookie hack, even if you're not a culinary wizard.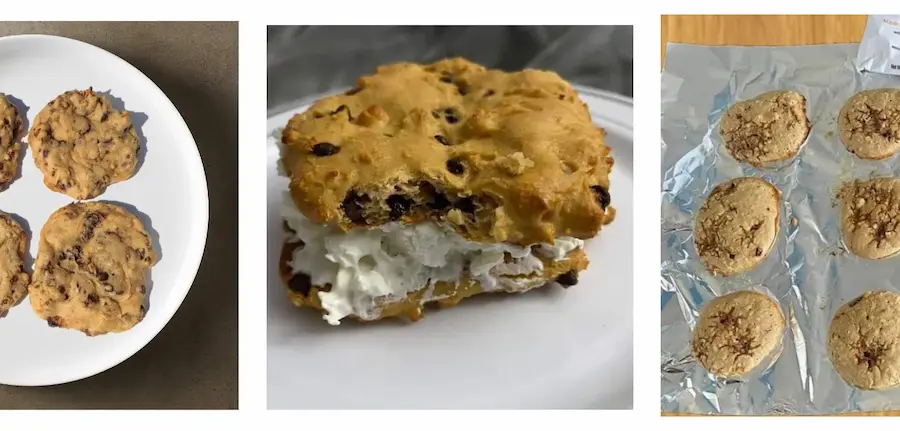 1. Chocolate chip cookie ice cream hack
Making cookie ice cream from Optavia's chewy chocolate chip cookie fueling and cool whip is perfect for those who want a unique twist on the classic treat.
We count it as 1 condiment and 1 fueling.
So, here is a step-by-step instruction on how to get this dessert:
Pour into a bowl 1 sachet of chewy chocolate chip cookie fueling 
Add 2 Tbsp of cold water and stir well (the dough will be thick and sticky)
Bake 2 cookies of the dough for 10-12 minutes in the prepared oven at 375 ⁰F (until golden brown or slightly overdone)
Let the cooked cookie stand for 3–5 minutes to cool and set
Add 1 tablespoon of sugar-free cool whip in the middle (connect two cookies)
Put in freezer for 1 hour
Enjoy!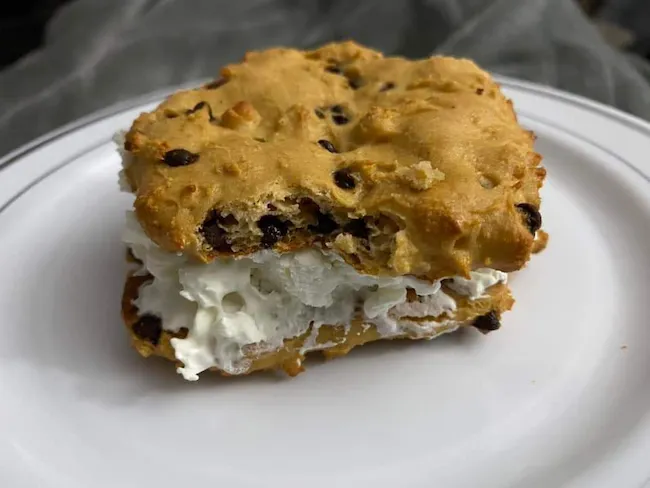 I often use it with the original Reddi Wip as you can see in the photo, but you can also try it with almond or coconut whip.
This hack also works well for chocolate brownie fueling and chocolate cool whip.
2. Optavia chocolate chip cookie (yogurt or cottage cheese) hack
If you're short on time but craving the combination of a chocolate chip cookie and yogurt, here's a nifty hack that requires no cooking at all!
All you have to do is mix one package of Optavia Chewy Chocolate Chip Cookie Fueling with 5.3 oz. low-fat plain Greek yogurt.
Although plain has the least calories, vanilla, in my opinion, is the best flavor to pair with this Fueling.
I recommend either Chobani or Two Good.
Once you mix yogurt with Fueling, let it rest in the fridge (or freezer) for short time and you end up with tasty chilled cookie dough.
(Photo below)
One serving provides 1 fueling and 1/2 Leaner protein.
The second way to enjoy chocolate chip cookies is to combine 1 fueling with 4 ounces of light ricotta cheese.
I also like to add a little bit of water or 1-2 teaspoons of almond milk (as 1/8 condiment) to make the consistency more creamy, but it is not so necessary for taste.
I found this recipe online, and it's called "Holy Cannoli". Also counts as 1/2 Lean and 1 fueling.
Here's the photo of the two hacks (if you can call them that) – yogurt and ricotta hack.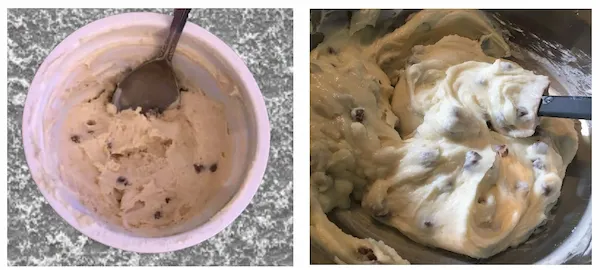 The photo on the left is a yogurt hack, and the second is a ricotta cheese hack.
3. Optavia chocolate chip & chocolate bar cookie hack
How about a cookie with an extra chocolate taste and crunchy addition?
Just looking at this photo is enough to make your taste buds come alive – it's so tasty!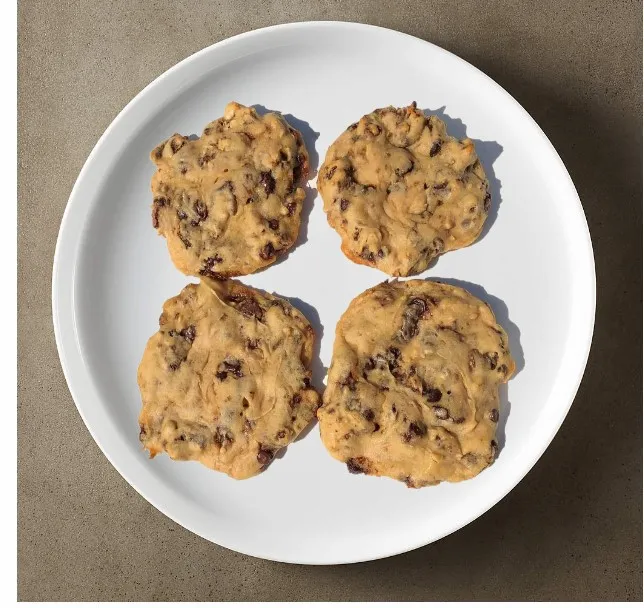 I highly recommend giving it a try.
With this recipe you gonna have 2 servings (4 cookies). One serving equals one Fueling.
Ingredients
1 drizzled chocolate fudge crisp bar
1 chewy chocolate chip cookie fueling
2 Tbsp cold water
Pam cooking spray (optional)
Instruction
Preheat the oven to 350°F
Chop up the chocolate fudge bar into pea-sized chunks
Prepare the chocolate chip cookie mix as per the package instructions
Mix the chunks of the chocolate fudge bar into the cookie consistency
Line a cookie sheet with parchment paper
Spoon the cookie batter onto the parchment paper to make 4 equal-sized mounds
Bake for 10 minutes
Remove from oven and press down on each cookie with a spatula to flatten the dough into a cookie shape. Spray the spatula with Pam to prevent sticking
Bake for another 6 minutes
Remove from the oven and let cool
4. Optavia chewy chocolate chip cookie waffle hack
I have discovered an alternative method for preparing chocolate chip fueling that is equally delicious as the previous hack.
That involves adding 2 (maybe 3) tablespoons of water to the fueling mix and microwaving it for 30 seconds.
The result is a batter-like consistency that can be easily poured into a waffle maker.
What I love most about using the waffle maker is that it creates a warm and crispy texture that is different from the usual soft and chewy texture of cookies.
Here's the photo of the Optavia chocolate chip cookie waffle hack.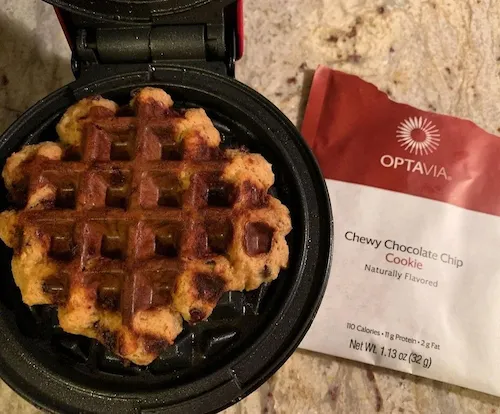 The waffle maker method saves me time and effort.
This makes it a convenient and easy option for a quick dessert or snack.
For those looking to make the most of their hack, Reddi Whip or Walden Farms caramel syrup are two great options that can make any waffle stand out.
5. Optavia chocolate chip & peanut butter cake hack
If you're a fan of peanut butter, try this blend. (You need to mix two different Fuelings.)
This one has a slightly dense and rich texture, but an amazing taste. I highly recommend trying it – you won't be disappointed!
Check out the photo!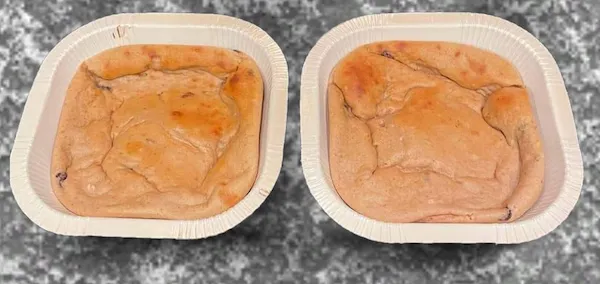 Ingredients
1 sachet of Peanut Butter Shake
1 sachet of Chewy Chocolate Chip cookie mix
3 Tbsp of cold water
1 Tbsp Nutpod creamer
1/4 tsp baking powder
Instructions
Preheat your oven to 375°F
In a mixing bowl, combine the Peanut Butter Shake, Chewy Chocolate Chip Cookie mix, 3 tablespoons of water, 1 tablespoon of Nutpod creamer, and 1/4 teaspoon of baking powder
Mix all the ingredients until well combined
Divide the consistency in half and place each half in the containers that came with the cookie mix
Bake the cakes in the preheated oven for 10 minutes
Once done, remove them from the oven and let them cool for a few minutes
As you use two Fuelings, you can enjoy one of the cakes right away and save the other for later as a delicious treat.
6. Optavia chocolate chip & peanut butter waffle hack
For a different twist, try waffling the cakes (instead of using an oven).
To make waffles, you'll need 1 sachet of Optavia peanut butter shake, 1 sachet of Optavia chocolate chip cookie mix, and 4 tablespoons of water.
Simply mix the Fuelings and water until you achieve a peanut butter consistency
Spray your waffle maker and use a cookie scoop to divide the mixture equally (I used 2 scoops per waffle).
Let the waffles cook for at least two cycles to ensure they're fully cooked.
Heres' the photo.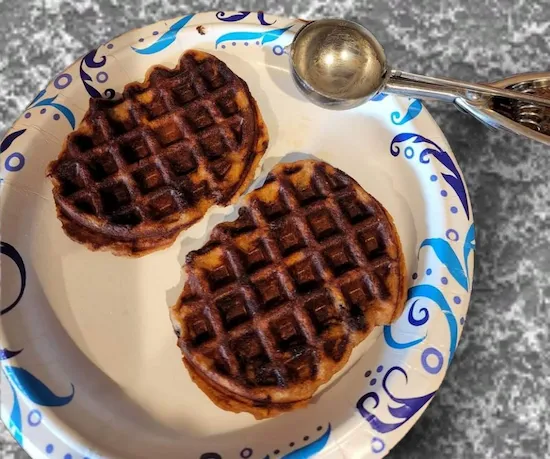 This recipe yields two waffle-like servings, as shown in the photo above.
Alternatively, you can divide the mixture into four portions to make cookies (two cookies per serving) and bake them in the oven following the directions on the chocolate chip package.
7. Optavia chocolate chip oatmeal cookie hack
Another creative way to use your Maple and Brown Sugar Oatmeal and Chocolate Chip Fueling.
(If you're not a big fan of oatmeal, you will love this hack.)
Simply combine these 2 fuelings with 4 (maybe 5) tablespoons of cold water and mix well to create a dough-like consistency.
Next, preheat your oven to 350 degrees and scoop out 6 equal portions of the dough to form cookies.
Place the cookies on a baking sheet lined with parchment paper or foil and bake for 14 minutes. Let sit for a moment to cool down and you can see the result like in the picture.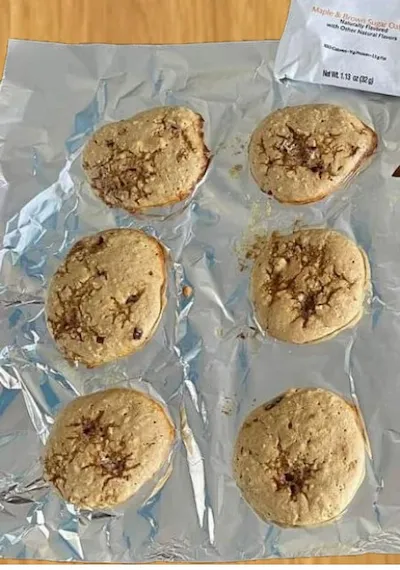 The result is a delicious batch of Chocolate Chip Oatmeal Cookies with a subtle maple and brown sugar flavor.
In this recipe, 3 cookies equal 1 fueling.
8. Optavia chewy chocolate chip cookie shake hack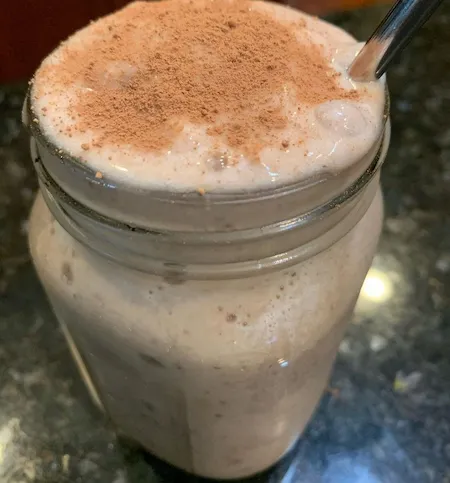 If you're looking for a delicious and nutritious way to start your day these Optavia chocolate chip shake hacks are sure to hit the spot.
Each shake features a chocolate chip cookie or chocolate flavoring, combined with ingredients like cashew milk, cream cheese, and ice.
Whether you prefer a creamy frappuccino-style shake or a simple blend of cookie and milk, there's something here for every taste bud.
So grab your blender and get ready to whip up some tasty shakes!
Chocolate Chip Milk Shake
1 Chocolate chip cookie fueling
1 cup milk (1 condiment)
1 cup ice
1/2 tsp almond extract (optional)
Throw all of the ingredients into the blender and give it a whirl until everything is beautifully blended.
Cookie Dough Shake
1 Optavia chewy chocolate chip cookie
1 Tbsp low-fat cream cheese or 1 wedge laughing cow cheese (1 light wedge = 1 condiment)
8 oz water
1/2 cup ice
Combine all ingredients in a blender and mix until smooth. Sip and savor!
Chocolate Chip Optavia Vanilla Shake
1 Chocolate chip cookie fueling
3/4 cup chilled water
1/4 cup unsweetened almond milk
1/2 Tbsp cookie dough skinny syrup
1/4 Tbsp butter vanilla baking emulsion
1.5 cups ice
Put all the ingredients in a blender, blitz until smooth, and treat yourself to a delicious shake. Count this shake as 0.75 condiments.
Chocolate Chip Frappuccino Shake
1 Chocolate chip cookie fueling
1 cup ice
6 oz almond milk
1 tsp instant coffee powder or 1 coffee pod
Blend all ingredients and enjoy.
Chocolate Shake Hack
1/2 Chocolate chip fueling
1/2 Chocolate shake fueling
1 cup almond milk
1 cup ice
And for the last shake mix all of the ingredients in the blender until they're frothy, smooth, and downright irresistible. Take a sip and savor the magic!
Chocolate Chip Vanilla Ice Cream Hack
1 Vanilla Two Good yogurt
1 Chocolate Chip fueling
1 Tbsp sugar-free Cool whip
Ice and water
Simply blend all ingredients and count as 1 fueling, 1 Condiment, and 1/3 Leanest.
Enjoy!