7 Optavia Chocolate Pudding Hacks that nobody talks about
Are you looking for Optavia Chocolate Pudding hacks that take your experience to the next level? Well, search no more!
My wife, Emiliia, enjoys playing around and hacking Optavia Fuelings to enhance their flavor. Her hacks don't involve making waffles or boring milkshakes.
None of that stuff.
Instead, she has come up with 7 mouth-watering Optavia chocolate pudding hacks that are often overlooked.
I'll walk you through the whole thing today and show you a step-by-step guide on what she did, so you can try them out and see for yourself!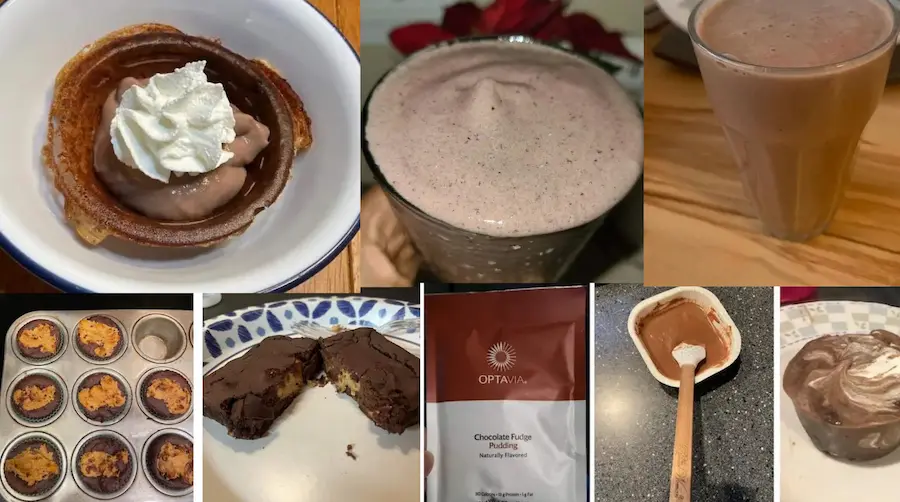 1. Chocolate Brownie and Pudding Cupcake Hack
To make this delectable dessert, you only require four simple ingredients:
Chocolate Fudge Pudding Mix (1 serving)
Decadent Chocolate Brownie Mix (1 serving)
Water (3 tablespoons)
Whipped cream (1 tablespoon)
The last one is optional… for a creamy touch.
How to prepare
I bet this Optavia chocolate pudding hack will knock your socks off!
First, grab a mixing bowl and combine three tablespoons of water with the Decadent Chocolate Brownie Mix.
Don't forget to divide the mixture in half – one for now, one for later.
Next, spread half of the brownie mixture onto a pie maker or griddle and bake it as directed (350 F for 18-20 minutes).
While the brownie is baking, let's get to work on the chocolate pudding.
Follow the pudding mix instructions and whisk half a cup of cold water with one sachet using a fork or wire whisk for 20 seconds or until it's thoroughly mixed.
Now, add a tablespoon of cool whip to the pudding mixture and divide it in half – just like the brownie mix.
Once the brownie is done baking, take it out of the oven and top it with half of the chocolate pudding mixture.
(Next part is actually the most challenging for me.)
Pop it in the freezer and try to wait patiently for one hour (I know it's tough, but trust me, it's worth it!).
Personally, I like to use a pie maker and then put the brownie in the bottom of a cupcake holder before adding the chocolate pudding mixture on top.
If you're curious, check out the photo below to see the finished product.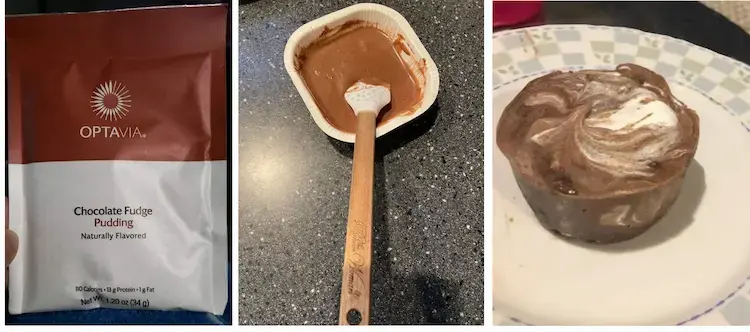 Enjoy!
Tips
This recipe is made up of two Fuelings, so it's recommended to stick to half of the serving.
However, the choice is ultimately yours.
If you're anything like me, you might be tempted to ignore that advice and indulge in the whole thing!
2. Chocolate Pudding Shake Hack
The following hack is great for those who want a quick summer afternoon snack.
Let me walk you through the ingredients you'll need to make this scrumptious treat.
First up, you'll need 2/3 cup of water and 7-8 ice cubes.
Next, grab a pack of Optavia chocolate pudding fueling.
Lastly, to add a touch of creaminess, you'll want to add a scoop of lite or sugar-free whipped cream.
It's important to note that one tablespoon of whipped cream equals one condiment.
How to prepare
Add all the ingredients into a blender, and blend until smooth as you can see in the picture below.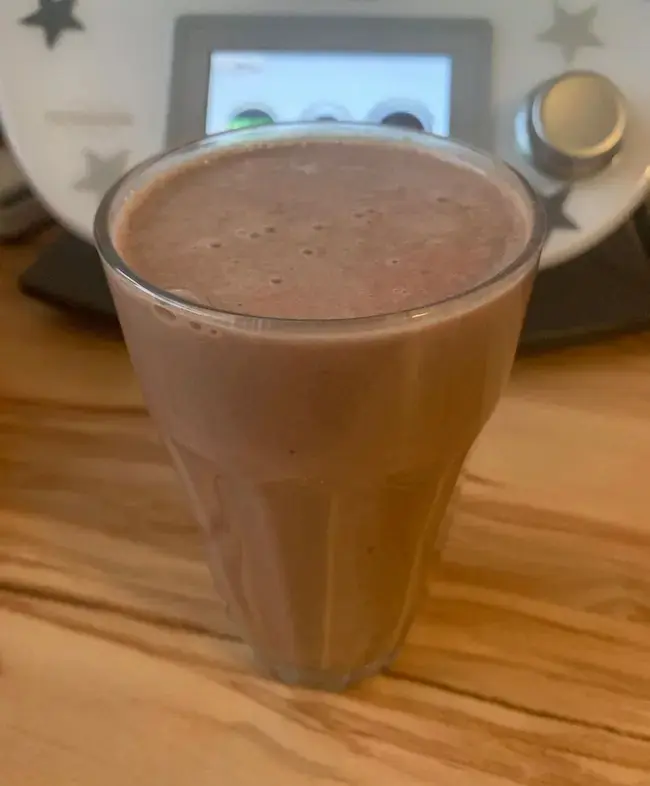 (It actually tastes better than it looks.)
But that's not all.
When you add that perfect touch of creaminess and sweetness with a dollop of whipped cream on top, you'll find it nearly impossible to resist.
Trust me, once you try this recipe, it'll be hard to go back.
3. Chocolate Pudding and Peanut Butter Dessert
Are you ready for a delicious and indulgent treat that will satisfy all your cravings?
This recipe combines the rich and creamy chocolate pudding mix with a peanut butter shake mix to create a heavenly dessert that is sure to please.
You also can your chocolate brownie fueling as an alternative.
How to prepare
To make this delectable treat, you'll want to start by mixing up some chocolate pudding with 1/2 cup of cold water, following the instructions on the package.
Next, it's time to whip up the peanut butter shake!
Ready?
Simply mix 3 tablespoons of water with your peanut butter until it reaches a smooth, creamy consistency.
Now comes the fun part.
Layer half of the chocolate mix into the bottom of your container, then add the peanut butter shake on top.
Finally, finish off with the remaining chocolate mix.
Pop the container into the freezer for a bit to allow it to harden.
If it ends up getting too hard, just let it sit out for a bit to soften up.
Trust me, once you take a bite of this scrumptious treat, you won't be able to resist going back for more.
Just take a look at the photo – it's hard not to drool just looking at it!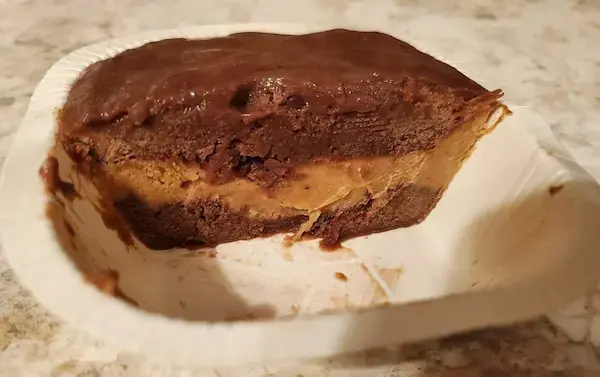 This recipe will make 2 servings, so why not give yourself the ultimate pleasure and try a chocolate pudding hack today?
4. Chocolate Chip Muffin Hack
For those who don't think that simply mixing and freezing two of their favorite sachets is enough, I have the perfect hack for you!
This next-level treat combines a combination of eight different sachets, but it's easier to make than it sounds.
Yes, eight Fuelings.
(That's not a typo.)
Don't worry, it's not as complicated as it might seem.
I'll walk you through the process step by step so that you can create this delicious treat without any extra effort.
For this hack, you will need:
Optavia Decadent Chocolate Brownie (4 servings)
Optavia Chocolate Fudge Pudding (2 servings)
Optavia Chewy Chocolate Chip Cookie (2 servings)
Water (1 cup)
Egg whites (2 tablespoons)
How to prepare
Let's get baking.
First, preheat your oven to 350°F.
In a large bowl, mix together the heavenly combination of brownie and fudge pudding fuelings.
(Can you imagine the mouthwatering aroma already?)
Next, add 1 cup of water and 2 Tbsp of egg whites to the bowl, and stir until the mixture is perfectly combined.
Take your muffin pan and grease it up, then evenly divide the rich and gooey brownie mixture among 8 cups.
Yum!
But wait, there's more! In a separate small bowl, mix together the chocolate chip cookie fuelings and 4 Tbsp of water.
(I know, it sounds too good to be true.)
Now, take a spoonful of the cookie dough mixture and gently press it into the center of each brownie cup.
Place the muffin pan in the oven and let the magic happen for 24 minutes.
(It might feel like an eternity, but trust me, it will be worth it.)
Once the cookies are done baking, let them cool for a few minutes before removing them from the pan.
And voila!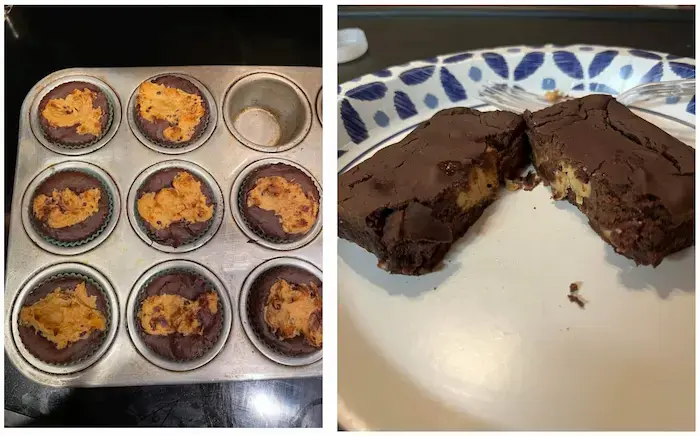 Your eyes won't believe the deliciousness of what you just baked.
This recipe makes 8 cookies, and I have to warn you, it's hard to stop at just one.
But fear not.
1 serving is equal to 1 cookie.
So go ahead and treat yourself to this divine chocolate chip cookie brownie mashup.
You can also use a 4 fueling tray (see second photo) instead of a muffin pan and eat half of it like 1 serving. 
If you use a fueling tray, then the texture will be more creamy, similar to a brownie dessert. If you use a muffin tray, then this may end up more like a cupcake.
Tip
When you run out of chocolate pudding, you can use a chocolate shake as a substitute or different fuel for experimenting (always open a new door for discovering something incredible). 
5. Chocolate Coffee Bean Pudding Hack
How about we switch gears and talk about a more exciting topic – a delicious Optavia chocolate pudding hack with coffee?
(You gotta see this.)
This energizing chocolate pudding coffee shake hack is perfect for rough mornings and lazy weekends.
And let's be honest, what could be more satisfying than starting your day off with a rich and indulgent coffee treat like this one?
The best part is, it only requires a few simple ingredients and minimal effort to make.
How to prepare
To make this delicious shake, you will need: 1
Optavia Fudge Chocolate Pudding (1 serving)
Cold coffee (1/2 cup)
Ice cubes (3-4 cubes)
Fresh coffee grounds (1/2 teaspoon)
Splenda or a different sweetener (1 sachet)
Blend all the ingredients together in a Magic Bullet or any blender of your choice until the mixture is smooth.
Then, pop it in the freezer for around 5 minutes to chill.
Once ready, check out the fantastic result and savor every sip of this delightful drink!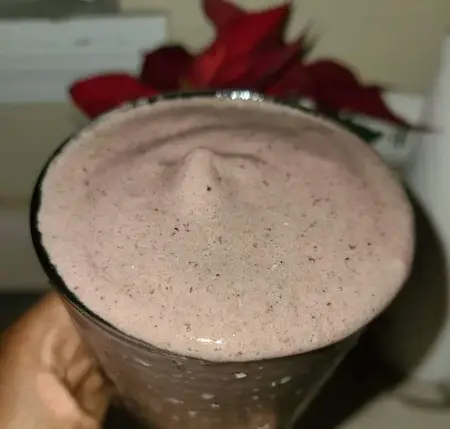 The ice will create a thick, creamy texture while the chocolate pudding fueling will give a rich, chocolatey flavor.
And, the fresh coffee grounds will add a perfect touch of coffee flavor and caffeine boost.
If you like your drinks sweet, add 1 packet of Splenda, it will give a nice sweet taste without adding any extra calories.
It counts as 1 Fueling and 1 condiment if you use the Splenda.
Trust me, you won't be able to resist the temptation of this heavenly chocolate pudding iced coffee shake.
6. Chocolate Pudding Cake Hack
Introducing the mouth-watering and indulgent Pudding Cake recipe!
This recipe is a perfect blend of rich chocolatey flavor and creamy texture that will leave you feeling satisfied and guilt-free.
To make this delicious recipe, you will need:
Optavia Chocolate Fudge Pudding (1 serving)
Optavia Decadent Chocolate Brownie (1 serving)
Optavia Drizzled Chocolate Fudge Crisp Bar (1 serving)
Optavia Chocolate Mint Cookie Crisp Bar (1 serving)
How to prepare
To start, prepare the brownie mix as per the package instructions, and I usually use the microwave method.
Once it's done, divide the brownie into three equal portions and place them in separate bowls or dishes.
Next, prepare the chocolate pudding according to the package instructions and pour an equal amount over each of the three brownie portions.
Finally, heat the chocolate drizzle bar for 15 seconds and crumble it over the top of each dish.
If you prefer, you can mix all the parts together, similar to what is shown in the photo.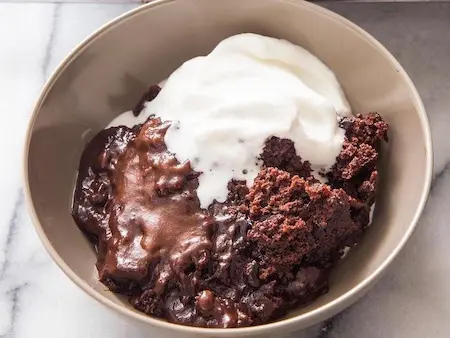 However, if you want a fancier presentation, you can layer the chopped brownie, pudding, and crumbled bar on top of each other.
For this recipe, one serving is equal to one fueling, but I like to add one tablespoon of cool whip on top, which counts as one condiment, but this is optional.
7. Golden Chocolate Pudding Hack
Are you craving a delicious and indulgent treat that will satisfy your sweet tooth?
You'll enjoy the perfect combination of rich and creamy chocolate pudding, topped with a generous serving of Reddiwhip, all nestled in a crispy waffle bowl made from Golden Butterscotch Blondie pudding.
Let's go.
To whip up this heavenly concoction, you will need:
Optavia Golden Butterscotch Blondie (1 serving)
Optavia Chocolate Pudding (1 serving)
Reddiwhip (1-2 tablespoons)
How to prepare
To make this scrumptious treat, start by mixing the Golden Butterscotch Blondie Fueling with 3 Tbsp of cold water, and divide the mixture into 2 portions.
Then, use half of the mixture to press it out into a crispy waffle bowl using a Dash mini waffle bowl maker.
Repeat the process to make a total of 2 waffle bowls.
Next, mix the chocolate pudding fueling with 1/2 cup of water and scoop half of the mixture into each waffle bowl.
To finish off, top each waffle bowl with a dollop of Reddiwhip. And voila, you have a delightful dessert that looks like this!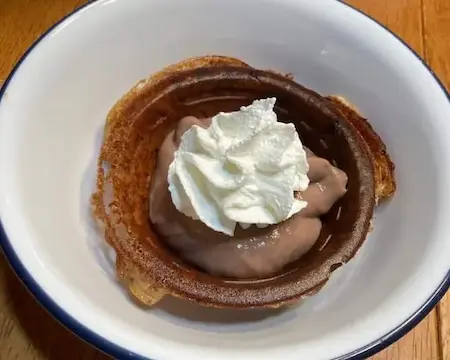 This recipe makes 2 servings and each serving counts as 1 Fueling and 1 condiment.