Which Optavia Products Are Gluten Free?
When it comes to Optavia products, those who are living with celiac disease, gluten intolerance, or gluten sensitivity must be cautious with their dietary choices.
Optavia offers a range of options that are gluten-free and wheat-free, making it easier for those following a gluten-free diet.
The Gluten-Free Certification Organization (GFCO) certifies 53 out of over 70 Optavia Fuelings. The rest of their products either contain wheat or were manufactured in a place where other wheat products were processed.
I have put together a list of all Optavia products that are certified to not have any gluten in them.
Some products may have been exposed to gluten during processing, but those are not included in this list.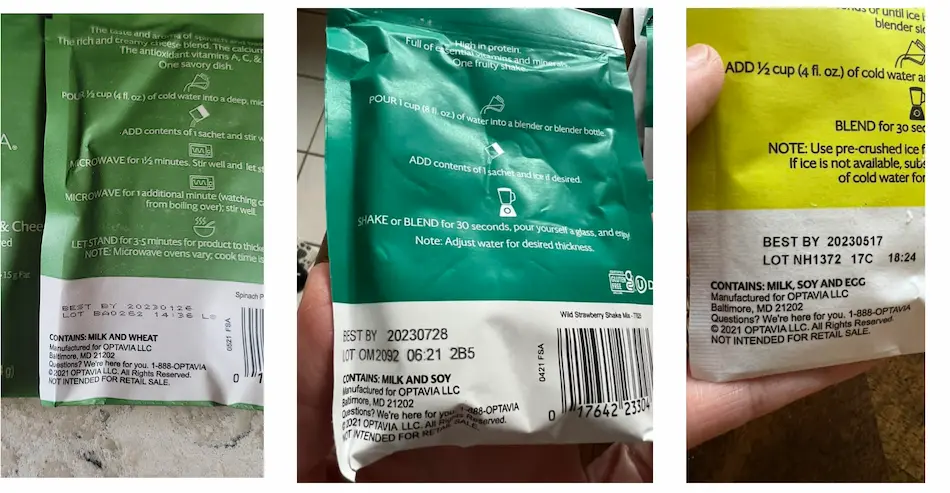 First, let's talk about Gluten-Free Certification
The Gluten-Free Certification Organization (GFCO) is a non-profit organization that helps ensure the safety and quality of gluten-free products.
Their certification process is rigorous and science-based, involving an 80-step process to ensure that certified products meet their strict standards.
To ensure that products are safe for those with severe gluten sensitivities, the Gluten Free Certification Organization (GFCO) puts all ingredients through an individual testing process to confirm the presence of gluten is at or below 10 ppm.
According to the GFCO website, this is a stricter threshold than the FDA regulation.
Companies in possession of GFCO certification must also undergo regular training on gluten-free manufacturing best practices and yearly on-site facility audits by GFCO auditors.
How does Optavia ensure its products are gluten-free?
To maintain this certification, Optavia must document its compliance with all criteria as well as submit test results to GFCO consistently.
Any time there is an ingredient substitution, manufacturers must inform GFCO and the certification status will be put back under review.
Here's what the GFCO mark looks like.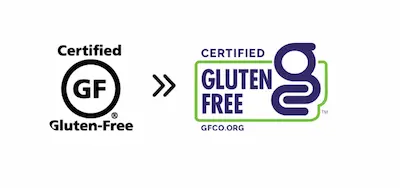 When you see this GFCO mark on a Fueling box, it means that Optavia has successfully completed this process.
Here's the photo of how Optavia labels its gluten-free products.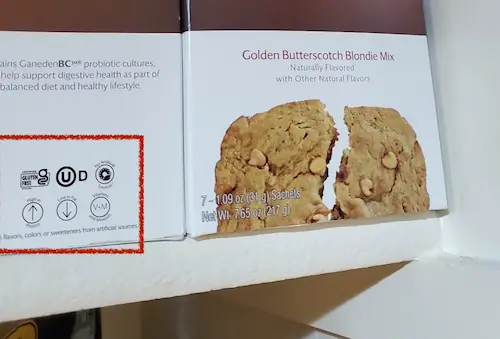 Whenever you see this mark, it means that Optavia uses gluten-free ingredients in this specific product.
Here's the photo of GFCO mark used on Optavia individual fuelings.
Gluten free Optavia list
The table below shows all of the Optavia Fuelings that has the gluten free GFCO mark.
Optavia Bar Fuelings
Caramel Delight Crisp Bar
Chocolate Mint Cookie Crisp Bar
Creamy Double Peanut Butter Crisp Bar
Drizzled Chocolate Fudge Crisp Bar
Peanut Butter & Chocolate Chip Bar
Optavia Breakfast Style Fuelings
Cinnamon Crunchy O's Cereal
Golden Chocolate Chip Pancake Mix
Golden Pancake Mix
Red Berry Crunchy O's Cereal
Optavia Crunchers, Poppers, and Sticks Fuelings
Smoky BBQ Crunchers
Zesty Cheddar & Italian Herb Crunchers
Jalapeño Cheddar Poppers
Optavia Dessert Style Fuelings
Chewy Chocolate Chip Cookie Mix
Chocolate Fudge Pudding Mix
Cinnamon Cream Cheese Swirl Cake Mix
Decadent Chocolate Brownie Mix
Coffee Soft Serve Mix
Mint Chocolate Soft Serve Mix
Golden Butterscotch Blondie Mix
Sweet Blueberry Biscuit Mix
Optavia Drink Fuelings
Frothy Cappuccino Drink Mix
Velvety Hot Chocolate Drink Mix
Optavia Hearty Fuelings
Buttermilk Cheddar Herb Biscuit Mix
Red Bean & Vegetable Chili Mix
Honey Sweet Potatoes
Roasted Garlic Mashed Potatoes
Sour Cream and Chive Mashed Potatoes
Wild Rice & Chicken Flavored Soup Mix
Optavia Shakes and Smoothie Fuelings
Caramel Macchiato Shake Mix
Creamy Chocolate Shake Mix
Creamy Vanilla Shake Mix
Dark Chocolate Covered Cherry Shake Mix
Mocha Shake Mix
Rich Dark Chocolate Shake Mix
Peanut Butter Shake Mix
Tropical Fruit Smoothie Mix
Wild Strawberry Shake Mix
Source: https://optaviamedia.com/pdf/product/OPTAVIA_DOC-Product-Claims-Sheet.pdf
As you can see, most of the fuelings are gluten-free, which means that individuals who are following a gluten-free diet can use Optavia Fuelings as meal replacements.
Only 5 Optavia bars don't contain any wheat.
Unfortunately, my favorite Optavia's mac and cheese does contain macaroni (based on wheat flour), which means it will also contain gluten.
What about the snacks?
Yes, all of the snacks offered by Optavia are gluten-free.
This include:
Puffed Ranch Snacks
Puffed Sweet and Salty Snacks
Olive Oil and Sea Salt Popcorn
Sharp Cheddar and Sour Cream Popcorn
Does Optavia have a gluten free meal plan?
While most of Optavia Fuelings are gluten-free, the company does not offer a specific gluten-free meal plan.
The good news is that all of Optavia's lean and green meals are wheat-free, barley-free, and rye-free.
This means that those following a gluten-free diet can still enjoy a wide variety of meals and snacks, including lean proteins and vegetables.
If you're embracing gluten-free living, choose Optavia shakes, drinks, and dessert-style fuelings, as all of them don't include any wheat.
Optavia and celiac disease
Individuals with celiac disease can have peace of mind knowing that Optavia Fuelings are certified gluten-free by the Gluten-Free Certification Organization.
However, if you have celiac disease or are gluten-sensitive, it's important to do your research before starting a new diet program like Optavia.
Katharine C. DeGeorge, M.D. is a family medicine doctor who works at the University of Virginia Medical Center. She helps people with their medical problems and teaches others how to be doctors too.
Dr. DeGeorge says that "the primary treatment for celiac disease is a gluten-free diet."
First, we suggest general improvements to people's diets. If the symptoms continue, the next step is to involve a trained dietitian who can help with more restrictive diets, says Dr. DeGeorge.
The bottom line
For individuals with celiac disease, gluten sensitivity, or gluten intolerance, the Optavia program provides an array of options that help make sticking to a gluten-free diet easier.
It is important to carefully check the ingredients list and certification before consuming any product, as cross-contamination can still occur during processing.
Those following a gluten-free diet should also consult with their healthcare professional or registered dietitian before starting any new dietary program.