10 Best Herbalife Products For Weight Loss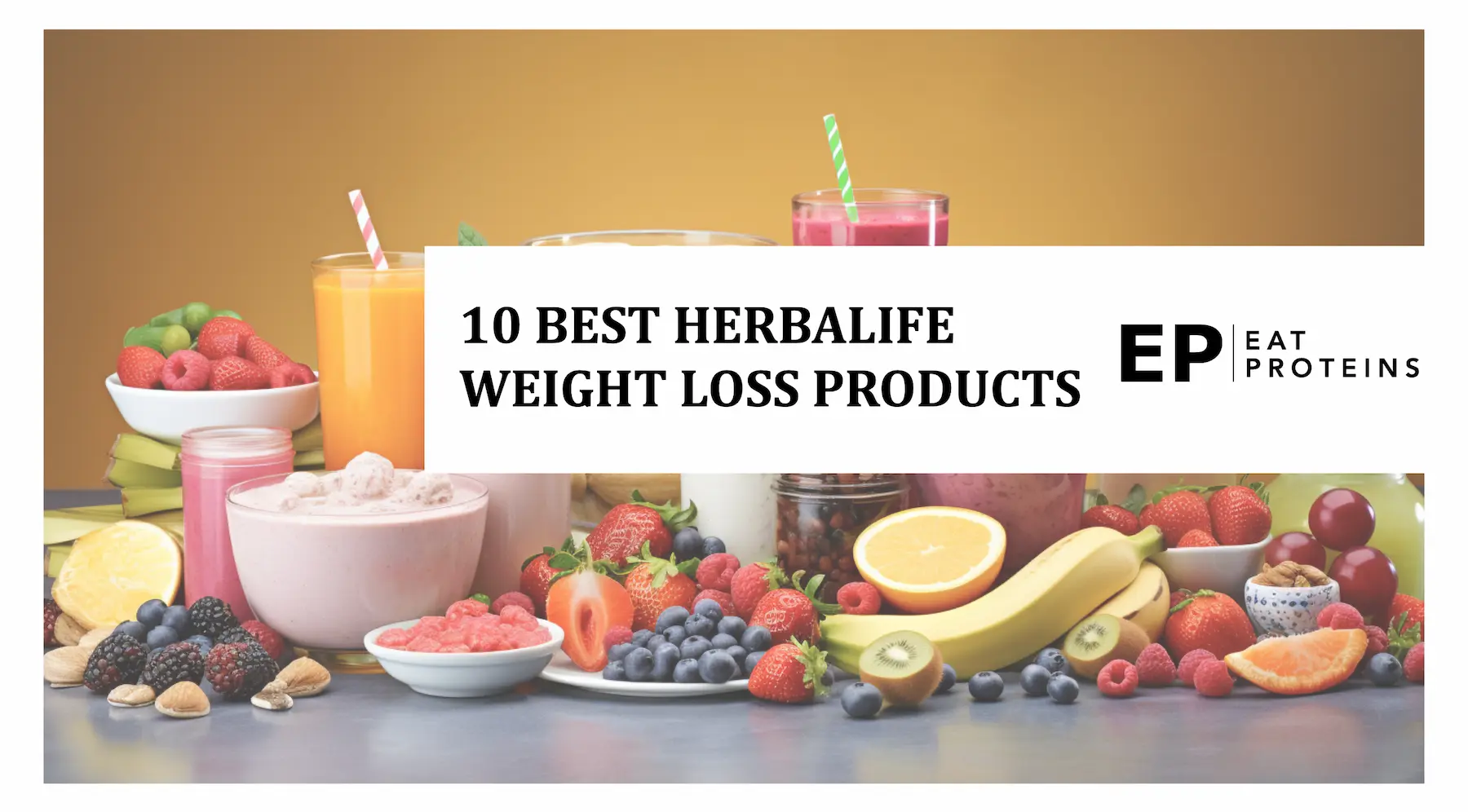 Herbalife is a global multi-level marketing (MLM) corporation that specializes in nutritional supplements for weight loss and overall wellness. With over 9,900 employees worldwide, Herbalife operates in various countries and is known for its MLM business model.
Herbalife weight loss products refer to high-protein, low-calorie shakes, teas, and meal replacements engineered to aid in weight management and appetite reduction. According to a 2022 study by Yijia Zhang from Indiana University, these products have shown efficacy in significantly reducing body weight, body mass index, and fat mass when compared to control diets. The study concluded that Herbalife high-protein meal replacement products are effective for weight loss and pose no significant safety risks, although individual results may vary.
When asking what are the best Herbalife products for weight loss, these are Herbalife supplements that are most effective in aiding weight reduction as part of a balanced diet and exercise regimen. Herbalife Formula 1 is a delicious and nutritious meal replacement or post-workout recovery option, providing essential vitamins and minerals. Herbalife weight loss supplements such as Herbal Tea, Prolessa Duo, Total Control, and Liftoff offer natural energy boosts, help with weight loss, reduce calorie intake, and curb appetite. Herbalife weight management products like Beverage Mix, Personalized Protein Powder, and Cell-u-loss satisfy hunger, aid in weight management, and support natural detoxification.
These dietary supplements are formulated to reduce calorie intake, boost metabolism, and promote fat loss. The following list includes the 10 best Herbalife products for weight loss, identified through our expert research and analysis to help you achieve your goals.
Herbalife Formula 1
Herbalife Herbal Tea
Herbalife Prolessa Duo
Herbalife Total Control
Herbalife Liftoff
Herbalife Beverage Mix
Herbalife Personalized Protein Powder
Herbalife Cell-u-loss
Herbalife High Protein Iced Coffee
Herbalife Niteworks
1. Herbalife Formula 1
We've heard great things about Herbalife Formula 1 and how it can be a delicious and nutritious option for meal replacement or post-workout recovery. As individuals striving for mastery in our health and wellness journey, we understand the importance of fueling our bodies with high-quality nutrients. Herbalife Formula 1 offers just that – a well-balanced shake that not only satisfies hunger but also provides essential vitamins and minerals.
The French Vanilla flavor adds a delightful touch, making it a pleasure to consume. With its smooth and creamy texture, it's easy to mix and dissolves effortlessly. Additionally, the 750g jar size offers great value, ensuring that we have an ample supply to support our weight management goals.
The following list shows key aspects of the Herbalife Formula 1 shakes.
High-quality protein to satisfy hunger
0 cholesterol, 0 trans fats
A good source of fiber
Excellent source of antioxidant Vitamins A (as beta-carotene), C, and E
French Vanilla flavored
The following list shows the benefits of Herbalife Formula 1 shakes.
Delightful and great taste
Mixes well and dissolves smoothly
Helps with weight loss when used as a meal replacement
Creamy and delicious
Stops weight gain and helps shape the waist
One drawback of Herbalife Formula 1 shakes is that some users find them too sweet due to their high sugar content.
2. Herbalife Herbal Tea
Herbalife Herbal Tea is a blend of five natural botanicals, including green tea extract, black tea extract, and oolong tea extract. It isn't only a delicious treat but also provides a natural energy boost, making it an ideal choice for a mid-morning or mid-afternoon pick-me-up. Many customers love mixing it with Crystal Light for added flavor.
This photo shows the Herbalife Herbal Tea.
The benefits of Herbalife Herbal Tea Concentrate include its ability to ignite metabolism, thanks to its caffeine content. It jump-starts thermogenic activity, which helps the body burn calories more efficiently. Additionally, it provides a boost of energy and antioxidant support, making it a refreshing and revitalizing choice for a low-calorie beverage.
This table shows the pros and cons of the Herbalife Tea Concentrate.
| Pros | Cons |
| --- | --- |
| Provides a natural energy boost | Some may find the taste too strong |
| Helps with weight loss | May not be suitable for those sensitive to caffeine |
| Loved by customers for its taste and flavor | Limited flavor options available |
3. Herbalife Prolessa Duo
We really enjoy using Herbalife Prolessa Duo as a way to reduce calorie intake and feel fuller throughout the day. This 7-day program contains a unique emulsion of palm and oat oils that have been clinically tested to help with weight loss. The Herbalife Prolessa Duo is a weight-loss program that incorporates a dual-action formula to help control hunger and reduce fat.
It's stimulant-free and can be added to your morning or afternoon Formula 1 shake, milk, or yogurt. We found that adding Herbalife Prolessa Duo to our shakes not only helped us feel fuller but also made our shakes taste even better. The convenience of the individual canister size was also a plus.
The formula contains clinically tested ingredients, including conjugated linoleic acid, which helps decrease body fat and a unique emulsion of palm and oat oils that reduce calorie intake and provide a feeling of fullness.
However, some users have expressed concerns about the cost and the small amount of powder in the canister. This table shows the pros and cons of the Herbalife Prolessa Duo.
Pros
Cons
Helps reduce calorie intake
Expensive
Provides a feeling of fullness
Small amount of powder in the canister
Convenient individual canister size
4. Herbalife Total Control
Herbalife Total Control is known for its effectiveness in providing an energy boost and curbing appetite, but some users have reported mixed experiences with the product.
While many users have found it to be an excellent way to increase energy levels without experiencing any jitters or anxiety, others have reported that it doesn't give them the desired energy boost and fails to produce any noticeable changes.
In terms of appetite suppression, Total Control has been successful for many users, helping them make better food choices and reducing their hunger. Additionally, it provides a moderate amount of energy and has been associated with improved mental clarity. These benefits have led to positive feedback from a significant number of users, who continue to rely on Total Control for their weight loss journey.
However, not all users have had a positive experience with Total Control. Some have found that the product doesn't have any effect on their appetite or energy levels. Additionally, there have been concerns regarding the quality and authenticity of the product, with one user receiving a product that didn't match the description and expressing dissatisfaction with their inability to return it.
In summary, Herbalife Total Control has been effective for many users in terms of providing an energy boost and curbing appetite. It has received positive feedback from numerous individuals who've experienced increased energy levels and improved mental clarity. However, there are some users who haven't experienced any noticeable changes and have concerns regarding the product's quality and authenticity.
Pros:
Increased energy levels
Improved mental clarity
Curbs appetite and reduces hunger
Cons:
Ineffectiveness for some users
Concerns about quality and authenticity
Mixed experiences reported
5. Herbalife Liftoff
Our group has been rigorously evaluating Herbalife Liftoff energy drink tablets, focusing on their effectiveness in boosting energy and enhancing cognitive function. We've unanimously observed that Liftoff delivers a significant uplift in energy, allowing us to remain alert and focused throughout demanding days.
The product's formula, which includes clinically proven ingredients like L-taurine, guarana, 75 mg of caffeine, Panax ginseng, and Ginkgo biloba, has been shown to improve mental performance. This makes Liftoff a highly appealing choice for individuals seeking enhanced cognitive function and mental clarity.
The convenience of individually packaged tablets aligns well with busy, on-the-go lifestyles, making it easy to get that needed energy boost anytime, anywhere. The product's unique blend of energy-enhancing ingredients, such as Panax ginseng, L-taurine, and guarana extract, not only supports brain function but also accelerates memory recall and mitigates feelings of mental fatigue.
The following list shows the benefits of Herbalife Liftoff.
Provides a noticeable boost in energy
Enhances mental performance and improves short-term memory
Convenient, on-the-go packaging
Cons:
Not recommended for children, pregnant women, or nursing mothers
May not be suitable for those sensitive to the effects of caffeine
Relatively high price for 10 tablets
6. Herbalife Beverage Mix
The Herbalife Beverage Mix in Wild Berry flavor serves as an excellent low-calorie, high-protein option for those aiming to manage their weight effectively. With only 70 calories and zero sugar per serving, this refreshing drink mix offers a guilt-free way to satiate hunger pangs without compromising your weight loss objectives.
One of the standout benefits of this Herbalife Beverage Mix is its substantial protein content—15 grams per serving. This high-quality whey protein not only boosts your energy levels but also aids in muscle recovery, making it an ideal choice for those engaged in regular physical activity. Additionally, this protein-rich mix helps to maintain lean muscle mass and satisfies hunger cravings between meals.
Preparing this nutritious drink is hassle-free; simply blend it with cold water, and you're good to go. It's a convenient and delicious way to meet your daily protein needs while keeping calorie intake under control.
This list displays the ingredients contained in the Herbalife Beverage Mix product.
15 grams of whey protein
70 calories per serving
Zero sugar
Mixes easily in water
This table shows the benefits and disadvantages of Herbalife Beverage Mix.
Pros
Cons
Low-calorie and refreshing
Some users experienced difficulty in fully dissolving the powder
Packed with high-quality protein
The bottle size may be small for some customers
Helps satisfy hunger pangs
Price may be a bit high for the quantity provided
Easy to prepare and enjoy
Contains vitamins and minerals for added health benefits
7. Herbalife Personalized Protein Powder
The Herbalife Personalized Protein Powder is a versatile supplement designed to help us manage our weight effectively while tailoring our protein intake to our unique health needs. Not only does it offer a pleasant flavor without any lingering aftertaste, but it also makes it easier for us to control our caloric intake without sacrificing essential nutrients.
One of the standout benefits of this protein powder is its ability to prolong the feeling of fullness, thereby preventing overeating and aiding in weight management. It also helps maintain steady energy levels between meals, further supporting our fitness and weight-loss objectives. Crafted from a high-quality protein blend, this powder can be seamlessly incorporated into shakes or meals to enhance protein content, crucial for muscle development and maintenance.
Packaged in a convenient 12.7 Oz. canister, this Herbalife Personalized Protein Powder is perfect for on-the-go lifestyles. It offers a comprehensive solution for those looking to manage their weight while also customizing their protein intake for optimum health. With this product, adjusting our protein levels to suit our individual health goals has never been more straightforward.
8. Herbalife Cell-u-loss
In the realm of weight management and body toning, Herbalife Cell-U-Loss has garnered a mix of reviews. While it's not a standalone solution for cellulite reduction, many users, including myself, have observed noticeable improvements when it is incorporated into a multifaceted regimen—spanning dietary changes, regular exercise, and additional skincare routines like the use of specialized creams and massages.
The benefits of Herbalife Cell-U-Loss are multifaceted. Firstly, it aids in maintaining the body's electrolyte balance, a vital factor for overall health and metabolic function. Secondly, it features corn silk extract, a traditional herb known to assist with water elimination, thereby reducing water retention and enhancing body toning. Lastly, the product is formulated with essential minerals like magnesium, calcium, sodium, potassium, and chloride, which collectively help to maintain the body's normal pH level—critical for metabolic processes and well-being.
While some reviews lack detailed feedback, simply noting 'good' or 'dislike,' the majority of users have reported positive outcomes, some even highlighting weight loss and visible changes within a week of use.
9. Herbalife High Protein Iced Coffee
This beverage has become a valuable addition to our weight loss regimen, offering the dual benefit of satisfying caffeine cravings and aiding in protein intake. With just 100 calories per serving, it serves as an energizing, guilt-free indulgence that we can enjoy any time of the day.
Key Features:
High Protein Content: With 15 grams of protein per serving, this drink not only satisfies your coffee cravings but also contributes to muscle growth and cellular repair.
Low Sugar: Containing a mere 2 grams of sugar per serving, this iced coffee is a healthier alternative to traditional, sugary caffeinated beverages.
All-Natural: Free from artificial sweeteners, flavors, and added colors, this beverage offers an authentic coffee experience that aligns with health-conscious choices.
10. Herbalife Niteworks
Herbalife Niteworks Lemon is designed to support blood flow, benefiting the heart, brain, and other vital organs. Its primary active ingredients are amino acids L-arginine and L-citrulline, which facilitate the production of Nitric Oxide. This compound plays a crucial role in maintaining healthy blood pressure and vascular function. The product is recommended for nighttime use to maximize its effects when Nitric Oxide levels are naturally lower.
The following list shows the key benefits of Herbalife Niteworks.
Supports blood flow for the healthy function of the heart, brain, and other organs
Maintains toned, flexible, and youthful blood vessels for improved circulation
Supports blood pressure levels within a normal range
May improve sleep quality when taken before bedtime
The product has received mixed reviews. While some users have reported improvements in their overall health and sleep quality, others have expressed concerns over the product's authenticity and cost. This table shows the pros and cons of the Herbalife Niteworks.
| Pros | Cons |
| --- | --- |
| Positive customer feedback | High price relative to similar products |
| Supports overall health | Authenticity concerns from some customers |
| Improves sleep quality | Received in foreign-language labels/multiple containers |
Which are the cheapest Herbalife products for weight loss?
The cheapest Herbalife products for weight loss are Cell-U-Loss priced at $26.15, Herbal Tea at $33.20, and Protein Bars at $2.50 per bar. These options offer a more budget-friendly approach to weight management within the Herbalife product line.
How do Herbalife protein bars compare to other meal replacement bars?
Herbalife Protein Bar Deluxe offers benefits such as 10g of protein per serving, 140 calories per bar, and features aimed at weight management and hunger satisfaction. In comparison, WonderSlim Meal Bars offer 15g of protein and are designed to be carb-conscious, while Optavia Bars are nutrient-dense and contain natural flavors with probiotics for digestive health. Each brand has its unique set of benefits, but Herbalife bars are particularly geared towards weight management and satiety, while others may focus more on protein content or digestive health.
Are Herbalife protein bars vegan?
Yes, the new Herbalife line "V Plant-Based" includes vegan protein bars. These bars are specifically designed to meet the dietary requirements of vegans.