How To Become An Optavia Coach?
An Independent Optavia Coach is an individual who has personally experienced the benefits of the Optimal Weight 5&1 Plan from Optavia and has chosen to promote and sell Optavia products as a means of making a profit.
These health coaches are not necessarily nutritionists or dieticians but are passionate about helping others achieve their health and wellness goals using the same program they successfully followed.
Becoming an Optavia Health Coach is a process that is open to everyone, regardless of their academic or professional background in health and wellness. It does not require a degree or any prior experience in the health field.
The process does not involve an official interview. Instead, potential coaches can join by purchasing the Optavia Business Kit for $199.00. This kit includes a variety of materials designed to help new independent Optavia Coaches start their business.
These materials provide the necessary guidance and resources for the coaches to effectively promote and sell Optavia products, and to provide the appropriate support to their clients.
These are nine steps to becoming an Independent Optavia coach.
Understand the Optavia approach
Speak with a Current Optavia Coach
Apply through the Optavia website
Purchase the Optavia Business Kit
Engage with the Optavia Community
Get Certified
Identify Potential Optavia Clients
Initiate Three-Way Conversations
Start Your Clients on an Optimal Health Plan
Share Your Personal Story
Build Your Online Presence
Build Your Coaching Business
Launch Your Independent Coaching Business
1. Understand the Optavia Approach
Understanding the Optavia approach refers to the initial step of becoming an Optavia health coach where you immerse yourself in understanding the company's philosophy, products, and methods.
This involves extensive research into the company's history, a thorough understanding of the ingredients and science behind its products, and a comprehensive grasp of how the Optimal Weigh 5 and 1 plan works from start to finish. This step also includes reading Dr. A's book, "Habits of Health," which serves as a foundational guide to the Optavia lifestyle and health approach.
By spending 10-20 hours on this research, you will gain a deep understanding of Optavia's approach to health and weight loss, which is crucial for guiding future clients through the program. Your goal is to build a comprehensive understanding of Optavia that you can then use to guide and support your clients as an OPTAVIA coach.
2. Speak with a Current Optavia Coach
Speaking with a current Optavia coach is a step in becoming an Optavia coach where you arrange a conversation with an existing coach. This conversation is typically scheduled for about 30-60 minutes and is an opportunity for you to ask any questions you may have about the coaching experience, the Optavia process, and the overall role of an Optavia coach.
The purpose of this step is to give you a firsthand account of what it's like to be a coach, beyond what you can learn from reading materials or watching videos. This might include insights into the day-to-day experiences of a coach, the challenges and rewards of the role, and how the coach interacts with and supports their clients.
Reaching out to a coach can be done through the Optavia website or a social media platform. You would ask them if they would be willing to speak with you about their experiences as an Optavia coach. This could be an informal chat or a more structured interview, depending on what you and the coach feel comfortable with.
3. Apply Through the Optavia Website
Apply through the Optavia website refers to the process of officially applying to become an Optavia coach. This is usually done online via the Optavia website and typically involves the steps shown in this graph.
Visit the Become a Coach Website: Allocate around 5-10 minutes to navigate to the Optavia website and find the application page.
Read the Information and Instructions: Spend approximately 10-20 minutes reading the provided information and instructions regarding the application process. This is crucial to ensure you understand the process and requirements.
Fill Out the Application Form: This will likely take about 45-60 minutes. The application form will ask for your personal information, such as your full name, address, and contact details. You'll also need to provide any relevant experience or qualifications you have.
Review the Terms and Conditions: Spend around 15-30 minutes reading and understanding the terms and conditions of the program. You must agree to these terms before proceeding.
Submit the Application: Once you've filled out the form and agreed to the terms, you can submit your application. This should take less than 5 minutes.
Wait for a Response: After submitting your application, you will need to wait for a response from Optavia. The waiting time can vary, but typically you should hear back within 5-7 business days.
So in total, you should expect to spend around 1-2 hours on the application process, not including the waiting time for a response.
4. Purchase the Optavia Business Kit
Purchase the Optavia Business Kit refers to the process of investing in the business kit provided by Optavia, which is a crucial step in becoming an Optavia health coach. The Optavia Business kit, which costs around $199.00, is packed with resources and materials designed to assist you in launching your own coaching business.
This graph shows you what's included in the Optavia Coach Business Kit.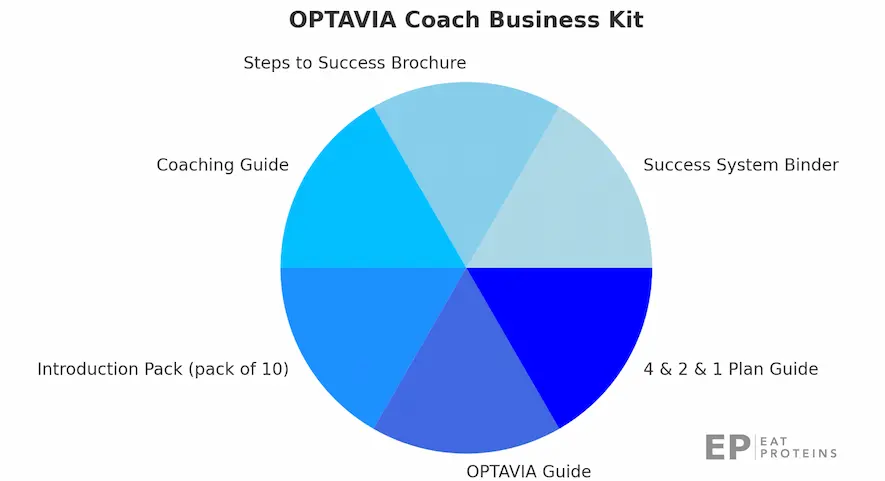 OPTAVIA Success System Binder: This binder includes a Health Assessment paper pad, an instruction sheet, and three file folders. These materials will help you assess and track the health progress of your clients.
New Coach Steps to Success Brochure: This brochure provides a step-by-step guide to launching your Optavia coaching business successfully.
Coaching Guide for the Habits of Health Transformational System: This guidebook offers coaching strategies and insights into the Habits of Health Transformational System, a comprehensive approach to health that forms the foundation of the Optavia program.
Optimal Weight 5 and 1 Plan Client Introduction Pack: This pack, of which you'll receive 10, introduces clients to the Optimal Weight 5 and 1 Plan, one of Optavia's meal plans designed for weight loss.
OPTAVIA Guide: This guide provides general information about the Optavia program and products.
Optimal Weight 4 and 2 Plan Guide: This guide provides detailed information on the Optimal Weight 4 and 2 Plan, another meal plan option offered by Optavia.
You can order the business kit directly from the Optavia website. It will be shipped to you, and once received, you can start familiarizing yourself with the included materials.
5. Engage with the Optavia Community
Engaging with the Optavia community refers to the process of actively participating and interacting with the wider community of Optavia coaches and clients. This engagement is a key part of becoming an Optavia coach as it allows you to gain insights, learn from the experiences of others, and develop a supportive network.
This list shows you some of the ways how to engage with other Optavia coaches.
Attend OPTAVIA Events, Webinars, and Conventions: These can range from virtual seminars on specific topics related to Optavia's approach to health and weight loss, to larger events like the annual Optavia convention. These events not only provide valuable information and training but also offer opportunities for networking and learning from other coaches' experiences.
Connect with Other Coaches: This can be done through social media platforms, Optavia online community platforms (available via the Optavia app), or even in-person meetups. Building relationships with other coaches can provide a source of support, advice, and shared learning. This might involve spending another hour per week engaging in online discussions or meeting with local coaches.
Share Your Experiences and Insights: As you progress in your journey as a coach, sharing your own experiences and insights can not only help others but also reinforce your learning and establish you as a knowledgeable member of the community. This might involve spending another hour per week writing posts or sharing updates.
In total, you might spend around 4-5 hours per week engaging with the Optavia community, though this can vary depending on your schedule and level of involvement.
6. Pass the Optavia Certification Exam
Passing the Optavia Certification exam means completing the exam and becoming certified. It's important to understand that this certification is not officially accredited or recognized as a "Health Coach" certification. The exam consists of 150 questions and requires a minimum score of 70% to pass, as explained in this video.
To become certified, you can purchase the Optavia certification for $49.00. Once you have access to the materials provided in the business kit, you can study and prepare for the online certification exam. This exam will assess your understanding of Optavia's programs and products.
7. Identify Potential Optavia Clients
Identifying potential Optavia clients refers to the process of finding individuals who may be suitable candidates for the Optavia program.
This involves identifying 5-10 people within your personal or professional network who have shown interest in weight loss or improving their health, as illustrated below.

For example, you could make a list of friends, family members, or colleagues who have mentioned their desire to improve their health or lose weight.
8. Initiate Three-Way Conversations
To initiate three-way conversations means scheduling calls with a potential client, yourself, and an experienced Optavia coach. These conversations typically last 30-60 minutes and provide an opportunity for the potential client to learn more about Optavia.
To initiate a three-way conversation, you would reach out to the potential clients you have identified and ask if they would be interested in joining a call with you and the coach to discuss Optavia further.
9. Start Your Clients on an Optimal Weight 5 and 1 Plan
To get your clients started on the Optimal Weight 5 and 1 plan, it is important to guide them in the right direction. This starts with helping them understand the benefits of the plan and why it is worth considering.
Once they have agreed to join, assist them in creating an Optimal Weight 5 and 1 plan. This involves purchasing the necessary Optavia Essential 5 and 1 Kit, which costs around $511.50 for a 30-day supply.
10. Share Your Personal Story
Sharing your personal story is the process of creating a compelling narrative about your own journey with Optavia.
This narrative can be used to inspire potential clients, to give them a tangible example of the results they can achieve with the program, and to build trust and rapport. Don't exaggerate or tell false stories.. The following is the list of things you can include in your personal story.
Your Initial Situation: Describe what led you to Optavia. This could be a desire to lose weight, to improve your health, or to find a supportive community.
Your Challenges: Discuss the obstacles and challenges you faced, both before starting Optavia and during your journey with the program.
Your Successes: Share your accomplishments and victories, both big and small. This could be reaching a weight loss goal, improving a health indicator, or even non-scale victories like feeling more confident or energetic.
Your Before and After: If you're comfortable doing so, sharing before and after pictures can be a powerful visual representation of your journey.
Your Ongoing Journey: Talk about how you're continuing to use Optavia's principles in your life, and how you're now helping others as a coach.
Spend some time crafting this story and practicing telling it in a way that is authentic, engaging, and inspiring. You might spend a few hours on this initially, and then continue to refine and expand your story as your journey continues.
For example, you could write a narrative or create a presentation that includes your before and after pictures, key moments in your journey, and testimonials from others who have seen your transformation.
You might share this story on social media, in conversations with potential clients, or at Optavia events. Remember, your personal story is a powerful tool for connecting with others and illustrating the potential of the Optavia program.
11. Build Your Online Presence
"Build Your Online Presence" is a crucial step in becoming an OPTAVIA coach and involves establishing and maintaining a strong, active presence on the internet, particularly on social media platforms or a personal blog. This is one of the key ways that OPTAVIA coaches attract new clients and promote the OPTAVIA program.
Your online presence is essentially your public persona on the internet. It's how you represent yourself, share your experiences, and interact with others online. Aim to post new content or engage with your audience for 1-2 hours each day. Regular activity helps to keep your audience engaged and ensures your posts are seen by more people.
Respond to comments, answer questions, and engage in discussions on your posts. This helps to build relationships with your followers and make your online presence feel more personal and accessible.
12. Build Your Coaching Business
To be successful in your Optavia coaching business, it's important to approach it with a business mindset rather than treating it as a hobby. According to the 2022 Optavia US Income Disclosure Statement, approximately 22.42% of Optavia coaches are not generating any earnings.
To build your coaching business, focus on recruiting others to become coaches and serve as their managers. The more coaches you have under your leadership, the greater your potential earnings can be.
You can introduce the opportunity to friends, family, or colleagues who may be interested in coaching and offer to mentor them as they embark on their own coaching journey. By taking a proactive approach and treating your coaching business as a professional endeavor, you can increase your chances of success.
14. Launch Your Independent Coaching Business
"Launch Your Independent Coaching Business" refers to the process of starting your own coaching business independently, separate from any platforms or companies like OPTAVIA.
This choice allows for more autonomy and control over your coaching services, including the ability to tailor your offers, set your pricing, and establish your unique branding.
To successfully launch your independent coaching business, it is important to educate yourself and stay up-to-date with the latest information and research in areas such as nutrition and weight loss.
This learning process may involve studying from industry leaders, reading research papers, and continuously expanding your knowledge base. By taking these steps, you can build a rewarding and remarkable coaching business that has the potential to transform people's lives.
What Are The Advantages of Becoming an Optavia Coach?
The advantages of becoming an Optavia coach are listed below.
Opportunity to Help Others: As an Optavia coach, you have the opportunity to positively impact people's lives by helping them achieve their health and weight loss goals. This can be highly rewarding and fulfilling, particularly if you have a passion for health and wellness.
Supportive Community: Optavia has a strong, supportive community of coaches who follow the company's system for success. This community can offer valuable guidance and support as you navigate your coaching journey, and can also provide a sense of camaraderie and shared purpose.
Earning Potential: As an Optavia coach, you have the potential to earn income through various avenues. These include earning commissions from product sales, bonuses for recruiting new coaches, and additional income opportunities as you build and manage your team of coaches. While the exact amount you can earn can vary widely, the potential for higher earnings increases as you expand your coaching business.
Access to Resources: Optavia provides a wealth of resources to its coaches, including training materials, marketing tools, and ongoing support from the company. These resources can help you enhance your coaching skills, stay up to date with the latest information and strategies in the field, and effectively build and manage your coaching business.
Personal Development: As an Optavia coach, you have the opportunity to develop a wide range of skills, including sales, marketing, leadership, and coaching skills. This can not only help you succeed as an Optavia coach but can also be valuable in other areas of your life and career.
Remember, while there are many potential advantages to becoming an OPTAVIA coach, it's also important to consider the potential challenges and drawbacks.
What Are The Drawbacks of Becoming an Optavia Coach?
This list shows you the drawbacks of becoming an Optavia coach.
MLM structure: Optavia operates as a multi-level marketing company. While this can offer the potential for increased earnings, it also means that recruiting and managing other coaches is necessary to maximize your income. This reliance on recruitment can create a competitive and challenging environment.
Potential instability: As an Optavia health coach, your income and success are tied to the stability and reputation of the company. Any changes in the company's structure or negative publicity can impact your business.
Limited independence: Optavia coaches are required to follow the company's system and guidelines. This may limit your ability to create personalized coaching offers or tailor your approach to fit the needs of individual clients.
Dependence on Optavia products: Optavia coaches are expected to promote and sell the company's products. This can limit your flexibility in recommending other nutrition or weight loss options that may better suit your clients.
Restricted earnings: Without recruiting other coaches and building a team, your earnings as an Optavia coach may remain low. Bonuses and higher commission rates are often dependent on the performance of your team.
What Is Optavia Coach Salary?
If you're wondering about the salary of an Optavia coach, it's important to note that their income is based on a commission structure. Coaches earn 15% of the purchases made by their clients.
However, to be eligible for compensation, coaches must have a minimum of five clients. The salary of a coach is not a fixed rate and largely depends on Optavia coach levels and the specific products their clients purchase.
What Are Optavia Coach Levels?
The Optavia coach levels, also known as tiers, start with the base rank of "Coach" and go up to the highest rank of "Presidential Director". Each rank, including Senior Coach, Manager, Associate Director, Director, Executive Director, Regional Director, National Director, and Global Director, comes with its own set of qualifications and responsibilities. 
What Is The First Step to Becoming an Optavia Coach?
The first level to becoming an Optavia coach is the "Coach" rank. This requires the individual to purchase the Optavia Business Kit, which enables them to start coaching clients and building their own Optavia business.