How Much Does Optavia Coach Make?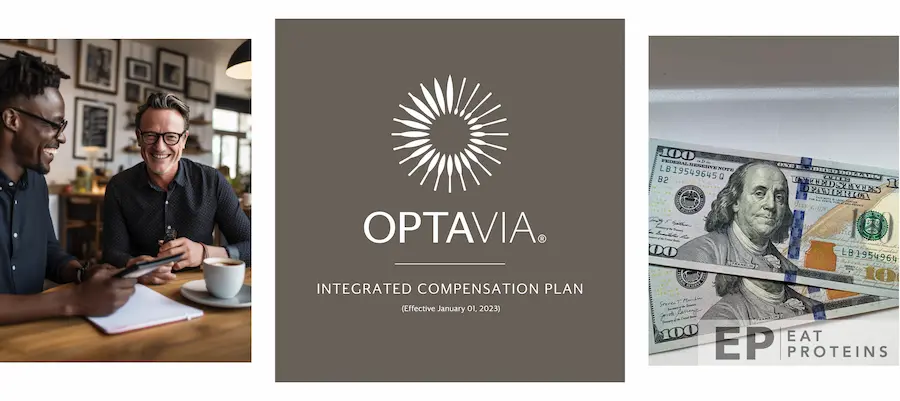 Optavia coaches earn income based on a commission structure that comprises 15% of the purchases made by their clients. However, there's a prerequisite to becoming eligible for compensation – each coach must have a minimum of five clients.
Earnings can fluctuate because all Optavia products have a different compensation volume, which could be anywhere from 0% to 100% of the product price. Therefore, the amount a coach makes isn't a flat rate but depends significantly on the specific products their clients purchase.
When asking about Optavia coach salary, we can refer to the 2022 Optavia US Income Disclosure Statement, which shows that roughly 8% are making between a cent and $100 a month, about 11% of Opatvia coaches are earning between $100 and $250 a month, as illustrated below.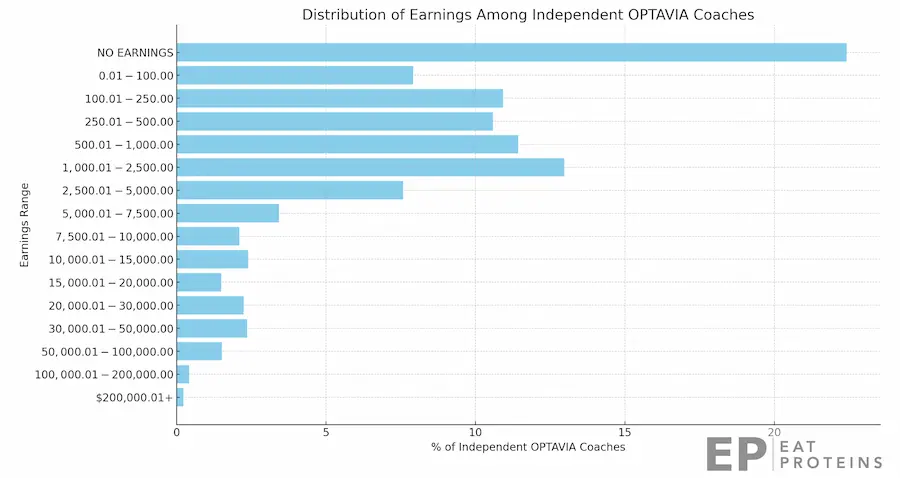 According to the 2022 Optavia US Income Disclosure Statement, about 22.42% of Optavia coaches aren't pulling in any earnings. That's almost a quarter of all the coaches.
So, how much do Optavia coaches make? The estimated average monthly income for an Optavia coach is approximately $5,467. However, this is a rough estimate as the income of coaches in the highest bracket (those making over $200,000 per month) could potentially skew the actual average higher.
What Is The Potential Salary Of an Optavia Coach?
The potential salary of an Optavia coach refers to the maximum possible salary that can be earned in that role, usually by top performers or those with the highest level of experience, skill, or seniority. However, potential salary does not guarantee that all individuals in that role will earn that amount, as actual earnings can vary widely based on a variety of factors.
For an Optavia coach, the potential salary can technically be unlimited, as the income disclosure statement indicates there are coaches earning over $200,000. However, the exact maximum isn't provided and the percentage of coaches earning at this level is small (0.23% in 2022), as illustrated below.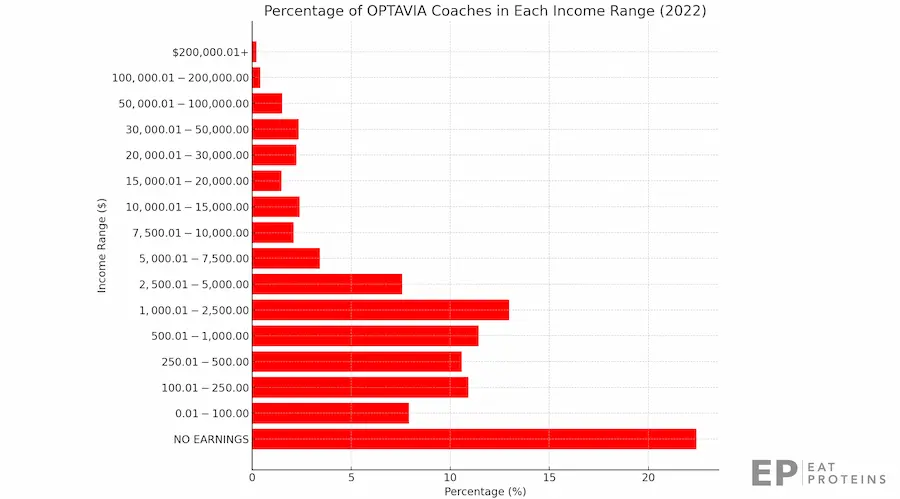 Most coaches earn less, and a significant proportion (22.42% in 2022) earn no income at all. The majority of coaches fall into lower income brackets, with the largest group (12.97% in 2022) earning between $1,000.01 and $2,500.00. Only a higher-level position such as Optavia Executive Directors has the highest salary.
How Much Do Optavia Executive Directors Make?
The average salary for an Executive Sales Director at Optavia LLC in the United States, according to Salary.com, is approximately $130,746 annually. The salary range is between $113,123 and $148,225. Since $130,746 falls within the range of $100,000.01 – $200,000.00, we can say that 0.42% of Optavia coaches earn within this range.
What Is The Average Monthly Income For an Optavia Coach?
The average monthly income for an Optavia health coach varies based on different data sources and factors like the coach's client base, product sales, and potential bonuses.
According to Glassdoor, the annual salary range for an Optavia coach is approximately $47,000 to $73,000. If we consider an average from this range, that's around $60,000 per year, which translates to roughly $5,000 per month.
Salary.com suggests the annual salary for Optavia coaches ranges between $46,876 and $57,370, with an average salary of $51,899. This means the average monthly income would be approximately $4,325.
This graph shows what is the average monthly income for an Optavia coach.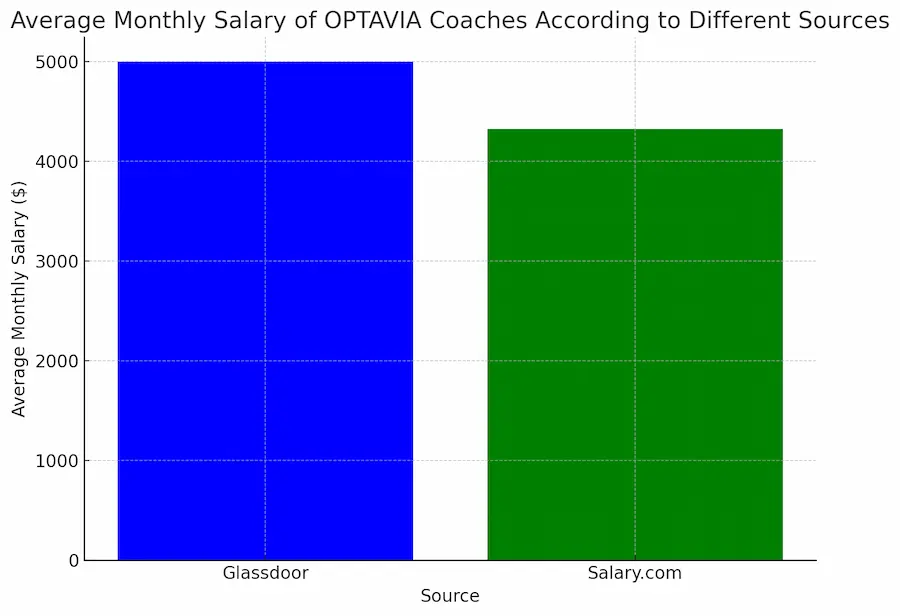 However, these averages include Optavia coaches who have successfully built their client base and sold products.
What Is The Historical Average Monthly Income For Optavia Coaches?
In 2017, the income distribution among Optavia Coaches was quite varied. The majority of coaches (around 11.23%) were in the lowest income bracket, earning between $0.01 and $100 per year. As the income brackets increased, fewer coaches fell into each category. Very few coaches (0.26%) earned between $100,000.01 and $200,000 in 2017, as shown in the graph below.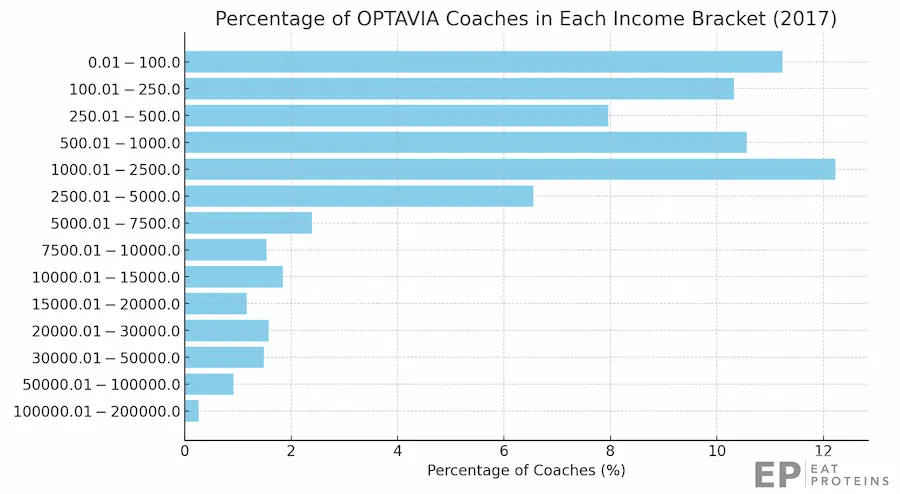 As per the 2019 Optavia US Income Disclosure Statement, about 21.66% of coaches didn't earn anything. This increased slightly to 23.86% in the 2020 Optavia US Income Disclosure Statement.
This graph shows what is the historical average monthly income for Optavia between 2017 and 2021.
The percentage of Optavia coach salaries at different income levels has changed significantly over the years. Notably, the proportion of coaches with "No Earnings" decreased over time, and there are fluctuations in other income ranges as well.
How Much Do Optavia Coaches Make Per Client?
Optavia Coaches earn between $59.29 to $66.30 per client per month, depending on the type of plan their clients are enrolled in. However, this estimate does not include potential bonuses, rewards, and other incentives that they may also receive.
How Much Does Optavia Coach Make In Bonuses?
Optavia coaches have the opportunity to earn several bonuses such as client acquisition bonuses, certification bonuses, and coach consistency bonuses. New Optavia coaches can receive a one-time $100 Client Acquisition Bonus if they acquire at least five new Frontline Clients with orders totaling at least 1,000 FLV within their first 30 days.
Certified Coaches receive a 3% Certification bonus based on their Frontline Volume. Certified Optavia Coaches who demonstrate consistent Frontline Volume over a consecutive three-month period can earn tiered Coach Consistency Bonuses of $250, $500, or $1,000.
Individuals who are Certified and meet specific criteria for three consecutive months can receive a $1,000 Fully Integrated Business Coach (FIBC) Consistency Bonus.
How Do Optavia Coaches Make Money?
Optavia coaches make money through a combination of commissions on the sale of products and various bonuses.
The base commission rate is 15%, which is paid weekly on the orders placed by clients in the previous week (Monday through Sunday). The 15% commission is calculated based on the Compensation Volume of the products ordered, which is a value assigned to each product to calculate compensation.
In addition to the base commission, coaches can earn additional percentages based on their Frontline Volume performance or Certification, which are paid out as monthly bonuses.
The exact amount an Optavia coach can make per client will depend on several factors listed below.
The number of Optavia products purchased by the client.
The Compensation Volume of Optavia products.
The coach's Frontline Volume performance and Certification status.
The coach's rank and whether they meet the qualifications for that rank in a given month.
1. Number of Optavia Products Purchased by the Client
As an Optavia coach, your income can be significantly influenced by the number of products your clients purchase. This is because coaches are compensated based on the Commissionable Goods they sell.
These include Optavia Fuelings, Snacks, Flavor Infusers, Supplements, etc. Not all purchases are commissionable. Tools, apparel, program materials, events, fees, taxes, and shipping costs do not contribute to your compensation as a coach.
2. Compensation Volume of Optavia Products
The Compensation Volume refers to the percentage of the product price that is eligible for compensation. This can range from 0% to 100%, depending on the product. Some products may have a higher Compensation Volume than others, which means selling these products will result in higher earnings. Understanding the Compensation Volume of each product can help you strategize your sales efforts for maximum income.
3. Coach's Frontline Volume Performance and Certification Status
Your Frontline Volume performance refers to how many products your direct clients order, and how often they do so. The more products your clients order and the more frequently they do so, the higher your Frontline Volume performance will be, which in turn can increase your income.
Moreover, achieving certain Certification statuses may enable you to earn higher compensation rates, making your Certification status another important factor in your potential income as an Optavia coach.
4. Coach's Rank and Qualifications for That Rank in a Given Month
As a coach, your rank within the Optavia community can also impact your earnings. Higher ranks typically come with higher compensation rates.
However, each rank has specific qualifications that must be met, and these qualifications usually involve achieving certain sales volumes or recruiting a certain number of new coaches to your team.
If you don't meet the qualifications for your rank in a given month, you may not receive the higher compensation rate associated with that rank.
How Much Does an Optavia Coach Need To Invest?
Optavia coaches need to invest $199.00 for Optavia Business Kit to be eligible to earn compensation. Optavia coach is required to renew his/her business annually. The cost to renew the business is currently $199.00 and is subject to change.
When asking about the cost of becoming an Optavia coach, it's important to consider other expenses associated with running the business. These may include the cost of Optavia products (if the coach chooses to stock them), program materials, events, fees, taxes, and shipping.
What Are The Steps to Becoming an Optavia Coach?
When asking how to become an Optavia coach, the first step involves purchasing the Optavia Coach Business Kit and becoming familiar with its contents. The subsequent steps include applying through the Optavia website, reading the provided information and instructions, filling out the application form, reviewing the terms and conditions, and finally submitting your application.
How Often Do Optavia Coaches Get Paid?
Optavia coaches are paid on a monthly basis. The exact payment schedule may vary, but coaches typically receive their earnings at the end of each month. The amount a coach earns depends on various factors such as the number of clients they have, the volume of Optavia products purchased by their clients, their rank within the Optavia community, and their qualifications.