15 Best Jenny Craig Recipes And Meals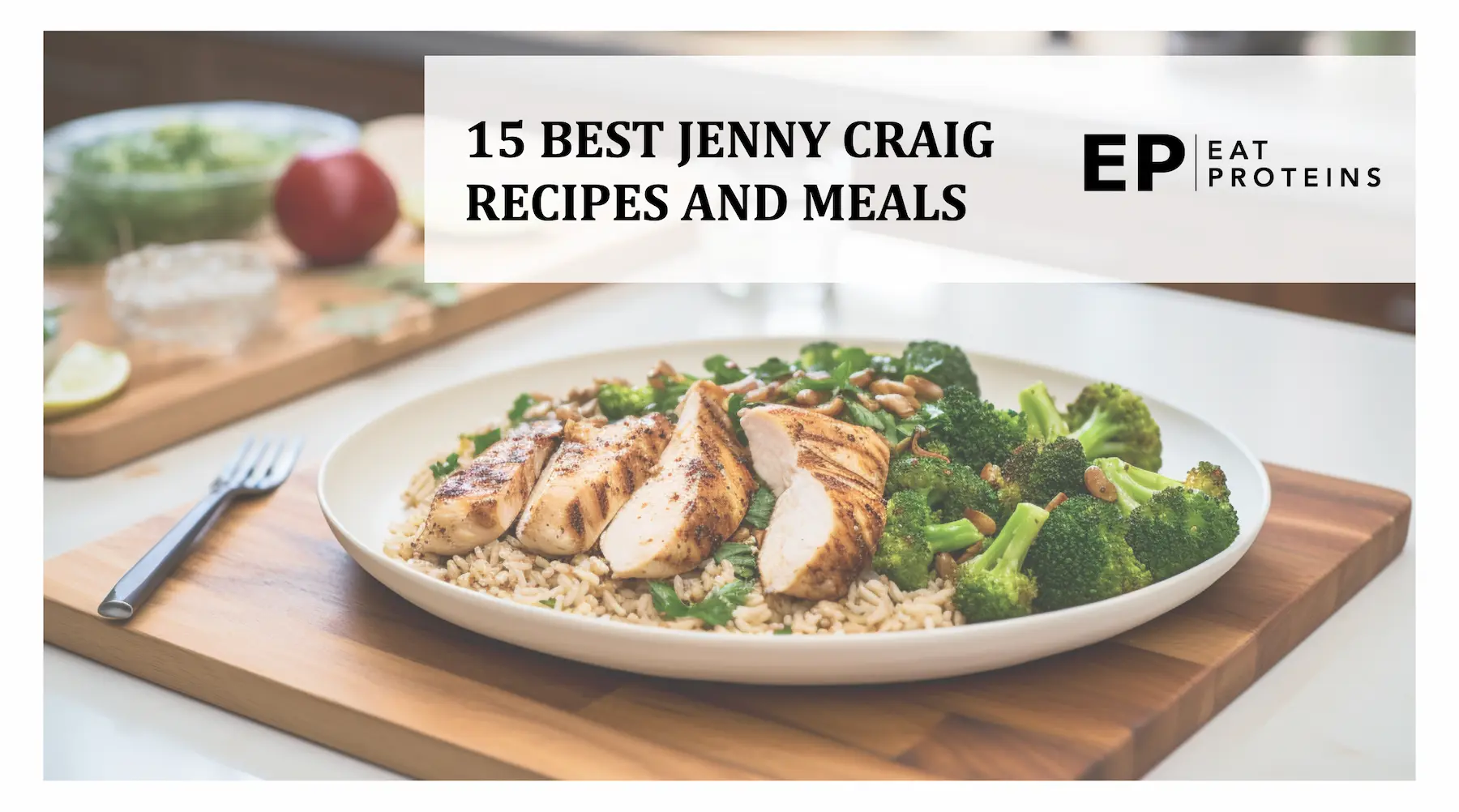 Jenny Craig Recipes refer to meals that are inspired by the offerings of the Jenny Craig diet program, typically falling within the 150 to 300-calorie range. These recipes are designed to include all essential macronutrients, ensuring a balanced and nutritious meal. Unlike the original Jenny Craig meals, which are delivered or pre-packaged, these recipes are made from scratch, allowing you to prepare them at home without the need for meal delivery services. They offer a convenient and personalized way to enjoy the benefits of the Jenny Craig program on your own terms.
The best Jenny Craig Recipes are a subset of Jenny Craig-inspired recipes that stand out for their ease of preparation, making them highly accessible for cooking novices. These recipes are not only low in calories but also deliver exceptional taste, ensuring that you don't have to compromise flavor for health. They are designed to be beginner-friendly, allowing even those with limited cooking experience to successfully prepare them. In summary, the best Jenny Craig Recipes offer a perfect blend of simplicity, low-calorie count, and delicious taste.
This article features the following list of the best 15 Jenny Craig recipes and also explains which meals are the best options within the Jenny Craig program.
Air Fryer Squash Soup
Spicy Shrimp Lettuce Wraps
White Bean and Kale Toast
Air Fryer Cauliflower Tacos
Sheet Pan Chicken Fajitas
Creamy Cauliflower Soup
Pork Lettuce Wraps
Air Fryer Stuffed Chicken
Tandoori Chicken
California Roll Salad
Grilled Chicken Skewers and Kale Caesar
Cauliflower Alfredo
Spiced Fresh Tomato Soup
Vegetable Ramen with Mushrooms
Grilled Steak Tortilla Salad
1. Air Fryer Squash Soup
Have you tried the fantastic Air Fryer Squash Soup inspired by Jenny Craig diet? It's a simple and speedy recipe that combines the wholesome goodness of butternut squash, carrots, and aromatic seasonings for a delightful and nutritious comfort food option.
This photo shows Jenny Craig's Air Fryer recipe – squash soup.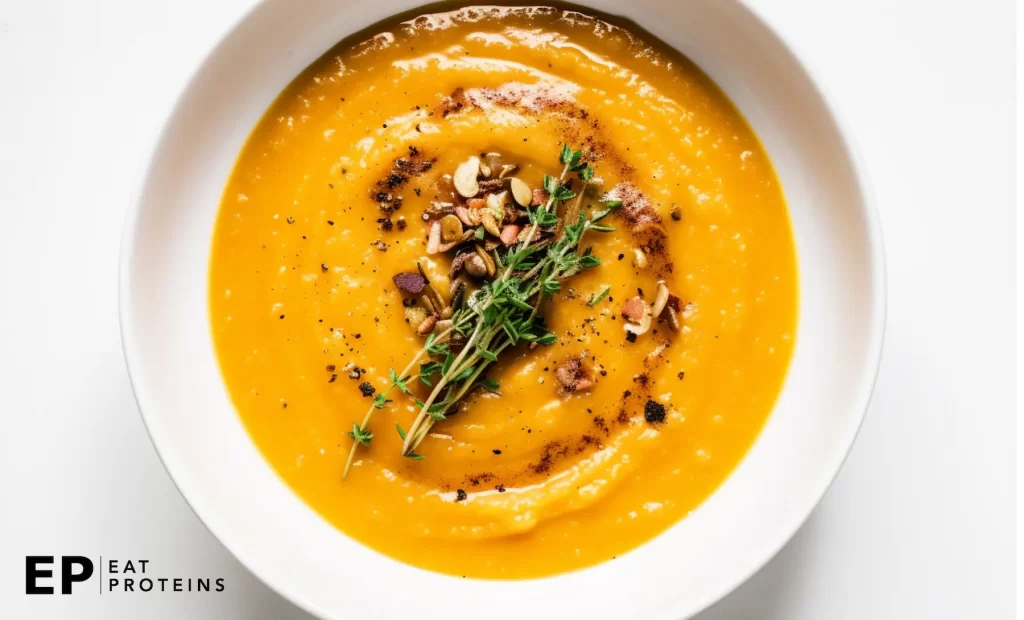 Here's how you can whip up this culinary delight: Begin by tossing together butternut squash, carrots, onion, whole garlic cloves, chile, thyme, olive oil, and a pinch of salt in a generous-sized bowl. Then, transfer this flavorful mix to your air fryer basket and cook it at 400°F for approximately 30 minutes. Remember to give the basket a good shake now and then to ensure the vegetables cook evenly. Don't forget to remove the thyme sprigs once it's done.
While your veggies are in the air fryer, take a skillet and heat up some sliced garlic with olive oil until it starts to turn a lovely golden brown. Next, add pepitas, smoked paprika, and a pinch of salt, and cook for about a minute. Transfer this flavorful mixture to a separate bowl.
Now, it's time to blend most of the cooked squash with some water until it's perfectly smooth, adding more water gradually if needed. If the soup needs a little warmth, reheat it, and serve it up with a dollop of sour cream and those tasty spiced pepitas. Of course, don't forget a slice of crusty bread to complete the experience.
For those who like to keep an eye on the numbers, here are the nutritional details for each serving of this Jenny Craig Air Fryer Squash Soup: It contains approximately 280 calories, 15.5g of fat, 5g of protein, 425mg of sodium, 36g of carbs, and 7g of fiber. So, it's not only delicious but also a sensible choice for a balanced diet. Enjoy!
2. Spicy Shrimp Lettuce Wraps
These Spicy Shrimp Lettuce Wraps are a delightful addition to the Jenny Craig recipes collection. They are bursting with flavor as seasoned shrimp soak in a marinade of gochujang, ginger, garlic, lemon juice, olive oil, and honey. You can adjust the spiciness to your liking with gochujang. Roasting the shrimp in the oven intensifies the marinade flavors, resulting in a delectable dish.
This photo shows the Spicy Shrimp lettuce wraps.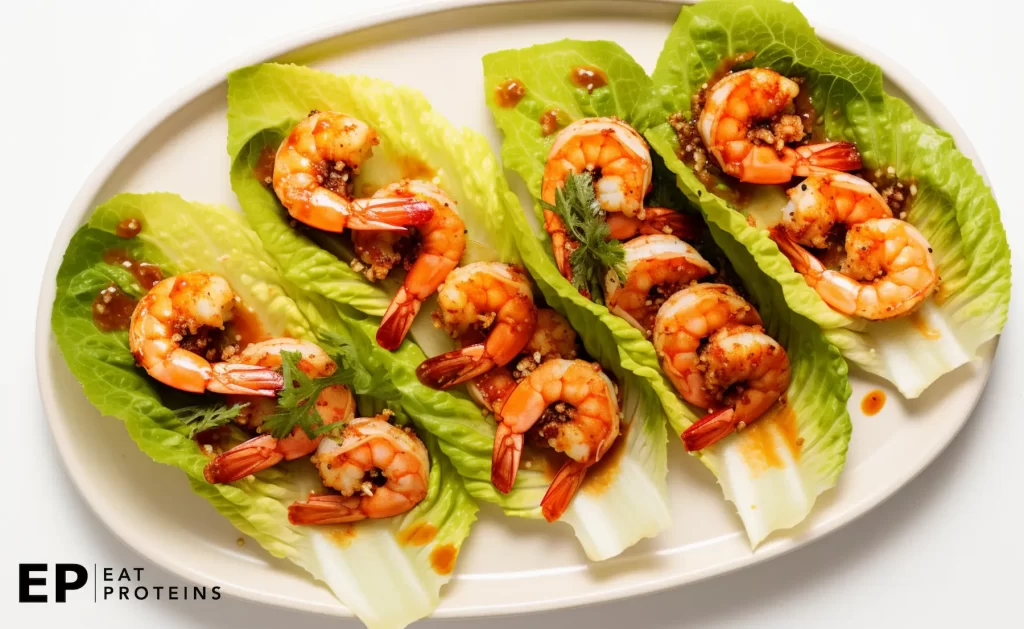 Instead of traditional tortilla wraps, these wraps use Boston lettuce leaves, offering a healthier and crisp alternative. The beauty of these wraps is their versatility. You can enjoy them hot or cold, making them a convenient meal choice.
To enhance freshness and texture, additional ingredients like Persian cucumbers, sliced radishes, mint, and basil are added to the wraps. If you're serving a larger crowd, it's easy to double the recipe by using an additional sheet pan.
For a quicker cooking option, there are air fryer instructions available. In just 3 to 4 minutes, the shrimp turn opaque and delicious.
If you're watching your calorie intake, each serving of these Spicy Shrimp Lettuce Wraps contains approximately 230 calories, 4.5g of fat, and 36g of protein. These nutritional values fit well into a balanced diet.
3. White Bean and Kale Toast
White Bean and Kale Toasts is a fantastic Jenny Craig lunch recipe that's both delicious and healthy, making it an excellent choice for a light dinner or a tasty snack. This recipe combines creamy white beans and flavorful garlicky kale as a vegetarian topping for crisp, toasted baguette slices. For an extra protein and flavor kick, you can grate hard-boiled eggs on top.
Here's the photo.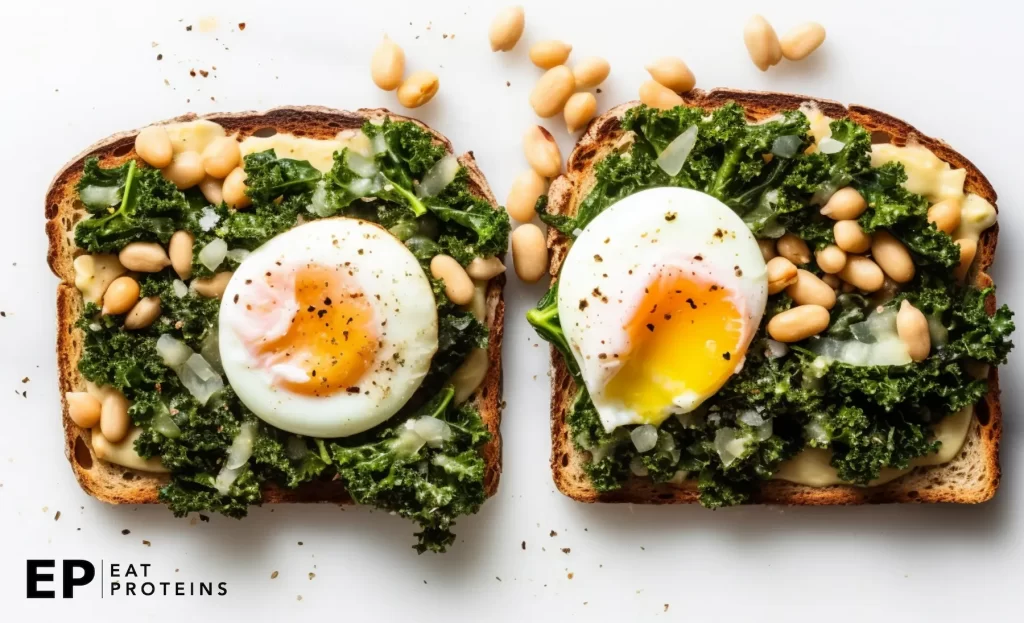 To prepare this delightful dish, you'll need some key ingredients: olive oil, yellow onion, garlic cloves, canned white beans, baby kale, kosher salt, pepper, slices of toasted baguette, finely grated hard-boiled eggs, and finely grated Parmesan cheese.
Here's how to make it:
Start by heating some oil in a large skillet over medium heat.
Add thinly sliced onion and garlic, and sauté them until they become tender, usually around 6 minutes.
Then, introduce the rinsed white beans and 1/3 cup of water to the skillet, heating them through.
Add the baby kale, season with salt and pepper, and toss until the kale just begins to wilt, which should take approximately 2 minutes.
Now, for the final assembly: place the baguette slices on a serving plate and top them with the bean and kale mixture. Sprinkle the finely grated hard-boiled eggs on top, followed by a generous amount of finely grated Parmesan.
Now, let's talk numbers. Each serving of these Jenny Craig White Bean and Kale Toasts contains approximately:
275 calories
10.5 grams of fat (including 2 grams of saturated fat)
15 grams of protein
360 milligrams of sodium
30 grams of carbohydrates
10 grams of fiber.
So, there you have it—a delicious, nutritious, and satisfying Jenny Craig recipe with all the important nutritional values you need. Enjoy your White Bean and Kale toast!
4. Air Fryer Cauliflower Tacos
Jenny Craig's recipes are gaining popularity for their delicious and healthy meal choices. Let's focus on one standout recipe from their collection – the Air Fryer Cauliflower Tacos. These tacos put a delightful spin on the traditional Mexican favorite, featuring roasted cauliflower and a crispy taco slaw.
To whip up these tasty tacos, gather your ingredients: cauliflower, honey, lime juice, tomato paste, and a medley of spices. Begin by marinating the cauliflower in a blend of olive oil, lime juice, honey, and tomato paste. This infusion adds a sweet and tangy kick to the dish.
Here's the photo.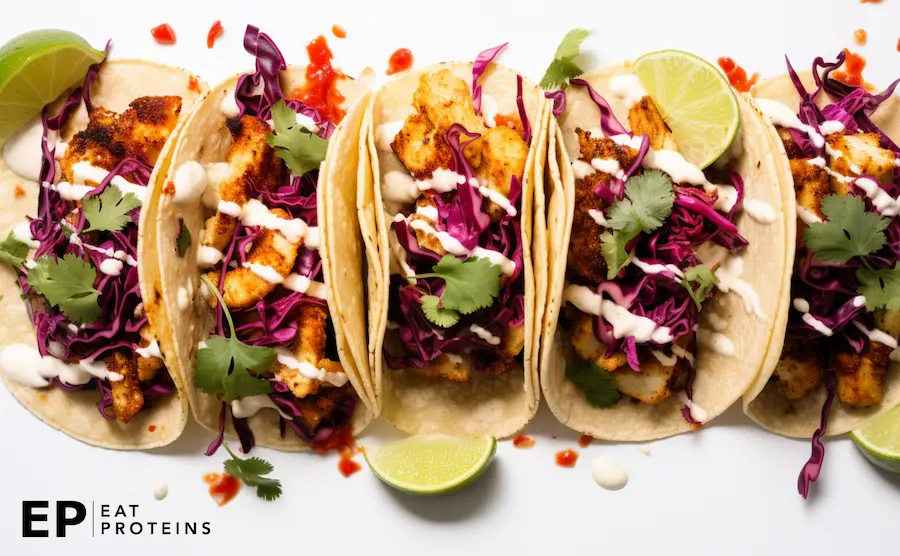 Now, it's time to cook the cauliflower. You can either roast it in the oven or use an air fryer to achieve that perfect golden brown and tender texture. This cooking method guarantees a delightful crunch and enhances the cauliflower's flavors.
Once the cauliflower is ready, load it into tortillas and crown it with a refreshing slaw. Customize your slaw with your favorite toppings, like shredded cabbage, carrots, and a creamy dressing. For that extra zing, serve your tacos with lime wedges and cilantro, adding a burst of freshness to every bite. These tacos are not only scrumptious but also a nutritious choice for a weeknight dinner.
For dietary flexibility, you can adapt these tacos to be vegetarian or vegan by opting for corn tortillas and substituting honey with sugar. Moreover, if you're looking to up your protein intake, consider using tofu instead of cauliflower.
Here's the best part – this recipe takes less than 30 minutes to prepare, making it a quick and hassle-free option for busy folks. Plus, you can savor the leftovers the following day, making it a convenient choice for meal planning.
5. Sheet Pan Chicken Fajitas
Jenny Craig's recipes offer a variety of delicious and healthy meal options, and one such recipe is the Sheet Pan Chicken Fajitas. This recipe, provided by Emiliia Cooper, the Chief Editor at Eat Proteins, is not only convenient but also nutritious. Each serving of this dish contains approximately 310 calories.
Here's the photo of how to serve Sheet Pan Chicken Fajitas.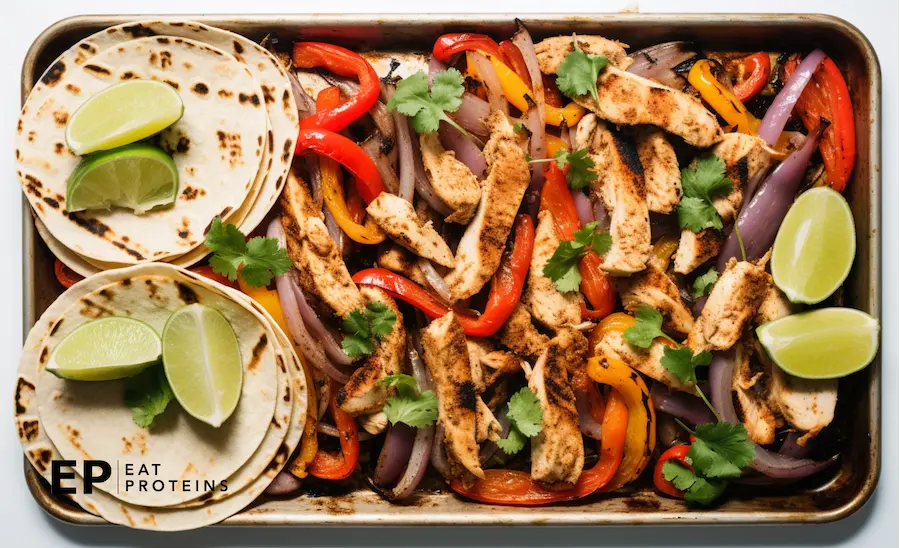 To prepare these mouthwatering fajitas, start by preheating your broiler. Then, take boneless, skinless chicken breasts and toss them with adobo sauce and a pinch of salt. Arrange the chicken on a rimmed baking sheet and broil them for precisely 6 minutes before transferring them to a plate.
Now, adjust your oven temperature to 425°F. On the same baking sheet, toss sliced red and yellow peppers, sliced onions, and matchstick-cut pineapple with a drizzle of olive oil and a dash of salt. Roast these colorful veggies for about 15 minutes.
Once the vegetables are tender, nestle the cooked chicken among them on the same baking sheet. Continue roasting for an additional 5 minutes, ensuring that the chicken is cooked through and the vegetables are perfectly roasted.
Finally, slice the flavorful chicken and serve it alongside the roasted vegetables, warm tortillas, and lime wedges. This Jenny Craig dinner recipe provides a healthy and delicious option for a satisfying meal. Enjoy!
6. Creamy Cauliflower Soup
So, we're talking about the Creamy Cauliflower Soup – a true winner for your taste buds. This Jenny Craig soup recipe combines cauliflower, leek, onion, celery, garlic, cream, and low-sodium chicken or vegetable broth to create a creamy and elegant starter that's as delicious as it is easy to make.
This photo shows Jenny Craig's DIY Creamy cauliflower soup.
And don't forget the star of the show, the almond-thyme gremolata, which adds a delightful crunch and nutty flavor to the soup. The best part? You can whip it up in under an hour, making it the ideal choice for a quick, scrumptious meal.
Here's a quick rundown of the steps:
Heat oil and butter in a large pot, then add leek, onion, and celery. Cook them up until they're very tender but not browned, about 10 to 12 minutes. Toss in some garlic and cook for an additional minute.
Add cauliflower and broth, bringing it to a simmer. Let it simmer for 10 minutes. Then, pour in the cream and gently simmer until the cauliflower is super tender, which takes about 6 to 8 minutes more. Use an immersion blender or a standard blender (in batches) to puree the mixture until it's velvety smooth.
Now, let's talk about that fabulous topping. Heat some oil, garlic, and thyme in a small skillet until the garlic sizzles and turns golden brown, roughly 2 minutes. Remove it from the heat and mix in almonds, parsley, and chives. Voila! You've got your almond-thyme gremolata ready to go.
This recipe is a fantastic choice for those on the Jenny Craig program because it's not only incredibly flavorful but also low in calories, fat, and sodium. So, go ahead and treat yourself to a bowl of this creamy cauliflower goodness with the added delight of the almond-thyme gremolata, all thanks to Jenny Craig's recipes.
7. Pork Lettuce Wraps
If you're looking for a tasty DIY Jenny Craig dinner, you've got to try these Pork Lettuce Wraps. They're not only delicious but also packed with flavor.
To make these wraps, you'll need a gochujang marinade. It's a mix of reduced-sodium soy sauce, zesty lime juice, a hint of brown sugar, and a touch of toasted sesame oil. Sounds mouthwatering already, right?
This is the photo of the Pork lettuce wraps.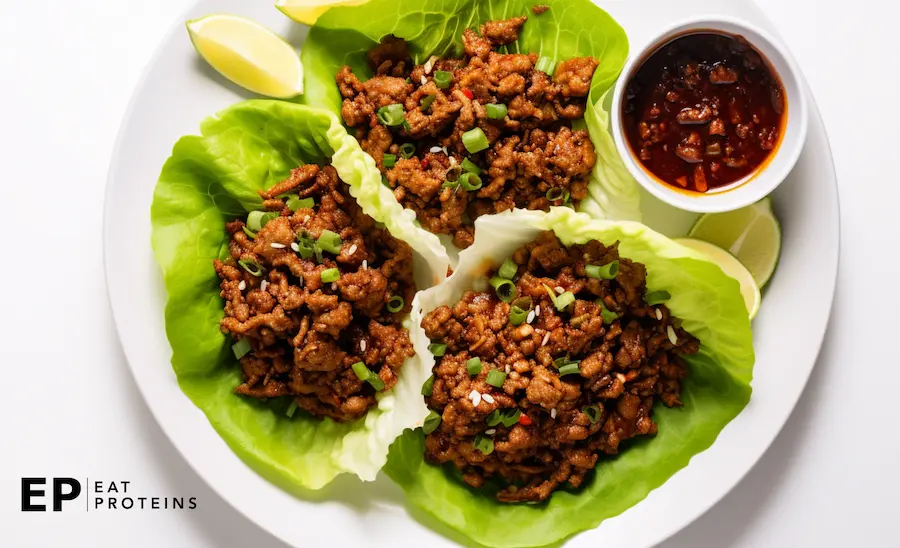 Start by seasoning some pork tenderloin with a pinch of salt and pepper. Then, cook it up in a large oven-safe skillet until it's beautifully browned on all sides. Brush on that irresistible gochujang mixture and let it roast until the internal temperature hits 145°F.
Once it's done, give the pork a well-deserved rest for about 5 minutes. Then, slice it up and get ready for the fun part – assembling your wraps. You'll need gem or baby romaine lettuce leaves, some cooked rice, sliced radishes, cucumber, scallions, chiles, and a generous handful of cilantro and mint leaves.
Now, take a lettuce leaf, load it up with all that deliciousness, and wrap it around the flavorful pork. It's like a flavor explosion in every bite!
By the way, if you're feeling adventurous, Emiliia Cooper, the Chief Editor at Eat Proteins, suggests grilling the pork for an extra touch of smokiness.
Now, let's talk nutrition. For just the pork alone, you're looking at approximately 195 calories, 8g of fat, a whopping 23g of protein, and around 605mg of sodium per serving. So, it's not just delicious; it's pretty healthy too!
8. Air Fryer Stuffed Chicken
Air Fryer Stuffed Chicken is a delightful Jenny Craig dinner recipe that can be whipped up in just 25 minutes. It brings together the zesty tang of goat cheese, and the aromatic touch of pesto, all wrapped up in crispy prosciutto.
Here's the photo.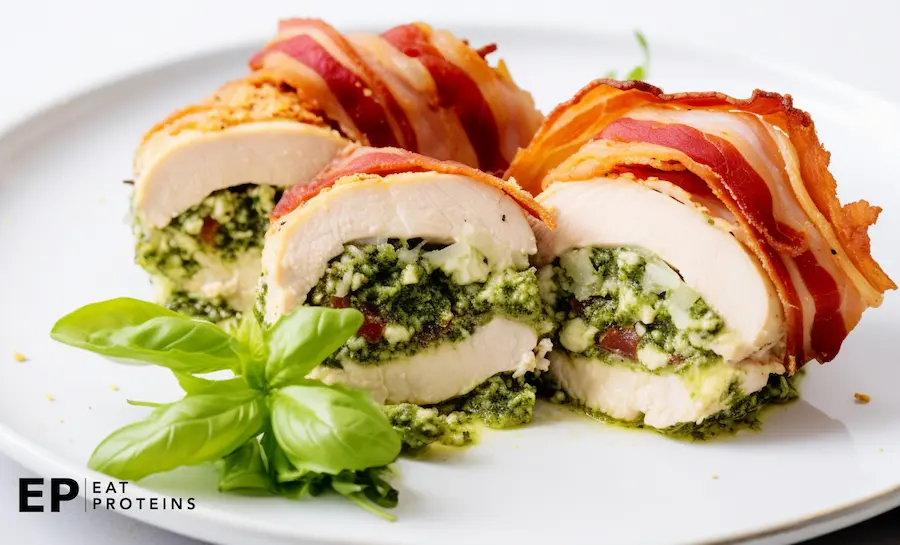 And the best part? It's made in the air fryer, so you get juicy, flavorful chicken every time. Plus, we're making green beans on the side for a complete meal.
Here's the breakdown:
Preheat your air fryer to 400°F.
Season your chicken breasts with salt and pepper.
Slather on a layer of pesto on each chicken breast.
Place a slice of goat cheese on top of the pesto.
Roll up those chicken breasts tightly and wrap them in prosciutto slices.
Once your air fryer is all heated up, put those stuffed chicken breasts in the basket. Toss in the green beans and some garlic, drizzle with olive oil, and season with salt and pepper. Let them all cook in the air fryer for about 20 minutes, or until the chicken is cooked through and that prosciutto gets wonderfully crispy.
While your chicken and green beans are doing their thing, you can prepare an optional tomato salad. Dice up some tomatoes, add fresh basil, and a bit of olive oil, and season with salt and pepper. Give it all a good toss.
When your chicken's done cooking, take it out of the air fryer and let it rest for a few minutes. Then, serve up that scrumptious stuffed chicken alongside the green beans and tomato salad.
With just 380 calories per serving, this meal is not only delicious but also a healthy choice for any dinner occasion. Enjoy your Jenny Craig Air Fryer Stuffed Chicken!
9. Tandoori Chicken
Tandoori Chicken, a delectable offering from Jenny Craig, serves as an exquisite choice for either lunch or dinner. This Indian-inspired dish is not only flavorful and tender but also surprisingly simple to prepare in an air fryer.
Here's the photo of Jenny Craig's Tandoori Chicken recipe.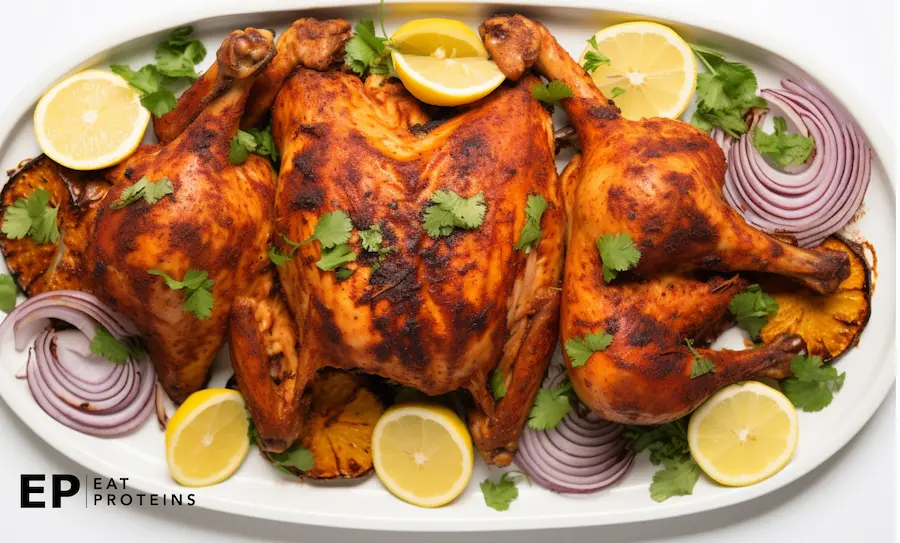 To really bring out the flavors, you'll want to marinate the chicken for at least 20 minutes. Here's how to whip up this flavorful dish:
Begin by coating the air fryer basket with a touch of oil.
Season the chicken with some salt, and then place it in the air fryer basket, ensuring the skin side is facing up.
Set the air fryer to 400°F and cook the chicken for about 12 minutes.
While the chicken works its magic, toss some onions with a bit of oil, salt, and pepper. Scatter them around the chicken in the air fryer.
Continue air-frying until the chicken is fully cooked and the onions turn golden brown and tender, which should take another 8 to 12 minutes.
Once it's all done, transfer the cooked chicken and those flavorful onions to a platter.
If you like, garnish it with some lemon wedges and fresh cilantro.
Now, let's talk numbers. This Jenny Craig-inspired Tandoori Chicken recipe contains approximately 440 calories per serving. In each serving, you'll find approximately 23.5 grams of fat, a hearty 48 grams of protein, and about 565 milligrams of sodium.
10. California Roll Salad
Are you a fan of Jenny Craig meals but want to try something different on your own? How about a California Roll Salad, a delightful twist on the classic Japanese sushi roll? This delectable salad comes with a zesty spicy mayo dressing and a generous sprinkle of furikake, a blend of sesame seeds, and dried seaweed.
This photo shows California Roll salad inspired by Jenny Craig's meals.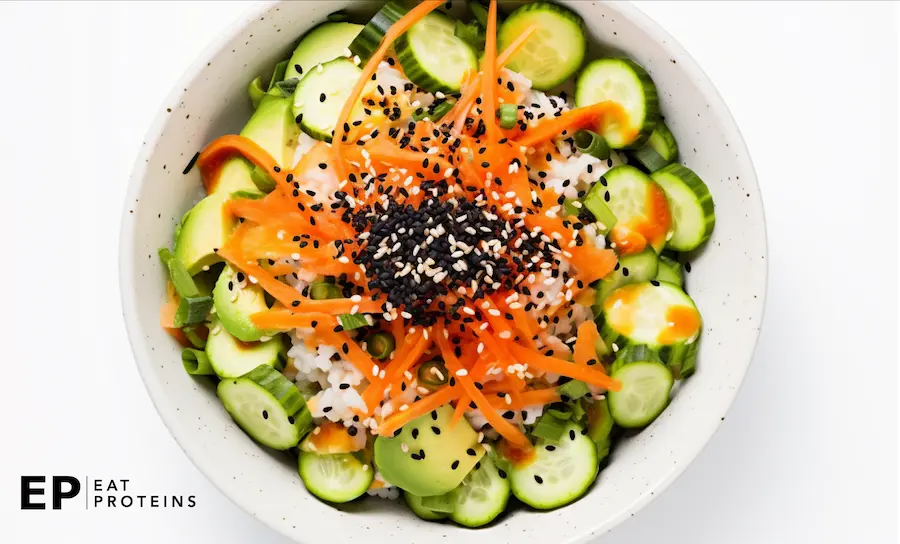 For this Jenny Craig-friendly recipe, you'll need the following ingredients:
Mayonnaise
Sriracha
Fresh lemon juice
Kosher salt
Boston lettuce
Cooked short-grain brown rice
Persian cucumbers
Avocado
Surimi or crabmeat
Scallions
Furikake seasoning
Now, let's whip up that scrumptious dressing. In a small bowl, whisk together mayonnaise, sriracha, fresh lemon juice, and a pinch of kosher salt. This will give your salad the perfect kick!
Next, assemble your salad bowls. Divide the Boston lettuce, cooked brown rice, Persian cucumbers, and creamy avocado among the bowls. Top them off with slices of surimi or crabmeat, and then drizzle that spicy mayo dressing you just made over the top.
To add a burst of flavor and a touch of elegance, sprinkle some scallions and furikake seasoning on top. It's a healthy and mouthwatering alternative to traditional sushi rolls. And if you're keeping track, each serving of this Jenny Craig-inspired California Roll Salad contains roughly 280 calories. Enjoy!
11. Grilled Chicken Skewers and Kale Caesar
If you're doing Jenny Craig meals on your own and want something tasty for the summer, check out this Grilled Chicken Skewers and Kale Caesar recipe.
Here's the photo.
It's a breeze to make:
Start by grabbing a lemon and cutting it in half. From the other half, grate about a teaspoon of zest, and squeeze out four tablespoons of that zesty juice.
Take some boneless, skinless chicken breasts and cut them into 1 1/2-inch chunks. Slide those chicken pieces onto skewers and sprinkle a pinch of salt and pepper on them.
Fire up the grill and toss those chicken skewers on for roughly 3 to 4 minutes on each side, or until they're cooked all the way through. While they're sizzling away, toss one of the lemon halves (cut side down) onto the grill until it gets a nice char. Then, give it a good squeeze over your chicken.
Now, let's toast some thick slices of baguette on the grill. Once they're nicely browned, rub both sides with halves of garlic cloves, and then cut the bread into cubes to make some crunchy croutons.
Grab a big bowl and whip up a zesty dressing by whisking together the lemon zest and juice, a hearty egg yolk, some Dijon mustard, grated garlic, and half a teaspoon of salt.
Slowly pour in some olive oil as you whisk, and voilà, you've got yourself a creamy dressing.
Sprinkle in some grated Parmesan cheese, toss in baby kale, and add those homemade croutons. Give it a good grind of black pepper for extra flavor.
Serve up your mouthwatering kale Caesar salad with those delicious grilled chicken skewers.
Now, for the nutritional scoop, this delightful meal clocks in at around 465 calories per serving. It's a tasty combo of flavors and textures that's perfect for your Jenny Craig journey. Give it a shot and savor every bite!
12. Cauliflower Alfredo
Here's a fantastic Jenny Craig recipe featuring a vegan cauliflower alfredo sauce that's not only creamy but also super healthy. It's a perfect swap for those traditional Alfredo sauces.
This photo shows the Cauliflower Alfredo recipe, inspired by Jenny Craig's meals.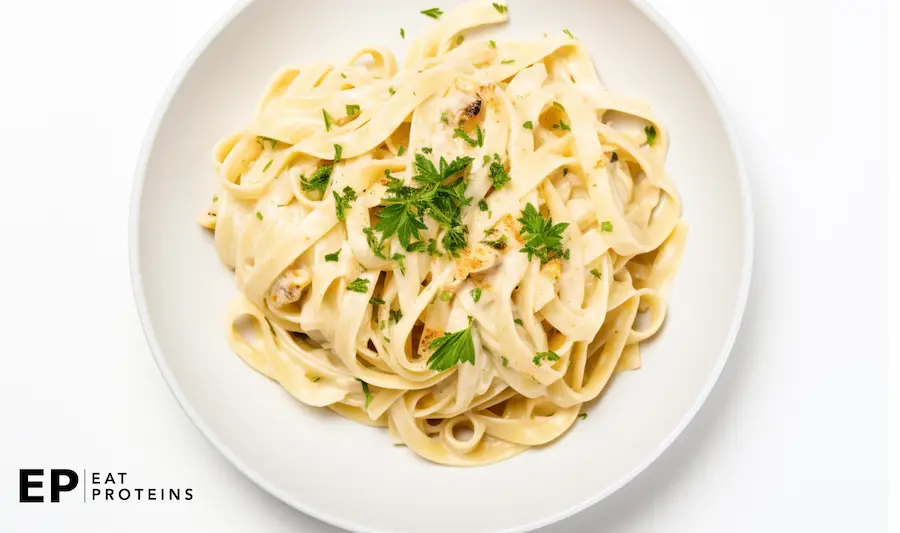 So, what's in this creamy sauce, you ask? Well, it's got olive oil, pureéd cauliflower, and some nutritional yeast. Trust me, it's a winning combo that gives you that velvety, delicious texture you crave. Cauliflower is like a magician in the world of veggies. It can mimic those carb-heavy dishes without needing all that heavy cream and butter. Impressive, right?
And it's not just about taste; cauliflower brings health benefits too. It's packed with natural fiber, essential nutrients, and even vitamin K, which is great for your bones.
This Jenny Craig recipe is like a dream come true for vegans, folks on dairy-free diets, or anyone who's up for experimenting with cauliflower.
Here's the first step: Simmer cauliflower, garlic, and onion until they're soft and tender.
Next, blend those cooked veggies with nutritional yeast and a pinch of salt until you've got that creamy, traditional Alfredo sauce texture. While you're doing that, get your fettuccine cooking according to the package instructions.
Now, in a large skillet, heat up some olive oil and add the cooked cauliflower, onion, and garlic. Cook them until they're tender and aromatic. Time to add a bit of water and let everything simmer until those veggies become super soft.
Don't forget to drain the veggies but keep some of that liquid handy. Now, blend those veggies with nutritional yeast, a pinch of salt, and a bit of that reserved liquid until it's smooth as silk. Toss this luscious sauce with your cooked fettuccine, and voila, dinner is served! Enjoy your Jenny Craig-inspired meal at home.
13. Spiced Fresh Tomato Soup
If you're into Jenny Craig and enjoy cooking up your own meals, here's a fantastic recipe to try: Spiced Fresh Tomato Soup with Sweet and Herby Pitas.
Here's the photo.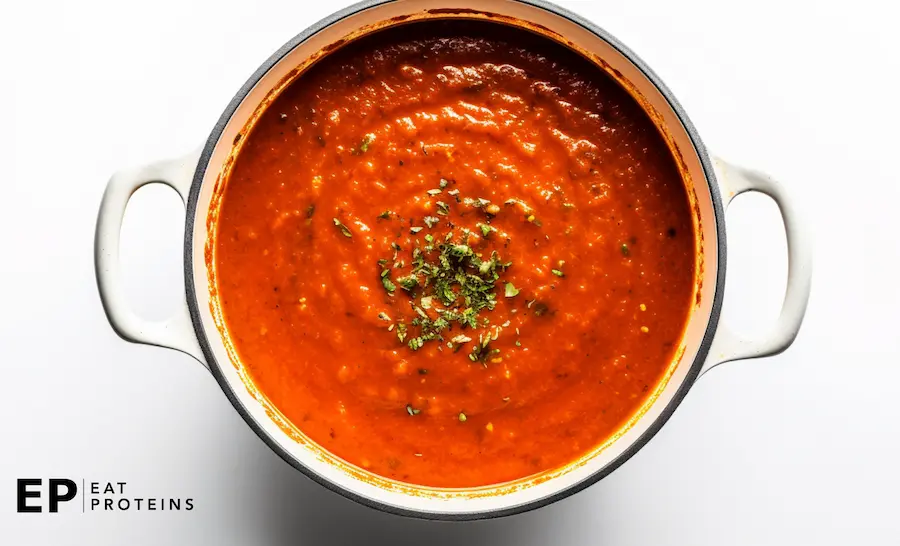 It's a burst of flavors that combines the richness of tomatoes, spices, and a sweet, herby topping. Let's get cooking!
Start by heating up a large Dutch oven on medium-low heat and adding 2 tablespoons of olive oil.
Chop up a large onion and a large red pepper, then toss them into the heated Dutch oven along with 1/2 teaspoon of salt. Cover it up, stir occasionally, and let those veggies get tender for about 8 to 10 minutes.
While that's cooking, grab 2 cloves of garlic, 1 jalapeño, and a 1-inch piece of ginger. Finely grate them up.
Add the grated garlic, jalapeño, and ginger to the Dutch oven and give it a good stir for about 1 minute.
Now, spice things up by stirring in 2 teaspoons of ground coriander and 1 teaspoon of ground cumin. Cook for another minute to let those flavors mingle.
Next, roughly chop up 2 1/2 pounds of tomatoes and toss them into the Dutch oven along with 2 1/2 cups of water. Crank up the heat and let it simmer, partially covered, for 10 minutes.
While the tomatoes are doing their thing, pop 2 pocketless pitas in the toaster to get them nice and toasty.
Once the tomatoes are ready, it's time to blend the soup. You can use an immersion blender or a standard blender in batches to make it smooth.
Now, let's make that tasty topping. In a bowl, mix together 1 tablespoon of brown sugar, 2 tablespoons of butter (or olive oil), 2 tablespoons of finely shredded unsweetened coconut, and 2 tablespoons of cilantro. Spread this delightful topping mixture onto your toasted pitas, and then cut them into your desired serving sizes.
Serve up your Spiced Fresh Tomato Soup with those sweet and herby pitas on the side. Get ready to savor the incredible combination of flavors in this satisfying soup and bread duo! And if you're curious about the nutritional info (per serving): It's about 325 calories, 16 g of fat (6.5 g saturated), 6 g of protein, 565 mg of sodium, 43 g of carbs, and 7 g of fiber. Enjoy!
14. Vegetable Ramen with Mushrooms
Looking to stick to your Jenny Craig meal plan but want to mix things up a bit? Try whipping up this amazing Vegetable Ramen with Mushrooms and Bok Choy!
You're going to need these ingredients: scallions, ginger, low-sodium tamari (or soy sauce if you prefer), those classic ramen noodles, shiitake mushrooms, baby bok choy, snow peas, rice vinegar, a couple of soft-medium boiled eggs, cilantro, and some thinly sliced red chili for that kick!
Here's the photo.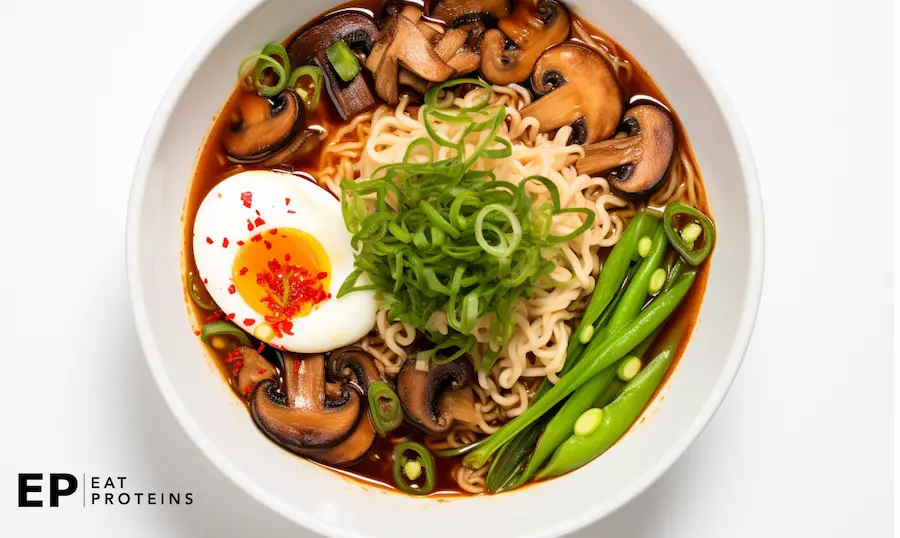 First things first, grab the white parts of your scallions and your ginger and toss 'em in a big pot with 8 cups of water. Crank up the heat and get it boiling. Once it's bubbling, go ahead and stir in that low-sodium tamari or soy sauce. Time for the ramen noodles to join the party! Just follow the package directions for cooking them. Three minutes after the noodles are in, toss in your sliced shiitake mushrooms and baby bok choy stems.
After that, turn off the heat and stir in your snow peas and a dash of rice vinegar. Now, let's get to serving! Split your ramen into 4 bowls and crown each one with half a soft-medium-boiled egg. For the grand finale, sprinkle the remaining scallion greens, cilantro sprigs, and red chili slices over the top.
Nutritionally speaking, each bowl has about 300 calories, 10 grams of fat, 13 grams of protein, 1,075 milligrams of sodium, 38 grams of carbs, and 4 grams of fiber. Enjoy your Jenny Craig-friendly meal!
15. Grilled Steak Tortilla Salad
If you're doing Jenny Craig at home and you're in the mood for something that packs a flavor punch, you've got to try this Grilled Steak Tortilla Salad.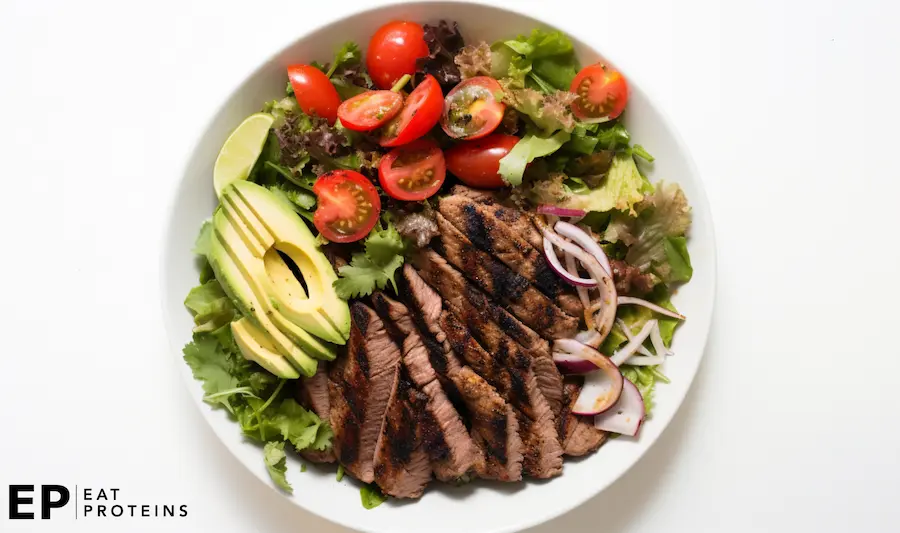 (Trust me, it's a game-changer!)
First off, let's treat that skirt steak right. Rub it down with a teaspoon of chili powder, kosher salt, and pepper. Make sure you're getting both sides, okay?
Fire up your grill or broiler— we're talking high heat here.
Now, grill that spiced-up steak to your idea of perfection. About 3 to 4 minutes on each side should give you a fab medium-rare. Once it's done, give it a little rest—like a few minutes.
While Mr. Steak is chillin', get those veggies ready. Dice up 1 1/2 pounds of plum tomatoes, slice a couple of scallions, and if you're feeling spicy, thinly slice a jalapeño.
Toss those veggies in a bowl and add 2 tablespoons of fresh lime juice, 1/2 teaspoon of salt, and 1/4 teaspoon of pepper. Voila, you've got yourself a zingy dress!
Don't forget the greens! Chop up some arugula (ditch the thick stems) and roughly cut up about a cup of fresh cilantro.
Your steak should be well-rested by now. Slice it up into thin, tender strips, making sure to cut against the grain.
Throw that delicious steak into the veggie bowl and mix it all up.
Serve it with some charred flour tortillas on the side for that extra crunch. You're gonna love this bowl of yumminess as either a main or a side. And hey, it's got about 340 calories, 16.5 grams of fat (5.5 grams saturated), 41 grams of protein, 595 milligrams of sodium, 9 grams of carbs, and 3 grams of fiber. Yep, it's pretty balanced!
What are the best Jenny Craig meals?
The best Jenny Craig meals include Deli Style Tuna Salad With Crackers, Loaded Baked Potato, and Chicken Street Tacos. These options are highlighted as standout meals among the more than 40 choices available for breakfast, lunch, dinner, and dessert.