What Is the Optavia Active Program?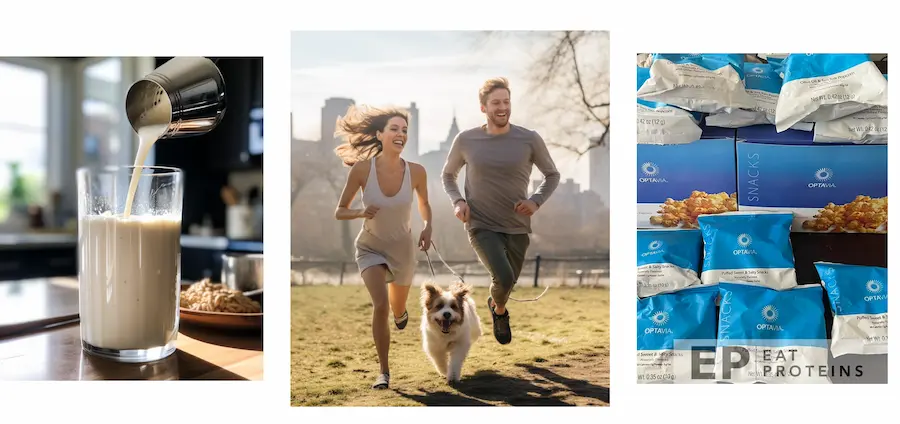 Optavia Active is a healthy motion initiative offered by Optavia. This program is designed to help Optavia clients, whether they need weight loss, are in maintenance, or simply want to incorporate healthy movement into their daily lives.
Optavia Active program provides a new portfolio of products and digital tools to support individuals wherever they are in their journey, providing the tools and products needed to support their bodies as they incorporate healthy motion.
Optavia Active will include a digital exercise platform to offer over 8,000 workouts. This means coaches will not have to design workout programs themselves, but clients can subscribe to the motion app and get their programs if they don't have something else in place.
Launched on September 13th, the Optavia Active line is not available for individual purchase. It can only be acquired as part of the newly introduced Optimal Weight ACTIVE Plan or Optimal Health ACTIVE Plan, both of which come at a higher price point compared to the previous 5 & 1 and 3 & 3 plans.
This article provides an overview of the newly introduced Optavia Active plans, explores the range of products within the Optavia Active line, and outlines the exercise options available to members.
What Is the New Optavia Active Plan?
The New Optavia Active Plan is an extension of Optavia's existing Optimal Weight 5 and 1 and Optimal Health 3 and 3 plans, designed to better support those who are physically active. The new lineup includes the following:
The Optimal Weight 5 & 1 ACTIVE Plan costs $571.45 and comes with a month's supply of 154 Optavia Fuelings, plus essential amino acids. This plan includes 5 daily Optavia Fuelings, 1 Lean and Green meal, and 2 servings of EAA supplements.
The Optimal Weight 4 & 2 ACTIVE Plan is priced at $515.15 and provides 119 servings of Optavia Fuelings, also accompanied by essential amino acids. Those on this plan should have 4 Optavia Fuelings, 2 lean and green meals, and 2 EAA products each day.
The Optimal Health 3 & 3 ACTIVE Plan is available for $485.10, featuring daily fuelings along with essential amino acids and Optavia Active whey protein. This Optavia maintenance plan includes 3 daily Optavia Fuelings, 3 Lean and Green meals, and 2 servings of EAA supplements.
What sets these plans apart from their predecessors are the additional products they incorporate, such as essential amino acids and protein powder, aimed at supporting physical activity and recovery. According to a 2021 study by Alice Bellicha from Sorbonne University, exercise training programs have a significant impact on weight loss and body composition in adults with overweight or obesity.
The study showed that exercise led to significant weight loss, with mean differences ranging from -1.5 to -3.5 kg, fat loss ranging from -1.3 to -2.6 kg, and visceral fat loss with standardized mean differences ranging from -0.33 to -0.56, as shown in this diagram.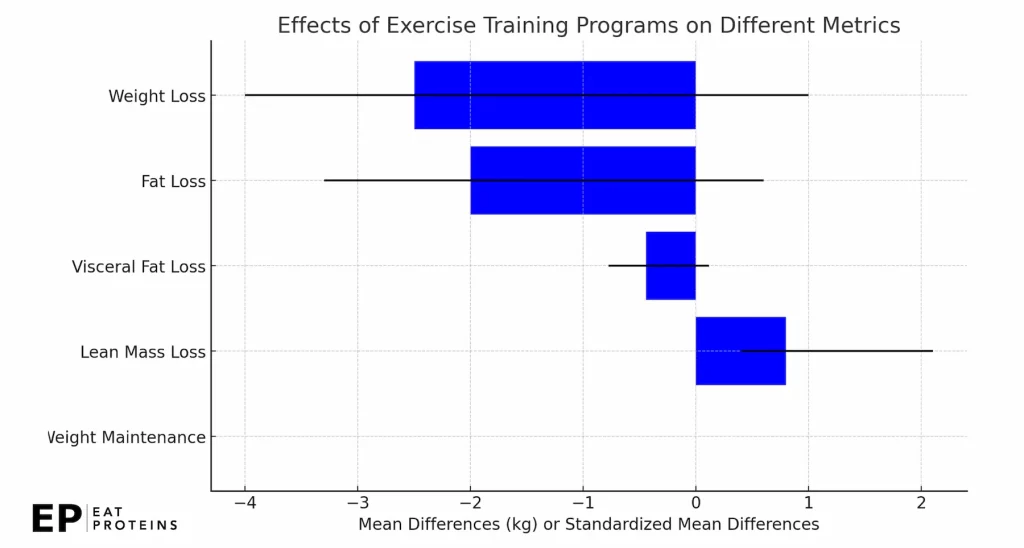 The Optavia Active Plans are therefore aligned with these findings, aiming to optimize the benefits of exercise by providing specialized nutrition to support physical activity, weight loss, and overall health.
It's a holistic approach that combines diet, exercise, and lifestyle changes to achieve long-term health and wellness goals.
How Does the Optavia Active Program Work?
The Optavia Active program works through a comprehensive approach that incorporates Optavia Fuelings, lean and green meals, essential amino acids supplements, whey protein powder, exercise support, and coach support.
Essential Amino Acids (EAAs) Supplements: Optavia Active EAAs are provided in the form of a drink mix, available in Strawberry Lemonade and Orange Mango flavors. EAAs are critical for muscle recovery and growth, especially after an exercise session.
Whey Protein Powder: This is specifically designed for those following the Optavia 3 and 3 maintenance plan. The protein powder, available in a number of flavors, provides 130 calories per 33-gram scoop serving.
Exercise Support: The Optavia Active program collaborates with Aaptiv, a digital platform based in New York that specializes in on-demand fitness content. This partnership provides subscribers with a wealth of exercise programs, granting access to over 7,000 classes.
Coach Support: While Optavia coaches are not intended to physically train their clients, their role is to facilitate the effective use of new tools. They receive extensive training on the Optavia Active initiative, which equips them to guide users effectively in using the products and adhering to the exercise programs.
Who Can Use Optavia Active?
The Optavia Active program is flexible and can be adopted by anyone, but it is especially encouraged for those on the Optavia Maintenance plan.
Even those on the Optimal Weight 5 & 1 plan can incorporate Optavia Active into their routine. This includes subscribing to Aaptiv for home or gym training, and in addition to their regular 5 fuelings and one lean and green meal per day, they also need to consume 2 servings of Optavia Active EAA's.
What Are The New Products In Optavia Active?
The Optavia Active program has introduced two new products: the Optavia Active Essential Amino Acids (EAA) and the Optavia Active Whey Protein Powder.
The Optavia Active EAA. The Optavia EAA is a supplement that provides essential amino acids. Each serving size of EAA contains 10g of EAAs, including 5.3 grams of Branch Chain Amino Acids (BCAAs). It is free from stimulants like caffeine and doesn't contain any artificial flavors or colors.
The Optavia Active Whey Protein Powder. Whey Protein Powder is designed to support muscle health and physical performance. Each serving of this protein powder provides 130 calories, 24 grams of protein, 2.5 grams of fat, 2 grams of carbohydrates, 75mg of cholesterol, and 120mg of sodium. This product is sweetened naturally with only 2 grams of total sugars per serving and is fortified with 129mg of calcium and 135mg of potassium. Each container of the protein powder offers 30 servings, with a serving size being one 33-gram scoop.
What Types of Exercises Are Recommended In The Optavia Active Program?
The Optavia Active exercise program is designed with your diverse fitness needs and preferences in mind. It's all about promoting an active lifestyle that you can adapt to fit your own pace and comfort level.
The Optavia Active program is closely tied with the Optavia exercise guide, which is a comprehensive tool designed to support your fitness journey. The guide provides detailed advice on how to incorporate physical activity into your daily routine, no matter your current fitness level.
You'll find a wide range of exercise types recommended within the Optavia Active program, ensuring there's something for everyone.
You'll primarily engage with the Aaptiv digital platform, which opens the doors to over 7,000 classes. Here's what you can expect:
Stretching: Enhance your flexibility and help protect yourself from injuries.
Walking and Running: These exercises are accessible and can be adjusted to match your fitness level.
Elliptical, Stair Climber, Rowing, and Cycling: These are fantastic cardio workouts that are gentle on your joints.
Strength Training: Build muscle and kick your metabolism into high gear.
Boxing: An exciting way to ramp up your cardiovascular fitness and strength.
Barre Fitness: A beautiful mix of Pilates, dance, yoga, and functional training.
Bootcamps: Get ready for high-intensity interval training (HIIT) classes that combine cardio and strength.
Yoga and Meditation: Destress, improve flexibility, and enhance your overall well-being.
Sleep exercises: Establish a great sleep routine for optimum rest and recovery.
Remember, it's not all about what exercise you do, but rather about your consistency. Make sure to choose physical activities that you genuinely enjoy, as this will make it more likely that you'll stick with it.