6 Optavia Approved Energy Drinks List
As someone following the strict Optavia diet plan, I know that maintaining energy levels while being in a calorie deficit can be a challenge.
And while Optavia suggests avoiding sugary drinks, what about energy drinks?
You can have energy drinks on Optavia in conjunction with Fuelings.
However, it's important to choose a sugar-free option to keep in line with the 5 and 1 plan guidelines.
Additionally, it's recommended to limit yourself to 1-2 energy drinks per week, as many of them contain a high amount of caffeine.
Keep in mind that energy drinks should not be used as a substitute for a lean and green meal (or fueling) on the plan.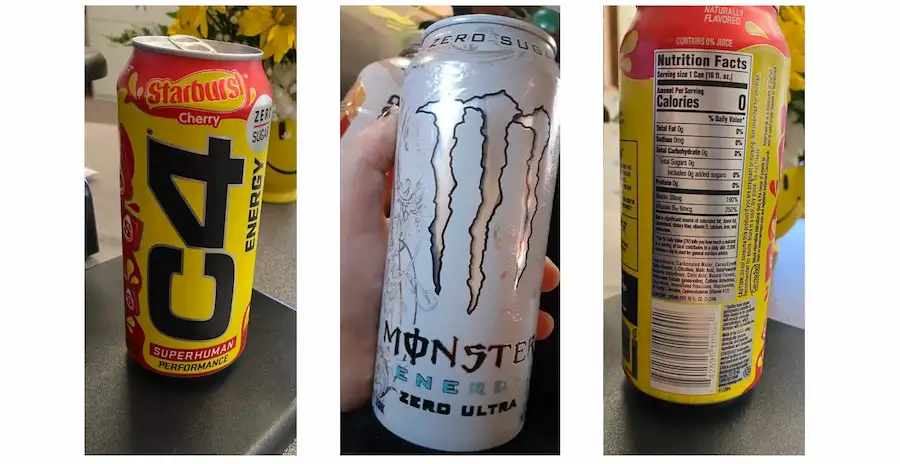 First, let's talk about Optavia and Energy Drinks
It's clear to me that the topic of energy drinks on Optavia is confusing and requires a closer look.
I've often heard that sugar-free energy drinks can be a helpful option during weight loss.
However, after some research, I've realized that the answer to whether sugar-free energy drinks are healthy for weight loss is not clear-cut.
On one hand, these drinks, along with other diet drinks offered by Optavia, tend to have fewer calories compared to traditional energy drinks.
(For sure a positive aspect for anyone looking to shed a few pounds.)
But on the other hand, some sugar-free energy drinks contain artificial sweeteners that have raised health concerns, including the potential for weight gain.
According to a randomized controlled trial published in the Asia Pacific Journal of Clinical Nutrition, "drinking the energy drink caused increased carbohydrate oxidation and reduced lipid oxidation compared to drinking lemonade."
And then there's the caffeine conundrum.
On the one hand, consuming energy drinks can rev up your metabolism, but on the other hand, it can also have you bouncing off the walls and ruining your precious slumber.
Optavia-approved energy drinks
Although Optavia guidelines for consuming energy drinks aren't completely off-limits, the program suggests focusing on carbohydrate-free beverages only.
So, I decided to explore my options and try some of the best energy drinks that are out there.
To my delight, I was able to compile a list of Optavia-approved energy drinks that I would like to share with others who may be curious about what's allowed on the program.
Zevia Energy
Zevia Energy is on top of my Optavia approved energy drinks for one reason – they don't use sucrose.
Instead, the brand uses organic stevia leaf extract as its sugar-free sweetener.
According to a randomized controlled trial published in the Nutrients Journal, "stevia could help people maintain their weight and eat less food."
Also, people who used stevia every day "ate less food and did not have higher blood sugar levels, compared to the people who did not use stevia," states the journal.
My favorite flavor is mango and ginger, which doesn't have any bitter aftertaste.
And while I enjoy sipping on Zevia straight from the can, I often have fun mixing it with ice, mint, or cucumber.
Of course, with ice. (A lot of ice.)
Flavors
Kola
Grapefruit
Mango and Ginger
Raspberry and Lime
Strawberry and Kiwi
Pineapple Paradise
Nutrition Facts
Serving size: 12 fl oz (355 ml)
Calories: 0
Carbs: 0 g
Sugar: 0 g
Sodium: 0 mg
Caffeine: 120 mg
Price
A 12-can pack of Zevia can be purchased for $25.36 on the official website.
If you have a subscription with Zevia, they give you a 5% discount, bringing the price down to $24.09. (Around $2.00 per can.)
On Amazon, you can find similar prices, with a 12-can pack of Zevia costing approximately $24.
Hi-Ball Energy
Hi-Ball Energy is an energy seltzer – caffeinated sparkling water that uses natural flavors.
For me, this energy drink is a cut above the rest, as it is fortified with an ample dose of B Vitamins.
The sweetness level is just right.
Plus, it doesn't leave this lingering and unpleasant metallic aftertaste that I commonly get with other energy drinks, such as Monster or Rockstar.
When it comes to my energy, sure I can feel the difference.
According to the company website, each serving has 160 mg of organic caffeine, 50mg of organic guarana, and 50mg of organic ginseng. (Nearly twice as strong as coffee. )
Did I mention it's sugar-free?
Flavors
Watermelon Mint
Grapefruit
Wild Berry
Blackberry
Lemon and Lime
Peach
Vanilla
Nutrition Facts
Serving size: 16 fl oz (355 ml)
Calories: 0
Carbs: <1 g
Sugar: 0 g
Sodium: 0 mg
Caffeine: 160 mg
Price
On Amazon, a pack of 8 cans, either in a variety pack or an individual flavor, of Hi-ball energy drink costs around $24.
Although this price point is higher than that of Zevia, Hi-ball offers different flavor options and a unique blend of ingredients, including vitamins.
C4 Energy Drink
As someone who has tried Cellucor's C4 pre-workout supplement numerous times, I had a pretty good idea of what to expect from their C4 energy drink.
Cellucor is a well-established American sports nutrition brand that specializes in high-quality dietary supplements, bodybuilding supplements, and energy drinks.
I was not disappointed.
As expected, the C4 energy drink delivered – zero calories and zero sugar, plus a sustained source of energy, with a whopping 200 mg of caffeine per serving.
Unlike other energy drinks, C4 is packed with Beta-Alanine and L-Citruline. Unfortunately, it does contain artificial sweeteners, such as acesulfame potassium and sucralose.
(I would not drink that every day though.)
Flavors
C4 Energy Carbonated
C4 Energy Non-Carbonated
Tropical Blast
Cherry Limeade
Purple Frost
Arctic Snow Coone
Midnight Cherry
Icy Blue Razz
Fruit Punch
Watermelon
Orange Slice
Psst! Try skittles or starburst candy flavor!
Nutrition facts
Serving size: 12-16 fl oz (355 ml)
Calories: 0
Carbs: 0 g
Sugar: 0 g
Sodium: 0 mg
Caffeine: 200 mg
Price
You can buy the 12-pack of carbonated C4 Energy16 fl oz cans for $27.99.
That's around $2.30 per serving.
On the other hand, for those who prefer non-carbonated energy drinks, C4 Energy also offers a 12-pack for $39.99.
This equals $3.30 per can.
CLEAN Cause Energy Drink
CLEAN Cause came to my attention through a Forbes article featuring an interview with its founder, Wes Hurt.
As a recovering addict and alcoholic, Hurt created this brand with a purpose beyond just providing a source of energy.
Half of CLEAN Cause's profits are dedicated to supporting individuals in their journey toward overcoming addiction and promoting a healthy, sober lifestyle.
No aftertaste.
No unhealthy list of ingredients.
Instead, this product is loaded with organic ingredients, such as stevia leaf extract, lime extract, yerba mate extract, and sugar cane.
And while most of the Clean Cause Sparkling Yerba Mate does have 30-60 calories per serving, you can find a zero-calorie version available in three flavors.
Flavors
Cherry Lime
Orange Ginger
Watermelon
Nutrition Facts
Serving size: 16 oz (473 ml)
Calories: 0
Carbs: 0 g
Sugar: 0 g
Sodium: 5 mg
Caffeine: 160 mg
Price
On Amazon, 12 packs cost $32.36 ($2.70 per serving) while the same 12 packs of separate flavors or mixes cost $35.95 ($2.99 per can) when purchased from the official site.
So if you're looking for a good deal and don't mind waiting for delivery, then shopping on Amazon is your best option.
Red Bull Energy Drink
You can have a Red Bull energy drink on Optavia, as long as you choose a sugar-free or Red Bull Zero version.
Although both of these products don't have sugar or calories, they do contain artificial sweeteners like sucralose and acesulfame potassium.
Despite artificial ingredients, I found that red Bull can be a good option for an occasional pick-me-up energy drink.
However, be mindful of the caffeine content in these drinks, as excessive consumption of caffeine can lead to negative health effects, such as disrupted sleep, dehydration, and jitters.
Nutrition Facts
Serving size: 8.4 oz (250 ml)
Calories: 10
Carbs: 2 g
Sugar: 0 g
Sodium: 105 mg
Caffeine: 80 mg
Price
Red Bull Sugar-Free and Zero are both available at varying prices, depending on where you purchase them.
Amazon sells 4 packs of 8.4 fl oz for around $7-8, whereas a single can of either drink for around $1.80 to $2.00.
In contrast, the 24-pack of the sugar-free variant can be purchased from Walmart for approximately $55, with each can costing around $2.30.
Target offers similar prices to Amazon.
Celsius Energy Drink
According to the Celsius website, their energy drinks are "clinically proven to function".
They offer the most variety from the list in terms of flavors, caffeine levels, and specific ingredients in their product line. 
(I mean, they have everything.)
From drinks made with artificial sweeteners to those made with all-natural sweeteners.
And even include branched-chain amino acids (BCAA) and L-citrulline.
Some products, like Celsius Heat, have a lot of caffeine. Each serving has 300 mg of caffeine.
Similarly to Optavia water infusers, each Celsius energy drink contains green tea extract (EGCG) to boost metabolism and burn calories.
And while I was impressed by the extensive list of vitamins and minerals, I was disappointed to find out that my favorite flavor – Live Fit – uses the artificial sweetener sucralose.
Please note that these are not calorie-free energy drinks.
Flavors
CELSIUM BCAA + Energy
CELSIUM-Stevia
CELSIUM Original
CELSIUM Heat
15 calories
10 calories
10 calories
15 calories
100 mg caffeine
200 mg caffeine
200 mg caffeine
300 mg caffeine
Blue Razz
Blood Orange Lemonade
Tropical Twist
Watermelon Berry
Grapefruit
Orange Pomegranate
Cucumber Lime

Fantasy Vibe
Mango Passionfruit
Peach Vibe
Kiwi Guava
Fuji Apple Pear
Mango Tango
Cherry Lime
Jackfruit
Blueberry Pomegranate
Inferno Punch
Nutrition Facts
Serving size: 12 -16 oz (355-473 ml)
Calories: 10-15
Carbs: 2 g
Sugar: 0 g
Sodium: 5 mg
Caffeine: 100-300 mg
Price
The price of a 12-pack of 16 oz Celsius Heat depends on the flavor, but it ranges from $23 to $27.
The 12-pack of 12 oz Celsius Original is a little more affordable, with prices starting at $19 and reaching up to $25 for some flavors.
For those who like a mix of energy and amino acids, you might like Celsius BCAA + Energy. It comes in a 12-pack of 12 oz and costs between $24 and $26.
Finally, for those who prefer their energy drinks to be sweetened with Stevia, they offer Celsius-Stevia.
However, it's the most expensive option and a 12-pack starts at $38, going up to $42 in some stores.