5 Optavia Approved Water Enhancers
Looking for a healthy and delicious drink to enhance your Optavia diet? You're not alone!
While Optavia offers calorie burn flavor infuser drink mixes, there are many more cost-effective options available.
I and my wife went on the search for the best water enhancers suitable for the 5 and 1 plan.
Needless to say, we've only included options that are sugar-free, and packed with electrolytes and vitamins.
Here's the lowdown on what are – in our opinion – top picks for the best water enhancers, all approved by Optavia.
Let's dive in!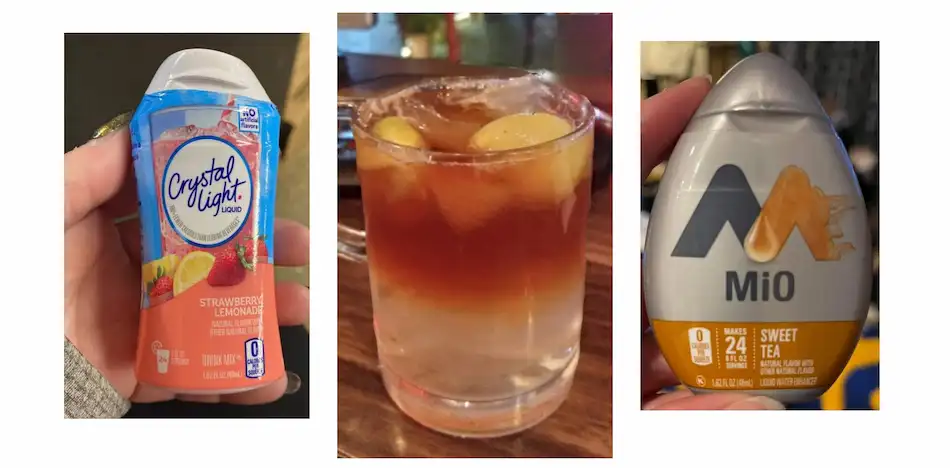 1. Stur Liquid Water Enhancer
Stur Liquid Water Enhancer is truly a game-changer for those who care about their health and following the Optavia diet plan.
Here's the photo of one of my most liked flavors – Fruit Punch.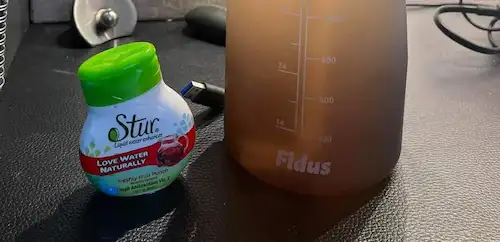 Unlike Optavia water infusers that are powder based, the Stur comes in the form of a liquid drink mix.
Crafted with only natural ingredients and sweetened with stevia, it provides delicious, fruity flavors without many drawbacks or artificial ingredients that can potentially halt your weight loss.
It also fits into various dietary restrictions as it is zero-sugar, keto-friendly, gluten-free, vegan, dairy-free, soy-free, paleo-friendly, and lactose-free.
How to use it?
Just point down, and squeeze to flavor your sparkling water, smoothie, yogurt, or even cocktails if you follow the 5 and 1 Optavia plan.
When it comes to flavors, the Stur Liquid water enhancers offer an impressive selection of twelve different options. (Yes, twelve!)
All of these choices have 0 calories per serving and provide a perfect way for those looking for a flavorful but calorie-free drink.
Flavors
Blueberry and blackberry
Peach
Grape Acai
Fruit Punch
Coconut Pineapple
Pomegranate Cranberry
Lemonade
Tropical Punch
Energy Mixed Berry (8-oz glasses of mixed berry water contain 40 mg natural caffeine)
Black Cherry
Price
(This is the best part.)
Unlike Optavia infusers, which cost around $0.90 per serving, Stur Liquid water enhancers cost $3.90 per bottle.
Each bottle has 24 servings ($0.16 per serving), making it very affordable to enhance your Optavia drinks.
You can order on Amazon a variety of 5 bottles for $19.76 (1 bottle $3.90), or look in Walmart for separate bottles with different flavors for $3.30.
2. Mio Liquid Water Enhancer
Mio's slogan says it all – bold flavor. zero sugar. zero calories.
According to Mio's website, they "give you the power to turn your water into the drink of your dreams".
What I like about this brand is that it gives several variations of water enhancers, based on your needs.
Some flavors are fortified with vitamins and minerals, whereas others are packed with taurine, guarana, ginseng, and caffeine.
Flavors
Here's the photo of two of my favorite MiO water enhancers.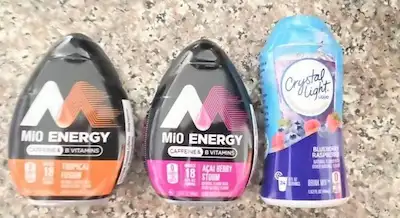 On the left, you see Tropical fusion and in the middle, you have an Acai berry storm.
All four variations of MiO are compatible with the Optavia plan, offering a range of choices based on personal preference for taste, sweetener, added caffeine, vitamins, or electrolytes.
MiO Original
This is a caffeine-free water enhancer with zero sugar and zero calories. It does contain acesulfame potassium and sucralose, which are both artificial sweeteners.
MiO Original is available in multiple flavors, such as:
Strawberry watermelon
Fruit punch
Cranberry raspberry
Sweet tea
Mango peach
Cherry blackberry
Lemonade
MiO Vitamins
According to the MiO website, the MiO Vitamins provide 10% of your Daily Value of Vitamins B3, B6, and B12.
Unlike MiO Original, MiO Vitamins is naturally sweetened and uses stevia leaf extract as a zero-calorie sweetener.
You can find three taste flavors:
Orange Tangerine
Orchard apple
Orange Vanilla
MiO Sport
This is a liquid supplement designed to enhance hydration during exercise with electrolytes, such as sodium, potassium, calcium, magnesium, and chloride.
It comes in four flavors:
Arctic grape
Berry blast
Orange
Lemon lime
MiO Energy
MiO Energy provides the same hydration benefits as MiO Electrolytes, with the added boost of 60 mg of caffeine per 8 oz serving, equivalent to a 6 oz cup of coffee.
Try at least one of these 8 flavors:
Wicked blue citrus
Black cherry
Tropical fusion
Green thunder
Strawberry pineapple smash
Acai berry storm
Price
The last time I've seen these in Walmart they cost around $3.18 per bottle. Each bottle has 18 servings, so the price is around $0.17 per serving.
Keep in mind that the pricing of Mio products may depend on the product line and flavor.
3. True Lemon Original Lemonade
Here's the photo of True Lemon Lemonade – one of the best water enhancers I've ever tried.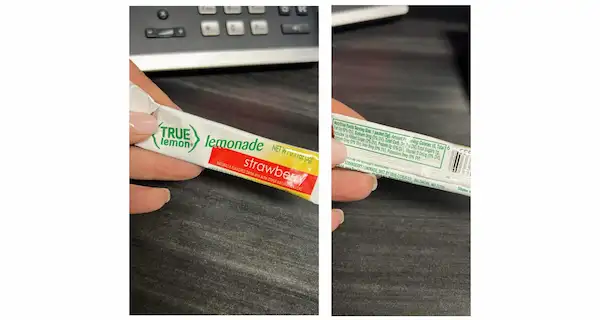 Unlike Optavia infusers, here you can actually taste its flavor, even if you mix it with 40 fl oz of water.
True Lemon has everything that you would expect from a non-GMO company.
Although it does have 10 calories per serving, it is made from real citrus and doesn't have any artificial sweeteners.
It uses cane sugar and stevia leaf extract as low-calorie sweeteners.
Flavors
True Lemon Fruit Infusions, available in a variety of delicious flavors:
Lemon Strawberry
Lemon Raspberry
Lemon Mint
Lemon Cucumber
Lime Cherry
Lime Coconut
For a citrus taste, you can find Crystallized Citrus Wedges with this flavor:
True Lemon
True Lime
True Grapefruit
True Orange
True Lemon Energy is sweetened with natural stevia products, which contain 120 mg of caffeine from green tea and vitamin C. With 4 amazing flavors:
Wild Blackberry,
Wild Cherry Cranberry,
Strawberry
Blueberry Acai
True Lemon Iced Teas are also sweetened with stevia and contain 10 calories and 40 mg of caffeine from premium black tea per 1 packet.
Also available in two tastes:
Price
I often buy True Lemon original lemonade either from Amazon or Walmart. Last time we paid somewhere around $2.24 per box, which included 10 servings.
This equals $0.22 per serving.
4. Crystal Light
I still remember a commercial from 1985 featuring Linda Evans doing aerobics in a gym and drinking Crystal Light.
Let's start by saying that you can have crystal light on Optavia, as long as you choose the calorie-free liquid drink mix version.
(Yes, they have many, many options.)
Here's the photo of my wife's favorite – Strawberry Lemonade.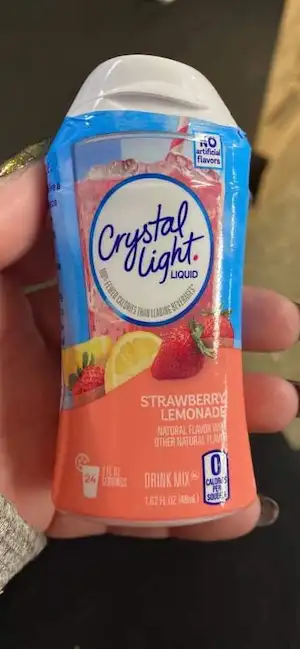 Although it says that this bottle has no artificial flavors, it does contain a combination of sweeteners like sucralose, aspartame, or acesulfame potassium.
And while my wife says it tastes okay, I find it has a slightly metallic taste.
This brand is recognized for its diverse selection of flavors, both naturally and artificially flavored.
Flavors
There are almost 40 flavors in the Crystal Light family of sweeteners. Here are some of them:
Cherry Pomegranate
Orange
Fruit Punch
Raspberry Ice
Strawberry Kiwi
Strawberry Orange Banana
Lemonade
Concord Grape
Raspberry Lemonade
Price
Crystal Light Classic Variety is available for $22 and comes in a box of 60 on-the-go packets, with each serving costing $0.37.
The cost of Crystal Light Liquid Water Enhancer varies between $3 and $8, depending on the flavor.
For example, tropical coconut or black cherry lime costs about $0.30 per serving, while strawberry lemonade costs about $0.13 per serving.
5. Propel Electrolyte Water Beverage
Propel water powder is another hydration solution that replenishes electrolytes lost through sweat, making it an essential drink for those engaging in physical activity while on the Optavia diet.
Additionally, Propel is fortified with Vitamin B and antioxidants Vitamin C and E, contributing to overall health and wellness.
For me, the most important is the fact that this water infuser has zero sugar and doesn't have an awful artificial aftertaste.
The powder packets are easy to use, simply mix one packet with 16.9 fl oz of water for a stronger flavor or with 20 fl oz of water for a lighter taste.
It's important to note that Propel is also caffeine-free.
Flavors
Berry
Grape
Kiwi Strawberry
Lemon
Raspberry Lemonade
Watermelon
Black Cherry
Price
Amazon offers more cost-effective options compared to those available at Walmart.
With Amazon, the cost per serving comes out to $0.24, while at Walmart it's $0.29 per serving.
This means that purchasing the Propel powder packets at Walmart will cost you
(You save 5 cents per serving.)