Are Optavia Products Kosher Certified?
If you are a fan of the Optavia diet and also follow a dairy-free lifestyle, this post is for you.
One aspect of Optavia's commitment to healthy living is taking steps to ensure their products adhere to kosher dietary laws, which are outlined in the Torah.
This includes obtaining certification and labeling from a certified Rabbi or other organization.
This way consumers know they are buying kosher products that abide by Jewish dietary laws and offer convenient, nutritious, delicious Fuelings that promote healthy habits.
Let's take a closer look at how Optavia meets these guidelines for compliance with kosher standards in the food industry, as well as why it is important for companies like Optavia to do so.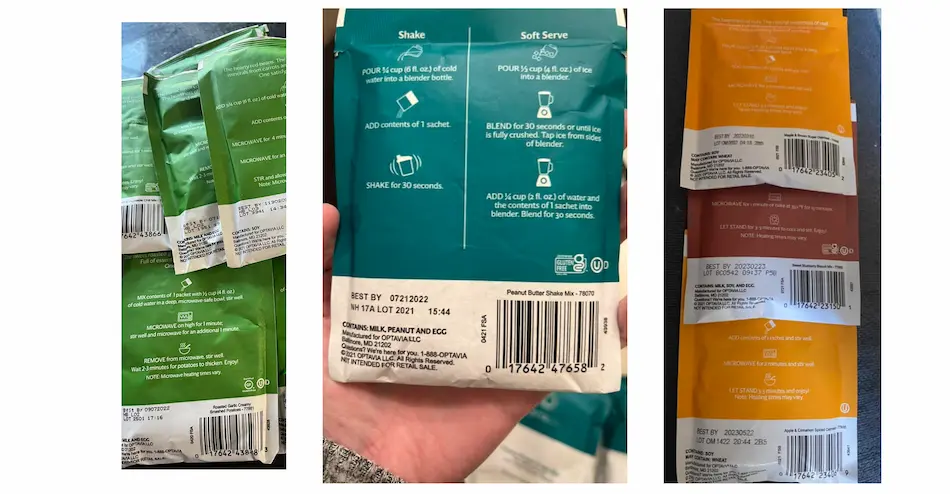 Optavia kosher certification and labeling
Although most of the Optavia fuelings have a kosher dairy certification symbol, this doesn't mean they are Kosher or Pareve.
(Kosher or Pareve means the food items are free from meat, dairy, and derivatives of meat and dairy.)
So as an Optavia customer, you can easily verify the kosher certification of Optavia products.
Products that are certified as kosher will have a symbol indicating the certification.
The "UD" symbol ensures that the product contains dairy or has been made on equipment that also processes dairy products.
According to the Orthodox Union (OU) kosher certification, an "UD" kosher product requires one to wait a specific period of time after eating meat before being allowed to consume the product.
Here's the photo of Optavia's dark chocolate cherry shake mix sachet.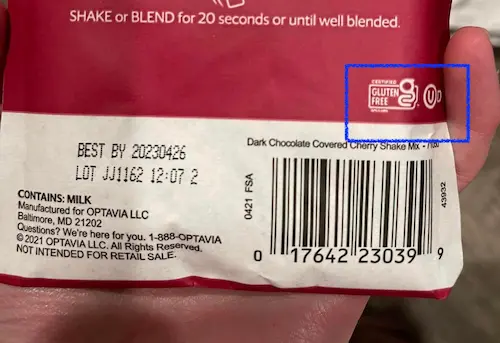 Just above the barcode, you can see the UD symbol, which indicates that it has been certified as a kosher dairy by the Orthodox Union organization.
Moreover, this type of product must not be heated with any vessel or cutlery that has been utilized for meat, as it may render them un-kosher.
So this makes it easier for people following a kosher diet to comply with Jewish dietary laws.
List of Optavia fuelings with kosher dairy certification
Optavia Bars
Campfire S'mores Crisp Bar
Caramel Delight Crisp Bar
Chocolate Cherry Ganache Bar
Chocolate Mint Cookie Crisp Bar
Cranberry Honey Nut Granola Bar
Creamy Double Peanut Butter Crisp Bar
Dark Chocolate Coconut Curry Bar
Drizzled Berry Crisp Bar
Drizzled Chocolate Fudge Crisp Bar
Frosted Cinnamon Spice Crisp Bar
Frosted Cookie Dough Bar
Honey Chili Cranberry Nut Bar
Raisin Oat Cinnamon Crisp Bar
Peanut Butter & Chocolate Chip Bar
Zesty Lemon Crisp Bar
Optavia Breakfast Style Fuelings
Golden Chocolate Chip Pancake Mix
Golden Pancake Mix
Optavia Crunchers, Poppers, and Sticks
Zesty Cheddar & Italian Herb Crunchers
Jalapeño Cheddar Poppers
Cinnamon Sugar Sticks
Honey Mustard & Onion Sticks
Optavia Desserts
Chewy Chocolate Chip Cookie Mix
Chocolate Fudge Pudding Mix
Cinnamon Cream Cheese Swirl Cake Mix
Decadent Chocolate Brownie Mix
Coffee Soft Serve Mix
Mint Chocolate Soft Serve Mix
Golden Butterscotch Blondie Mix
Sweet Blueberry Biscuit Mix
Optavia Drinks
Frothy Cappuccino Drink Mix
Velvety Hot Chocolate Drink Mix
Buttermilk Cheddar Herb Biscuit Mix
Cheesy Buttermilk Cheddar Mac
Honey Sweet Potatoes
Roasted Garlic Mashed Potatoes
Rustic Tomato Herb Penne
Sour Cream and Chive Mashed Potatoes
Spinach Pesto Mac & Cheese
Optavia Shakes
Caramel Macchiato Shake Mix
Creamy Chocolate Shake Mix
Creamy Vanilla Shake Mix
Dark Chocolate Covered Cherry Shake Mix
Mocha Shake Mix
Rich Dark Chocolate Shake Mix
Peanut Butter Shake Mix
Tropical Fruit Smoothie Mix
Wild Strawberry Shake Mix
Optavia Snacks
Puffed Ranch Snacks
Sharp Cheddar & Sour Cream Popcorn
Optavia kosher pareve products
Conversely, when a product displays the "U" symbol, it indicates that it does not contain any meat or dairy (nor any dairy or meat derivatives).
It also has not been produced on equipment that also processes dairy products.
Not all Optavia products have kosher pareve certification.
According to the information provided by Optavia, only 11 out of 70 of their products are kosher certified with the "U" symbol.
Here's the photo of Optavia Smoky BBQ Crunchers.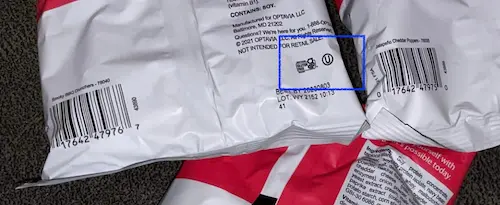 As you can see, the symbol, right next to the GFCO mark, shows this product has a kosher pareve certification.
So far, it's not clear how often Optavia products are inspected in their production facilities or if there is a kosher supervisor on staff at Optavia to ensure compliance.
Optavia Kosher For Passover
Passover is a special holiday for Jews that requires specific dietary regulations, such as avoiding leavened bread and other leavened products.
If you are preparing to purchase Optavia Fuelings during Passover, it is important to check the product's packaging.
Below I've listed all Optavia products that are kosher for Passover.
List of Optavia fuelings with kosher pareve certification
Cinnamon Crunchy O's Cereal
Maple & Brown Sugar Oatmeal
Apple & Cinnamon Spiced Oatmeal
Red Berry Crunchy O's Cereal
Smoky BBQ Crunchers
Red Bean & Vegetable Chili Mix
Homestyle Chicken Noodle Soup Mix
Puffed Sweet & Salty Snacks
Olive Oil & Sea Salt Popcorn
Mixed Berry Flavor Infuser Drink Mix
Strawberry Lemonade Flavor Infuser Drink Mix
So, are Optavia products suitable for a kosher diet?
Whilst some products may feature a kosher certification symbol, indicating that they are suitable for those on a kosher diet, others may not adhere to the same restrictions.
Always double-check the product's packaging (or the website) for any updates or changes regarding the list of ingredients and product descriptions.