Top Optavia Approved Frozen Pizza Brands
We've all been there – sticking to the same restrictive meal plan for the sake of losing just a few more inches around our waistline can feel tedious.
That's why it can be so rewarding for us when we find little ways to make those meal plans a little bit more enjoyable, without compromising on taste or nutrition.
I did my best to show you which frozen pizzas you can have on the Optavia diet that have the same portion control, low-calorie, and low-carb benefits that are seen in lean and green meals.
Let's explore for you – and for me too, how to enjoy a cheesy crust with all your favorite toppings, while still remaining focused on weight management and healthy living goals.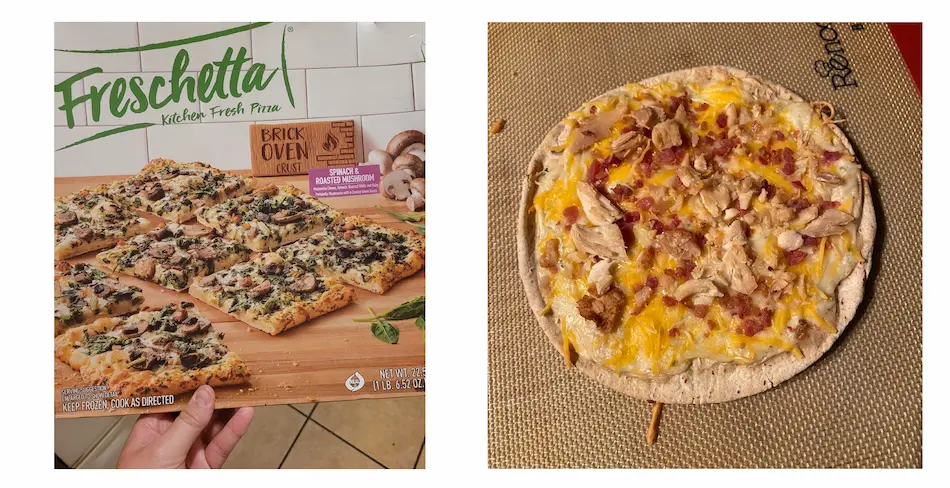 Does frozen pizza fit into the Optavia diet?
Yes and no.
According to Optavia guidelines, their Lean and Green meals are carefully crafted with the right ingredients.
They should contain between 250-400 calories, no more than 20 grams of total carbohydrate (ideally around 15 grams), 10-20 grams of total fat, and more than 25 grams of protein.
Unlike other frozen meals that are allowed on the Optavia plan, most frozen pizzas do not meet these standards.
The vast majority of frozen pizza dinners, even if labeled as "healthy" or "calorie reduced," still have way too many calories and not enough proteins to be considered a good lean, and green alternative.
Here's the photo of the nutritional label of the frozen thin-crust pizza from the company called Stonefire.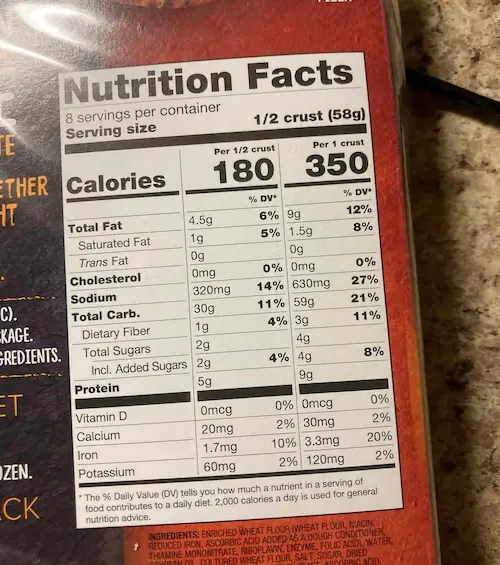 Although this pizza has 180 calories per serving, it only has 5 grams of protein and 30 grams of carbs.
So it is not sanctioned by Optavia's seal of approval.
Sure, it's okay to have an occasional free choice, especially if you're following the Optavia maintenance 3 and 3 plan.
But as someone who was following the Optavia 5 and 1 plan to the letter, I didn't want to screw my weight loss results by eating high-calorie fast food takeout or frozen pizza pies.
Fortunately, my wife and I managed to find brands that offer healthy frozen meals that can mimic Optavia portion-controlled meals.
What frozen meals can you have on Optavia?
The list below shows you 5 Optavia-friendly frozen pizzas that are low in calories, low in carbohydrates, and do not make you feel guilty for eating them.
These healthy frozen meals are a great option for those who are looking to maintain a balanced diet and manage their weight, while still enjoying the convenience of frozen food.
1. Cali'flour Foods Supreme Veggie Pizza
If one of my closest friends asks me about which frozen pizza to include in the 5 and 1 food list, I would say Keto Pizza Supreme Veggie from Cali'flour Foods.
It has a great taste from a combination of fresh veggies, including peppers, mushrooms, black olives, and spinach.
All of that is on a cauliflower crust, which makes it a suitable replacement for Lean and Green meals.
Plus, it's grain-free, gluten-free, and keto-friendly, so you can enjoy it without worrying about extra carbs.
Nutrition facts
Serving size: 1/2 pizza (138 g)
Calories: 260
Total Fat: 18 g
Saturated fat: 11g
Cholesterol: 65 mg
Sodium: 620 mg
Carb: 7 g
Sugars: 3 g
Protein: 19 g
To complete the nutritional value of the lean and green meals, I would suggest adding 5.3 oz of fat-free Greek yogurt for the side. It helps complete the source of carbs and protein, but at the same time doesn't increase the total fat level.
How to prepare supreme veggie pizza (use a vented pan)
Preheat oven to 450°F with a vented pan inside.
Remove plastic and cardboard discs from the pizza, and place them on the vented pan in the oven (not directly on the rack).
Bake for 15 minutes, remove, and let cool for 5-7 minutes.
Tips
Don't use the microwave (it gets soggy). Instead, place the pizza on a pizza stone, or directly on the oven rack.
If you use a baking sheet, first prepare it by spraying it with oil or lining it with aluminum foil and then spray the foil with oil.
Alternative flavors Cali'flour Foods frozen pizza
Classic Cheese – This mozzarella pizza, with a serving size of 1/2 pizza, contains 290 calories, 19g of fat, 8g of carbs, and 21g of protein, making it a suitable Lean option for a main meal.
Uncured Chicken Pepperoni – Another pizza variation that has 280 calories, 18g of fat, 8g of carbs, and 23g of protein. Here you have chicken pepperoni toppings and a cheese crust.
KETO Pizza Crusts This cauliflower crust is a great Optavia fueling alternative, with a serving size of 1/3 of the pizza. Each serving has 90 calories, 5g of fat, 3g of carbs, and 8g of protein.
2. 365 Whole Foods Market Cauliflower Crust Cheese Pizza
Another delicious and low-calorie substitute for Lean and Green meals is 365 Whole Foods Market Cauliflower Crust Cheese Pizza.
Thanks to the light and crispy cauliflower-based crust, this pizza has a nutty and slightly sweet flavor.
Even though the pizza already has a creamy mozzarella cheese topping, I often add extra grated cheese to enhance the taste.
Plus, it doesn't have any wheat, so it's an ideal option for people who combine Optavia and a gluten-free lifestyle.
Nutrition facts
Serving size: 1/3 pizza (113 g)
Calories: 220
Total Fat: 11 g
Saturated fat: 7 g
Cholesterol: 35 mg
Sodium: 480 mg
Carb: 16 g
Sugars: 3 g
Protein: 14 g
For your lean and green meals, choose 1/3 pizza as one serving size.
To make this frozen pizza dinner more nutrient-dense, I would add around 1 oz of chicken breast or choose one of the high-protein foods from the Optavia list.
How to prepare cheese pizza
Preheat oven to 425°F
Remove all packaging (including film) and add on top extra ingredients, which fill up nutrients
Place on a nonstick baking sheet (or use a vented pan).
Bake the pizza for 15-18 minutes, or until the crust is golden brown and the cheese is melted and bubbly
Tips
For a crispier crust, remove the pizza from the oven and let it cool for 1 minute before slicing and serving.
When baking this pizza, use a higher temperature, like 430-450 °F. This makes pizza less soggy and reduces cooking time.
365 Whole Foods Pizza which I don`t recommend
Although 365 Whole Foods manufacture many frozen pizzas, not all of them are actually suitable for the Optavia diet.
It's important to check the packaging and nutrition facts carefully.
Here is the list.
Thin Crust Pizza Uncured Pepperoni – This pizza contains 330 calories, 29g of carbs, 15g of protein, and 860 mg of sodium per serving. Needless to say, it exceeds the Optavia guidelines.
Thin Crust Pizza Supreme – This pizza has 310 calories, 30g of carbs, 14g of protein, and 780 mg of sodium. Again, way too much for Optavia 5 and 1 plan.
Rising Crust Pizza Four Cheese – Despite its small serving size, this last pizza features 360 calories, 46g of carbs, 14g of protein, and 750mg of sodium.
3. KETO Factory Italian Cauliflower Pizza Crusts
For Italian-style pizza lovers, Keto Factory has recently improved its frozen thin-crust pizza.
This pizza is made with cauliflower and lupin flour which ensures that it has a low-carb and low-calorie content while still having a crunchy base.
Mozzarella cheese, nutritional yeast, garlic, and Italian seasonings – make it not only delicious but also a nutritious part of the lean and green alternative.
Apart from its cauliflower base, this frozen meal is free of added sugar, soy, gluten, and preservatives.
Nutrition facts
Pizza crust
Serving size: 1/3 crust
Calories: 100
Total Fat: 4 g
Saturated fat: 1.5 g
Cholesterol: 5 mg
Sodium: 280 mg
Carb: 9 g
Sugars: 1 g
Protein: 8 g
Fat-free turkey breast
Serving size: 2 slices
Calories: 50
Total Fat: 0 g
Saturated fat: 0 g
Cholesterol: 10 mg
Sodium: 520 mg
Carb: 4 g
Sugars: 0 g
Protein: 10 g
Mozzarella fat-free cheese
Serving size: 1/4 cup
Calories: 45
Total Fat: 0 g
Saturated fat: 0 g
Cholesterol: <5 mg
Sodium: 280 mg
Carb: 2 g
Sugars: 0 g
Protein: 9 g
Since 1 serving size (1/3 crust) contains 100 calories, 9 grams of carbs, and 8 grams of protein, you can divide one package (3 serving sizes)
What's more, I use this frozen pizza as an Optavia Fueling substitute and as a Lean and Green meal, depending on the serving size.
For Lean and Green meals, use 1 serving size of pizza crust, and add 2 slices of fat-free turkey breast and 1/4 cup of fat-free shredded mozzarella.
Make sure to add 2 servings of healthy fat (if following the nutrition of the product that I mention)
For the Fueling alternatives, use 1 serving size.
How to prepare pizza
Preheat oven to 425°F
Remove the crust from the packaging and add another ingredient
Bake in the middle of the oven rack for 14 minutes (cooking time may vary) or until cheese is golden brown.
Tips
4. Quest Nutrition Protein Pizza Meat Lover's
Before you start screaming that Quest Pizza is not actually allowed on Optavia, I would encourage you to take a closer look at the nutritional label.
(Just hear me out on this one.)
While it is true that Quest Nutrition bars do not meet the specific guidelines set by Optavia, it is important to note that not all Quest products are created equal.
My wife and I carefully examined the nutritional label and we found that the Quest Thin Crust Pizza is loaded with 28 grams of proteins and 38 grams of dietary fiber.
Sure, one serving size has 340 calories and 950 mg of sodium, but if you ask me, that is still better than most of the other frozen pizzas available out there.
Nutrition facts
Serving size: 1/3 pizza (124 g)
Calories: 270
Total Fat: 18 g
Saturated fat: 7 g
Cholesterol: 45 mg
Sodium: 720 mg
Carb: 17 g
Sugars: 2 g
Protein: 22 g
How to prepare
Preheat oven to 400°F
Remove pizza from box, discard freshness wrap and tray
Place pizza on a baking sheet and bake for 21-23 minutes or until cheese is melted and starting to brown
Let stand for 3 minutes before serving
5. ZeroCarb Lyfe Buffalo Style Chicken Frozen Pizza
Zero Carb Lyfe is quite a new brand, but it is excellent in terms of high protein, really low carbs, and only 1 g of sugar as you can see from the nutrition facts below.
It is made from the original chicken crust topped with buffalo sauce, buffalo chicken breast, and mozzarella cheese, only a few ingredients but so yummy.
You can find this pizza on Schnucks Markets or just order from the official site (minimum of 4 pizzas to order).
Sure, their products are quite pricy.
You need to spend $59.00 for 4 frozen pizzas, which is $14.75 per pizza. (Way more than a regular lean and green meal.)
Nutrition facts
Serving size: 1 pizza (191 g)
Calories: 380
Total Fat: 21 g
Saturated fat: 11 g
Cholesterol: 140 mg
Sodium: 1410 mg
Carb: 5 g
Sugars: 1 g
Protein: 41 g
How to prepare
Preheat oven to 400°F
Remove the pizza from the packaging and cardboard circle and place the pan or cooking sheet on the center rack of the oven (not directly on the rack).
Bake for 15 minutes or until the cheese is golden brown.
Let stand for 3 minutes before serving.
How to choose Optavia approved frozen pizza
Didn't find the frozen pizza that you like?
No problem.
Below I shared some useful and practical tips on how to find low-calorie frozen pizzas on your next grocery shopping trip.
Don't shop online
I've seen a number of negative reviews on Amazon or Walmart about people's experience with the delivery of frozen meals.
For obvious reasons.
Frozen pizzas have to be frozen.
If they are not, the product gets soggy and (what's more) may not be safe to eat.
And, while the manufacturer may do everything they can to ensure the best value, the delivery team may not share the same enthusiasm for the quality service, so to speak.
Instead of shopping online, choose your local shops.
Read the nutrition label
The first thing I do when I grab a frozen pizza is to check the calorie count and serving size before making my selection.
If the product has more than 400 caloires and less than 20 grams of protein, I don't take it.
If you are looking for frozen pizza as your fueling alternative, that's a different story.
Look out for products that have 100 caloires (or less), and ensure to have more or less 10 grams of protein.
Plus, opt for frozen pizzas that have a balance of carbohydrates, proteins, and healthy fats.
This can keep you feeling full and satisfied.
Watch out for hidden sugars
While the front of the frozen pizza package may list all its best features like "gluten-free" or no GMO", it won't disclose most of the details, such as added sugars.
Some frozen meals may be high in added sugars, which can contribute to weight gain. Look for meals with low amounts of added sugars.
For these, you need to turn the package and read the label.
It's common to see companies highlight only the best ingredients to grab our attention while hiding some of the ingredients that could potentially change our minds.
Look for the ingredient list
As much as possible, try to avoid any products that are loaded with artificial ingredients, such as food colorings, flavors, and preservatives.
Less is better.
Choose meals that are made with whole, natural ingredients rather than processed ones.
Watch the serving size
Not all frozen pizza meals are created equal. Look for the portion size and ensure you're getting the right deal.
When selecting a frozen pizza, pay close attention to the nutrition information provided – both per package and per serving.
Consider portion sizes as some meals may contain multiple servings, to ensure you are accurately keeping track of your calorie intake.