13 Optavia Mac and Cheese Hacks you must try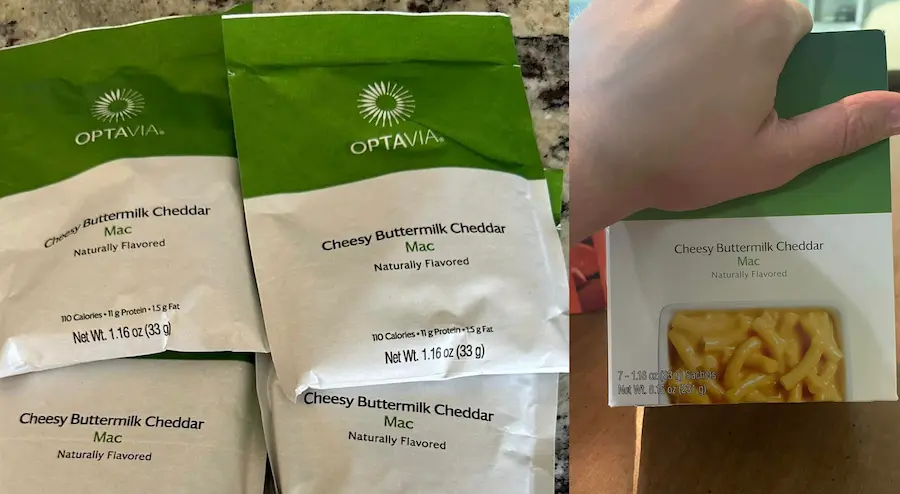 Are you tired of eating bland and boring meals while on the Optavia diet? Do you crave comfort foods like mac and cheese but don't want to derail your progress? Well, I have a solution for you!
In this article, I will share my Optavia fueling mac and cheese hack that will not only make it taste better but also add some much-needed variety to your daily meals. With a few simple tweaks, you can enjoy a delicious and guilt-free version of this classic dish.
Say goodbye to boring meals and hello to a new and improved mac and cheese recipe that will satisfy your cravings without sabotaging your weight loss goals. Let's get started!
1. Optavia Mac and Cheese Pie Hack
To elevate your mac and cheese, try the Cheesy Buttermilk Cheddar Mac hack. It's simple and less complicated than the waffle hack. This is the first hack to try.
To make this Optavia mac and cheese hack, you'll need 1 fueling, which you need to grind into a powder using a blender or food processor. Once you have your fueling powder, mix it with 2 Tbsp of water and 2 Tbsp of egg whites to make a smooth batter.
Now, it's time to add flavor to the batter. You can add some lean breakfast sausage for some protein or any other ingredient of your choice from the lean part of the lean and green meal.
Then, then divide the light laughing cow cheese wedge into pieces, add to consistency, mix, and pour into the pie maker.
Let the pie maker do its magic and cook the mac and cheese until it's golden brown on top and fully cooked in the center.
The result is a crispy and cheesy mac and cheese like in the photo below that's both satisfying and nutritious.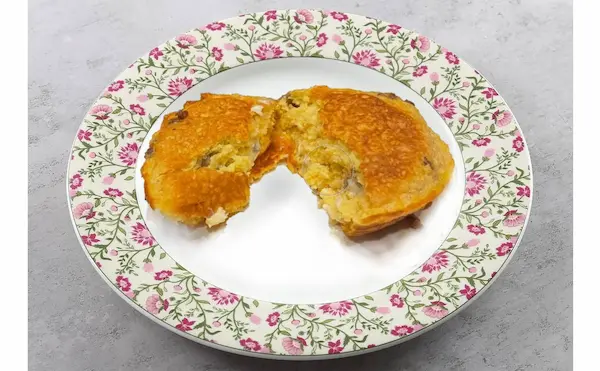 This hack is perfect if you're short on time but still want to enjoy yummy fueling. Plus, it's a great way to add different toppings that you like.
Trust me, you won't be disappointed! Give it a try and let me know what you think.
2. Optavia Mac and Cheese Cupcake Hack
Another is a simple yet delicious hack to upgrade your mac and cheese fueling game. All you need is one mac and cheese sachet, some water, and a cupcake tin.
To begin, mix 1 Buttermilk Cheddar Mac sachet with 3 Tbsp of water, including the noodles, in a bowl. Once the mixture is well combined, pour it into one section of the cupcake tin. If you're making multiple servings, better to mix each one individually.
Now, bake the mac and cheese cupcakes in the oven at 350 degrees for 18-20 minutes until they're fully cooked or look like shown in the photo: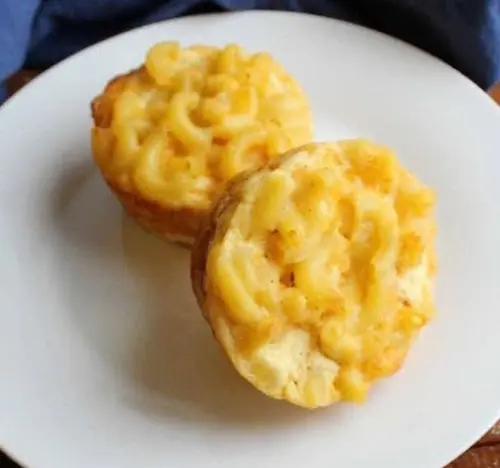 To store your baked goods, place them in the fridge, and they'll stay fresh for a few days. When you're ready to eat, simply top your mac and cheese cupcake with a light laughing cow cheese wedge, and microwave it for 20 seconds to melt the cheese.
If your cupcake is crunchy, let it sit for a bit longer to allow the noodles to soften up.
Use a cooking spray for this hack to avoid sticking.
This hack also works for different feelings as Rustic Tomato Herb Penne, Homestyle Chicken Noodle Soup, Buttermilk Cheddar Herb Biscuit, or Roasted Garlic Mashed Potatoes fuelings. Therefore, if you have at least one of these fгelings, try it!
3. Optavia Cheesy Buttermilk Cheddar Mac Waffle Hacks
Are you ready to indulge in a mouthwatering waffle experience that will leave you craving for more?
Don't let any horror stories about Mac and Cheese waffle hacks deter you, because, with a little perseverance, you'll be able to master this recipe in no time!
It was a small challenge for me too! But in the photo, you can see the result.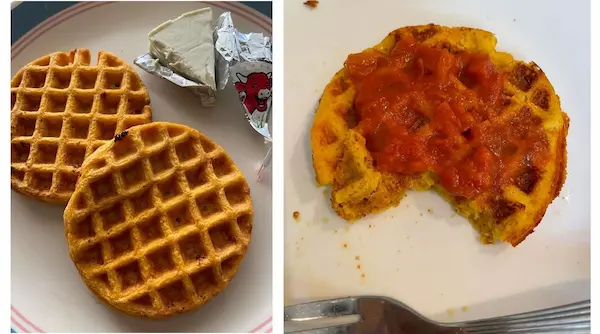 1 packet of Mac and Cheese fueling
1/2 cup of water
1 egg white
Preheat your mini dash waffle maker and spray it with cooking spray. This will help prevent the waffles from sticking.
Mix the Mac and Cheese packet with water in a bowl. This may seem like an unconventional waffle batter, but trust me, it works!
Microwave the mixture for 1 1/2 minutes, then let it sit for 1 minute. After that, microwave it for an additional minute. This will help the mixture come together and form a more waffle-like texture.
Let the mixture stand for 10 to 15 minutes, so it cools down a bit before you add the egg white. Then, whisk in the egg white. This will add some extra protein and help the waffles become fluffy.
Pour half of the batter into the mini dash waffle maker and cook for 3 to 4 minutes. Use a fork to carefully lift the waffles from the waffle maker once they're ready.
Spray the waffle maker again with cooking spray and pour the rest of the batter in. Cook for another 3 to 4 minutes.
Voila! You now have two delicious Mac and Cheese waffles that will satisfy your cravings.
For additional taste, you can sprinkle a little garlic powder on top of the waffles and add a teaspoon of organic tomato sauce for each waffle (photo 2).
Also, depending on the mini dash, the results can be different. If you still have problems, try using 1/3 cup of water instead of 1/2 cup. As I said challenge!
4. Optavia Mac and Cheese Waffle with Garlic and Herb cheese
To prepare a waffle meal like in the photo, you will need a few ingredients: a Laughing Cow Garlic and Herb cheese wedge, 1 sachet of Mac & Cheese fueling, garden veggie seasoning, and hot water.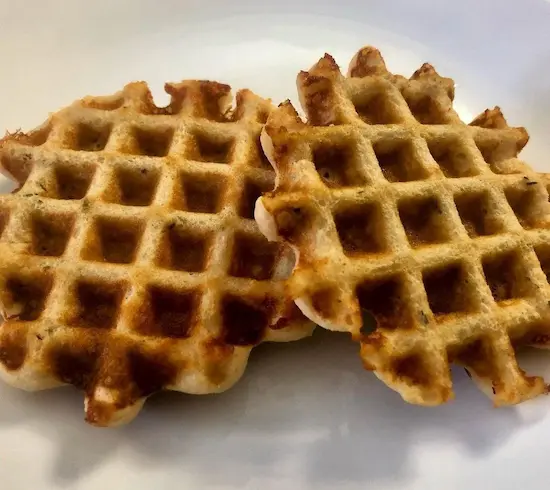 Here is a waffle hack with Garlic and Herb cheese wedge:
Microwave a Laughing Cow Garlic and Herb cheese wedge for 30 seconds
Grind up Mac & Cheese in a coffee grinder and add some garden veggie seasoning to the powder and mix well
Add the seasoned Mac & Cheese to the melted cheese and mix everything together thoroughly
Add hot water to the mixture (around 1/3 cup), and mix until you reach the consistency you want
Cook two waffles in a preheated waffle maker for 4 minutes each or in the air fryer at 350° for 20 minutes (for more crunchy variation)
To make it even tastier, put it in the waffle maker along with a little bit of green salsa mixed in it (try without cheese too)!
5. Optavia Buttermilk Mac & Cheese with Red Bean & Vegetable Chili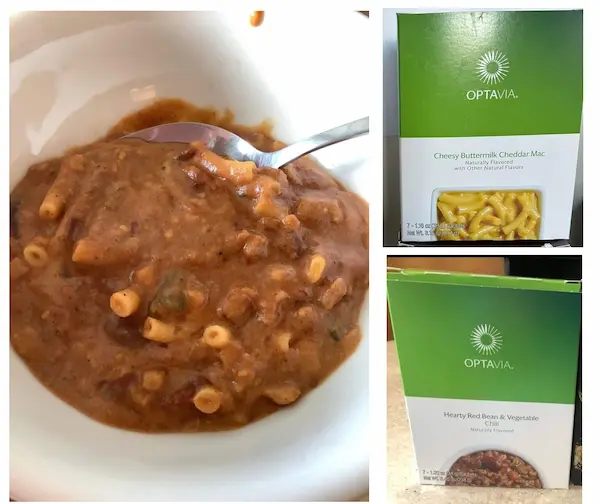 If you haven't tried this hack already, let me tell you about another delicious mix-up that you're sure to find tasty.
This combo of Buttermilk Mac and Cheese and Red Bean and Vegetable Chili combo will warm you up and satisfy your taste buds.
Here's what you'll need to cook:
1 package of Buttermilk Mac and Cheese
1 package Red Bean and Vegetable Chili
1/2 cup of water for Mac and Cheese (+2 Tbsp)
3/4 cup of water for Red Bean and Vegetable Chili Mix (+1/3 cup)
Pickled jalapeños (optional)
Chili flakes (optional)
Cayenne pepper (optional)
Here are the instructions.
Prepare the Mac and Cheese by microwaving it as directed on the package, but add an extra 2 Tbsp of water. After letting it sit in the microwave for 10 minutes.
While the mac n cheese is in the microwave, cook the Hearty Red Bean Vegetable Chili on the stove with 1/3 cup more water than what is called for on the package. Let it cook for 15 minutes (for the best flavor, allow the chili mixture to soak for a few hours before cooking it on the stove)
Mix the mac n cheese and chili together
Add some pickled jalapeños for some extra heat.
Add a teaspoon of chili flakes for a bit of zing.
If you want an extra kick, give it a shake of cayenne pepper.
Separate them into two portions (since it's 2 fuelings together)
6. Optavia Cheesy Buttermilk Cheddar Mac Cracker Hack
Are you in the mood for something crunchy? How about some crackers paired with mac and cheese fueling? Or if you have
You might be thinking that this sounds like a difficult hack, but let me assure you, it's not! In fact, it's quite the opposite.
Just always keep an eye on the clock while cooking and better to set the cooking time! Not to be in trouble like me once. As a result, you can enjoy crackers like below: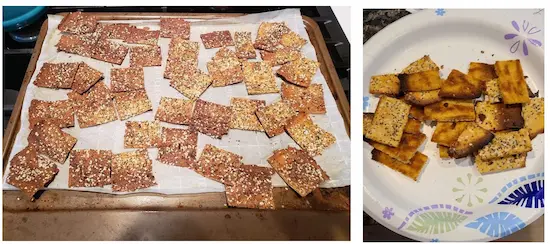 Here's a step-by-step guide to making crackers out of your mac and cheese fueling:
Preheat your oven to 350 degrees Fahrenheit.
Take and pulverize mac and cheese fueling it until it's smooth.
Add 2 tablespoons of water to the fueling and mix until it's fully combined.
Prepare 2 sheets of parchment paper and spray them with cooking spray to prevent sticking.
Place the fueling mixture between 2 parchment papers and use a rolling pin to roll out and flatten it out to your desired thickness.
Once flattened, remove the top layer of parchment paper and add your preferred seasoning if desired
Place the parchment paper onto a baking sheet and bake for 15 minutes
Flip the cracker over, cut it into small squares or rectangles, and bake for an additional 5-10 minutes until they're crispy and golden brown
These homemade crackers are a fun and delicious way to use up leftover mac and cheese fueling. Plus, they taste just like cheese-its!
7. Optavia Mac and Cheese Hack with Mushrooms
I recently discovered a delicious new twist on my classic Mac n Cheese recipe by adding some fried portobello mushrooms like in the photo below.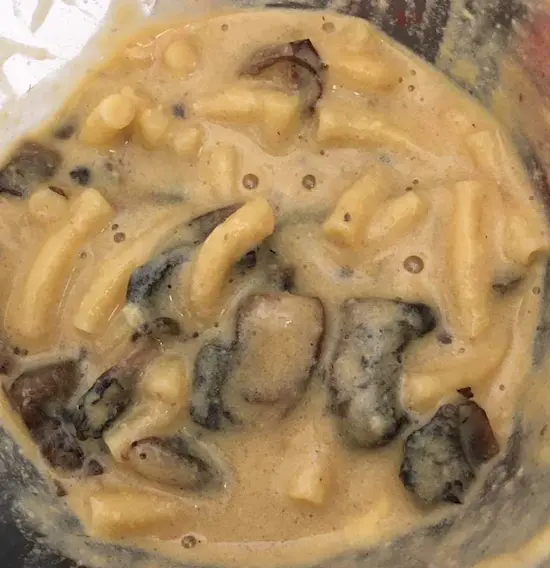 To prepare, I simply sliced the mushrooms and cooked them in a pan with some cooking spray and a tiny dash of garlic powder for added flavor.
Then, I cooked the Mac and Cheese according to the package instructions and mixed in the cooked mushrooms.
On a different day, I decided to change things up again by adding some spinach to my Mac and Cheese and mushrooms. I simply sauteed the spinach in a pan with mushrooms, then added it to my cooked Mac n Cheese.
These additions add a new dimension of flavor to the dish and make fueling less boring. Just remember to cut vegetables from your Lean and Green meal. So why not try out these simple variations to elevate your Mac and Cheese?
8. Optavia Cheesy Buttermilk Cheddar Mac Muffin Hack
Here's a surprising recipe for Cheesy Buttermilk Cheddar Mac that I found on the internet and was initially skeptical about, but turned out to be quite tasty, especially when you have more than one Fueling to spare.
Here are the steps:
Ground up 4 packages of Mac and Cheese in a food processor.
Boil 1 cup of water and pour it into the food processor.
Add 1/2 tsp powdered garlic and 1/2 tsp baking powder or another herb to the mixture and blend it all together.
Let the mixture sit for 20 minutes to soften the noodles.
Preheat your oven to 350 degrees and spray a brownie pan with cooking spray.
Fill 8 muffin cups with the mixture and add 2 Tbsp of lite sharp cheddar spread between the 8 cups (that's 1/2 fat per fueling).
Bake the muffins in the oven for 20 minutes.
Enjoy the muffins warm or refrigerate the leftovers and microwave for 15 seconds when ready to eat.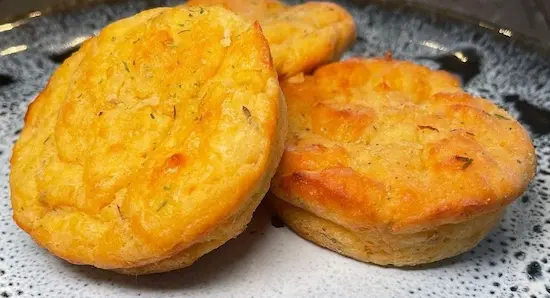 Each serving of two muffins is one fueling, 1/2 healthy fat, and 1/4 condiment. Give it a try and see if it becomes your new favorite way to enjoy Mac and Cheese.
9. Optavia Mac and Cheese Pizza Hack
Are you a fan of crispy crust pizza with customizable toppings? Well, I've got a mac and cheese hack for you that lets you do just that!
What I like about pizza hack, is that you can fill your pizza with your favorite ingredients, whether it's classic pepperoni, breakfast sausage, savory ground chicken or turkey, or even a simple tomato sauce and cheese combo.
Here's how you can make it happen:
Start by grinding up some mac and cheese to a fine powder
Then adding 3 Tbsp of water to create a dough-like consistency
Place two heaps of the mixture onto a sprayed piece of parchment paper and add another sprayed piece on top
Use a cup or bowl to flatten it out.
Bake the crust at 400°F for 10 minutes, flip it over, and then bake for another 5 minutes.
Once the crust is ready, you can add your desired toppings!
In my case, I went for a classic combo of plain Rao's tomato sauce, a sprinkle of Feast mode pizza parmesan seasoning, turkey pepperoni, and skim mozzarella cheese.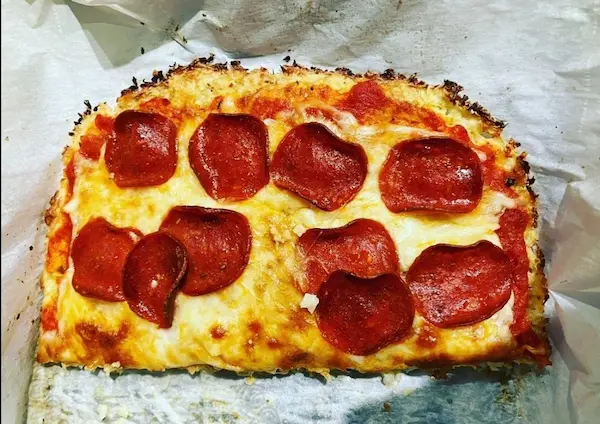 So, if you're feeling adventurous and want to try something new for your next pizza night, give this mac and cheese crust pizza a go!
Only one thing to remember count your ingredient as condiments, part of lean or green, and healthy fat!
10. Optavia Fast Hack for Mac and Cheese Fueling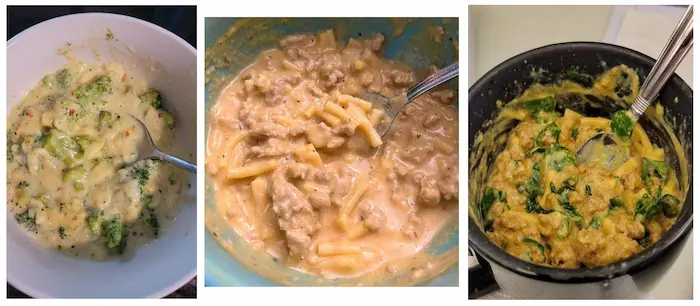 If the previous hacks seem too time-consuming or challenging to prepare, you can opt for quick solutions to enhance the taste of Mac & Cheese Fueling.
The concept is to incorporate additional ingredients with different flavors while keeping the cooking method almost the same.
This way, you can achieve an improved outcome without much effort.
As a tip for all three methods, you can also add laughing cow cheese and jalapeno to make this hack even more delicious. 
11. Optavia Mac and Cheese Broccoli Soup Hack
The Optavia Mac and Cheese broccoli soup hack is a method that teaches you how to transform the traditional Mac and Cheese fueling into a rich and creamy broccoli cheese soup using a mini crockpot.
The following are the cooking instructions.
Put mac and cheese fueling in a mini crock pot from Amazon with 3/4 cup water for about 1 1/2 hours.
Add some chopped-up broccoli and red pepper flakes to make it like broccoli cheese soup.
To have it for work the next day, make it the night before in the crock pot and take it in a container to reheat.
12. Optavia Mac and Cheese with Turkey
The Optavia Mac and Cheese with Turkey hack is a method for preparing Optavia fueling. This involves adding more water than suggested by the standard instructions, seasoning according to personal preferences, and integrating ground turkey as a component of a balanced Lean and Green meal.
The following is the step-by-step instruction on how to make Optavia Mac and Cheese with Turkey hack.
Take Optavia fueling and use 1/4 cup more water than recommended and mix.
Microwave for 5 1/2 minutes, stirring at the 1/2 and letting it sit for a few minutes afterward.
Add seasoning of choice, such as Flavor God Pizza seasoning or chili.
Include 3 oz of ground turkey and mix it together
13. Optavia Buttermilk Cheddar Mac with Tuna
The tuna adds a delicious flavor and a boost of protein to the already savory and creamy mac and cheese.
Prepare mac and cheese according to the packet directions. Let it sit if you have time
Mix in 3 oz of warmed tuna, packed in water, and drain
Add also spinach for this hack, but it can be optional
Enjoy the new and tasty fueling that this creates. As you can see it is easy to add a new flavor. Try also different proteins as part of Lean and Green.
How Do The Optavia Mac and Cheese Hacks Compare To Other Optavia Shake Hacks?
Optavia mac and cheese hacks focus on adding savory ingredients like vegetables and lean proteins to enhance the flavor and make it more satisfying. On the other hand, Optavia shake hacks aim to create a sweet treat by adding sugar-free syrups or blending with ice to make it more dessert-like.
The main difference between the two is that mac and cheese hacks are savory and meal-like, while shake hacks are sweet and dessert-like. Both types provide variety and allow individuals to personalize their diet.
What Are The Best Optavia Savory Hacks?
The best Optavia savory hacks are Optavia mashed potato hack, which involves transforming the Optavia Mashed Potato Fueling into comforting soups, adding in a healthy twist by making zucchini pancakes, or creating delicious potato puffs for a snack.
What Are The Tips For Making Optavia Mac and Cheese Fueling Hacks?
These are the tips for making Optavia mac and cheese hacks.
For a thicker, creamier cheese sauce, follow the package instructions, then let it sit in a thermos for 4-5 hours.
Enhance your Mac and Cheese fueling with a wedge of Laughing Cow cheese.
Introduce some heat with diverse sauces such as green salsa, jalapeno, buffalo, hot sauce, or red pepper flakes.
Boost the cheesiness by sprinkling shredded cheddar or grated Parmesan cheese on top.
Mix in some veggies like broccoli, green beans, cauliflower, mushrooms, or spinach for added flavor.
Experiment with a blend of vegetables, various kinds of cheese, plain Greek yogurt, and spices or sauces.
If you have some interesting ideas, or questions, or want to share the result, you can always jump in and comment!