Optavia Vegetarian Guide: A Closer Look
Are you a vegetarian wondering if Optavia is a viable weight loss option for you?
In this article, we will explore the topic of vegetarians and Optavia and examine the availability of vegetarian options.
We gonna look at the potential health benefits (and drawbacks), and how to make sure you are getting all the necessary nutrients on a meatless Optavia plan.
We will also cover key topics such as protein, meal plans, dietary restrictions, shakes, supplements, nutrient needs, and more.
Whether you are new to the world of plant-based diets or a seasoned pro, this article will provide valuable information on how to make Optavia work for a vegetarian lifestyle.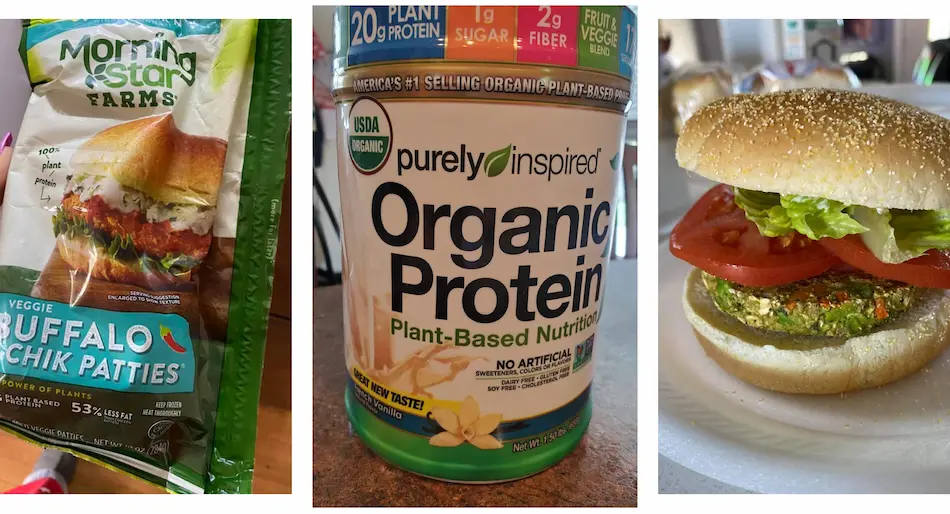 Benefits
The Optavia 5 and 1 plan is already designed to help you reach your weight loss goals relatively quicker than other traditional diets.
In a meta-analysis published in the Obesity Reviews Journal, "programs that involve replacing meals with other food led to more weight loss than programs where people just try to lose weight on their own."
Portion control is key for success, but adding meatless options may offer extra benefits.
Below is the list of potential benefits of following a vegetarian diet with Optavia.
Weight loss
As someone with experience following a plant-based meal plan, I can attest to how much easier it is to create (and maintain) a calorie deficit.
I often feel more satisfied and less hungry throughout the day when my meals are packed with green, high-fiber, and high-protein plant-based foods, rather than processed carbohydrates.
But don't take my word for it.
A study with more than 10,000 people showed that those who ate plant-based diets had a lower intake of energy, total fat, and saturated fat, compared to those who did not eat plant-based diets.
So it is probably true that if a person changes to a plant-based diet, they will likely weigh less.
Heart health
Studies have found that plant-based diets, especially when rich in high-quality plant foods such as whole grains, fruits, vegetables, and nuts, are associated with lower risk of cardiovascular outcomes and intermediate risk factors.
However, keep in mind that most of the Optavia recommended meatless options don't include whole foods, but rather processed meat alternatives.
Environmental sustainability
Another benefit of following a vegetarian diet with Optavia is that it can be more environmentally sustainable.
According to the article published in the Nutrients Journal, "plant-based diets require fewer resources and generate fewer greenhouse gas emissions than meat-based diets."
This means that following a meatless diet with Optavia can not only benefit your personal health but also have a positive impact on the environment.
Drawbacks
Although going plant-based can be a great way to improve overall health, there are some potential drawbacks to consider.
The vegetarian diet and Optavia meatless meal plan are not necessarily the same.
Processed food
While Optavia provides a list of meatless options for their lean and green meals in their vegetarian information sheet, most of these options are store-bought meat alternatives, such as:
Veggie patties
Veggie burgers
Sausage links
Steak strips
The majority of these mass-produced plant-based meat substitutes contain food additives and are classified as ultra-processed food.
Here's the photo of Morning Star Farms' meatless meatballs nutrition label.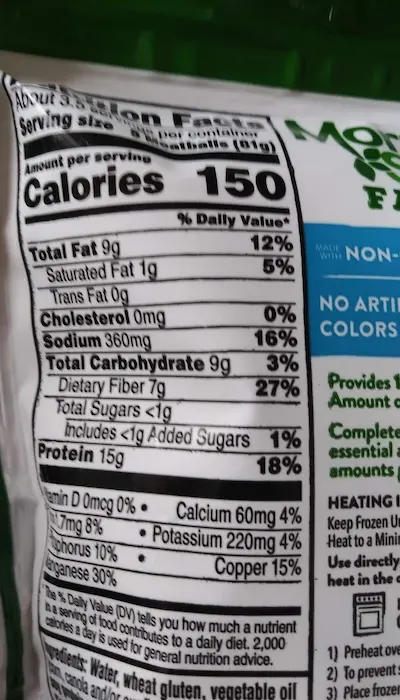 According to its nutritional label, it contains 22 ingredients, including food colorings, flavors and additives, such as methylcellulose.
According to the article published in the Journal of the American College of Cardiology, "plant-based diet can help prevent coronary heart disease. But if the diet is mostly processed foods, it will not work as well."
In other words, this study underlines the importance of choosing healthy plant-based foods over unhealthy processed options.
"A diet that includes a lot of healthy plant foods is linked to a lower risk of CHD. But a diet with mostly unhealthy plant foods is linked to a higher risk of CHD," states the journal.
Risk of nutrient deficiencies
It's important to remember that a vegetarian diet requires a bit more thought and planning to ensure all necessary nutrients are being consumed.
Iron
For example, iron is commonly found in meat, so vegetarians will need to find alternative sources such as lentils, chickpeas, beans, and fortified cereals.
The problem is that neither beans, lentils, nor chickpeas aren't allowed on the 5 and 1 plan.
To make sure you're getting enough iron on a vegetarian Optavia plan include leafy greens (such as spinach and kale) in your lean and green meals.
I like to take vitamin C supplements as studies have shown that ascorbic acid facilitates iron absorption.
Vitamin B12
Plus, vitamin B12 is mostly found in animal products, so you may need to consume B12-fortified foods or take supplements.
Talk with your doctor or dietitian. They may recommend taking vitamin B12 if you are not getting enough from your diet.
Omega 3
And don't forget about DHA and EPA omega-3, an essential fatty acid that is typically found in fish.
To make it work you would need to consume plant-based foods, such as seaweed, nori, spirulina, and chlorella, or take supplements.
Here's a photo of my favorite seaweed snacks.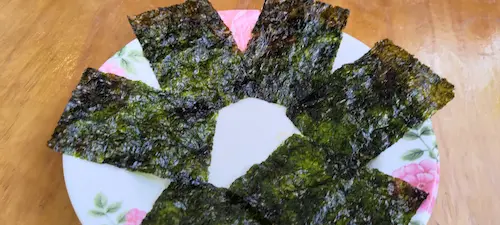 Although they are not particularly satisfying, they can be rich sources in EPA and DHA.
Eating out
It is tough enough for vegetarians to eat out but if you want to stick to a meatless Optavia meal plan, dining out can be a total nightmare.
You just have to hope that wherever you go, there will be something available for you.
(I was stuck with salads and side dishes most of the time.)
It's rare to find tasty and vegetarian-friendly dishes at places like Chick-Fil-A or Chipotle.
Needless to say, it was quite a challenge.
Can vegetarians lose weight on Optavia?
If you're following a vegetarian diet and trying to lose weight with Optavia, it may require additional effort and planning.
I know from experience that a vegetarian diet can be healthy, but only if it is done right.
According to American Heart Association, "if a person does not plan their vegetarian diet carefully, they might not get all the nutrients they need."
The AHA states that "if a vegetarian diet includes a lot of processed foods, sugar, and saturated fats, it could lead to weight gain and increase the risk of chronic diseases."
Vegetarian options on Optavia
Optavia is a weight loss program that leverages meal replacement products like shakes, bars, and cereals in combination with one homemade meal.
To make it work, you need to select dairy-free and/or egg-free Fuelings.
According to the Optavia guide, these foods provide the right nutrition at every stage of the journey and are also nutrient-dense, portion-controlled, and nutritionally interchangeable.
You also need to choose meatless options for lean and green meals.
Here's the photo of my variation of a Lean and Green veggie burger (without a bun).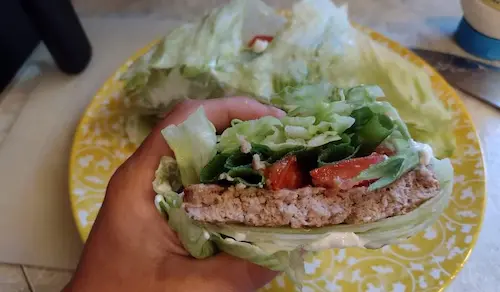 It has a MorningStar Farms Veggie burger, together with tomato, lettuce, and spring onions.
I usually have two of these as my lean and green meal.
Optavia Fuelings without eggs or dairy
Of the 70 Fuelings, 5 are suitable for vegans and vegetarians as they don't contain either milk or eggs.
These include:
Cinnamon Crunchy O's Cereal
Red Berry Crunchy O's Cereal
Maple & Brown Sugar Oatmeal
Apple & Cinnamon Spiced Oatmeal
Smoky BBQ Crunchers
Optavia Fuelings without eggs but with dairy
Below you can find the list of 24 fuelings that contain only milk but they don't have any eggs.
Optavia Bars
Caramel Delight Crisp Bar
Chocolate Mint Cookie Crisp Bar
Creamy Double Peanut Butter Crisp Bar
Drizzled Chocolate Fudge Crisp Bar
Frosted Cookie Dough Bar
Peanut Butter & Chocolate Chip Bar
Optavia Crunchers
Zesty Cheddar & Italian Herb Crunchers
Jalapeño Cheddar Poppers
Cinnamon Sugar Sticks
Honey Mustard & Onion Sticks
Optavia Shakes and Drinks
Creamy Chocolate Shake Mix
Creamy Vanilla Shake Mix
Dark Chocolate Covered Cherry Shake Mix
Mocha Shake Mix
Rich Dark Chocolate Shake Mix
Wild Strawberry Shake Mix
Frothy Cappuccino Drink Mix
Velvety Hot Chocolate Drink Mix
Optavia Hearty Choices
Cheesy Buttermilk Cheddar Mac
Honey Sweet Potatoes
Rustic Tomato Herb Penne
Spinach Pesto Mac & Cheese
Optavia Dessert Style Fuelings
Chewy Chocolate Chip Cookie Mix
Chocolate Fudge Pudding Mix
Vegetarian options for the Lean & Green meal
Another step to make your plant-based diet work is to opt-in for meatless options for your lean and green meals.
For the best chance of reaching your weight-loss goal sooner:
Keep in mind that many vegetarian options tend to provide more carbohydrates than a typical serving of meat.
For this reason, I suggest you choose Optavia approved meatless options that have lower carbohydrates.
I also recommend choosing the lean options that are low on carbs and higher on those that have
The table below shows the leanest, leaner, and lean Optavia meatless options.
The column on the right shows food items with a quantity equivalent to one serving needed for your lean and green meal.
The column on the left indicates the number of carbs that each of these food items contains.
Leanest options
Carbs
ONE serving size
Low
14 egg whites
2 cups (16 oz) liquid egg substitute
2 cups (16 oz) liquid egg whites
5 oz. seitan
Medium
6 MorningStar Farms Veggie Breakfast Sausage Links
3 MorningStar Farms Veggie Sausage Patties (Original)
18 MorningStar Farms Meal Starters Chicken Strips
18 MorningStar Farms Meal Starters Steak Strips
High
15 Yves Veggie Cuisine Veggie Turkey Slices
12 oz. non-fat (0%) plain Greek yogurt
1 cup (165g) Lightlife Smart Ground Plant-Based Crumbles
1 1/4 cups (145g) Gardein Plant-Based Ground Beef
1 cup (165g) Trader Joe's Beefless Ground
1 1/2 cups (165g) Quorn Meatless Steak-Style Strips
According to Optavia guidelines, you should choose the lowest carbohydrate foods.
Keep in mind that if you're choosing your meatless options from the table above, you also can choose 2 additional fat servings from Optavia's healthy fat list.
Leaner options
Carbs
Leaner options
Low
2 whole eggs + 4 egg whites
2 whole eggs + 1 cup liquid egg substitute
1 cup (110g) Beyond Meat Beyond Beef Crumbles
Medium
6 MorningStar Farms Veggie Breakfast Sausage Links
3 MorningStar Farms Veggie Sausage Patties (Original)
18 MorningStar Farms Meal Starters Chicken Strips
18 MorningStar Farms Meal Starters Steak Strips
High
1 1/2 cups 2% cottage cheese
12 oz. low-fat (2%) plain Greek yogurt
3 MorningStar Farms Veggie Sausage Patties (Hot & Spicy)
1 1/2 cups MorningStar Farms Meal Starters Grillers Recipe Crumbles
2 Yves Veggie Cuisine Good Veggie Burger patties
2 Boca All American Veggie Burgers
10 Tofurky Plant-Based Deli Slices
If you're choosing meatless food items from the leaner list (above), it is important to also include 1 additional serving of healthy fats.
Lean options
Carbs
Lean options
Low
3 whole eggs
4 oz reduced-fat or part-skim cheese
9 oz Trader Joe's Organic Extra Firm Sprouted Tofu
Medium
8 oz part-skim ricotta cheese
5 oz tempeh
Gardein Teriyaki Chicken Strips package (2 servings)
15 oz Mori-Nu Silken Extra Firm Tofu
9 oz Nasoya Organic Firm or Extra Firm Tofu
9 oz Trader Joe's Organic Firm or Extra Firm Tofu
6 oz Trader Joe's High Protein Organic Super Firm Tofu
3 Trader Joe's Meatless Breakfast Patties
High
10 Gardein BBQ Chick'n Wings
3 Gardein Chicken Scallopini pieces
2 MorningStar Farms Grillers Original Burgers
10 Trader Joe's Meatless Meatballs
16 pieces (170g) Gardein Beefless Tips
15 oz Mori-Nu Silken Firm Tofu
12 Lightlife Smart Deli Veggie Turkey Slices
5 oz Impossible Burger
5 Gardein Classic Meatless Meatballs
If you choose one of the lean options, there is no need to include additional healthy fats.
Proteins on a Vegetarian Optavia Plan
It's not a secret that eating foods that are rich in protein can help adults who have too much weight on their bodies.
According to an article review published in the Journal of Obesity & Metabolic Syndrome, "there are a few reasons why high protein diets (HPD) help people lose weight."
"Proteins not only make your body burn more calories but also helps to maintain muscle mass," states the journal.
A vegetarian diet can meet all the protein a human body needs as long as they are getting enough energy from food and eating a variety of foods.
(For me, that was the hardest part.)
Vegetarians should get their protein from different plant sources, such as:
Beans
Grains
Nuts and seeds
Eggs (lacto-ovo vegetarians)
Dairy (lacto-vegetarians)
The bad news is that Optavia doesn't allow these food items.
According to Optavia guidelines, you should avoid legumes (peas, beans, lentils, etc.) until you reach your weight-loss goal.
This is because these foods are too high in carbohydrates to keep you in the fat-burning state, states Optavia.
Once you reach your goal, these healthy choices can be reintroduced during the transition and maintenance phases.
How to increase protein on Optavia meatless plan
According to the Centers for Disease Control and Prevention, men should have an average daily intake of 56 grams and women 46 grams.
Here are some strategies for ensuring adequate protein intake on a vegetarian Optavia plan.
Use plant-based protein powders
Include a plant-based protein powder in your daily routine.
With options such as pea or hemp protein, you have the flexibility to choose an option that suits your needs.
Adding 1-2 scoops per day together with your Optavia shakes and smoothies should be enough.
Nuts and seeds
Although nuts and seeds are high in fat, they can be a good source of proteins.
Mix morning cereals with pumpkin or sunflower seeds.
Sprinkle your lean and green meals with chia seeds. Add almonds or walnuts to your Optavia Fueling hacks.
Alternatively, you can consider making your own Fuelings from scratch that have more whole foods, including high protein foods.
Talk with dietitian
If you're not sure about getting enough protein on your vegetarian Optavia plan, I suggest you to consulting with a registered dietitian or healthcare professional.
They can help customize your diet and choose the right supplements (if needed) to fit your individual needs.
Optavia vegetarian meal plan
Although there are many recipes and meal plans for Optavia 5 and 1 plan, there is nothing for vegetarians.
Apart from the meatless options list, Optavia doesn't provide detailed vegetarian meal plans.
No problem.
Below you can find examples of meatless Optavia 5 and 1 plans for breakfast, lunch, and dinner.
Breakfast
A serving of grilled portobello mushrooms stuffed with a mixture of quinoa, black beans, and diced vegetables, topped with a sprinkle of shredded cheese.
(385 calories, 25g protein, 15g carbs)
Lunch
A large salad made with mixed greens, tomatoes, cucumbers, avocado, and a hard-boiled egg, topped with a vinaigrette dressing.
(390 calories, 20g protein, 10g carbs)
Dinner
A serving of 3-4 oz of grilled or pan-seared tofu served with a side of steamed or sautéed vegetables (such as broccoli, spinach, or bell peppers) and a drizzle of sesame oil.
(375 calories, 25g protein, 10g carbs)
Keep in mind that these numbers are just estimates.
The actual number of calories and protein might be different depending on how much food you eat and what ingredients you use.
It is also important to have a lot of different foods in your diet and to talk to a professional before you make any big changes to what you eat.
So, can vegetarians do Optavia?
Optavia may be a great option for vegetarians looking to lose weight, but it requires planning.
It's important to remember that simply avoiding meat doesn't automatically make a diet healthy.
If your meals are mostly made up of unhealthy plant foods, such as processed snacks and sugary drinks, it's not going to lead to the desired weight loss.
Or improve other health outcomes.
So, instead of reaching for processed and refined plant-based options, why not opt for whole, unprocessed plant-based foods that are rich in nutrients and fiber?
The bottom line
Although the Lean and Green meals from Optavia largely focus on animal-based proteins such as lean meats, fish, and dairy, there are a few plant-based alternatives.
Unfortunately, most of these meat replacements are processed foods which can be unhealthy if consumed too often.
If you're looking to eat more balanced meals with natural ingredients, I recommend speaking with a dietician (or nutrition expert).
They can help you to create overarching guidelines that provide healthy plant-based substitutes.
Additional resources