Optavia Meatless Options for your Lean and Green Meals
Let's explore the best Optavia meatless options for lean and green meals.
We want to make sure your food choices are ones that satisfy your satiety needs and provide optimum levels of protein, carbohydrates, and the right amounts of calories.
With these factors in mind, we have chosen some superb meat-free options that can help support your 5 & 1 plan for weight loss or maintenance.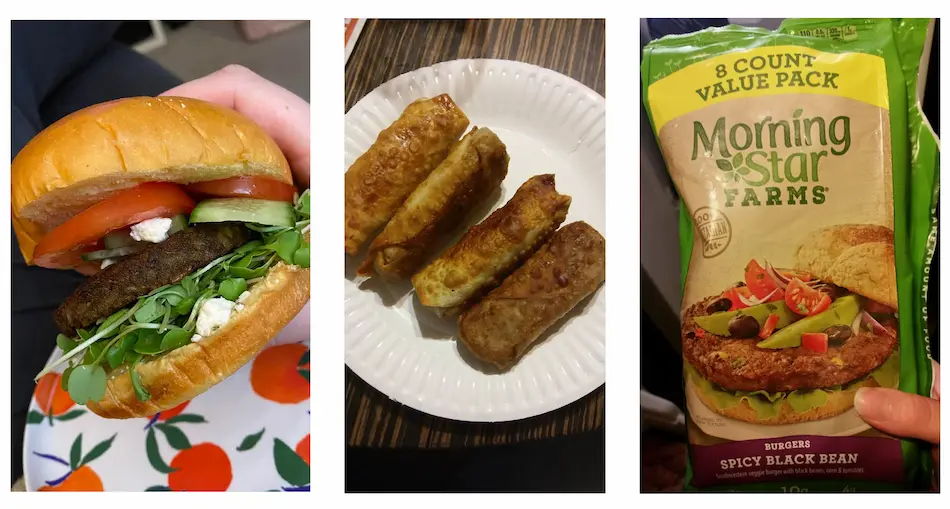 How to choose Optavia meatless lean options?
When choosing Optavia meatless lean options, it is important to think about what you can and cannot eat, as well as what are your personal nutritional needs.
Some people might want more protein, some might want to limit carbohydrates, and others might be interested in healthy fats.
Some things to think about include:
Calories
When creating an Optavia lean and green shopping list that includes meatless options, it's important to be mindful of the calories in each serving.
When looking at the nutritional info, choose options with 200-300 calories per serving, an equivalent to one serving of meat.
Check the information provided per serving on the product for this brand before committing to a selection.
Protein
Meatless products aren't created equal.
Always read the label and try to choose vegetarian options that contain ingredients that are particularly high in protein.
These include:
Tofu
Tempeh
Seitan
Lentils
Quinoa
Chickpeas
Spinach
Nuts and seeds
According to Optavia vegetarian guide, for your lean and green meals, you should be aiming for 20-25 grams of proteins per serving.
Carbohydrates
Meatless choices often provide more carbohydrates than most meats.
So it's important to be aware of these differences when forming your meal plan.
With this in mind, choose meatless options that are lower in carbohydrates.
Ideally 15 grams of carbs (or less) per serving.
Satiety matters
It is hard to say if meatless options make people feel full like meat does.
It depends on the food, how it is prepared, and what the person's diet needs and preferences are.
I can tell you from experience that choosing meatless options that are higher in fiber and protein is more likely to lead to higher satiety levels.
Opt for meatless options that have no more than 15 grams of fats and are loaded with fiber.
Optavia Meatless Options List
Below you can find the most popular (and widely available) meatless options that are included in the Optavia list of foods.
Most of these brands are designed to mimic the flavor and texture of real meat.
But since everyone has different tastes and preferences it's always worth giving them a try and deciding on your own.
My goal was to include only the ones that are lower in carbohydrates and high in protein.
1. Impossible Burger ground beef
If you have been a vegetarian and have missed the taste of real burgers, you might want to try Impossible Burger ground beef.
This product replicates the taste and texture of ground beef so well that you might not be able to tell the difference.
It's also easy to prepare and is a great option for vegetarians, vegans, and those following a gluten-free diet.
With 240 calories, a 4 oz patty, 14 grams of fat, 8 grams of saturated fat, and 19 grams of protein, it's a great alternative to Optavia meat options.
2. Beyond Meat Burger Patties
Another delicious burger alternative that has 20 grams of proteins per serving is Beyond Meat Beyond Burger Patties.
I discovered this patty when my wife served it for a lean and green meal (without telling me it was fake meat) and honestly, I couldn't tell the difference.
Although this one is made from simple plant-based ingredients like peas and brown rice, it has only 7 grams of carbs per serving.
3. Simple Truth Plant-Based Meatless Chorizo Sausage
Of all the plant-based sausages that I've tried, this is my favorite Optavia meatless option.
One serving size of 1 sausage link (92 grams) has only 230 calories and 27 grams of protein.
What other plant-based sausages have you tried and how does this one compare in terms of taste and texture?
I find that Simple Truth Chorizo is much better than Beyond Meat sausages in terms of taste and texture.
Although it has only 7 grams of carbohydrates, it doesn't have much fiber. If fiber is your priority, I still recommend choosing this as a lean option, but add more leafy greens to your meal.
The only drawback is it contains wheat gluten, so it's not suitable for people who like to follow a gluten-free lifestyle on Optavia.
4. Dr. Praeger's Perfect Burger
Another solid Optavia meatless option comes from the less popular brand – Dr. Praeger's Sensible Foods.
Each serving contains 8 grams of carbs and 13 grams of fat.
Their Perfect Burger is made from a hydrated pea protein blend pea. It contains a whooping 20 grams of protein per serving while having only 230 calories.
If you want more proteins per serving, I recommend trying their Perfect Chicken Spinach Pesto Burger.
I haven't seen this one available in Walmart, but you can purchase the full range on FreshDirect, Amazon Fresh, and PeaPod online stores.
5. Field Roast FieldBurger
I think I just found my new favorite veggie burger!
With only 240 calories, 12 grams of carbs, 12 grams of fats, and 21 grams of proteins per serving, I'm obviously not sacrificing nutrition for taste.
You can tell this veggie burger is handcrafted with garlic, fresh carrots, and onions, and it's seasoned to perfection.
I honestly could eat it plain because the savory flavor is so satisfying. I highly recommend it to anyone looking for another veggie burger option!
6. MorningStar Farms Veggie Sausage Patties
In their vegetarian guide, Optavia recommends a meatless option from MorningStar Farms.
I think you can tell I'm a meat eater, but for the purpose of this review, I decided to try out their Breakfast Sausage Patties.
Although I liked the flavor, I could tell there was something a little off in terms of texture.
For me, I find I need a bit more crunch or bite to feel satisfied with my breakfast meal.
When it comes to calories, I recommend choosing three servings per lean and green meal as I feel this gives your body everything it needs to build energy and feel satisfied at the same time!
With 3 servings, I'm able to get 27 grams of protein per meal, 15 carbs, and only 9 grams of fat which I think is a great balance for any health-conscious person.
I think I found the perfect way to get my morning protein without meat; the Optavia meatless breakfast lean choice. I tried it recently and
7. MorningStar Farms Grillers Original Veggie Burgers
You know what? I started having MorningStar Farms Grillers Original Veggie Burgers as a part of my Optavia breakfast and I didn't think that this item would give me so much protein.
In just one serving size (64 grams) it already has 16 grams of proteins and 130 calories, which is quite impressive.
That's why I always go for two burners per meal, giving me only 230 calories and 32 grams of protein – something I wouldn't find in other meatless breakfast items.
Even the carbs are still kept at a low level with two burgers containing only 16 grams.
You need to be aware that this item contains wheat gluten and soy flour, so if you're allergic to these, it might not be suitable for you.
8. Yves Veggie Cuisine Good Veggie Burger patties
When I started out my meatless Optavia meal plan, I did not expect to find anything that was low in fat.
(I didn't think a veggie burger could pull off.)
But then I stumbled upon a product from Yves Veggie Cuisine called Good Veggie Burger (which has only 3.5 grams of fat per serving).
Just 1 patty (75 grams) packs only 110 calories and 7 carbs while providing 13 grams of plant-based proteins – need I say more?
Although Optavia recommends using 2 patties per serving, I often like to add 3, depending on my day.
It's both vegan and kosher, so it's ideal for someone following a kosher lifestyle on the Optavia plan.
9. 365 Meatless Burgers
Instead of going for unhealthy fast food burgers, what you can do is reach for the easy-to-cook 365 Meatless Burgers sold at Whole Foods stores.
Not only are they 100% vegan friendly, but they're also surprisingly healthy too: two servings only contain 220 calories yet still provide 22 grams of protein.
What's more, each patty comes with 7 grams of carbs and 3 grams of dietary fiber – impressive and so much better than a regular burger.
The texture remains robust after cooking and the flavor it gives is just as great – it has an umami-rich meaty taste that will quickly satisfy your craving.
10. Gardein The Ultimate Beefless Burger
For me, Gardein's Burger Patty was an impressive find.
Unlike other veggie burgers that taste like cardboard, this patty has a semi-sweet celery aftertaste.
When it comes to size, one serving provides 130 calories with 14 grams of protein and 8 grams of carbs.
Needless to say, I recommend you choose 2 burgers as your one lean Optavia serving.