Profile By Sanford Diet Review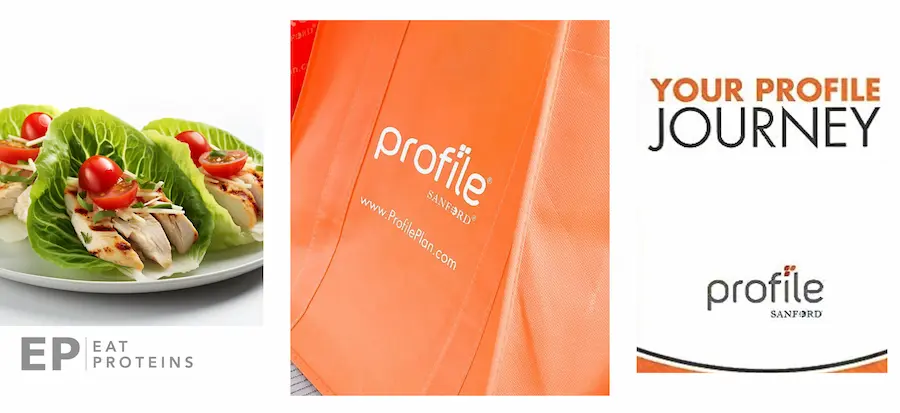 Profile by Sanford is a weight loss and nutrition program developed by medical professionals at Sanford Health. It aims to make weight loss achievable and sustainable through a scientific approach combined with personalized health coaching.
In terms of effectiveness, a 2021 study led by Maria Bell from Sanford Health, Sioux Falls, found significant weight loss among women who enrolled in a Profile by Sanford weight loss program.
The study compared the weight loss of 22 women enrolled in the Profile Diet program against a control group of 28 women. Over 12 months, the women in the Profile by Sanford diet program had an average weight loss of 16.4 kg (15.3% of their body weight), which was significantly more than the 1.7 kg (2.3% of their body weight) lost by the control group, as illustrated in this graph.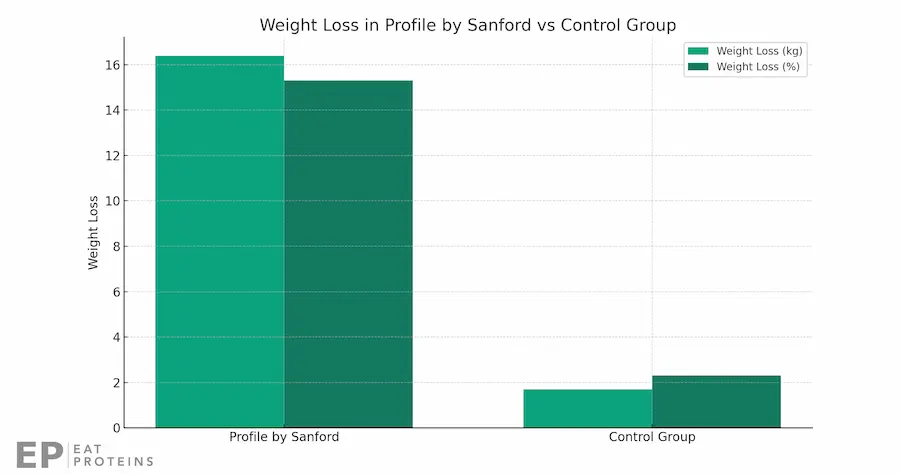 The Profile By Sanford diet plan has three distinct phases: the Reboot/Reduce phase, where most weight loss occurs; the Adapt phase, where members transition when they are within 5-10 pounds of their goal weight; and the Sustain phase, which provides resources to help members maintain their weight long term.
Profile by Sanford offers various services, including in-store healthy food options, employee wellness services, and resources for local physicians.
In this article, we explore the effectiveness of the Profile diet for weight loss, the cost of Profile by Sanford, what's included in the weekly Profile by Sanford meal plan, the most common reviews of Profile by Sanford, and how it compares to other weight loss diets, such as the Optavia 5 and 1 plan.
What Is Profile By Sanford Diet?
Profile by Sanford refers to a weight loss and nutrition program designed to help individuals lose weight and maintain their weight loss over time. The program was developed by Sanford Health, the largest rural health system in the United States.
According to a 2021 study published in Gynecologic Oncology Reports Journal, participants in the Profile by Sanford weight loss group underwent an average of 28 health coaching appointments and experienced a significant weight loss of 15.3% over 12 months.
Women enrolled in the Profile by Sanford diet demonstrated significantly more weight loss and a greater reduction in BMI compared to women in the matched control group. One limitation was the provision of financial compensation (approximate value of $2,500) to participants in the form of a weight management program membership, which could have influenced the results.
What Is Included in The Profile By Sanford Diet?
This list shows what is included in the Profile By Sanford Diet.
1-on-1 Health Coaching: Personalized guidance from a certified coach to help you navigate your weight loss journey and make sustainable lifestyle changes.
Access to the Profile Journey App: A mobile app that allows you to track your progress, set goals, and stay connected with your coach.
Weekly Behavior Change Lessons: Regular lessons designed to help you understand and change your eating and exercise habits.
Exclusive Support Group Access: Membership in a community of others on the same journey, providing opportunities for mutual support and sharing of experiences and tips.
Access to 220+ Custom Plan Options: A variety of diet plans tailored to your specific needs and preferences.
Personalized Weight Loss Plan: A custom weight loss plan designed by your coach, based on your personal goals, lifestyle, and dietary preferences.
Smart Body Scale App Integration: The ability to connect your smart scale to the app, making it easier to track your weight and progress over time.
3D Body Scans (At Select Locations): Some locations offer 3D body scans, which provide a detailed look at your body composition, helping you and your coach better understand your progress.
Friends and Family Referral Rewards: Rewards for referring friends and family to the program, encouraging a supportive network.
Profile 15% Weight Loss Promise*: The program promises that members will lose 15% of their body weight, subject to certain terms and conditions.
What Are The Profile By Sanford Diet Reviews?
Profile by Sanford has garnered a rating of 3.9 out of 5 stars based on 93 reviews on Customer Affairs. Many users have reported positive experiences with the program. They praised the program's focus on nutrition and adopting a healthy lifestyle rather than a quick weight loss fix.
The coaches were commended for their knowledge, motivation, helpfulness, and non-judgmental attitudes. One user shared that they had lost over 60 pounds while on the program, attributing the success to the program's emphasis on health and nutrition. Another user reported losing 40 pounds and maintaining the weight loss due to the skills they learned from the program.
Several people appreciated the personalized approach of the program. They enjoyed the custom meal plans and the convenience of the Profile Journey app. A user who had tried many other programs and products stated that Profile by Sanford was the best program they had tried and that it really worked.
However, one user pointed out that success with the program requires commitment and adherence to the program guidelines. They experienced significant weight loss in the first six months of the program but gained some weight back during the COVID-19 pandemic due to changes in their personal situation.
Are There Any Negative Reviews of the Profile by Sanford Diet?
Yes, there are some negative reviews about the Profile by Sanford diet. One customer voiced their disappointment after their initial store, which they had a positive experience with, closed down.
They were then transferred to another store where they felt the counselors were not supportive or helpful. The transition from Profile foods to a regular diet was not smooth and they ended up regaining all of their weight. They expressed deep disappointment with how they were treated and felt that Profile failed to meet their obligations as a client.
Another reviewer criticized the program for being unsustainable and encouraging starvation. They experienced discomfort, such as waking up in the middle of the night feeling starved with a splitting headache. When they raised these issues to their coach, they did not receive an adequate response. They also felt guilty for wanting to eat fruit, which they found to be a negative aspect of the program.
A third user shared their experience of having an excellent first year with Profile, but their satisfaction declined when the membership fee increased significantly in the second year. They felt they didn't receive enough coaching appointments for the fee they paid. They eventually left the program after two months and felt they should have received a refund on the membership fee.
These negative reviews highlight some potential issues with the Profile by Sanford diet, including the variation in support from different coaches, the sustainability of the diet, and the value received for the membership fee.
How Does Profile By Stanford Diet Work?
The Profile By Stanford diet is loosely based on a ketogenic diet but is not as restrictive. The higher protein meal replacement shakes and bars provide the primary sources of nutrition. It allows for variety in what you eat, providing more nutrients and fiber than a traditional ketogenic diet.
The 3 phases of the Profile by Sanford diet plan are listed below.
Profile Reboot
Profile Adapt
Profile Sustain
1. Profile By Stanford Reboot Phase
The Profile by Sanford Reboot Phase is the initial phase of the Profile weight loss plan. During this phase, participants follow a structured, low-calorie nutrition plan using Profile foods and grocery foods until they are 15 pounds away from their goal weight.
The Reboot Phase is designed to kickstart weight loss and create a foundation for long-term success. It focuses on reducing calorie intake and promoting mild ketosis, by incorporating meal replacements like shakes and bars.
During this phase, certain foods are restricted, including carbohydrate-containing grains, fruits, and milk products (except cheese). Instead, meals consist of lean proteins, non-starchy vegetables, healthy fats, and Profile foods, a very similar approach to Optavia 5 and 1 plan.
2. Profile By Stanford Adapt Phase
The Adapt phase of the Profile By Stanford is the second phase of the program and is designed to help members gradually increase their caloric intake and add carbohydrate-containing foods back into their diet.
During the Adapt phase, members start including more grocery foods in their meals alongside Profile foods. This phase focuses on creating a balanced diet by reintroducing fruits, starches, and dairy products. The goal is to provide a wider variety of nutrients while still promoting weight loss and healthy eating.
In this phase, members continue to work with their health coach to track progress and address any challenges that may arise. The coaching sessions are aimed at teaching new skills and increasing motivation to encourage weight loss and long-term behavior change.
It's important to note that the Adapt phase is only implemented once members are within 10-15 pounds of their goal weight or have completed the Reboot phase successfully. This ensures that the body is prepared for the gradual reintroduction of carbohydrates and other food groups.
During the Adapt phase, members are encouraged to adhere to the dietary guidelines set by the USDA. This includes consuming a variety of vegetables, lean proteins, whole grains, and healthy fats. Although Profile foods are still incorporated into the meal plan, members have more flexibility in their food choices.
3. Profile By Stanford Sustain Phase
The Profile By Stanford Sustain Phase refers to the last part of the program and it is centered on maintaining weight loss and aligns with the guidelines set forth by the United States Department of Agriculture (USDA). Throughout this stage, members are urged to persist in making health-conscious food selections and adhering to portion control to guarantee enduring success.
Upon reaching the Profile Sustain phase, members have either achieved their target weight or are within 5-10 pounds of it. They've successfully navigated the "Reduce" and "Adapt" stages, which entailed structured low-calorie nutrition plans and the step-by-step reintroduction of carbohydrates and other food types.
In the Sustain phase, members are given the liberty to include a broader range of foods into their meals, while also having the option to continue incorporating Profile foods. The focus is placed on upholding a balanced and sustainable dietary regimen, predominantly consisting of whole foods and grocery items. Members are advised to persist in logging their food consumption and overseeing their progression to sustain their weight loss.
What Can I Expect On the First Day of The Profile By Stanford Diet?
On the first day of the Profile By Stanford diet, you can expect to receive your Profile SmartBody scale, get access to Journey App, perform a 3D Body Scan, and consult with your Profile health coach as illustrated below.

Profile SmartBody Scale: You will receive a wireless, medical-grade SmartBody Scale that measures weight, body mass index, body fat, lean mass, hydration, and visceral fat. This will be an integral part of your journey.
Access To Profile Journey App: You will gain access to the Profile Journey App, which allows you to view your personalized plan, track your food, water, activity, and progress, and interact with your Profile Coach via a mobile device or computer.
Profile 3D Body Scan: You will undergo a Profile 3D body scan, a process that uses advanced technology to capture detailed measurements of your body shape and composition. This scan captures more than 30 different body measurements such as chest, waist, and hips, offering a thorough overview of your body's shape and size. The 3D camera captures your body from every angle, gathering over a million data points to craft an accurate, detailed digital model of your body.
Consult With Your Profile Health Coach: You'll have a one-hour session with a Profile health coach who will review your past experiences, motivations, and goals, and conduct a brief health and lifestyle assessment. You will have the option for weekly 30-minute health coaching appointments.
What Kind of Coaching Support Is Provided on The First Day of Profile By Stanford?
Profile by Stanford 1-on-1 coaching is a crucial component of the weight loss program. This personalized coaching model involves weekly check-ins where members discuss their triumphs and hurdles from the past week with their coach. Profile Health Coaches offer guidance and strategies to boost motivation and ensure progress toward goals.
Profile enhances this coaching experience through its 'Journey Mapping' service, which equips each member with personalized coaching plans to cultivate specific skills necessary for maintaining a healthy lifestyle. These skills encompass mindful eating, goal setting, exercise, sleep hygiene, and stress management.
According to the Profile by the Stanford website, the company sets high standards for its coaches to deliver exceptional healthcare services. Those aspiring to become coaches must undergo a certification course and pass an examination to get appointed.
While it is a prerequisite for all coaches to have at least six years of relevant work experience or a bachelor's degree, this experience does not necessarily need to be in dietetics or nutrition.
Consequently, the health coaches at Profile by Stanford come from diverse wellness backgrounds, which equips members with a unique blend of knowledge from various disciplines. This multifaceted approach supports members in achieving a more well-rounded understanding of how to foster a healthier, happier lifestyle.
How Effective is Profile By Stanford Coaching For Weight Loss?
As stated by Maria Bell from Sanford Health, Profile By Stanford coaching seems to offer benefits that go beyond just providing meal plans. When combined with a web-based program that focuses on physical activity, weight management, and stress relief, health coaching can improve psychological well-being.
What Is The Profile By Sanford Cost?
The Profile diet costs between $532.50 and $639.60 per month, depending on the plan and your location. Profile by Sanford offers two main plans – the Complete Plan and the Basic Plan, as shown in this table.
| Plan Type | Membership Cost Per Day | Food Plan Starting Price Per Day | Estimated Total Daily Cost |
| --- | --- | --- | --- |
| Profile Complete Plan | $5.32 | $16.00 | $21.32 |
| Profile Basic Plan | $1.75 | $16.00 | $17.75 |
The Profile By Sanford Complete Plan costs around $5.32 per day for the membership and starts at $16.00 per day for the food plan, leading to an estimated daily cost of $21.32. This plan provides a customized meal plan and menu, weekly health coaching, full access to the Journey App, and membership in a support group.
On the other hand, the Profile By Sanford Basic Plan is priced at $1.75 per day for the membership and starts at $16.00 per day for the food plan, resulting in an estimated daily cost of $17.75. The Basic Plan includes a standard meal plan, limited access to the Journey App, and membership in a support group.
The cost of Profile meal replacements, such as shakes, bars, soups, and entrees, starts at around $3.14 per serving or $21.99 for a box of seven. Please note that prices may vary by location.
What Is Profile By Stanford Meal Plan?
The Profile by Sanford meal plan is a comprehensive dietary program that includes a daily menu, requires minimal meal prep, and incorporates meal replacements. It's structured with the help of dietitians and emphasizes portion control.
The Profile by Sanford meal plan typically involves consuming five small Profile meals throughout the day, along with one well-balanced, homemade dinner. The Profile meals, which often take the form of shakes, bars, or even soups, are crafted to be low in calories, rich in protein, and enriched with vitamins and minerals.
The nutritional profile of the shakes typically looks like this:
Calories: 100
Total Fat: 2.5g
Saturated Fat: 0g
Trans Fat: 0g
Cholesterol: 10mg
Sodium: 170mg
Total Carbohydrate: 6g
Protein: 15g
In addition, the shakes are fortified with 23 essential vitamins and minerals to ensure adequate nutrition while on the meal plan.
How Does The Sample Profile By Stanford Meal Plan Look Like?
Here's a sample Profile by Sanford meal plan.
Breakfast: Salted Caramel Shake (100 calories)
Morning Snack: Cookies & Cream Shake (100 calories)
Lunch: Profile Chicken soup (100 calories)
Afternoon Snack: Profile Cinnamon Bar and a cheese stick (100 calories)
Dinner: Homemade dinner
Evening Snack: Profile Strawberry Cheesecake Shake (100 calories)
Here's the photo of two of my favorite Profile by Sanford Products – Creamy Chicken Soup and Heart Vegetarian Chilli with Beans.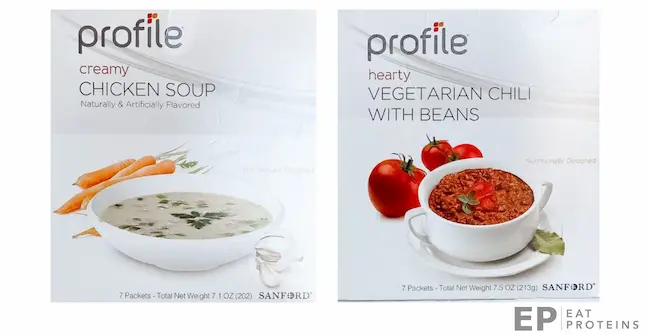 What Types of Recipes Are Recommended on The Profile By Stanford Meal Plan?
The Profile by Stanford meal plan recommends a variety of recipes that are low in calories and made with lean proteins and green vegetables. The plan offers over 306 options, making it suitable for various dietary needs, including vegan and vegetarian diets.
The types of recipes recommended on the Profile by Stanford meal plan are categorized into the following.
Appetizers: These are light dishes that are served before the main course.
Breakfast: These recipes are designed to provide a nutritious start to the day.
Condiments: These include various sauces, dips, and dressings to enhance the flavor of meals.
Desserts: These are sweet dishes that are usually served at the end of a meal.
Drinks: These include a variety of beverages, from smoothies and shakes to teas and coffees.
Entrees: These are the main dishes typically served during lunch or dinner.
Lunch/Dinner: These recipes are designed for the main meals of the day.
Sides: These are additional dishes that complement the main course.
Slow Cooker: These recipes are designed for slow cookers, providing convenient and easy meal options.
In addition, Profile by Sanford provides recipes based on their food products, including bars, cereal, desserts, drink mixes, entrees & soups, oatmeal, pancake mix, pizza & noodles, seasoning, and shakes.
The meal plan also caters to specific dietary needs and allergies, offering recipes that are vegan, vegetarian, dairy-free, and gluten-free.
What Are The Profile By Stanford Diet Alternatives?
The Profile by Stanford diet plan is a comprehensive weight loss and lifestyle change program. However, there are several other diet plans that can serve as alternatives.
Optavia 5 and 1 Plan: The Optavia 5 and 1 plan is quite similar to the Profile by Stanford diet. It includes eating 5 small meals or "Fuelings" throughout the day and 1 lean and green meal that you prepare yourself.
Skinny Box: The Skinny Box diet plan also follows the structure of 5 snacks per day and 1 main meal. The snacks are usually nutritionally balanced and designed for weight loss.
Livea: The Livea diet plan is quite similar to both the Profile by Stanford and Skinny Box diets. It involves consuming 5 shakes or bars per day and cooking one lean and green meal.
Wonderslim 5 1 1 Diet Plan: The Wonderslim 5 1 1 diet plan is a weight loss program that includes 5 meal replacements per day, 1 main meal, and 1 snack. The plan is followed for 5 days, and it aims to promote weight loss by reducing calorie intake and promoting portion control.
What's The Difference Between Optavia and Profile By Stanford Diet?
The fundamental difference between Optavia and Profile by Sanford lies in their approach to weight loss and the structure of their programs. Optavia focuses on pre-packaged meals and snacks, known as "Fuelings", along with a self-guided weight loss journey with optional coaching support. On the other hand, Profile by Sanford offers personalized meal plans based on individual needs and places a stronger emphasis on one-on-one coaching and lifestyle changes.