Profile By Sanford vs Optavia Diet: Differences, Pros and Cons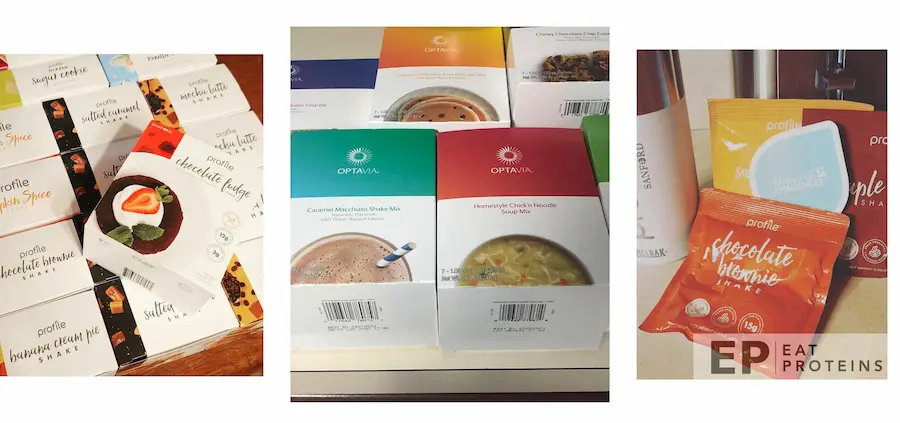 Profile Plan, previously known as Profile by Sanford, is a comprehensive weight loss program, conceptualized and researched by medical professionals at Sanford Health, the largest rural health system in the U.S. The Optavia diet, previously recognized as the Medifast diet, is a structured weight loss program that involves consuming five prepackaged Optavia Fuelings and one lean and green meal each day. 
When choosing between the Optavia and Profile by Sanford diets, one should understand that the primary difference between the Profile diet and Optavia is their business models, not their approved food list or weight loss results, which can vary widely for both.
Neither one is inherently superior for fat loss, though the Optavia diet is more researched and can be much cheaper, depending on the type of plan you are looking for.
Optavia, based in Baltimore, Maryland, operates as a multi-level marketing company specializing in weight loss. On the other hand, Profile By Sanford is a weight loss franchise with 47 locations across the United States, including Omaha and Sioux Falls.
These fundamental differences, along with the diverse weight loss services each company provides, result in varying costs, levels of coaching support, products, and customer reviews. As such, the decision between Optavia and Profile By Sanford might not be as straightforward as it appears.
What Is Profile By Sanford?
Profile by Sanford is a wellness and weight loss program designed to provide personalized meal plans to individuals of all ages who wish to lose weight or improve their overall health and wellness.
A 2021 study by Maria Bell and Valerie Reed from Sanford Health found that women participating in the Profile by Sanford program lost an average of 16.4 kg (15.3% of their body weight) over a year, significantly more than the 1.7 kg (2.3% of their body weight) average loss experienced by the control group, as shown in this graph.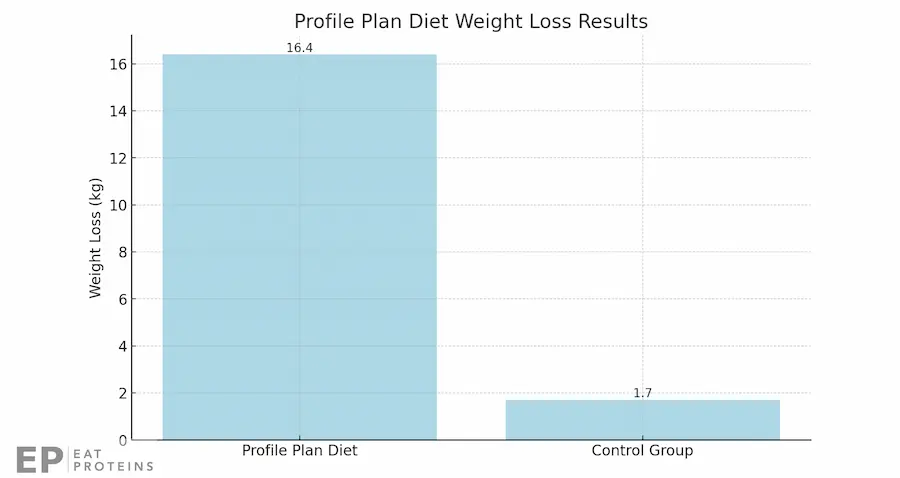 The program encourages a low-carbohydrate diet and provides convenient pre-packaged meals including shakes, bars, entrees, and snacks. These products are available for purchase at centers spread across 25 states in the US, and online.
Profile by Sanford reports a success rate of nearly 75%. This high success rate is a testament to their personalized approach, setting them apart from many other diets that often fail due to their one-size-fits-all methodology.
According to Alyssa Burnison, Director of Program & Nutrition at Profile Plan, the level of customization offered to each customer makes Profile by Sanford a highly effective choice for achieving fitness goals.
The primary difference between Profile Plan and Optavia lies in their meal plans and product dependence, not in their menus or recipes for lean and green meals. The Optavia diet has three main plans, all of which require the use of Optavia Fuelings.
With the Sanford by Profile diet, customers have the choice to use meal plans based on meal replacements or opt for an 'all-natural' coaching plus package, which includes meals created entirely with whole foods from the grocery store.
What Is Optavia Diet?
Optavia Diet is a weight loss and meal replacement program that provides easy-to-prepare recipes, snacks, and shakes to promote healthy habits. The Optavia Diet is owned by Medifast, a company known for its weight loss and health-related products sold through multilevel marketing.
In a 2019 study conducted by Linda M. Arterburn and published in Obesity Science & Practice, participants who followed the Optavia 5 and 1 plan experienced notable results.
The study showed that these participants achieved significant weight loss (-5.7%), as well as reductions in overall body fat, abdominal fat mass, and waist and hip circumferences, as illustrated in this graph.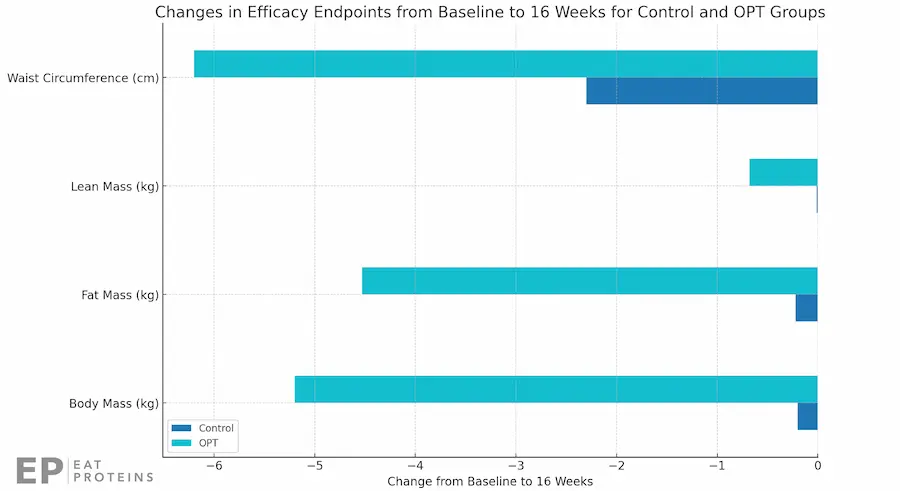 Optavia gained attention on Instagram when Buddy Valastro, also known as TV's Cake Boss, shared his successful weight loss journey using the program.
The Optavia diet relies on meal replacements called "Fuelings" and recommends eating five small meals a day, with one to three lean and green meals prepared at home.
The fundamental difference between the Optavia and Sanford Profile lies in their methods of tracking weight loss. Health coaches from Sanford Profile perform a comprehensive examination throughout your weight loss journey.
They use a Genetic Test for Weight Loss, a Smart Body Scale, and 3D Body Scans (available at select locations) to build your personalized plan. On the other hand, Optavia coaches advise consulting your doctor before starting the plan, without them performing any screening.
What Is The Difference Between Profile By Sanford and Optavia?
The differences between Optavia and Profile Plan include the cost, coaching support, products used, and customer experience.
The price differential between Profile By Sanford and the Optavia diet is an important consideration. Compared to Optavia, Profile diet plans are on average approximately 61.88% more expensive per month.
Compared to Optavia, Profile By Sanford offers weekly behavior change lessons, a personalized weight loss plan, and a subscription discount of 25% when you sign up for their auto-renewal. Similarly, Optavia Premier also provides an auto-renewal subscription plan, though without any product discounts.
Although Optavia has made much effort in developing its weight loss plans over the years, variability still exists in coaching support, product standards, and negative reviews.
1. Coaching Support Differences Between Optavia and Profile By Sanford
The key differences in coaching support between Optavia and Profile by Sanford lie in their coaches. Optavia health coaches are typically individuals who have completed the Optavia program themselves.
They have a deep understanding of the products and their main role is to sell products and recruit more coaches. These coaches do not necessarily have a nutritional background or previous experience in health coaching.
Profile by Sanford coaches, on the other hand, must either have a Bachelor's degree or six years of equivalent work experience. They are required to attend certification classes that cover various wellness topics such as mindful eating, self-compassion, goal setting, sleep hygiene, stress management, social support, and meal planning.
2. Product Differences Between Optavia and Profile By Sanford
Optavia's products, known as Fuelings, have a uniform nutritional profile with each serving containing 100-110 calories, primarily derived from Soy protein isolate. Some of their products are soy-free and none contain aspartame or other artificial sweeteners.
Optavia offers a variety of fuelings including bars, shakes, brownie mix, pancake mix, snack sticks, cereals, pasta, potatoes, soups, and pudding. These products are high in vitamins, minerals, probiotics, and protein, and they do not contain artificial colors, flavors, or sweeteners.
Optavia provides a range of flavors such as peanut butter, s'mores, chocolate mint cookies, raisin oat cinnamon, and shake flavors like mocha, caramel macchiato, vanilla, peanut butter, and strawberry.
On the other hand, Profile by Sanford's product line includes shakes, protein bars, plant-based shakes, pre-workouts, ready-to-drink shakes, high-protein coffee drinks, soups, kinds of pasta, and desserts.
The ingredients in most of their products include Soy Protein Isolate, calcium caseinate, whey protein isolate, casein, partially hydrolyzed milk protein isolate, and maltitol as a sweetener.
The most commonly recommended products from Profile are their shakes and bars, which contain 100 and 160 calories, respectively, with shakes providing 15 or 20 grams of protein. Their soups and other hearty options do not contain soy protein.
3. Customer Reviews Differences Between Optavia and Profile By Sanford
Based on customer reviews and ratings, there seem to be differences between Optavia and Profile by Sanford in terms of customer satisfaction and experience.
Optavia has an average rating of 1.51 out of 5 on the Better Business Bureau (BBB) with 121 customer reviews. They have received 425 complaints closed in the last 3 years and 39 complaints in the last 12 months.
Customers have expressed dissatisfaction with the auto-charge process, difficult cancellation process, and refund issues. They have reported being charged after cancellation, and delays in receiving refunds even after providing proof of product return.
On the other hand, Profile by Sanford has an average rating of 3.9 out of 5 on Customer Affairs with 93 reviews. About 58% of reviews are 5-star, and 11% are 4-star. Some customers expressed difficulty in sticking to the program long-term and dissatisfaction with remote coaching.
However, there were also positive reviews about substantial weight loss, enjoying healthier foods, and knowledgeable coaches. Some customers reported losing significant weight and maintaining it for years.
Despite some negative experiences, customers have expressed satisfaction with their weight loss results when following the Profile plan.