Optavia Approved Sweeteners: Say Goodbye to Sugar
Are you wondering what sweetener you can use on Optavia? A low-calorie and sugar-free lifestyle doesn't mean that you have to give up all sweetness.
With the approved Optavia sweeteners, you can add a bit of sweetness to your life without loading up on calories.
Our family definitely appreciates having this option when cooking or baking at home so it's worth checking out the list below.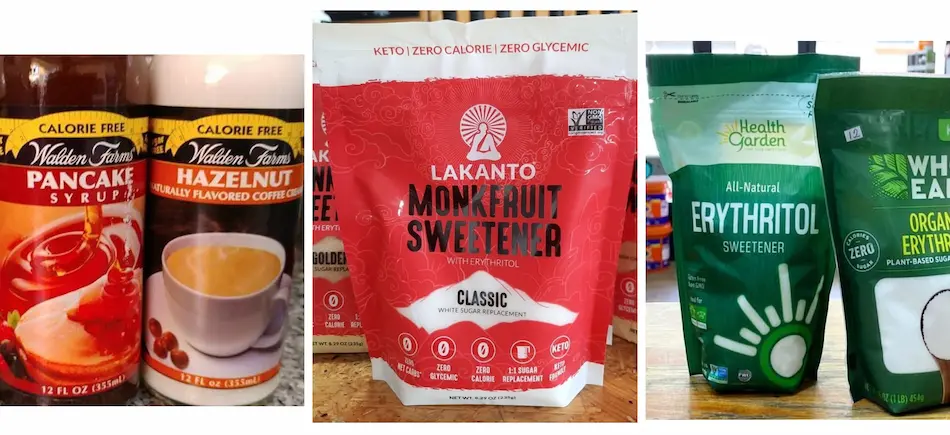 First, let's talk about what sweetener Optavia use
Recently, Optavia has made some changes in terms of sweeteners and ingredients in their fuelings.
According to the Optavia website:
"Optavia has taken feedback from its clients and combined it with the latest science and product design expertise to create optimized Fuelings.

By modifying dietary fibers and sweeteners, they are able to provide better-tolerated and more nutritious alternatives that suit all tastes."
Until June 2022, Optavia was using maltitol and other sugar alcohols as a sweetener.
In order to reduce any mild gastrointestinal disturbances, Optavia reduced fructose levels and completely eliminated maltitol.
Right now, Optavia uses a blend of natural sugars like honey or erythritol and low-calorie sweeteners such as stevia and monk fruit extract.
Artificial sweeteners such as aspartame and saccharin are not included in any fuelings, snacks, or meals.
What sweetener can you use on Optavia?
Optavia allows using any naturally derived sweeteners that provide a sweet taste without unwanted additives (or calories) that are FDA-approved.
These include:
Honey
Fruit juices and nectars
Molasses
Maple syrup
Stevia
Monk fruit extract
Allulose
Some sugar alcohols like erythritol and xylitol can also be used as sweeteners.
What sweeteners aren't allowed on Optavia?
If you're currently on the Optavia diet, I would suggest staying away from any artificial colors, flavors, or sweeteners, such as:
Sucralose (Splenda Original)
Aspartame (NutraSweet, Equal, or NatraTaste Blue)
Acesulfame potassium (Sunett, Sweet 'N Safe, or Sweet One)
A combination of sweeteners (Sweet'n Low or Crystal Light)
According to the article published in the PLOS Medicine Journal in March 2022, "artificial sweeteners like aspartame and acesulfame-K, which are commonly used in many food and beverage products, may increase the risk of cancer."
These findings have raised important questions for food safety authorities around the world, prompting a "need to re-evaluate the use of these sweeteners," states the journal.
What's more, I cannot stand the licorice-like metallic aftertaste that I get after artificial sweeteners.
Although the aftertaste of sweeteners can be subjective, I can hardly feel any aftertaste from stevia or monk fruit extract.
What about Splenda?
Here's the photo of two Splenda products.

On your left, you have a photo of Splenda Original, which contains a combination of dextrose, maltodextrin, and sucralose, which are artificial.
On your right, you can see Splenda Naturals, which is made from erythritol, monk fruit extract, and stevia extract.
As a general rule, you can use Splenda Naturals on Optavia as they are made from natural sweeteners, not from sucralose like Splenda Original.
Although sucralose is permitted by the U.S. Food and Drug Administration (FDA), some studies have shown it may affect how obese people respond to sugar.
List of Optavia-approved sweeteners
When choosing the list of Optavia-approved sweeteners, I ensured every item is natural, low-calorie, and has a low-glycemic index.
Although natural sweeteners are more expensive than artificial, they are often a good source of antioxidants and other nutrients, which may help to support overall health and wellness.
1. Nature Nate`s 100 % Pure Raw and Unfiltered Honey
Nature Nate states they source its honey from bees that pollinate a variety of flowers, which gives the honey a unique flavor and a range of health benefits.
According to Nature Nate's website, this honey is unpasteurized, which means that it retains all of its natural enzymes, vitamins, and minerals.
This makes it a healthier option than processed honey that has been heated or filtered, which can strip away some of the beneficial nutrients.
What's more, honey is available in a variety of sizes and formats, including:
Squeeze bottles
Jars
Honeycombs
Honey sticks
(Personally, I am a huge fan of Honey Minis.)
The package looks like ketchup from Mcdonald's or Taco Bell.
It has 14 grams (less than one tablespoon) and includes 50 calories, 10 grams of sugar, and 12 grams of carbs.
We also buy bottles of (32 oz) Nature Nate's organic honey at Walmart for $14.26, or 16 fl oz for $8.97.
Nutrition Facts
Calories: 70
Fat: 0 g
Sodium: 0 mg
Carbs: 18 g
Sugar: 13 g
Protein: 0 g
2. Manuka Health`s Honey
Another Optavia-friendly sweetener based on honey is from the company Manuka Health.
The company produces high-quality, pure manuka honey from bees that pollinate the Manuka bush in New Zealand and Australia, although at a higher cost.
For a 17.6 oz bottle, which contains around 33 servings, you need to spend around $35.98 at Walmart.
Other companies like Comvita or Wedderspoon also manufacture Manuka Honey and are less pricey.
What's more, manuka honey is not only rich in vitamins and minerals but it also contains the beneficial compound methylglyoxal (MGO).
According to an article review published in the Current Drug Metabolism Journal, "not only does Manuka honey stop bacteria from growing, but it also helps wounds heal and makes new tissue."
Nutrition Facts
Calories: 70
Fat: 0 g
Sodium: <1 mg
Carbs: 4,1 g
Sugar: 4,1 g
Protein: <1 g
3. Happy Belly Clover Honey
Clover honey is made from the nectar of clover flowers and is known for its sweet, mild flavor.
It is a popular choice among honey lovers because of its versatility and the fact that it is widely available.
Like all types of honey, it is a natural source of antioxidants and has been shown to have antibacterial and antiviral properties.
I like to use clover honey as a sweetener for tea, coffee, and shakes.
I find it to be a much healthier alternative than processed sugars.
We often also use it in baking recipes, such as cakes, cookies, and waffles; and the sweet and flavorful ingredient is used in sauces, dressings, and marinades.
You could try adding a bit of clover honey to your yogurt or oatmeal fuelings for an added touch of sweetness.
Happy Belly Clover Honey 16oz bottle is available on Amazon for around $7.04.
Nutrition facts
Calories: 60
Fat: 0 g
Sodium: 0 mg
Carbs: 17 g
Sugar: 17 g
Protein: 0 g
4. Splenda Naturals
Splenda Naturals is made from naturally-sourced ingredients and has a clean, sugar-like taste, while Splenda Original is made from artificial ingredients.
Plus, this one is cheaper than other brands.
For a container that has 140 servings, I pay less than $10 at Walmart.
As a user, I can say that I don't feel this chemical aftertaste.
Although you have a variety of formats, including packets and containers, I found that sachets are easier to measure and dissolve in liquids without any problem.
Splenda Naturals is an ideal companion for long-term recipes or daily coffee rituals, as it has a long shelf life that ensures its freshness.
Simply mix light roast coffee (with almond milk or creamer), and a stick of Splenda to enjoy the perfect cup of coffee.
Nutrition facts
Calories: 0
Fat: 0 g
Sodium: 0 mg
Carbs: 2 g
Sugar: 0 g
Protein: 0 g
5. Lakanto Classic Monk Fruit Sweetener with Erythritol
Another calorie-free Optavia-approved sweetener is Lakanto Monk Fruit.
According to the randomized controlled trial published in the International Journal of Obesity:
"Drinking calorie-free beverages that are sweetened with monk fruit has very little impact on how much energy you consume in a day, or on your blood sugar and insulin levels after eating, compared to drinking a sucrose-sweetened beverage.
Although monk fruit sweeteners have been shown to have more advantages (compared to other ingredients), the Lakanto brand seems to have less monk fruit and more erythritol.
According to a class action lawsuit against Lakanto, some people are suing the brand because their products are not sweetened with monk fruit as they say.
Instead, they are mostly sweetened with erythritol, which is cheaper and not as good.
(So keep that in mind.)
The reason why I included Lakanto in this list is because of the price.
The Lakanto liquid monk fruit sweetener cost around $11.99 and includes 282 servings.
(That's right, two hundred eighty-two).
Plus, Lakanto sweetener (whenever with monk fruit or erythritol) still has zero calories.
Nutrition facts
Calories: 0
Fat: 0 g
Sodium: 0 mg
Carbs: 8 g
Sugar Alcohol: 8 g
Protein: 0 g
6. Great Value Organic Coconut Sugar
As someone who is always looking for healthier alternatives to traditional sweeteners, I love using coconut sugar in my Optavia hacks when baking waffles or pancakes.
Not only does it have a delicious, caramel-like flavor, but it's also a more natural and less processed option compared to refined white sugar.
I already trust this brand, so when I found coconut sugar at a very fair price, I was excited.
At Walmart, you can find 32 oz packets for under $10, each with 90 servings.
For me, coconut sugar is a great alternative to refined or granulated sugar. (Did I mention the taste?)
It contains no artificial flavors or preservatives and provides a light, sweet and nutty flavor.
Use it for coffee, tea, baking goods, and soups.
Just like regular sugar, it can be used at a 1:1 ratio in recipes.
Nutrition facts
Calories: 40
Fat: 0 g
Sodium: 10 mg
Carbs: 9 g
Total Sugar: 8 g
Protein: 0 g
7. Health Garden Sweetener
Erythritol is a sugar substitute that has gained popularity in recent years for its sweet taste and low-calorie content.
(A fifth of what you'd get from regular sugar.)
Overall, Health Garden Sweetener Erythritol appears to be a good option for people looking to reduce their sugar intake on the Optavia diet.
I like this product becasue it's sugar-free, calorie-free, and has the lowest glycemic index (GI) values.
In fact, Erythritol is commonly used in most Optavia fuelings.
What's more, I didn't experience any metallic mouthfeel or dryness.
When it comes to price, you can expect to pay around $10.99 for 16 oz, which contains 75 servings.
The company also sells another sweetener called Xylitol for $9,99 per 16 oz, but it has 9.6 calories per serving.
Nutrition facts
Calories: 0
Fat: 0 g
Sodium: 0 mg
Carbs: 6 g
Total Sugar: 0 g
Protein: 0 g
Erythritol: 6 g
8. Walden Farms Maple Syrup
The low-calorie syrup is a great option for those looking to enjoy the sweet taste they crave without all the extra calories.
Although there are a variety of sweeteners and flavors to choose from, for this list we choose the Walden Farms Maple Syrup.
To be clear, this is not the actual maple syrup. Some products labeled as "pure maple syrup" may contain more calories.
Instead of "Pure Maple Syrup", look for products labeled "low-calorie syrup or flavored maple syrup".
Although this is not real maple syrup, the taste is remarkable.
Maple walnut syrup is best used with a variety of Optavia fuelings, including pancakes, waffles, oatmeal, and baked goods.
While Walden Farms has many different flavors of syrups (some do contain sweeteners like sucralose), maple syrup does not contain any calories.
Walden Farms also have several Optavia-approved salad dressings, pasta sauces, creamers, and more.
You can get a bottle at Walmart or Amazon for around $8.02, each containing 60 servings.
Nutrition facts
Calories: 0
Fat: 0 g
Sodium: 5 mg
Carbs: 0 g
Sugar: 75 g
Protein: 0 g
9. Alovitox Organic Yacon Syrup
According to the Alovitox website, Yacon syrup is a natural sweetener that is made from the root of the yacon plant, which is native to the Andes region of South America.
For me, it has a dark, syrupy consistency and a taste similar to molasses.
This product is best used for drizzling over Optavia pancakes, and waffles, or adding to coffee mixes.
And, becasue it doesn't have this sweet intensity, I like to combine it with monk fruit, whenever I feel like something extra.
Nutrition facts
Calories: 7
Fat: 0 g
Sodium: 10 mg
Carbs: 4 g
Total Sugar: 2 g
Protein: 0 g