9 Slimming Optavia Salad Dressings To Try
Are you on the Optavia diet and looking for a delicious way to dress up your salads without adding extra calories? You are in luck!
When it comes to the best Optavia salad dressing for lean and green meals, the main criteria should be that the dressing is both low-calorie and tasty.
To help you make the right choice, we've put together the list below of the most satisfying Optavia approved salad dressings that meet those requirements.
In this article, you'll find the nutritional facts for all the salad dressings on the list, as well as the serving size for how much salad dressing you can include in your Optavia meal plan.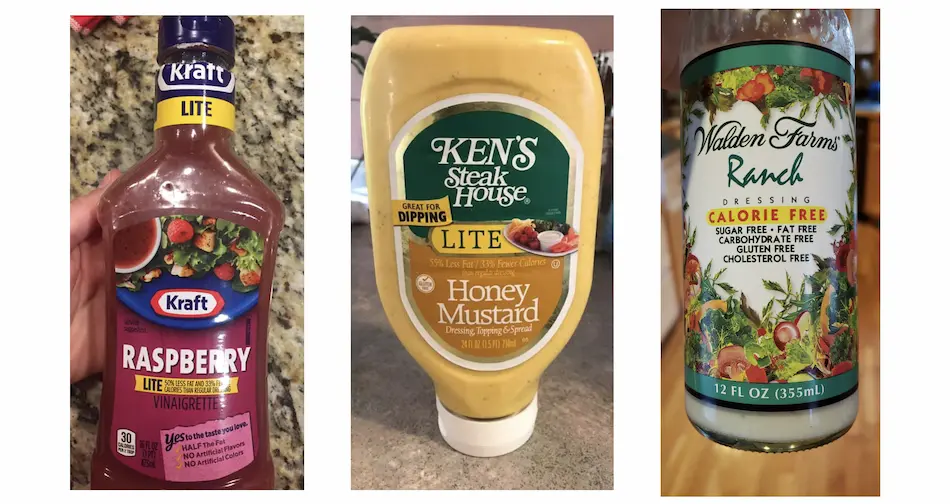 First, let's talk about Optavia salad dressing guidelines
As a general rule, it's important to remember that salad dressings on Optavia are not considered healthy fats.
They fall into the condiment category as part of an allowable three per day with lean and green meals.
For me, being able to choose quality salad dressings like Kraft, Wishbone, and Newman's Own makes it easier to stick to the plan.
I like to double-check the serving size. As long as the dressings have 60 calories per 2 tablespoons I stick with that amount.
However, if the dressing has 90 calories or more per 2 tbsp, then I only have 1 tablespoon.
You can mix salad dressing together
Sometimes I will mix and match different brands as well.
Here's a photo of how I like to prepare my condiments during my weekly meal prep in advance.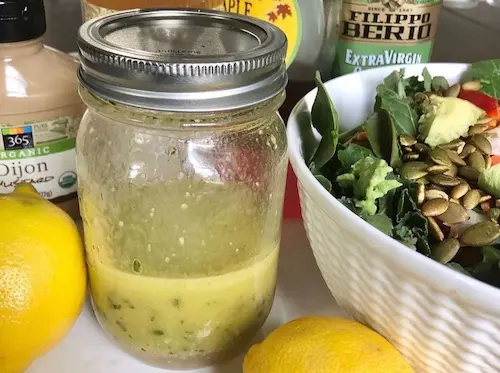 I've combined 5 tablespoons of ranch dressing, 2 teaspoons of Dijon mustard, and the juice of 2 lemons in this recipe. 
I keep the whole jar in the fridge and use 1-2 tablespoons for my lean and green meats, salads, or homemade fuelings.
A jar like this usually lasts me for 4-5 days.
Each serving size (1 tablespoon) has around 65 calories (1), which is in line with the Optavia guidelines.
Optavia Salad Dressings List
There are plenty of delicious, low-calorie dressings that can take your salad from boring to bold.
Forget about the high-calorie ranch (or whatever kind you've been relying on before) and vamp up those leafy greens with these approved Optavia dressings.
I've also included a table of each specific product and serving size to make it easy for you to properly portion out these dressings, enabling you to enjoy your salads with flavor while staying within your dietary goals.
1. Walden Farms Salad Dressing
Although Optavia didn't include Walden Farms on their list, I believe this is by far the best diet-friendly salad dressing.
Regardless of which flavor you choose, all have zero calories, net carbs, fat, sugars, dairy, or gluten.
Nada.
I must confess – I tried all flavors.
But my favorite flavors are Chipotle Ranch, Raspberry Vinaigrette, and Honey Dijon.
Here's the photo.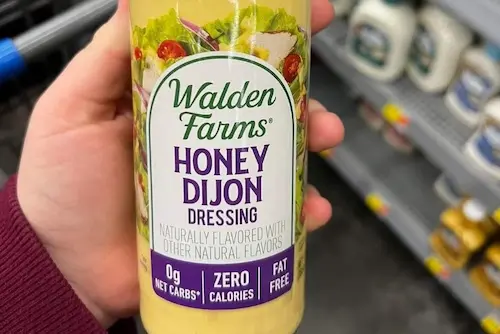 As you can imagine, with zero calories there are no boundaries to the serving size.
Despite its impressive nutritional value, I don't buy it too often as I find it expensive for four bottles at $26.92.
Other flavors include Sesame Ginger, Caesar, Asian Dressing & Marinade, Bacon Ranch, French, Blue Cheese, Creamy Bacon, Italian, Italian Zesty, Balsamic Vinaigrette, and more.
2. Skinny girl salad dressing
Another slimming salad dressing you should add to your next Lean and Green meals is Skinny Girl.
Not only do they have 10 calories per serving, but they are sugar-free, fat-free, and, most importantly for me, gluten-free.
A must-have for the Optavia diet.
I like them because they actually taste good, despite the caloric sacrifice.
Here's the photo of my favorite – Balsamic Vinaigrette with only 5 calories per serving.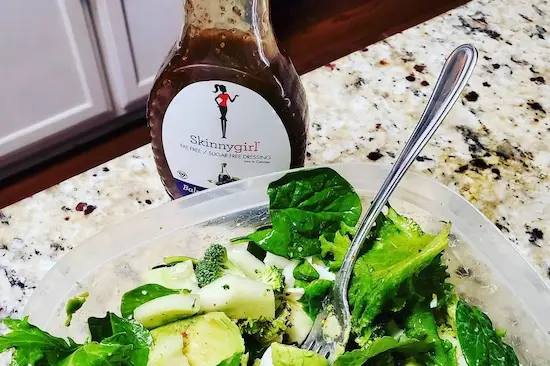 My wife buys them regularly for $2.56 per bottle at our local Walmart so for us it's a no-brainer.
I prefer dressings that aren't loaded with calories and sugar, and Skinny Girl meets those requirements while still being budget conscious which makes it an easy choice for me.
Other flavors I like are Raspberry Vinaigrette, Buttermilk Ranch, and Honey Dijon.
3. G Hughes Salad Dressing
The first time I heard about G Hughes was after reading a Washington Post article about the best barbecue sauces.
Despite which flavor you choose, all have zero sugar and most have only 60 calories per serving (1).
In other words, two tablespoons (30 ml) of G Hughes equals one Optavia condiment.
Only Coleslaw salad dressing has 80 calories per serving. If you really like it, use only 1 tablespoon.
I like to stick with the Original for its sweet and tangy taste and my wife often buys Balsamic Vinaigrette.
Here's the photo.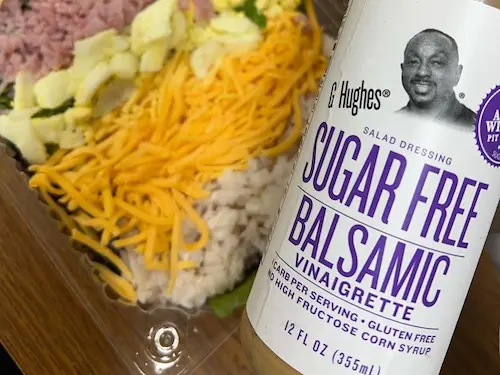 Other interesting flavors I suggest you try from the G Hughes are Asian Miso, Poppyseed, and Raspberry Vinaigrette.
4. Annie's Naturals
I prefer Annie's Naturals because they offer classic flavors while providing a natural, healthier option for my salads – all while staying within Optavia's requirements.
For me, the best Optavia-approved salad dressing is Annie's Naturals – Organic Green Goddess.
Here's the photo.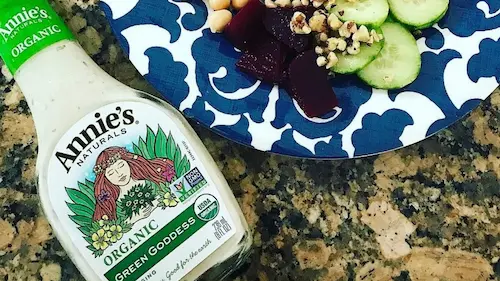 I like it for a variety of reasons – for one, it has great flavor and for another, it has 100 calories per serving (2 tablespoons).
If you opt for the Roasted Red Pepper or Lite Goddess recipes instead, you can still reap the benefits of this delicious dressing with two tablespoons per serving.
Serving size guide
The table below shows you all of the Annie's Naturals salad dressings that are allowed on Optavia, together with serving sizes.
1 Tablespoon
2 Tablespoon
· Goddess
· Organic Cowgirl Ranch
· Organic Roasted Garlic Vinaigrette
· Organic Green Goddess
· Organic Goddess
· Organic French
· Organic Caesar
· Organic Balsamic
· Organic Asian Sesame
· Cowgirl Ranch
· Balsamic Vinaigrette
· Woodstock
· Lemon & Chive Vinaigrette
· Tuscany Italian
· Artichoke Parmesan
· Organic Smoky Tomato
· Roasted Red Pepper
· Lite Goddess
5. Hidden Valley
Here's a photo of my favorite Hidden Valley salad dressing – Ranch Light.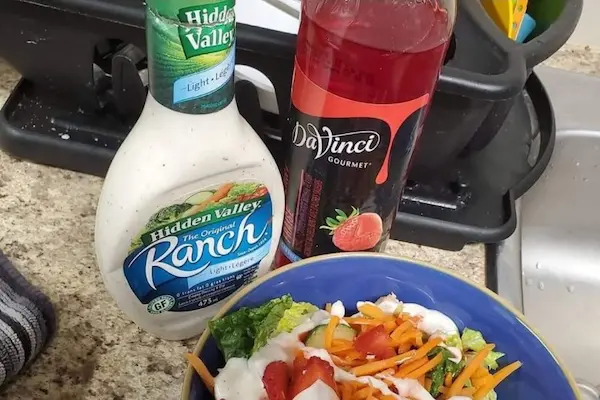 For me, Hidden Valley Ranch Light is the perfect dressing for an Optavia-approved salad.
Although I love the classic creamy versions of Hidden Valley Ranch, for a lighter option, this one has just the right amount of flavor without all the calories.
I like that for this version you can have two tablespoons for one serving size.
If you choose Avocado Ranch or Roasted Garlic Ranch, then you'll only be able to have one tablespoon for your optimal serving.
Serving size guide
The table below shows you all of the Hidden Valley dressings you can use without worry.
Whether it be Ranch, Greek Yogurt Lemon Garlic, or Fiesta Salsa Ranch varieties, they follow the Optavia guidelines perfectly.
1 Tablespoon
2 Tablespoons
· Avocado Ranch
· Cucumber Ranch
· Sweet Chili Ranch
· Roasted Garlic Ranch
· Fiesta Salsa Ranch
· Cracked Peppercorn Ranch
· Simply Ranch Cucumber Basil
· Simply Ranch Classic Ranch
· Simply Ranch Chili Lime
· Buttermilk Ranch Light
· Cucumber Ranch Light
· Fiesta Salsa Ranch Light
· Original Ranch Homestyle Light
· Greek Yogurt Spinach & Feta
· Greek Yogurt Lemon Garlic
· Greek Yogurt Ranch
· Greek Yogurt Cucumber Dill
6. Ken's
I love salad dressings and although Optavia has some restrictions on what kind you can use, I'm glad they allow Ken's.
Ken's salad dressings provide a variety of options for anyone following the Optavia diet plan.
With over 60 flavors to choose from, there's something for everyone.
For me, my favorite is the Simply Vinaigrette Garlic & Basil.
See the photo below.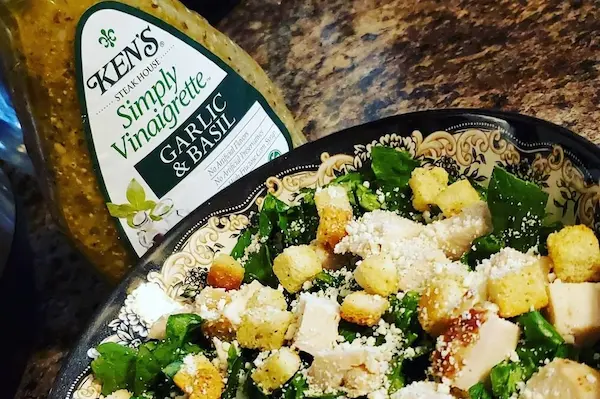 Unfortunately, this one has 120 calories per 2 tablespoons, so I only use 1 tablespoon per meal.
I also like Italian, but it has whooping 150 calories per 2 tablespoons (2).
Please remember that there are many reduced-fat dressings as well as lite versions.
So you can enjoy the flavors without feeling like an overload of grease has ruined your efforts to maintain optimal health.
If you opt for their light options like Ken's Lite Caesar, which has only 70 calories (2), you can enjoy 2 tablespoons per serving.
Serving size guide
The table below shows you Ken's selection of salad dressings, as well as serving size guides.
1 Tablespoon
2 Tablespoon
· Balsamic Vinaigrette
· Creamy French
· Greek
· Honey Mustard
· Italian
· Red Wine Vinegar & Olive Oil
· Three Cheese Italian
· Chef's Reserve French
· Chef's Reserve Italian
· Light Options Balsamic Vinaigrette
7. Newman's Own
Although there are several brands and varieties of Optavia-approved salad dressing, I prefer Newman's Own Sesame Ginger Dressing.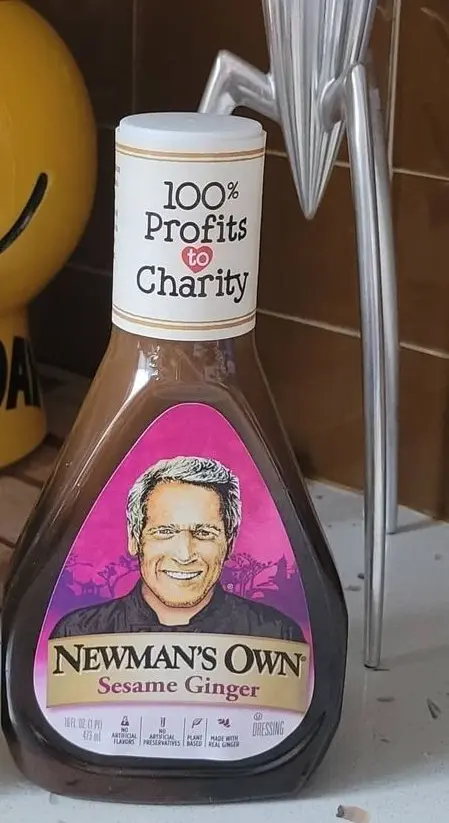 For me, it has the optimal flavor to drizzle over a healthy salad.
I don't buy their Classic Oil & Vinegar Dressing.
It has a strong vinegar flavor and almost five times more calories.
I like that although it's full of flavor, it only has 35 calories for a two-tablespoon serving (4).
As far as affordability goes, it rings up at an average of $3.64 at my local Walmart, making it one of my favorite go-to dressings for my Lean and Green meals.
Serving size guide
The table below gives you all the details you need to know, providing the recommended serving size of each Newman's Own salad dressing that is allowed on Optavia.
1 Tablespoon
2 Tablespoon
· Balsamic Vinaigrette
· Greek Vinaigrette
· Honey French
· Parmesan & Roasted Garlic
· Three Cheese Balsamic Vinaigrette
· Lime Lite Vinaigrette
· Lite Caesar
· Lite Italian
· Lite Red Wine Vinegar & Olive Oil
8. Wish-Bone Salad Dressing
Another Optavia-friendly salad dressing that you can often find in my pantry is Wish-bone's.
Their version is a delicious combination of onion, garlic, and black pepper that I like more than traditional Italian-style dressings.
It's also relatively affordable – at $2.58 per bottle, it's a good value.
Here's the photo of my three favorites – Creamy Caesar, Ranch Light, and Balsamic Vinaigrette, which is the best vinaigrette dressing I've had.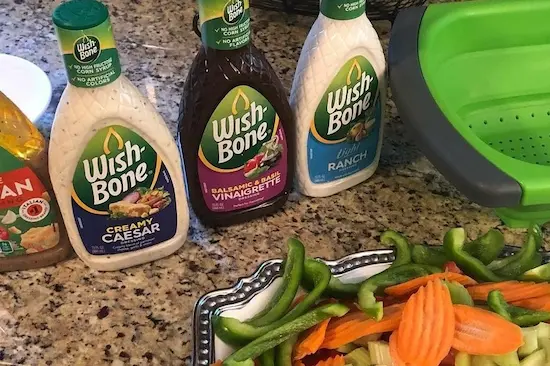 Balsamic Vinaigrette has only 60 calories per serving size (3), so you don't have to worry about exceeding your daily condiment allowance (if you stick to two tablespoons).
On the other hand, if you prefer fat-free dressing, Wish-bone also has options with only 30 calories per serving so you can likely enjoy two servings with no guilt.
Serving size guide
The table below offers you the information you need to make sure your salad dressings are compliant with Optavia.
Most of the Wish-bone dressing options are accounted for, and the accompanying serving sizes will guarantee that no unapproved ingredients sneak their way into your diet.
1 Tablespoon
2 Tablespoon
· House Italian
· Creamy Italian
· Spicy Caesar
· South of the Border Ranch
· Thousand Island
· Sweet & Spicy Honey Mustard
· Sweet & Spicy French
· Deluxe French
· Creamy Italian
· Mediterranean Italian
· Bruschetta Italian
· Balsamic Italian Vinaigrette
· Romano Basil Vinaigrette
· Olive Oil Vinaigrette
· Greek Vinaigrette
· Balsamic Vinaigrette
· Light Thousand Island
· Light Ranch
· Light Parmesan Peppercorn Ranch
· Light Creamy Caesar
· Light Buffalo Ranch
· Light Blue Cheese
9. Kraft Lite
Another powerful low-calorie salad dressing I recommend you should try is Kraft.
I don't buy Creamy French or Classic Caesar salad dressings becasue they have 160 calories per serving.
Instead, I prefer the lite version, something like Classic Ranch.
Two tablespoons, which is considered as one serving size, have only 30 calories.
Here's the photo of my favorite Kraft Lite flavor – Raspberry Vinaigrette.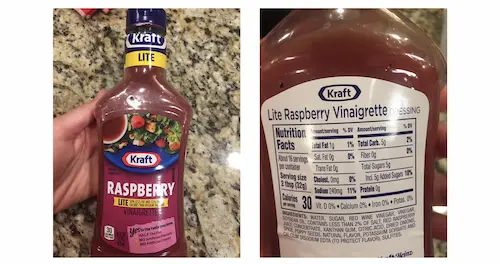 I like this for its sweet and tangy flavor combination, balanced perfectly between the red wine vinegar and raspberries.
It creates a unique and delicious combination for salads, making them much more interesting to eat.
I buy a bottle in Walmart for just $2.52 – that's definitely worth its weight in gold!
Serving size guide
To assist with your meal planning, the table below contains a comprehensive inventory of Kraft salad dressings that are approved as part of an Optavia meal plan, including serving sizes.
1 Tablespoon
2 Tablespoon
· Balsamic Vinaigrette
· Greek Vinaigrette
· Honey French
· Parmesan & Roasted Garlic
· Three Cheese Balsamic Vinaigrette
· Lime Lite Vinaigrette
· Lite Caesar
· Lite Italian
· Lite Red Wine Vinegar & Olive Oil