5 Optavia Approved Wraps that nobody talks about
Are you on the hunt for wraps and Tortillas that are approved for the Optavia Diet? Unsure how to count them in your plan?
Wraps make for great Fueling alternatives and additions to your lean and green meals – just what you need to diversify your menu!
Let's dive into our meticulous testing of Optavia diet-approved wraps – we've tried and tested some of the best (and worst) options out there.
Not only will we be discussing how these wraps fit into your 5 and 1 meal plan, but we'll also be sharing some tips for preparing them.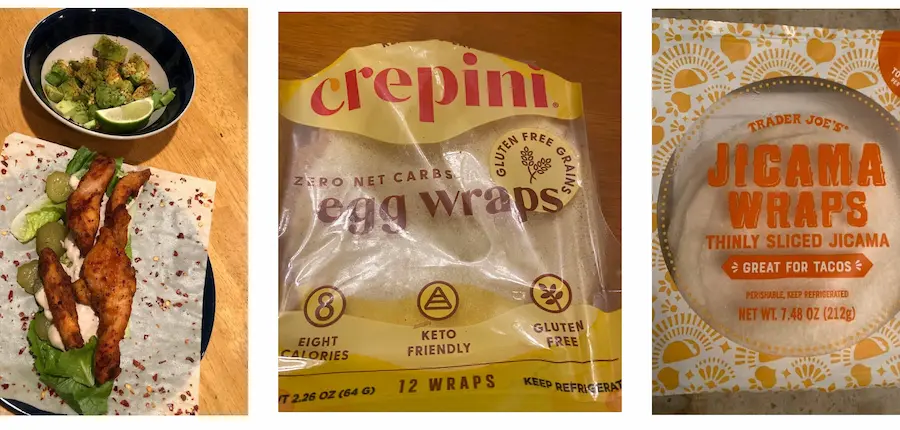 Can you have tortilla wraps on Optavia?
I was initially confused about whether or not wraps were allowed on the plan because Optavia doesn't provide enough information on the topic.
To get some answers, my wife contacted Optavia's Dietetic Technician, Ryan, and asked how wraps could be used and how they would count towards our plan.
Ryan confirmed that tortilla wraps are indeed allowed on the Optavia Diet.
"They can be counted as one serving of lean, green, or condiment, depending on the specific type of wrap that you choose," says Optavia Certified Health & Wellness Coach.
For example, egg white wraps are a great option because they have fewer calories and more protein, which makes them count as your LEAN serving.
On the other hand, cauliflower wraps can be used as a green or a condiment, as confirmed by Optavia support.
How many wraps can I have in a day?
Optavia allows you to have 2-3 wraps per day, provided you select the ones that have fewer than 30 calories and less than 1g of carbohydrates.
These wraps count towards your daily condiment allowance.
Keep in mind that if you choose to consume a wrap as a condiment, you should avoid adding any other condiments since you are limited to three per day.
However, if you choose wraps that count as your lean, make sure to subtract the wrap's serving size from your daily LEAN allowance.
This will help you maintain a balanced intake of protein and other macronutrients.
5 Optavia Approved Wraps
I and my wife recently sampled all of the wraps listed below.
Most of them are low-carb and gluten-free, which is great if you're trying to cut back on carbs or have a gluten intolerance.
What's really cool is that none of the wraps have more than 30 calories, which is perfect for keeping within the calorie limits.
1. Egglife Egg White Wraps
Egg white wraps are the perfect low-calorie and carbs, gluten and dairy-free alternative for those who are on Optavia 5 and 1 plan.
According to the Optavia diet program, 1 Egglife wrap will equal 1 ounce of protein (1 oz of Lean). Simply subtract 1 ounce from the rest of your protein serving for the day.
Here's the photo of my favorite – Egglife original.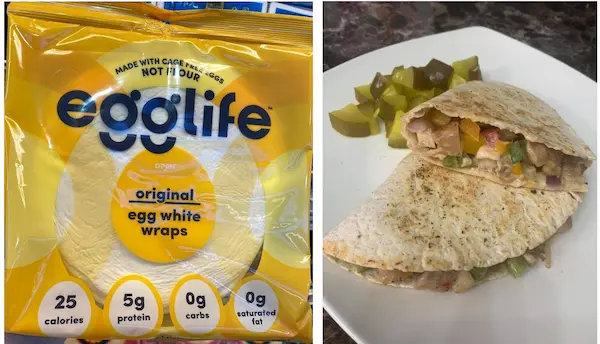 On the right, you have one serving of Egglife original wrap and 5 oz of chicken breast.
That counts as my one serving of lean.
For my 3 servings of green, I like to add a vegetable mix, such as:
Chopped tomatoes
Cooked spinach
Jalapeno
Lettuce
Onion
Cucumber
Red and yellow peppers
As for my healthy fats, we used 1 oz of avocado and pumpkin seeds (around 2 Tbsp).
Done.
And of course, my lovely wife like to add honey dijon Walder Farm sauce – 2 Tbsp as 1 condiment.
(I prefer simple salt and pepper.)
Although this one has 25 calories, keep in mind that other flavors like southwest style, Italian style, or sweet cinnamon can have 5 to 10 calories more.
Despite the flavor you choose, you're still getting the same amount of Lean (1 oz).
You can typically find them at Walmart, but they are also available at Aldi near the dairy section close to the egg, as well as in the Target stores.
Alternatively, you can always find a variety of flavors on Amazon too.
Nutrition facts
Serving size: 1 wrap (28 g)
Calories: 25
Total Fat: 0 g
Carb: 0 g
Sodium: 120 mg
Sugars: 0 g
Protein: 5 g
2. Crepini Egg Wraps
After seeing Crepini ads for the 500th time, I've decided to give it a try.
(I'm glad I did!)
Out of all the wraps that we've tried, Crepini deserves to be at the top of Optavia approved products.
Here's the photo.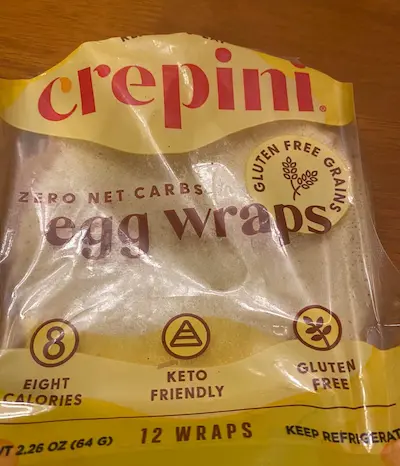 Sure, these wraps don't have many proteins, but they are made from gluten-free grains and contain only 8 calories per serving.
We've been using these wraps (frequently) to make quesadillas and tacos, as well as simple rolls with seafood (or meat) and vegetables.
What is the catch?
Well, it's hard to get them.
I purchased these wraps at my local Sprouts farmers market in West Kendall, Miami. I haven't seen them in Costco or in Walmart.
You can buy them from their website, but they only sell 6-packs or 12-packs.
So.
Whenever I take only a couple of them, I freeze the rest in the original packaging.
(Freezing is fine.)
However, these wraps are quite delicate, so it's important to handle them with care when taking them apart after defrosting.
Additionally, I find these wraps to be very thin and have a noticeable eggy taste, which can be both positive or negative depending on one's preference.
As I said before, the taste of eggs is not a problem for me!
Since the company produces Grande and Thins types of egg wraps, we can measure serving sizes differently.
The Grande Crepini (1 wrap) can be counted as 1 serving of green, while the Thins Crepini wraps can be counted as 1 serving of green in the lean and green meal with 2 wraps.
Nutrition facts
Grande Egg Wraps
Thins Egg Wraps
Serving size: 1 wrap (20 g)
Calories: 30
Total Fat: 1.5 g
Carb: 0 g
Sodium: 90 mg
Sugars: 0 g
Protein: 3 g
Serving size: 1 wrap (5.33 g)
Calories: 8
Total Fat: 0 g
Carb: 0 g
Sodium: 25 mg
Sugars: 0 g
Protein: 1 g
3. Trader Joe's Jicama Wraps
Trader Joe's Jicama Wraps are a unique and healthy alternative to traditional tortillas, which is also perfect for Optavia 5 and 1 plan.
The flavor is reminiscent of a radish, but without the spiciness, and some people even notice a subtle nuttiness.
What really sets Jicama Wraps apart is that they're mild and neutral.
Also gluten-free and vegan, making them a great option for those with dietary restrictions.
To be honest, when I make my wraps, I like to use three wraps to make a serving, which I count as 1.5 portions of greens.
I usually pair them with some veggies, which I count as another serving of greens.
For the filling, I usually like to go for crab or shrimp, and I'll mix in some Greek yogurt for added protein as my lean.
As a condiment, I add some ranch sauce for extra flavor, but you can use any from the Optavia approved salad dressings list.
Then, I mix it with olive oil to get in some healthy fats. Finally, I add my veggie mix together with Greek yogurt.
BAM!
Here' photo of my lean and green wrap. (So yummy!)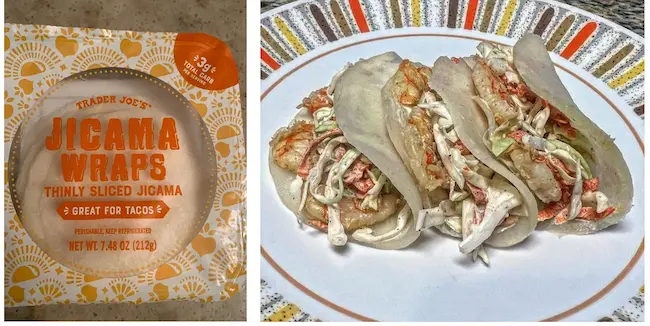 Do you know what's funny?
The first time I was doing wraps (without my wife) I had no clue what to do with them…
…so I stuck it in the freezer.
(True story.)
Okay, so it is tasty, but how about the serving size for Optavia?
According to Optavia rules, 2 Trader Joe's Jicama Wraps is 1 green serving size.
Nutrition facts
Serving size: 2 wraps (36 g)
Calories: 15
Total Fat: 0 g
Carb: 3 g
Sodium: 0 mg
Sugars: <1 g
Protein: 0 g
4. Norigami Wraps
Norigami wraps is a small company, secretly owned by Michel de France – a quite famous producer of authentic European-Style crepes and wafers.
According to the Norigami website, they have has two types of very thin egg wraps made from high-quality soybean.
Regardless of the flavor, you can rest assured that sesame, chili, and chia Norigami wraps have been approved by Optavia as 1 wrap is 1 condiment.
Plus, this wrap also is vegetarian, kosher, gluten-free, and has no artificial ingredients.
But, actually, I like them for a very thin texture like rice wrap shell, and this chili flavor makes me crazy.
When I don't have enough time I do a recipe with a blackened chicken wrap.
(We call it Tyson Norigami wrap.)
Here's the photo.

This meal took me only 10 minutes!
The same chicken I use for my Optavia fueling substitute.
It has 110 calories, 3 grams of fat, 1 gram of carbohydrate, and 20 grams of protein per serving.
To prepare, I add 1 serving size of a chicken, chili wraps, lettuce, mayo (not too much), pickles, and a little sugar-free honey mustard.
Avocado as a healthy fat.
Squeeze an extra lime and it's done.
Unlike Crepini wraps, you can find Norigami at Walmart.
Some small family-owned grocery stores also have it, but I usually buy Norigami during my weekly grocery shopping in more than one pack.
Also, I've found that Norigami wraps can stay fresh for up to a year if stored in a dry area with the packaging sealed.
While they can also be stored in the freezer. I also prefer to keep them in the fridge after I open one of them.
Nutrition facts
Serving size: 1 piece (4 g)
Calories: 15-20
Total Fat: 0.5-1 g
Carb: 1 g
Sodium: 15-20 mg
Sugars: <1 g
Protein: 0-2 g
5. Wonder Wraps
I recently tried Wonder Wraps, and they exceeded my expectations!
(No joke.)
I was happy to find these wraps.
They are gluten-free, soy-free, nut-free, and non-GMO. All ingredients are natural.
As for the Optavia 5 and 1 plan, count 1 wrap as 1 condiment.
I tried only the original and hot chili flavors.
My wife, Emiliia, made some tacos and burritos.
(Both are tasty as hell.)
To start, heat up your original wrap on a pan without using any oil.
After, fry up some salmon and eggs to get your protein fix. Also, add some veggies to get your greens in.
(I use tomatoes and mix them with some avocado and lime juice to create flavorful guacamole.)
Here's the photo.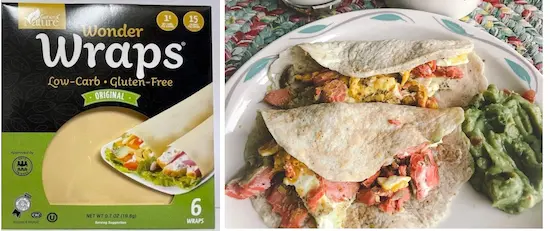 I find that this recipe doesn't need any additional sauce since 2 wraps are already equivalent to 2 condiments.
To add some extra flavor, I season the guacamole with a bit of salt and pepper.
However, it's best not to pack a pre-made wrap for lunch as it will fall apart if it gets wet.
(I learned that the hard way.)
Instead, I recommend packing the fillings separately and putting the wrap in a baggie by itself.
Additionally, when making the wrap, I suggest not spreading wet condiments directly on it and spreading them on the other ingredients instead.
Okay, so where I can find Wonder Wraps?
Amazon.
I usually order a few different flavors from Amazon along with my other favorite products.
Once I receive my order, I store the wraps in a dry place until I am ready to use them.
After I open a pack of wraps, I make sure to keep them fresh by placing them in the fridge.
This has worked well for me, and I've never had any issues with the wraps going bad.
Nutrition facts
Serving size: 1 piece (4.5 g)
Calories: 15-20
Total Fat: 0-0.5 g
Carb: 1-2 g
Sodium: 10 mg
Sugars: <1 g
Protein: 2 g