20 Optavia Fueling Substitutes And Cheaper Alternatives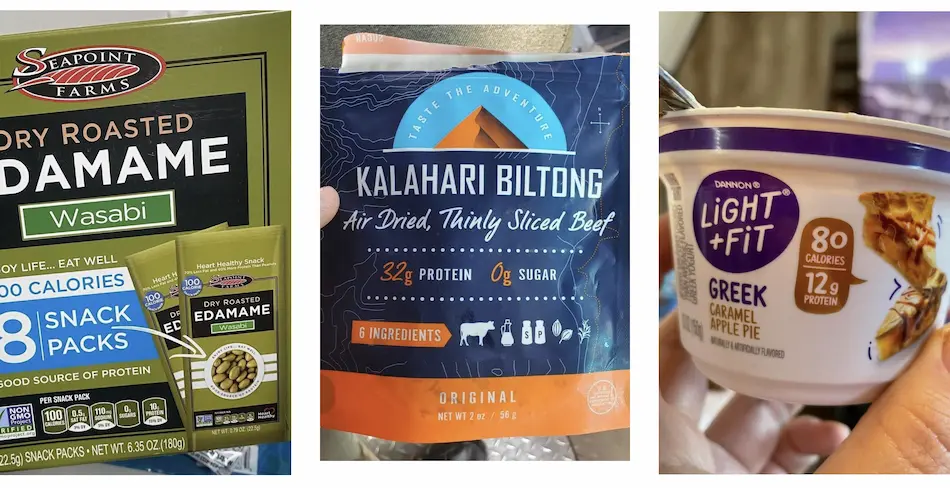 The Optavia fueling substitutes refer to alternative snacks that can be used as replacements for Optavia Fuelings. These substitutes offer similar nutritional benefits at a more affordable price. Some examples of Optavia substitutes include beef jerky, protein puffs, cereals, yogurts, and snacks, all of which are under 150 calories and contain at least 10 grams of protein.
After a surprisingly long (and intensive) exploration of the grocery shops, I've successfully created a new Optavia fueling substitutes list. This list includes store-bought Optavia Fuelings, such as protein shakes, protein bars, and Greek yogurts.
Do you wanna know the fun part? What makes them even better is that they are cheaper than the original Optavia Fuelings.
So if you're looking for the best Optavia fueling substitutes at affordable prices that still provide top-quality nutrition, then you're in for a treat!
Long story short, if a close friend of mine was looking to switch up her Optavia diet or simply run out of Fuelings, these would be my recommendations.
Eat Proteins is a reader-supported platform. Purchases made through our links may earn us a commission at no extra cost to you. Learn more.
1. No Cow Pumpkin Pie  Protein Bar
Chocolate Chip Cookie Dough Protein Bars by No Cow is one of the most popular Optavia fuelings alternatives. These bars are a game-changer! With 200 calories and a whopping 20 grams of plant protein, they make for an excellent Optavia substitute. One serving of this bar equates to two Optavia fuelings, so feel free to break it in half.
(That's $1.35 per Optavia fueling equivalent!)
This photo shows my favorite No Cow protein bar flavor – Pumpkin Pie.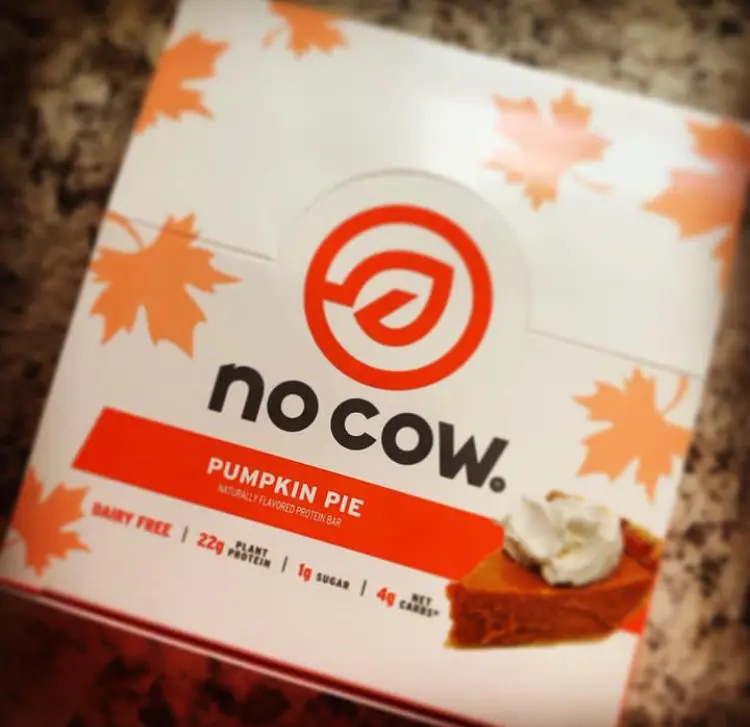 The list below shows the ingredients of the No Cow Pumpkin Pie protein bar.
dairy-free
gluten-free
kosher
non-GMO
vegan
They're made from pea and rice protein, stevia, and monk fruit, ensuring that you're fueling your body with clean ingredients. The taste is unreal like you're eating cookie dough straight out of the tub but without the guilt.
People are raving about how these bars not only satisfy their chocolate cravings but also make them feel full and never hungry.
So whether you need an Optavia fueling alternative as your post-workout snack or a meal replacement, these bars have got you covered. For the best deals, I recommend going to the No Cow website.
2. No Cow Mighty Treats Marshmallow Crunchies
If you're on the hunt for Optavia fueling substitutes, you've got to check out No Cow Marshmallow Crunchies. They're essentially a bite-sized version of the previously mentioned No Cow protein bars but with only 90 calories per serving. These crunchies make an excellent (and cheaper) alternative to traditional Optavia fuelings.
7g of plant protein (no soy)
18 pieces in a box
Under $2.00 per serving
Keep in mind that not all No Cow Mighty Treats are the same. No Cow Peanut Butter Cups have twice as many calories.
This photo shows Optavia fueling substitute – No Cow Marshmallow Crunchies.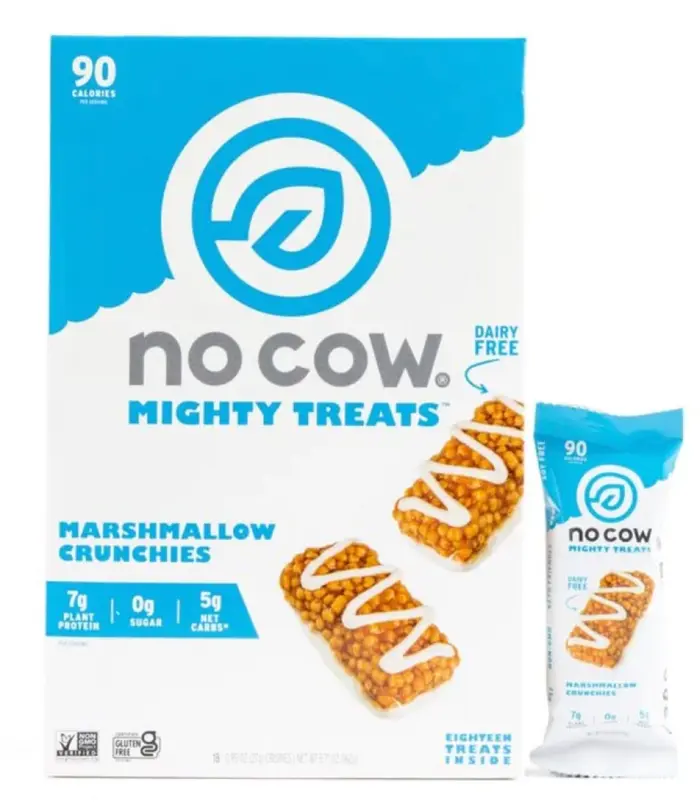 They've got that nostalgic marshmallow crunch, but they're revamped to align with health-conscious choices. With 7g of plant protein, zero sugar, and only 5g of net carbs at 90 calories each, they're an excellent substitute for Optavia bars.
These treats are not just delicious, but they also tick all the nutritional boxes you'd want in an Optavia fueling alternative. We're talking dairy-free, gluten-free, kosher, non-GMO, soy-free, and vegan.
So, if you're on the Optavia plan but want to mix things up, No Cow Marshmallow Crunchies are available through the No Cow website (and offer several discounts).
3. Intermittent Fasting Bar
Created by USC scientists, Fast Bar—also recognized as the Intermittent Fasting Bar—is a nutritious choice that stands as a compelling alternative to Optavia fuelings. Though not high in protein, it has 8 grams of fiber, designed to keep you full for hours and help in weight loss.
Originally made for intermittent fasting, its formula allows you to eat it without disrupting your fast. Endorsed by health experts for weight management, the Fast Bar offers a variety of flavors like Nuts and honey and is convenient for both fasting and everyday use.
This photo shows four flavors of Fast Bar – an Optavia fueling substitute.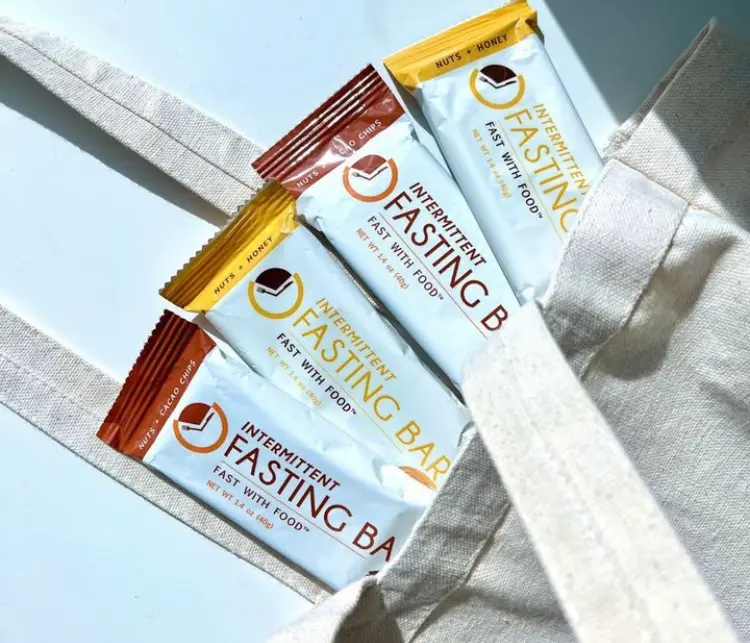 With fewer than 10 all-natural ingredients, it's a clear choice for those following Optavia independently.
You can buy these bars for a one-time purchase at $2.80 each or get them for $2.52 per bar when you opt for auto-delivery. Either way, they're a more cost-effective option compared to Optavia fuelings.
You can order intermittent fasting bars only via the Fast Bar website.
4. Orgain Clean Protein Shake
If you're in search of an alternative to Optavia fuelings, consider the 20g Clean Protein Shake by Orgain. This ready-to-drink option offers a substantial 20g of protein per serving and is free from artificial additives, aligning with the clean eating goals of the Optavia 5 and 1 plan.
The shake is versatile, catering to a variety of dietary needs and preferences. It's a low-carb choice suitable for those with reactive hypoglycemia, it's gluten-free for individuals with gluten sensitivities, and it's also Kosher certified. Moreover, athletes and fitness enthusiasts will find its high protein content beneficial for muscle repair and building.
130 calories per serving 
Low sodium
9 grams of carbohydrates
20 grams of grass-fed milk protein
2 flavors
This photo shows the full 12-pack of 20g Orgain Clean Protein Shake – creamy chocolate fudge.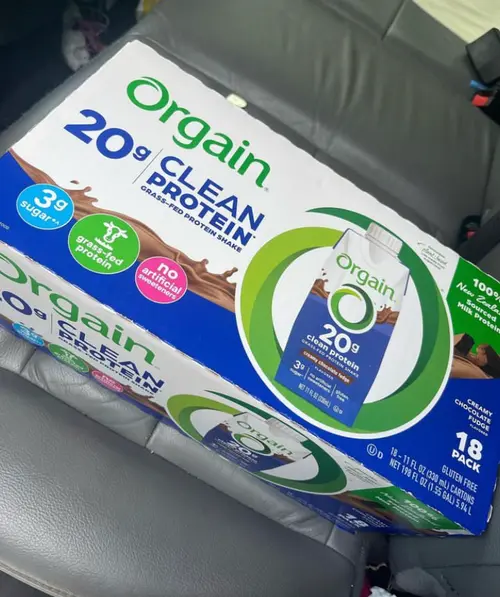 What sets this shake apart as an Optavia alternative are its non-GMO ingredients, its soy-free formula, and its mere 130 calories per serving, making it a guilt-free choice. Additionally, its Ultra Clean formula ensures that you're getting premium-quality protein without unwanted additives.
Although prices on Amazon and Orgain are similar, you can find more deals and discounts when buying directly from Orgain.
5. Muscle Milk Zero Protein Shake
If you need an Optavia substitute that is both delicious and suitable for your diet, I highly recommend trying out the Muscle Milk Zero Protein Shake.
I recently tried it and it blew my mind!
Here's the photo of Optavia fueling substitute – Muscle Milk Zero Protein Shake.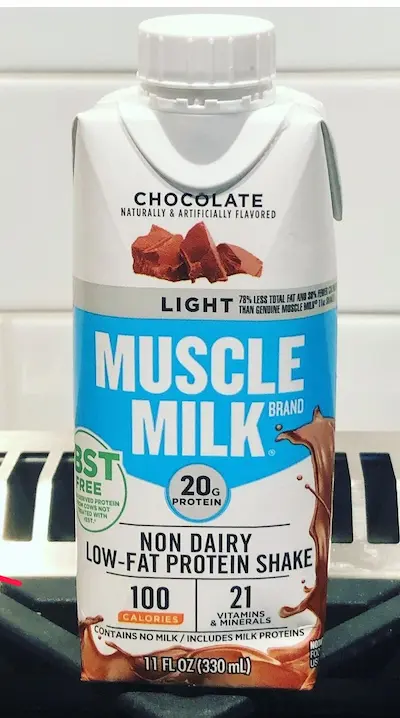 The taste is unbelievably good, and that's coming from someone who usually finds zero-sugar shakes to be bland or artificial-tasting.
Whether you choose chocolate, vanilla, or strawberry, you're in for a treat that will have you questioning how they did it without any sugar.
This one has only 100 calories, 1 gram of fat, and 7 grams of carbs, which makes it ideal if you do exercise and want to maintain muscle mass.
No soy.
No erythritol.
Plus, it keeps me full and satisfied. This Optavia fueling alternative has a whopping 20 grams of whey protein, which is essential for fueling your workouts and promoting speedy recovery.
Although most of the shops sell Muscle Milk, my favorite Zero Carb version is available at Amazon.
6. Shrewd Food Protein Puffs
If you enjoy Optavia poppers and crunchers, then Shrewd Food Protein Puffs should be on your radar as a top Optavia substitute.
I'm a huge fan of Shrewd Food Protein Puffs, mainly because it's low in calories and high in protein that's been derived from milk protein isolate.
I have multiple food allergies and I can't just buy any snacks off the shelf with gluten and soy.
Whether you choose Totally Taco, Nacho Cheese, or Brick Oven Pizza, one 21-gram serving has only 90 calories and 14 grams of protein (1).
If you're conscious about your sodium levels, choose the Sweet Thai Chilli flavor as this one contains only 160 mg of sodium.
Apart from the protein puffs, I also like the protein crisps, especially Brick Oven Pizza and Baked Cheddar.
Here's the photo.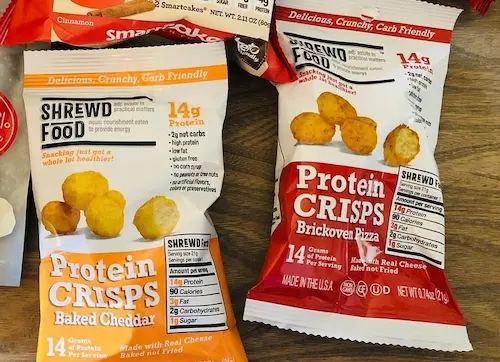 For those seeking health-conscious Optavia fueling alternatives, Shrewd Food protein puffs have all the attributes to satisfy your cravings without guilt.
Unlike Optavia crunchers, poppers, and sticks, one bag of Shrewd Food Protein Puffs costs $2.49 directly from the Shrewd Food website and $1.78 on the Amazon website.
7. Magic Spoon Cereal
Since I started doing the Optavia diet on my own, the Magic Spoon cereal has become my main alternative for oatmeal and breakfast cereals.
And you know what is best?
Instead of paying a high price for the Optavia diet ($3.32 per serving), I rather spend $1.95 for Magic Spoon cereal on Amazon.
Here's the photo of the Magic Spoon box Fruity flavor.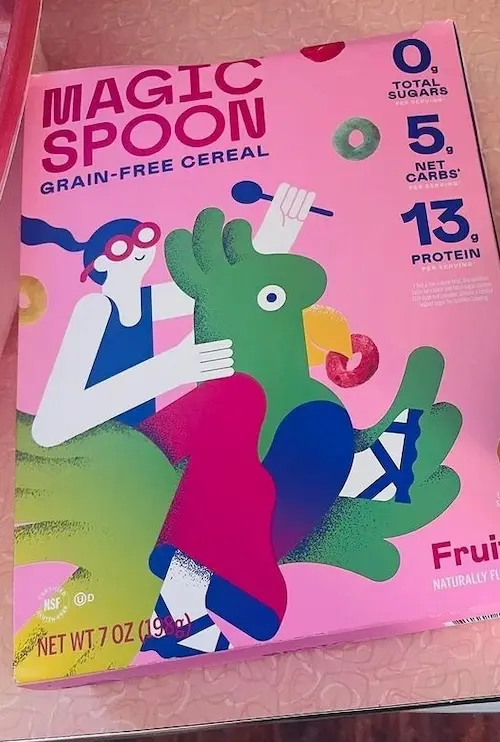 Although Optavia cereals have 10 grams of protein per serving (2), the protein is derived from soy protein isolate and soy protein concentrate.
According to a 2015 study by Stephan van Vliet published in The Journal of Nutrition, "soy protein contains fewer essential amino acids (EAAs) and branched-chain amino acids (BCAAs) than whey."
On the contrary, Magic Spoon has 13 grams of protein per serving (3), and they use a milk protein blend that contains whey protein and casein concentrate.
And while there are many Optavia cereal substitutes, Magic Spoon is twice less expensive, compared to other brands.
8. Jack Link's Beef Jerky

I have purchased Beef Jerky Lack Links several times, and each time I've been impressed with the freshness of the packs.
I especially appreciate that they are single-serve, which makes them ideal for packing in lunch boxes or as a quick snack on the go.
Here's the photo of the Optavia fueling substitute – Beef Jerky Lack Links.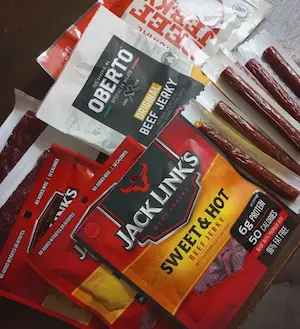 Now, I have to confess that I'm a huge fan of dry beef (or turkey) snacks, and I often find it challenging to stick to the recommended serving size.
However, I remind myself that each serving of Beef Jerky Lack Links contains only 80 calories, 1g of total fat, 6g of total carbohydrates, and a whopping 11g of protein.
One of the best parts about buying Beef Jerky Lack Links from Amazon in single packs is that it's cheaper than purchasing them at the grocery store.
This is a huge plus for me since I'm always on the lookout for affordable snacks that won't break the bank.
At just $1.39 per serving, Beef Jerky Lack Links are an affordable and convenient way to get a healthy protein boost throughout the day.
But it's essential to note that beef jerky can be expensive, so it's crucial to stick to the recommended serving size to get the most value for your money.
9. Quest Protein Shake
Quest shakes are one of many Optavia protein shake alternatives that are more budget-friendly than Fuelings.
Here's the photo of my favorite Quest shake – salted caramel.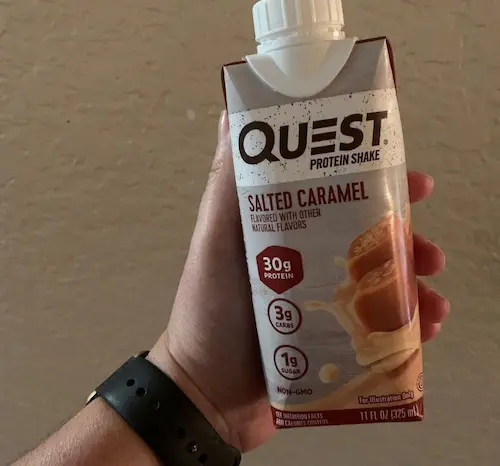 And guess what? I don't drink an entire bottle, as each serving has 170 calories.
(There are better ways.)
To match the nutritional value of Fuelings, I only consume half the serving, which gives 85 kcal, 15g of protein, and 1.5g of carbs. Also, I don't purchase from the Quest Nutrition website.
(I don't know anyone who does that.)
Instead, I go to Amazon and buy a 4-pack for $8.88 ($2.20 per bottle), instead of $2.90 per bottle on the website.
So, by only drinking half, I can substitute a Fueling for $1.10.
10. Atkins Bar
Atkins bars are an excellent choice for those on a budget who are looking for a snack alternative to Optavia bars. But, I'll be honest with you, eating the whole bar is a bit much. At 200 calories per bar, it's best to just have half.
You wanna know how I do it? I store my bars in the fridge to ensure I can cut them easily, without ruining the structure or making them mashy. That way, you get 100 calories, and a decent serving of protein at 8g, with just a tiny 2g of carbs.
Not to mention, these bars are a real steal at just $1.79 each on Amazon. And when you opt for half a bar, it's even more budget-friendly at just $0.89 per Fueling.
Here's the photo of my personal favorite – the Chocolate Chip.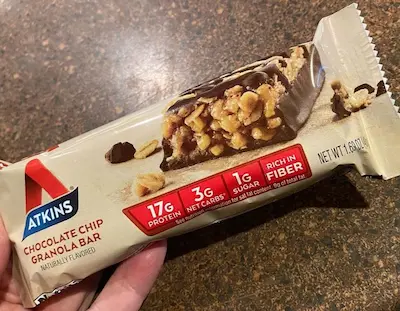 This one packs the most punch in terms of protein per serving.
Just make sure to check the label, as different bars may have varying amounts of macronutrients.
11. Orgain Protein Bar
If you're on the Optavia plan and looking for a solid Optavia snack alternative, you've got to check out Orgain's organic protein bars.
Similar to the aforementioned Orgain protein shakes, these bars are 100% plant-based, making them a perfect fit for vegans and anyone with dietary restrictions. With 10g of organic plant-based protein and only 150 calories, they're a guilt-free way to keep your energy up throughout the day.
Here's the photo.

What sets Orgain apart is their commitment to quality. The bars are USDA organic certified, as well as gluten-free, kosher, and non-GMO. That means you're getting top-notch ingredients without any of the artificial stuff.
Plus, they're low in sugar, which is a big win if you're watching your intake. And if you're lactose intolerant or avoiding soy and dairy, no worries—you're still good to go with Orgain.
Whether you're a busy professional, a student, or a fitness enthusiast, these bars are easy to grab on the go. Orgain bars are not available via Amazon. The only place to buy these is via the Orgain website, with the price of $1.49 per serving.
So if you're in the market for a high-quality Optavia fueling substitute, Orgain's organic protein bars are a fantastic choice. They offer the nutrients you need in a convenient and delicious package.
12. Oikos Pro Yogurt
Another great Optavia fueling substitute for breakfast is Oikos protein yogurt, specifically Oikos Pro.
"Oikos Yogurt is the best morning yogurt for weight loss over 40," according to the article published in the online shopping publication SheFinds. Although I like to eat Oikos Pro Yogurt because it has more proteins, I also often buy Triple Zero.
(This one has 15 grams of protein.)
Here's the photo.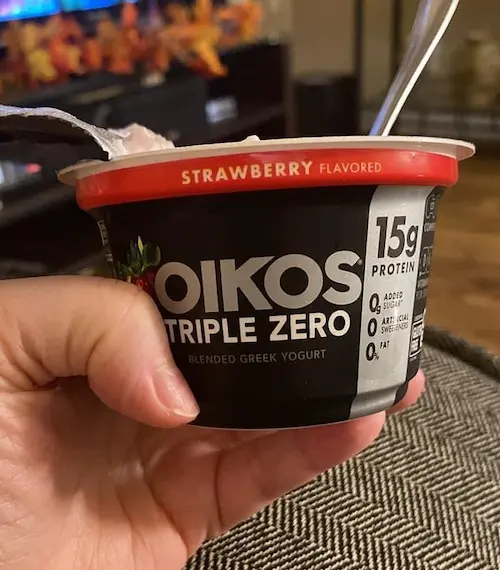 While one serving size of Oikos Pro has 30 calories more than most of the Optavia fuelings, it also has 20 grams of protein and no added sugar (4).
With only 50 mg of sodium and 8 grams of carbohydrates, Oikos Pro yogurt is my go-to pre-workout snack when I need a quick energy boost without having to feel full or bloated.
13. Dannon Light + Fit Yogurt Greek
Another Optavia fueling alternative that I think you should consider is Dannon Light + Fit Greek Nonfat Yogurt.
Here's the photo.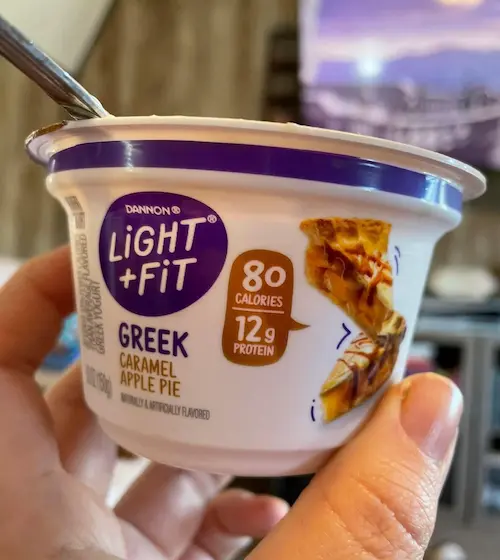 The one in the picture has only 80 calories per serving, which allows me to sprinkle nuts or dried fruits and make the taste even better.
This yogurt has become a component of my daily diet as it's tasty, cost-effective, and great for my stomach issues.
Here's the photo from the top.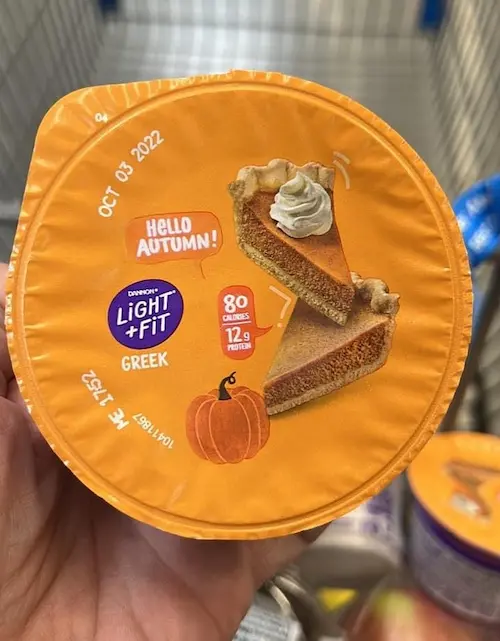 Dannon Light + Fit Greek Non-fat yogurt provides a convenient and relatively inexpensive way to get 12 grams of protein in one serving.
At $1 a pop, you'd be hard-pressed to find a healthier snack at such an affordable price.
(I would argue that this is the cheapest alternative I've managed to find.)
The only downside is that it contains artificial flavors, but when weighed against the 9 carbs and 12 grams of protein per cup, I'm happy to make the tradeoff.
If the artificial flavors are a deal breaker for you, make sure to check out other Optavia-approved yogurts that use only natural sweeteners.
14. Seapoint Farms Snack Packs
If you're looking for vegetarian options on Optavia, you're in luck.
Unlike Optavia fuelings, which are usually sweet, dry-roasted edamame snack packs come with interesting flavors.
(Think roasted peas, beans, lentils, and chickpeas.)
According to the Boston Globe Magazine, "Seapoint Farms Dry Roasted Edamame is the best plant-based snack to consider in 2022." Despite not being a huge fan of vegetarian and vegan snacks, I do have an appreciation for Seapoint Farms snack packs.
Here's the photo of my wife's favorite – Wasabi.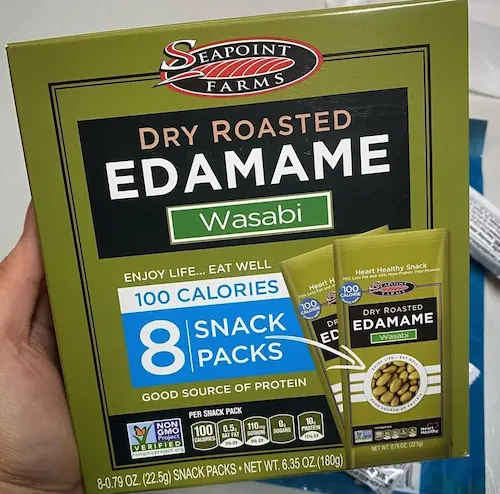 This box that you see costs $8.80 at Walmart and has 8 snack packs – 100 calories each.
That's $1.10 per serving.
Each serving contains 10 grams of protein and 3 grams of fat, making it a smart snack choice overall.
Here's the photo I snapped from the back to show you the nutritional label.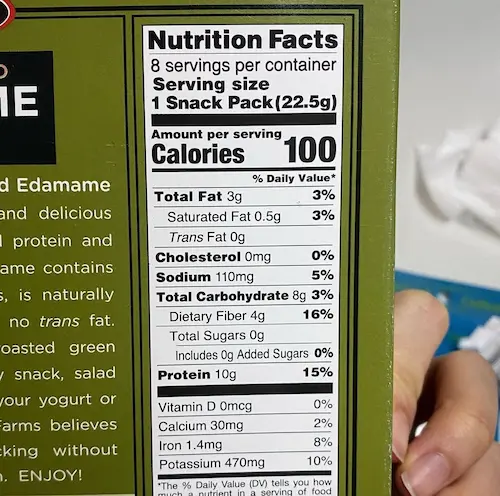 As you can see, each serving has 8 grams of carbohydrates, without added sugar or artificial flavors.
The only downside with this snack is that the main ingredient is soy, but the 4 grams of fiber found in each serving helps to balance out the nutrition profile.
Whether you're vegan or simply looking for a healthier Optavia option than processed bars, shakes, or brownies, I suggest checking out this brand.
15. Tillamook Beef Jerky
I have a serious weakness for Tillamook beef jerky and the funny thing is that it hardly costs $2.50 per serving!
For me, this snack comes in handy when I want something light to munch on or something healthy to replace processed Optavia bars.
One serving of Tillamook beef jerky keeps me satisfied much longer, compared to most of the Fuelings.
Here's the photo of my best flavor – Zero Sugar Beef Jerky Original.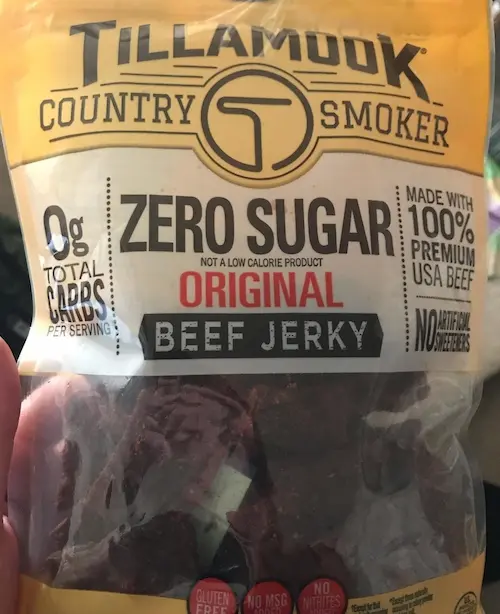 Although each serving of 3 sticks has 500 mg of sodium, it only has 70 calories with a whopping 14 grams of protein and 0 carbs (5).
To ensure I control calories, I don't use any dips and sauces. I like how it tastes straight from the pack.
Apart from the unbeatable taste, I like that you don't have to store it in the refrigerator to keep it fresh.
(At least I don't.)
16. Chomps Mini Beef Jerky Sticks
Another cheaper alternative to Optavia fuelings that has been in my kitchen a lot is Chomps Mini Beef Jerky Sticks.
Here's the photo.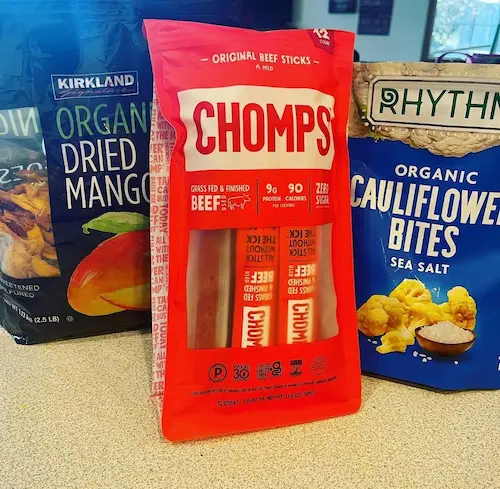 This bag, which includes 12 sticks, was purchased on sale at Costco for $14.99. 
That's $1.24 per serving.
(Almost a third of the price of Optavia fuelings.)
Each stick is one portion size and contains 90 calories, 9 grams of proteins, and zero sugars (6).
I often eat Chomp's mini sticks instead of the bars, usually at work when I'm in the office.
I don't have time or access to cook something, so I like the idea of opening the pack and popping one in my mouth when needed.
17. Popcorners Flex Protein Crisps
I recently discovered Popcorners Flex Protein Crisps and I must say I am thoroughly impressed.
For the most part, Popcorners is not much different from Optavia poppers or sticks.
Each bag contains:
90-120 calories
13 grams of carbs
10 grams of protein from soy protein concentrate
However, the giant difference lies in the price point – only costing $1.07 per serving!
Here's the photo of my favorite flavor – Barbecue.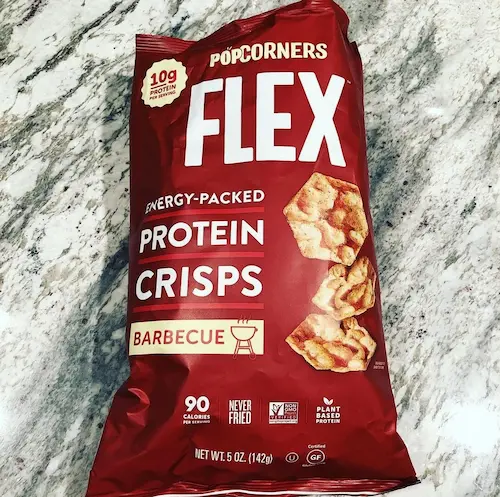 I do not buy the standard variety pack from Amazon. (They have 120 calories per serving.)
Instead, I prefer to buy 13 oz bags at Sam's Club, as each bag has 90 calories and the same 10 grams of protein as the variety packs.
So if you're looking for an affordable alternative then Popcorners might be the perfect snack solution for you.
18. Parm Crisps
Parm Crisps are an ideal snack for those looking for a unique, savory flavor.
I often choose these snacks instead of hearty Fuelings.
Unlike Optavia Cheddar Poppers or Cheesy Buttermilk Cheddar Mac, Parm Crisps are made with 100% aged parmesan cheese to deliver that bold taste, according to their website.
Undoubtedly, having only one ingredient makes it a healthier choice than Optavia.
When it comes to the taste, I recommend Parm Crisps original, just like the one in the photo below.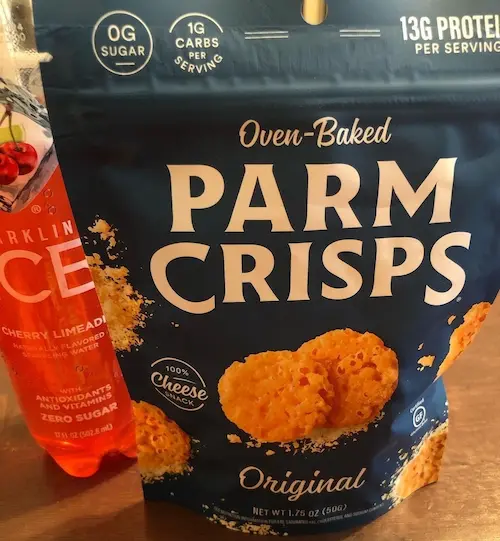 One bag like this has around 40 crisps (2 servings). Perfect for our little evening Netflix sessions.
When it comes to price, each 2 oz bag costs $3.78, which equals $1.89 per serving.
Nutritionally, Parm Crisps have 160 calories per serving and contain 11 grams of fat and 13 grams of protein (7).
19. Kalahari Biltong
Kalahari Biltong is unexpectedly the best-tasting dried meat that I tried.
And yes, I tried all of the flavors.
(Unfortunately, my wife didn't care so much.)
One serving size contains 160 calories, 4 grams of fat, and 32 grams of proteins (8).
Here's the photo of the classic Kalahari Biltong Original.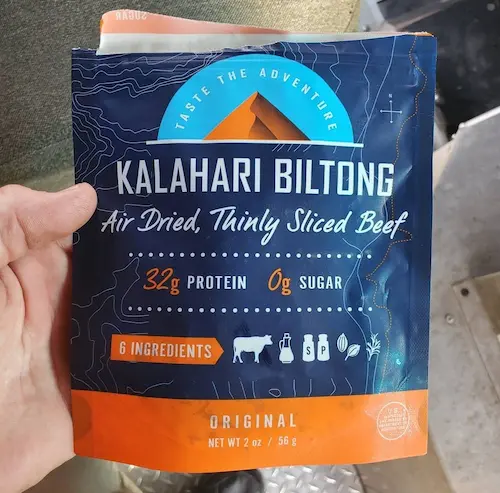 I must confess – I don't buy this pack very often, simply becasue it's too pricey. So far, the best prices I could find for Kalahari Biltong were on Gopuff.
Kalahari Biltong is more expensive than Optavia fuelings, but if you like to treat yourself now and then, you won't regret this one.
The difference between jerky and biltong is that jerky is cooked and heated for hours, while biltong is air-dried for up to three weeks.
(This gives the meat an unforgettable flavor.)
When it comes to price, the one serving size of 2 oz (56 grams) costs $7.99.
So even if you eat half of the serving size (80 calories and 16 grams of proteins) it still won't be cheaper than Optavia.
20. Veggies Made Great Frittata
Frozen meals can be a great fueling alternative when you need something convenient and quick.
I often have Veggies Made Great's Frittata for breakfast, as it only has 70 calories.
Here's what it looks like.
Here I garnish it with cucumber, tomato, and spring onion salad on the side.
What's more, I find it does not make me bloated or constipated like some of the Optavia fuelings.
Not to mention that with Walmart stocking it at $5.98 per 6 pieces, it works out at a very reasonable cost of $0.99 per meal!
On top of being budget-friendly, I like to know that this Optavia-approved frozen meal is gluten-free, soy-free, and peanut and tree-nut-free.
How to find Optavia fueling substitutes and cheaper alternatives
The following list shows you how to find Optavia fueling substitutes and cheaper alternatives.
Check the protein content: Look for bars with at least 10g of protein per bar.
Check the ingredients list: Choose bars with simple and less processed whole food ingredients.
Look for added sugar: I recommend avoiding bars with high sugar content. Aim for less than 15g per bar (or per serving if you choose to eat half).
Check the fiber content: Ideally choose the bars with high fiber content, at least 3g per serving.
Read online reviews: See what other people have to say about the bars.
If you didn't find the substitute you were looking for, use the list above on your next grocery shopping.
Alternatively, I suggest checking out online places like eBay or Facebook where you can buy Optavia Fuelings for lower prices. People often sell their products (sometimes expired though) so you can find some good deals.
Plus, why not consider experimenting in the kitchen by trying to do a DIY Optavia diet at home, with foods that you already have?
If that doesn't work, consider looking for alternatives to Optavia, which may be equally effective (but less expensive).
Where can I find Optavia fueling substitutes and cheaper alternatives?
You can find Optavia fueling substitutes and alternatives at the Eat Proteins Store, where a comprehensive list is provided.