Optavia Bars vs Quest Bars (Which one is better?)
For me, Optavia bars and Quest Bars are very similar in that they both offer a way to control cravings and give healthy snacks instead of reaching for unhealthy junk food.
However, when I compare the two bars, there are some distinct differences between them in terms of macronutrients and ingredients.
I don't think one is really better than the other. At the end of the day, it comes down to individual nutritional needs as they both have pros and cons.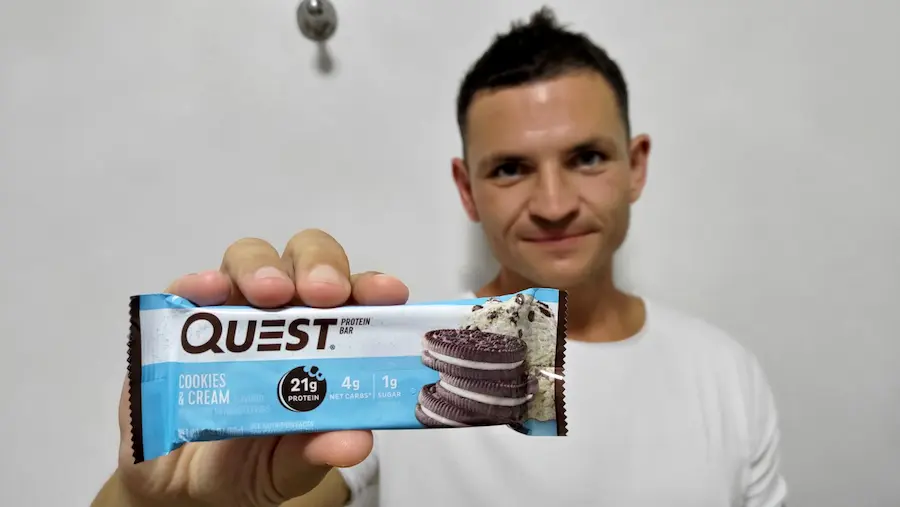 What are Quest bars?
Quest Bars are protein bars that are supposed to be high in protein and low in net carbs.
Here's the photo.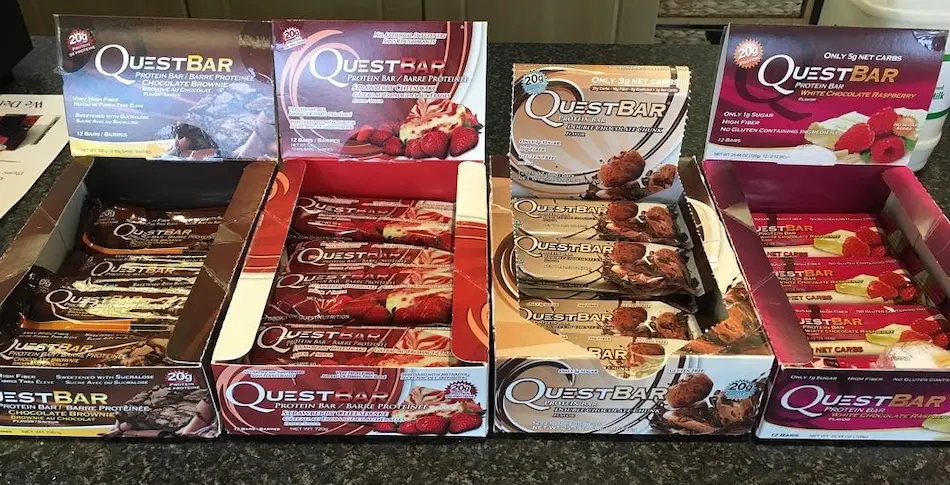 They come in different flavors like chocolate chip cookie dough, birthday cake, and peanut butter chocolate chip.
Here's the photo of my favorite Quest bar – Cinnamon Roll flavor.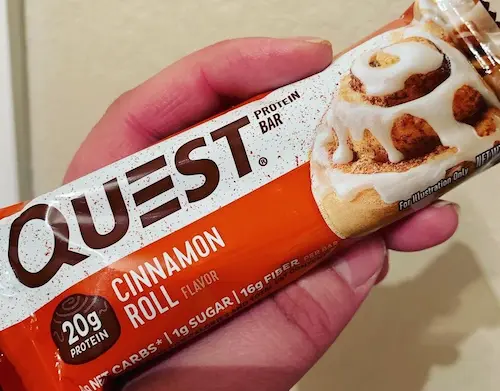 They are used as a healthy snack or replacement for a meal and can help people who want to build muscle or lose weight.
According to the randomized controlled trial published in the Asia Pacific Journal of Clinical Nutrition, "eating a morning high protein bar can help reduce the amount of food you eat at lunch by 5%."
Another one that we eat a lot with my wife is the Quest Mint Chocolate Chunk Protein Bar.
Here's the photo.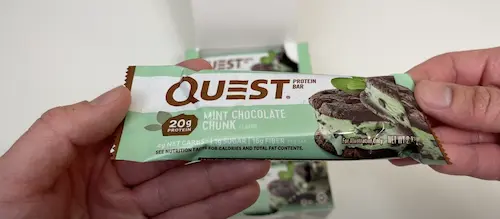 Quest bars pros and cons
Pros
21 grams of proteins
Variety of options and flavors to choose from
Affordable
Easy to find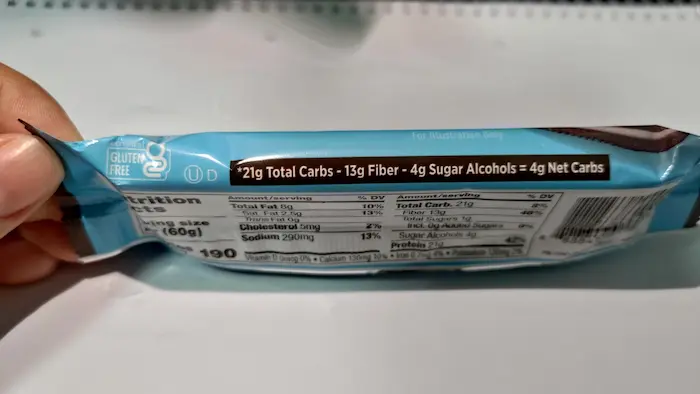 Cons
This may not be suitable for people following a ketogenic diet
190 calories per bar
What are Optavia bars?
Optavia bars are a component of the Optavia (Medifast) weight loss program, which aids in the reduction of hunger pangs while promoting a gentle fat-burning state.
Featuring a sweet caramel flavor and crispy texture, the Optavia Caramel Delight Crisp Bar has become one of the most popular fueling in our home.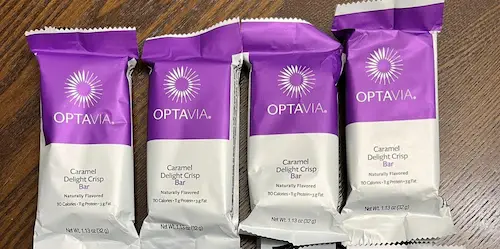 The Optimal Weight 5 and 1 plan includes eating five Optavia fuelings (shakes and bars) per day and one home-cooked meal.
This plan helped numerous people to lose weight, including "Cake Boss" star Buddy Valastro who claimed to lose 34 pounds, according to a Yahoo article.
According to the article published in the Nutrition Journal, "the Medifast diet plan was effective for losing weight and improving health. This includes reducing inflammation and oxidative stress, which are two key factors that cause chronic diseases."
Although Optavia bars are designed to help people lose or maintain their weight, they can only be purchased via links provided by Optavia's independent coaches.
Optavia bars pros and cons
Pros
Only 110 calories per serving
It contains several vitamins, minerals, and probiotics
Relatively high in proteins
Cons
Price
It's easy for me to find Quest bars – they're almost everywhere, from Amazon to Walmart to GNC.
With the deals available out there, I can get a 12-bar container for only $21.57, meaning each bar is just $1.79.
On the other hand, the cost for Optavia bars is higher – $23.25 for seven bars ($3.32 per bar).
Plus, you can't buy Optavia bars just like that.
Normally, you have to go through their official website and enroll in their Optimal Weight 5 & 1 plan in order to purchase them.
However, if you want to get them without the coach, consider buying Optavia bars in other places like eBay, Poshmark, or another online marketplace.
Nutrition facts
It's important to keep in mind when choosing a healthy snack that not all bars are created equally.
Here's the photo of the Quest bar nutrition label.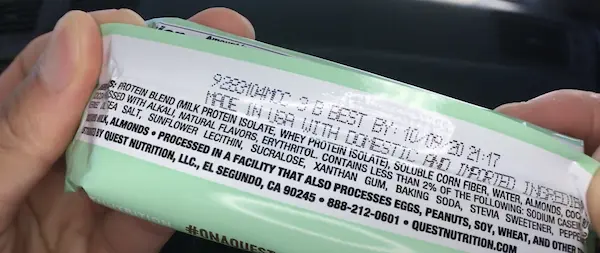 Next is the Optavia bar nutritional label.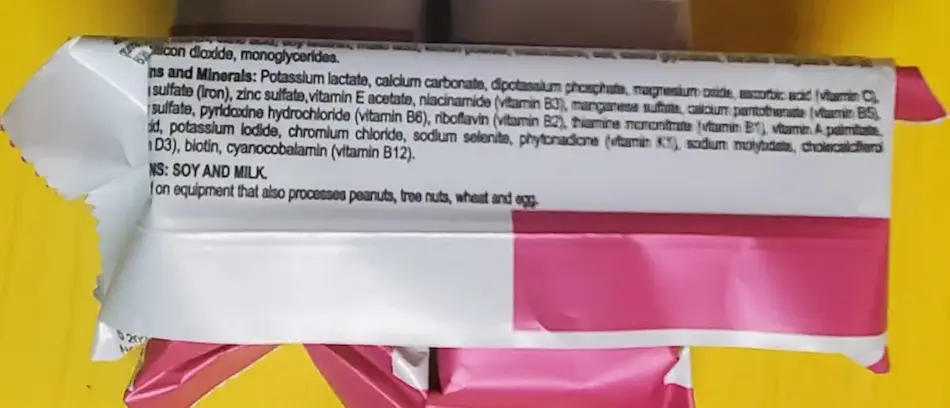 Calories
When it comes to calories and macronutrients, there's a clear difference between Optavia and Quest.
Optavia has 110 calories while Quest packs in 190. (I wouldn't be surprised if for some people it's the deciding factor for which one they choose.)
Protein
When it comes to proteins, Optavia clocks in at 11 grams with their soy protein isolate whereas Quest has 20 grams with whey protein isolate.
Carbohydrates
Quest bars have 22 grams of carbohydrates, 7 of which are alcohol sugars with zero added sugars.
Optavia has 15 grams of carbs, with 5 total and 4 added sugars.
When it comes to fiber, the numbers are quite different – Optavia offers 4 grams compared to Quest bar's 11 grams.
Although Quest bars have more calories, they also provide higher amounts of fiber and less sugar.
Fat
Although both Optavia and Quest bars don't have any trans fats, there are distinct differences you should be aware of.
Optavia has 2.5 grams of saturated fat and 0mg of cholesterol, while Quest bars have 3g of saturated fat per serving and 5mg of cholesterol.
As for total fat, I like how much lighter Optavia is here, 8 grams for Quest versus just 3 for Optavia – what about you?
Other ingredients
Both Optavia and Quest bars include similar ingredients such as natural flavors, and sweeteners, such as steviol glycosides.
Plus, it seems that the fiber content in Optavia bars is strikingly similar to Quest bars.
They both use polydextrose and soluble corn fiber as the main source of fiber in their products.
What's more, keep in mind that Optavia fortifies its bars with 24 vitamins and minerals, and probiotics.
While this difference is important, it's ultimately up to you which product to choose.
Flavors
When it comes to flavors, I don't think you can go wrong with either Optavia or Quest Bar – they both have 16 flavors that suit any craving.
When I'm in the mood, it's hard for me to decide between them.
Quest bars have some delicious fancy flavors like Lemon Cake and Birthday Cake whereas Optavia has a delicious Frosted Cookie Dough flavor.
Here's the photo of the Quest bar Birthday Cake.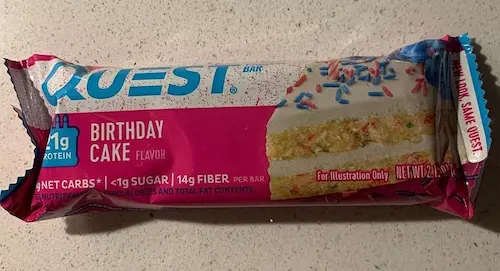 Both avoid artificial sweeteners so you know you're getting a healthier snack.
When comparing textures, Quest Bars are chewy and Optavia Bars are more crunchy – almost like granola bars.
Other products
Apart from using Quest bars, you can also incorporate Quest chips into the Optavia plan.
What's more, the company got clever with its high-protein products and includes things like drinks, protein powders, and snacks.
They offer an impressive array of tasty bars as well as other options like
All these items are designed to help maintain a good balance of hunger-reducing nutrients while at the same time minimizing calorie consumption.
Quest Nutrition
Protein mini bars
Protein chips
Protein crackers
Protein cookies
Protein candy
Protein shakes
Protein powders
Frozen pizza
Optavia Fuelings
Optavia shakes
Optavia bars
Optavia desserts
Optavia snacks
Optavia hearty meals
Final words
Although the decision of which protein bar to choose is a personal one, I would suggest Quest Bars.
They are generally cheaper than Optavia bars and can be easily found in most supermarkets.
Although Quest bars are not Optavia approved, still, you can have their bars on the 5 and 1 plan, as long as you eat half of the serving size.
Half of the Quest bar would have the same amount of calories as an Optavia bar so it can be considered one fueling.
Of course, for me, it really comes down to what I like from a taste and texture standpoint.
Therefore, I would recommend doing your own research and comparing reviews and nutrition labels across different Optavia bar alternatives to get an idea of which will work best for you.
It's a good idea to talk to a healthcare professional or a registered dietitian to determine the best dietary approach for you.