Optavia Without a Coach: The Self-Led Program Guide
Are you considering the Optavia program but don't want to get involved in the coaching part of their plan? Then you're in the right place!
After doing Optavia for over a year (and losing over 40 pounds) I can tell you that you don't need their coaches to lose weight.
Although the Optavia coach does walk you thru the program (and enable you to buy their products), it is possible to stay motivated, overcome challenges, and succeed going solo.
Let's explore the benefits (and challenges) of doing Optavia without a coach, and (most importantly) learn some tips and resources to support you on your journey.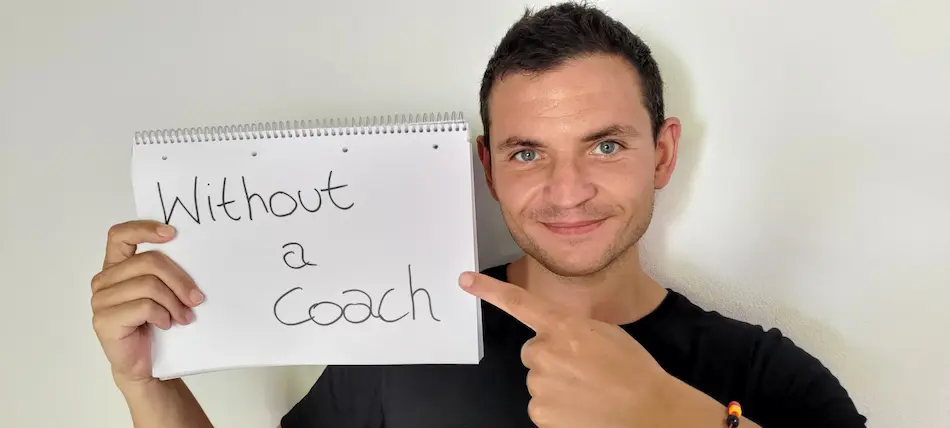 First, let's talk about Optavia coaching
It's not a secret that having a weight loss coach as your support system can help you get better results.
Coaching can be a powerful tool not only for weight loss but also for weight management.
Research has revealed that partnering with a weight loss coach substantially increases the likelihood of hitting (and sustaining) those goal weights.
According to the article review published in the American Journal of Lifestyle Medicine, "coaching is a good way to help people lose weight."1
"In most cases (82%), coaching helped people improve at least one thing, like weight, blood pressure, or how much fruit, vegetables, and fat they ate,' states the journal.
So coaching helps. (I get it.)
Benefits of having an Optavia coach
Let's be honest, losing weight is not a fast process.
I will be the first to say that it is more difficult to lose weight and reach your goals without a coach in the Optavia program.
There are many challenges along the way so having someone who can guide you comes with a number of benefits.
Accountability
If there is no one to hold you accountable, it can be easy to go back to old patterns that may not help you lose weight.
A weight loss coach (or any accountability partner) can help by giving support, setting goals, and tracking progress.
Motivation
Optavia coaches do a very good job of keeping people motivated by hosting weekly meetings, chats, and even annual conventions.
They also actively participate in social media by posting encouraging success stories, and before and after pictures. So they make you feel like you can do it.
Resources
One of the perks of working with a coach is having easy access to Optavia resources, guides, charts, and lists.
On the other hand, it takes time and effort to access any Optavia resources, meal plans, and other online tools without a coach.
Troubleshooting
Losing weight is a process and you may encounter a number of challenges, and setbacks while on the program.
Embarking on Optavia's journey without a coach means you need to face all these challenges and identify solutions to get back on track by yourself.
Drawbacks
While having a weight loss coach can provide invaluable assets, there are potential drawbacks. if they happen to be associated with an MLM company.
A weight loss coach affiliated with an MLM company like Optavia may not be the perfect fit for everyone.
Pressure to sell
One of the biggest concern people have about working with Optavia coaches is their pressure to sell the products.
What's more, some coaches may be motivated more by the compensation plan, and less by the actual health of their clients.
Lack of expertise
Another concern about the Optavia coaches is that most of them do not have any formal education and qualification in nutrition, like registered dieticians.
Although all of the Optavia coaches are "certified", this level of expertise doesn't come close to a licensed healthcare professional.
Conflict of interest
For me, it's not uncommon to hear stories from people about Optavia coaches caring more about you recruiting others and selling more products, and less about your feelings, emotions, or personal goals.
Is it possible to do the Optavia program without a coach?
Yes and no.
On the one hand, you cannot enroll in any of the programs (or buy their products) without first getting in touch with one of the coaches.
Here's what happens when you try to buy Optavia products via their website.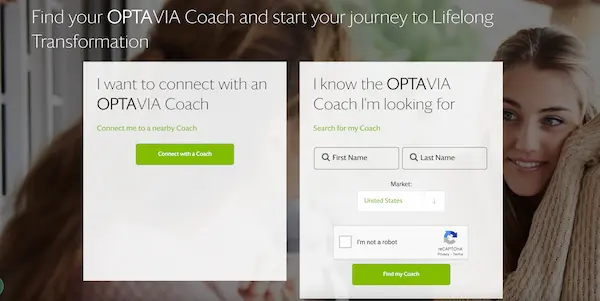 As you can see, you cannot join and proceed with your checkout order without first connecting with a coach.
You can either choose a coach that you know, or you let them know and they assign a coach to you.
On the other hand, it is possible to do the Optavia program without support by mimicking (copycatting) their meal plan, daily caloires, eating schedule, and Fuelings on your own.
How to do Optavia without a coach?
Here's the list of tips (and additional links to further resources) that can guide you on how to do Optavia on your own, and stay on track without a coach.
Write down your goals
According to the article published in the American Journal of Lifestyle Medicine, "Goal setting is a strategy that helps individuals figure out what specific behaviors to change and how to change them."2
Once you know what kind of goal you want, write it down. It can be helpful to make a plan for how to achieve it.
Learn the principles
To start doing Optavia (without having to pay Optavia prices), you need to learn everything there is to know about their weight loss plan.
Start by researching their essential fuelings, caloires, and portion sizes.
There are many resources available for doing the Optavia program online, even without a coach.
Learn more about Lean and Green meals, recipes, and what they include. Get familiar with foods that are approved, and what foods should you avoid.
Buy fuelings elsewhere
Not many people talk about it but you can buy Optavia fuelings online, in marketplaces like Facebook groups, eBay, Amazon, or other third-party websites.
While it's impossible to buy their bars and shakes without a coach, there are many people who buy and sell fuelings daily.
Start making your own meals
Optavia weight loss 5 and 1 plan works by eating five small meals per day, and one big dinner.
To mimic this plan, you need to learn how to choose the right type of food, read the food labels, and prepare your fuelings from the scratch.
This includes allocating time for grocery shopping (or arranging online delivery), meal prepping, cooking, and cleaning.
What's more, making DIY meals is the best way (in my opinion) to customize the Optavia program for you.
Find fueling alternatives
If you're not ready to spend time and energy on home cooking, consider looking for Optavia fueling alternatives that are cheaper.
These meal replacement products like bars, smoothies, cereals, and other ready-to-eat food items have similar nutritional value to Optavia shakes and bars but are less expensive.
Create a meal plan
Once you know all the basics of how this program works, now it is time to prepare your meal plan.
Each of your feelings should have no more than 100 caloires and should be packed with proteins.
To get more help with meal planning and fuelings ensure to learn about Optavia approved protein lists that include meats, dairy, fish, nuts, and plant-based sources.
For your Lean and Green, each meal should not exceed 400-500 caloires and needs to include 5-7 oz of protein, 3 servings of veggies, and 2 servings of healthy fats.
Follow the program
I know it sounds easy, but once you get familiar with how-to, now it's time to do the reps.
Although I managed to lose a lot of weight within the first week or so, the whole process took more than 6 months.
Expect to encounter a number of setbacks and challenges like holidays, dining out, birthdays, weekends, occasional meetings, celebrations, and so on.
While there is nothing wrong with these events, some people find it hard to control their food intake.
According to the article published in the British Journal of Nutrition, "People change how much they eat depending on who they are with. It may be because people see others eating and think it is okay to do the same."3
Get support elsewhere
Do you wanna know how to stay motivated on your Optavia self-guided journey? Get support elsewhere.
You can still get support while doing the Optavia program without a coach, but I recommend reaching out to medical professionals or certified personal trainers.
What's more, you can look up alternative support options in numerous social media groups and forums.
People post there dozens of stories and help each other, as much as they can.
For me, having access to online forums provides enormous value, motivation, and accountability.
Plus, you can get help with any questions or concerns that come up while doing the Optavia program.
Go there.
Celebrate your success
If you're doing Optavia without one-on-one support, celebrating small wins can be one of the best strategies for succeeding.
(This is something that took me too long to figure out.)
Celebrating success not only increases your motivation but also built your self-esteem. Plus, it makes the process fun and playful, instead of boring and doubting.
Use online tools
You can use several online tools or resources available to monitor your progress and stay on track with the Optavia self-supported plan.
My favorite fitness app to track your caloires is MyFitnessPal becasue it allows you to track food intake, has many weekly and monthly challenges, and online community.
You can also use other apps that provide tips for staying motivated and committed:
Jefit
NOOM
Strava
Daily Yoga
PlateJoy
What's the success rate for doing Optavia without a coach?
For me, it's difficult to determine the exact success rate of doing Optavia without professional guidance.
From my experience, and also what I've seen in others who have attempted similar programs (without coaching), it's possible.
I was able to lose over 40 pounds, improve my energy, and completely change my lifestyle – all without having to speak with Optavia coaches.
My wife was able to lose over 30 pounds.
Here are her before and after pictures.
There is a 6 months difference between these pictures.
But at the same time, it completely depends on your goals, commitment, and of course, if you're following the instructions strictly.
From reading stories of people who have done it, you can tell that it takes extra discipline and focus.
I understand that there are people who may have different options.
In my opinion, you may find it more beneficial to work with a licensed healthcare professional (or a weight loss coach) who is not affiliated with any MLM company.
The bottom line
Doing the Optimal Weight 5 and 1 plan can seem intimidating without support from a coach, but it's definitely possible to succeed on your own.
With the right mindset, resources, and like-minded community, you can achieve your weight loss and health goals. Remember to stay accountable, stay motivated, and most importantly, trust yourself.
You've got this!
References
1 (American Journal of Lifestyle Medicine) Kennel J. (2018). Health and Wellness Coaching Improves Weight and Nutrition Behaviors. American journal of lifestyle medicine, 12(6), 448–450. https://doi.org/10.1177/1559827618792846
2 (American Journal of Lifestyle Medicine) Bailey R. R. (2017). Goal Setting and Action Planning for Health Behavior Change. American journal of lifestyle medicine, 13(6), 615–618. https://doi.org/10.1177/1559827617729634
3 (British Journal of Nutrition) Hermans RC, Larsen JK, Lochbuehler K, Nederkoorn C, Herman CP, Engels RC. The power of social influence over food intake: examining the effects of attentional bias and impulsivity. Br J Nutr. 2013;109(3):572-580. doi:10.1017/S0007114512001390