List of Breads You Can Have on Optavia
If you're on the Optavia diet, you may have wondered if bread is allowed. While traditional bread may not be recommended, plenty of alternatives are delicious and compliant with the program.
I know I missed having bread in my meals, but as I continued the program, I discovered that so many low-calorie and low-carb options were available for me.
Cloud bread, cauliflower or broccoli "bread", almond or coconut flour tortillas, and gluten-free bread are some of my favorites.
Now, some of these alternatives can be purchased, while others need to be made at home, which was great because I got to play with my creativity in the kitchen.
I want to share with you some of the best bread alternatives I discovered while on Optavia and some tips on incorporating them into your meals for a tasty and nutritious experience.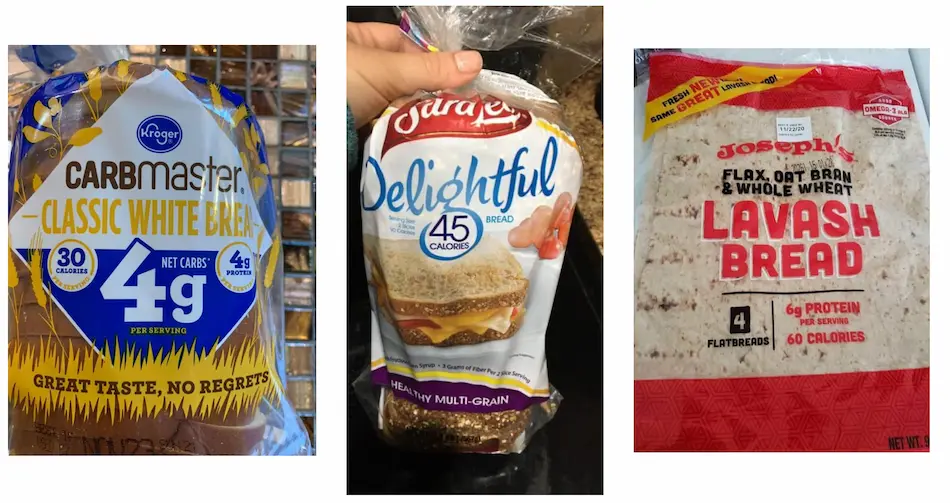 Can you eat bread on the Optavia diet?
After following the Optavia diet for over a year, I can confirm that bread is only included in the 3 & 3 plan.
The Optimal Health 3 and 3 plan is the Optavia maintenance program and allows for more calorie intake than other plans, with options like tortillas, naan, and pitas.
The Optimal Weight 5 & 1 plan does not include bread.
However, since I started doing the Optavia diet on my own, I have been able to sustain a successful weight loss by finding ways to incorporate low-carb and gluten-free bread into my DIY fueling alternatives as long as they are low in calories.
By adding variety to my meals (while still staying within my calorie goals), I have been able to both shed pounds and keep them off over the long run.
Optavia Bread Approved Product List
In the Optavia approved bread list below I've included several different types of bread that range from 30 to 100 calories per slice.
Each one is made without artificial preservatives or added sugar, making them an ideal choice for those seeking something nutritious and satisfying.
Plus, all their bread has a great taste that won't leave you feeling like you're sacrificing flavor for health benefits.
1. Extraordinary bites keto bread
Although I don't often buy white bread, the Extraordinary Bites keto bread is on top of my Optavia diet food list.
With 30 calories per slice and no cardboard aftertaste like other keto brands, it is easy to see why I keep going back for more.
It doesn't have a lot of proteins though.
If you want to use it for your fueling alternatives, I recommend adding some fried egg or cottage cheese.
The only downside is the cost, but with all of the pros that come with it, I am willing to pay the premium price for this bread.
2. Optavia cloud bread
Cloud bread is the perfect high-protein, low-calorie bread alternative for those who are on Optavia 5 and 1 plan.
With just two to three ingredients (and a bit of experimenting in the kitchen), homemade Cloud bread can be created in no time at all.
Here's the photo of my Optavia cloud bread variation.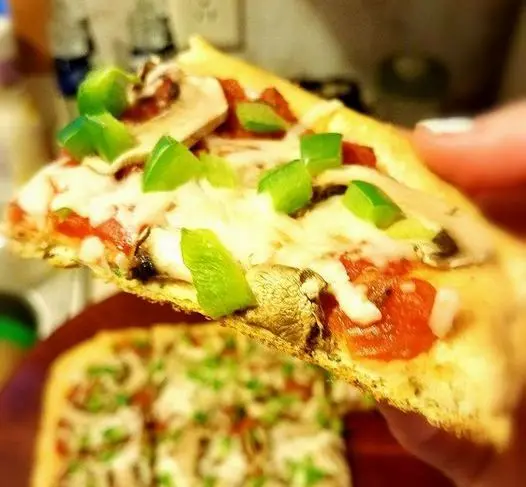 The base for this bread is made from eggs and cream cheese. You can add salt and pepper (or other herbs and spices).
For the top, I've used marinara sauce, mozzarella cheese, mushrooms, peppers, and voila! Guilt-free Optavia cloud bread pizza.
The preparation was easy.
I separated the eggs and add cream cheese to the yolks with just a pinch of baking powder.
Then, I mixed with a hand mixer until the form was stiff. (During mixing add your herbs and spices.)
Then, gently fold together the whites and yolks (without overmixing). Next, spread on parchment paper, and bake at 300° F for 30 minutes.
3. Panera Bread
Let me start by saying that for those following the Optavia 5 and 1 plan, it's best to steer clear of Panera Bread's menu items.
Many meals lack protein and are high in calories – some bread bowls can exceed 1,000 calories!
However, if you're craving a low-calorie lean, and green alternative for your Saturday brunch, I can recommend Panera Breakfast Wraps.
Here's the photo of the Panera Mediterranean Egg White Wrap.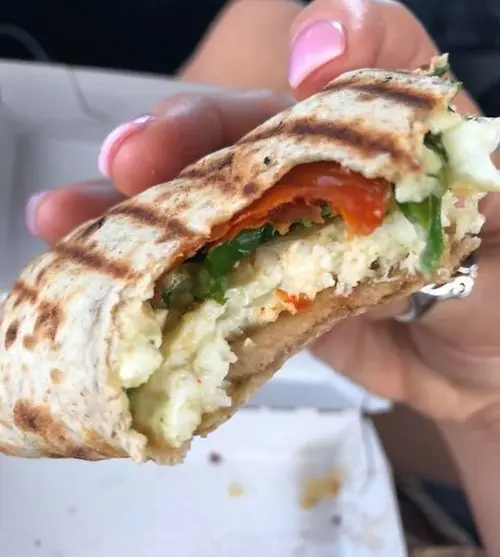 This wrap is made of egg whites, basil-white bean puree, crumbled feta cheese, smoky tomato confit, and spinach.
According to Panera's website, their Mediterranean egg white wrap has 260 calories, and it's packed with 20 grams of protein (1).
The Bacon, Scrambled Egg & Cheese on Artisan Ciabatta is another good choice.
It has 440 calories and 24 grams of protein per serving, as well as only 2 grams of sugar.
On the downside, this sandwich also contains 300 mg of cholesterol and 21 grams of fat so be mindful when enjoying it.
4. Optavia Banana bread
I and my wife love indulging in the occasional treat and banana bread is one of our favorite snacks.
Due to its low fat and high fiber content, banana bread helps me to stay full and satisfied.
Here's the photo.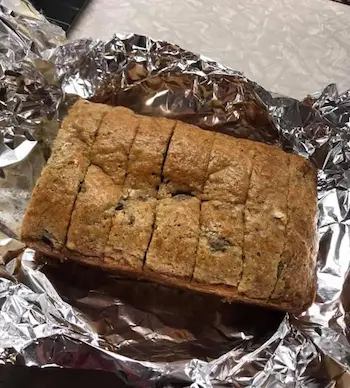 Although this is not a guilt-free snack as one slice comes in around 80-90 caloires, we ensure to add more eggs (and protein powder) to have more proteins per serving.
Preparation is very simple.
To make it, you'll need:
1 cup of mashed bananas
1 and 1/2 cups of all-purpose flour
1 scoop of unflavored protein powder
1 and 1/4 teaspoon of baking powder
1/2 teaspoon of baking soda
1/2 teaspoon of ground cinnamon
2 egg whites (or 1 egg)
Simply mix the ingredients together and pour the batter into a loaf pan.
Bake at 350°F for 40 to 50 minutes.
Once cooled, cut into 8 tasty slices!
It's not only delicious to eat, but it also offers a variety of health benefits too!
5. WiO Diet SmartBread
I recently came across SmartBread from WiO diet and decided to give it a try.
Starting from the pros, the calories.
This bread has 28 calories per slice, 5 grams of protein, and only 2 net carbs.
It also has zero fats and cholesterol.
According to their website, "the WiO SmartBread has a low glycemic index which is great for people who are trying to manage their blood sugar levels".
"It has carb and fat blockers added in to block your body from absorbing the carbs and fats," states the website.
Another pro – these slices are massive!
They were like getting 2-3 slices compared to a regular store-bought loaf.
The cons? Price.
You can order one loaf of WiO SmartBread directly from their website for $16.30.
Although that is the excessive price for one loaf of bread, they have a new "Subscribe & Save" option where you can save 10% on your first order and 5% on all subsequent orders.
Keep in mind that you will be charged automatically.
6. Cauliflower bread
Another fantastic choice if you're following the Optavia 5 and 1 plan is homemade cauliflower bread.
I like it becasue it is significantly lower in carbohydrates than regular wheat bread, and it's also high in fiber which helps to keep me feeling full and satisfied.
Although it does take a bit of time to make, the delicious results are worth it!
In the photo below you can see an example of how tasty cauliflower bread can be when combined with cottage cheese and other toppings.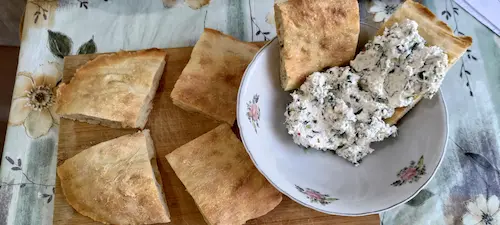 This homemade cauliflower bread has around 150 calories per slice, depending on how generous you are with cottage cheese.
Although I've seen many low-calorie cauliflower bread in Walmart and Costco, I still prefer to make them from scratch.
Brands like Rustic Crust, Mission Foods, or Ortega manufacture cauliflower bread that has very few proteins (up to 4 grams) and way too many carbs (15-30 grams) per serving.
Plus, the taste and texture of homemade cauliflower bread are almost indistinguishable from store bought bread.
7. Chompies Bread
The first time I learned about Chompies bread was from reading an iHeart article written by Emily Lee that presented a list of places where you can get free food on your birthday.
In the Pinterest pin below you have a picture of their most popular Low-Carb Multigrain Bread.
Each of the slices has 66 calories, 8 grams of proteins, and 5 grams of fiber, so it's a decent Optavia fueling substitute.
One reason I enjoy Chompies bread is that a majority of their products are suitable for low-carb and ketogenic diets, even though it comes at a higher cost.
If you buy directly from their website, the price for two loaves of low-carb multigrain bread is $29.99.
If you want to buy via Walmart, you can buy a single loaf for $19.98.
(That is absolutely crazy for a loaf of bread.)
To get a better price, I often buy 12 loaves and refrigerate them for up to 90 days, or freeze them for up to 6 months.
This way I pay $8.25 per loaf.