Optavia Diet Food List (What can you eat?)
While the Optavia diet features an extensive food list as part of its lean and green meals, not all foods are approved.
In this article, we will examine the allowed food choices on the Optavia diet, including restrictions on carbohydrates, fruits, grains, dairy products, vegetables, nuts, and seeds.
What's more, I will also share my best tips for avoiding a monotonous journey of strict food options, portion control, calorie counting, and dietary restrictions.
Let's go.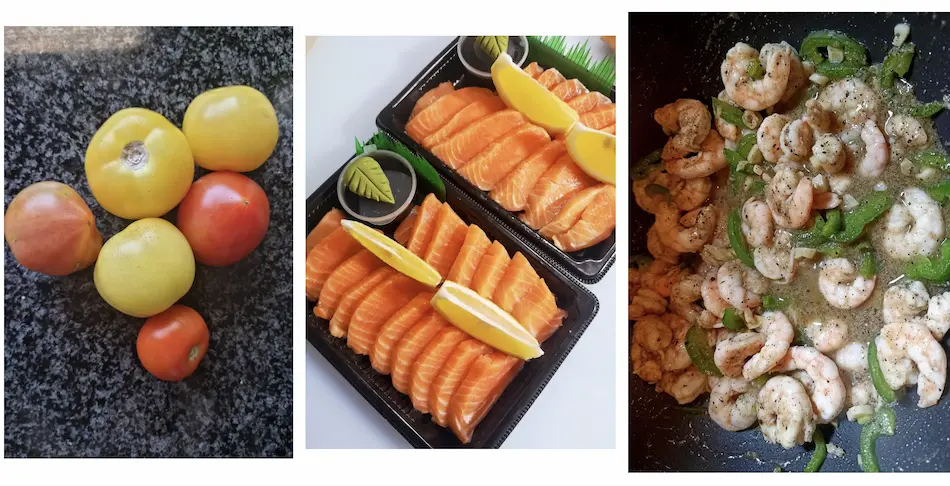 Let's talk about what foods can you eat on the Optavia
It's true, the Optavia diet allows you to lose weight fast, but you need to follow their strict 5 and 1 plan, which often restricts some of the most common food groups.
Sure, you can indulge in high-protein meats and low-fat dairy products.
But at the same time, you can forget about eating any type of bread, legumes, or oatmeal.
Of course, once you reach your desired body weight, then you can start introducing foods from the healthy exchange list as a part of your Optavia transition plan into the maintenance phase.
Until then, you must brace yourself.
With that said, I've been improving my lean and green meals to make them more balanced and less boring.
This not only helped me lose over 40 pounds but also freed me from saying "NO" to the foods I love.
Okay, I'm ready! – Show me the Optavia diet food list!
The foods you can eat in Optavia lean and green meals include low-carbohydrate vegetables, lean proteins, low-fat dairy products, a selected group of condiments, and healthy fats.
You can also use meatless options and frozen foods.
Foods that are not allowed are high-carb vegetables, grains, fruits, beans, sugary sweets, or alcohol.
(Let's look at these in more detail.)
The list below shows you the allowed food choices on the 5 and 1 plan.
1. Lean meats
On the top of the Optavia food list are the lean meat options, which include cuts with fewer than 70 to 80 calories per 1 oz.
The approved list includes:
Buffalo
Elk
Deer
Ground turkey
Steak,
Roast chicken
Pork chop
Pork tenderloin
These protein-rich foods should be grilled, baked, broiled, or poached, but not fried.
For me, meat is a source of energy and strength.
Here's a photo of my favorite beef stew served with beef tacos in my local restaurant in Coral Gabels.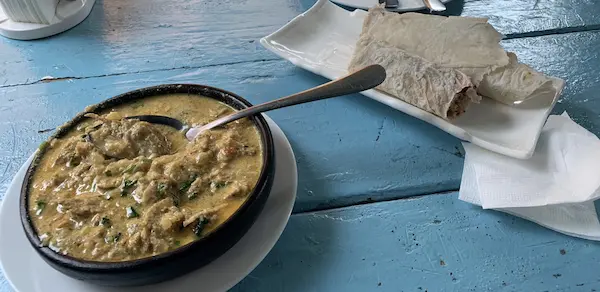 Like many other Optavia friendly restaurants, this is a family-owned place that offers only grass-fed beef meals, including burgers, steaks, and stews.
(Whenever I can I like to choose grass-fed beef.)
According to the Food Science of Animal Resources Journal, "grass-fed beef showed greater levels of EPA and DHA than grain-fed beef."
For me, grass-fed steaks are a great source of protein and have a stronger flavor.
2. Fish and seafood
Fish and seafood are one of the most popular lean sources on the 5 and 1 plan. In fact, Optavia has over 30 different fish and seafood recipes.
The approved fish list includes:
Cod
Flounder
Haddock
Orange roughy
Grouper
Tilapia
Mahi Mahi
Tuna (yellowfin steak or canned in water)
Wild catfish
Swordfish
Trout
Halibut
Salmon
Farmed catfish
Mackerel
Herring
For me and my wife, salmon is one of these diet foods that we include in our lean and green shopping list almost every week.
(Yes, I could eat Salmon every day.)
Here's how I like to cook salmon on a bed of quinoa with broccoli as a part of my healthy meal plan.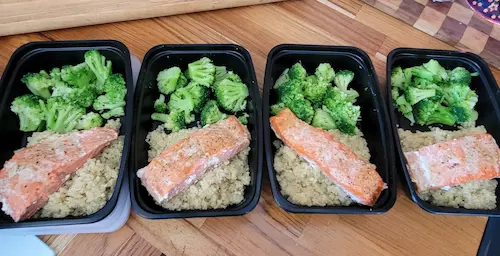 Each of the containers in the picture has 6 oz salmon, 0.5 cups of broccoli, and 0.5 cups of quinoa.
These ingredients are estimated to have 500 calories, per FoodData Central.
(Perfect lean and green meal recipe.)
Salmon is a healthy, protein-rich fish.
The flesh has very low fat (especially saturated fats) which means I don't need to worry about dietary cholesterol when dieting.
As much as I love to eat red meat and salmon, I feel more satisfied after eating 4oz of salmon compared to eating 4oz of red meat.
3. Eggs
Eggs are one the best Optavia high-protein diet foods (and meatless options) that you can include in your lean and green meals.
(For us, they are also a common choice for fuelings substitutes.)
Here's a photo of what my lean option looks like when using eggs.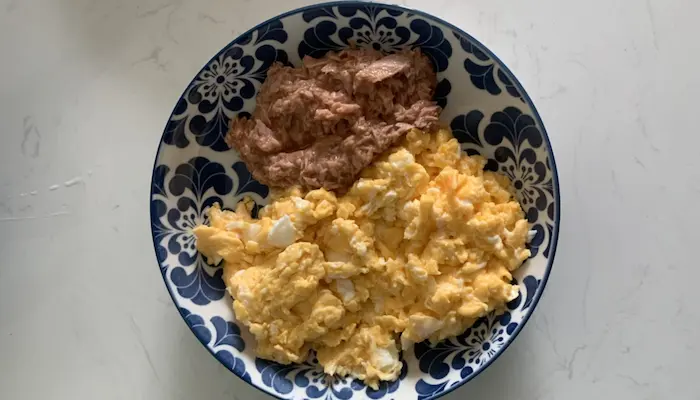 (This scrambled egg with tuna has a whopping 37 grams of protein.)
According to the article published in the European Journal of Nutrition, "eating just 2-4 eggs per week was associated with increased risk of all-cause and CVD mortality."
So yeah, you can incorporate eggs into your Optavia diet, but try to separate egg whites from yolks in at least half of them.
One serving of scrambled eggs (135 grams) provides 193 calories (1).
4. Dairy products
Another item on the Optavia diet food checklist is low-fat dairy products, mainly becasue they have fewer calories and less fat than full-fat dairy products.
These include:
Plain Greek yogurt
Ricotta cheese
Mozzarella cheese
Keep in mind that while there are many kinds of cheese allowed on the 5 and 1 plan, most of them should be only consumed as condiments in limited portions.
On the contrary, some the dairy products, such as milk or Kefir are excluded from the 5 and 1 plan and can only be consumed in the Optavia maintenance phase.
Only the selected milk options can be used as a condiment, with a serving size depending on the type.
My go-to lean option from dairy products is Dannon Light + Fit zero sugar yogurt.
Here's the photo.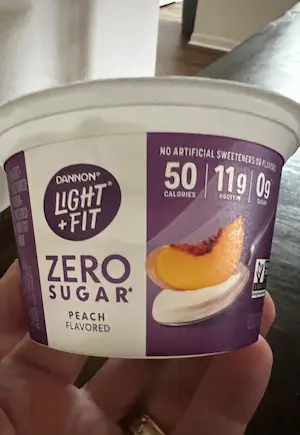 To be honest, I rarely use it for lean and green meals. I rather use it for my Fueling alternative.
Although there are many yogurts you can eat on Optavia, this one has 50 calories, and 11 g of proteins, which is way better than most of the Optavia shakes or bars.
I also like to choose Greek yogurt that has a thicker texture (it tastes much better).
It's protein-rich so it makes me stay fuller for longer.
One container of plain Greek yogurt (150 grams) provides 88.5 calories (2).
5. Green list
Optavia also allows having 3 servings of vegetables per meal from their green list.
The serving size of vegetables depends on the number of carbs and glycemic index of the food item.
Here's what my raw broccoli snack looks like.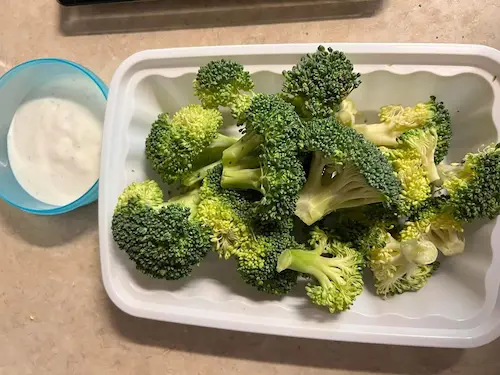 Although I'm not new to eating raw broccoli, I rarely eat them without any dip. They have a slightly bitter flavor, so I rather add some homemade dip.
If no dip, I ensure to at least drizzle some lime.
Lower carb veggies (1 cup serving size)
Collards (fresh/raw)
Endive
Lettuce (green leaf, butterhead, iceberg, romaine)
Mustard greens
Spinach (fresh/raw)
Spring mix
Watercress
Bok choy (raw)
Medium and high-carb veggies (1/2 cup serving size)
Celery
Cucumbers
White mushrooms
Radishes
Sprouts (alfalfa, mung bean)
Turnip greens
Arugula
Nopales
Escarole
Jalapeño (raw)
Swiss chard (raw)
Broccoli
Red cabbage
Chayote squash
Collard or mustard greens (cooked)
Green or wax beans
Kabocha squash
Summer squash
Kohlrabi
Leeks (cooked)
Peppers (any color), scallions (raw)
Tomatoes
Spaghetti squash
Hearts of palm
Swiss chard (cooked)
Here's a photo of my favorite Optavia shake hack using 1 cup of raw spinach.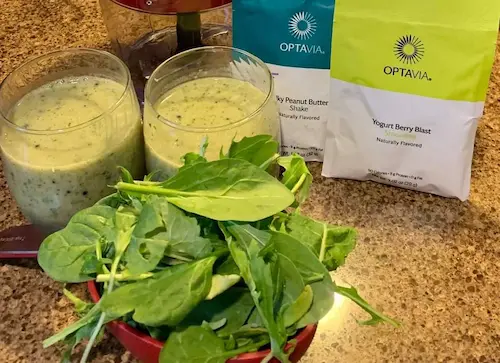 We use a lot of spinach in our home.
We use it for Lean and Green salads, fueling hacks, and fueling alternatives.
According to the article review published in Food and Function Journal, "spinach is widely regarded as a functional food due to its diverse nutritional composition."
This means spinach is a food that is good for you because it has vitamins, minerals, and other things that help promote health.
One cup of raw spinach (25 grams) provides 6.75 calories (3).
Here's a photo of my salad made of raw spinach, beets, and tomatoes. (I've always been a big fan of tomatoes.)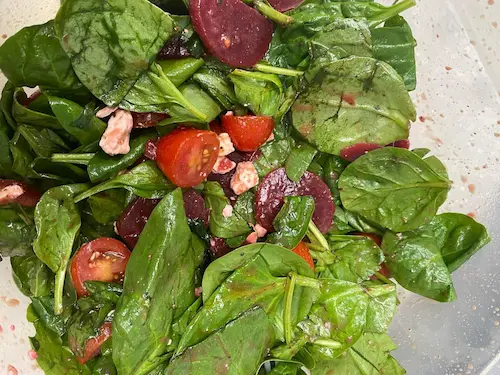 Generally, it's ok to include tomatoes in an Optavia diet, but just be mindful of the portion size.
Tomatoes come in all sorts of different shapes, sizes, and colors. In fact, one of my favorite Optavia fueling substitutes is cherry tomatoes.
One cup of raw tomatoes (180 grams) provides 36 calories (4).
6. Vegetarian options
If you're living a plant-based lifestyle, you can build your lean and green meals from variety of vegetarian options that are full of protiens and low in carbohydrates.
These include:
Egg whites
Liquid egg substitute
Liquid egg whites
Seitan
Tofu
Tempeh
On top of that, Optavia also allows to choose some of the meatless products, such as veggie burgers, sausages, patties, eggs, and egg substitutes.
7. Healthy fats
According to Optavia guidelines, healthy fats play a crucial role in their 5 and 1 plan.
Not only they assist in the absorption of fat-soluble vitamins, but also have anti-inflammatory properties, which can aid in weight loss.
Some of the healthy fats that are allowed on Optavia plan include:
Avocados
Olive oil
Salad dressings
Olives
Nuts
Seeds
Here's a photo of an avocado that my wife brought home the other day (it weighs more than 150 grams!)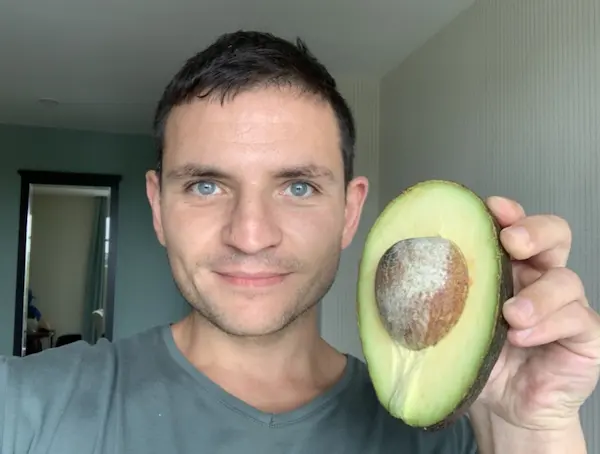 Before I started Optavia, I used to eat avocados every day like crazy (way above the FDA recommended serving size).
Now, not so much. I mainly use them for my sauces like guacamole. (We rarely buy salad dressings though.)
According to Critical Reviews in Food Science and Nutrition Journal, avocado oil consists of 71% monounsaturated fatty acids, 13% polyunsaturated fatty acids, and 16% saturated fatty acids, which helps to promote healthy blood lipid profiles."
8. Frozen meals
Eating frozen meals can be a great option for Optimal Weight 5 and 1 plan, especially for those who are short on time or just looking for a convenient solution.
(Especialy if you hate cooking your lean and green meals from scratch.)
These include:
Frozen dinners
Frozen entrees
Frozen seafood
Frozen vegetarian meals
Frozen diet meals
Frozen pot pies
And let's not forget, some Optavia friendly frozen meals are specifically designed for weight loss, with lower calorie and fat content.
Just be sure to choose carefully.
I recommend looking for meals in the ballpark of 300-400 calories, with at least 25g of protein and less than 20g of carbs.
Also, look for meals made with whole, natural ingredients. And always read the label as some can be high in sodium and preservatives.
9. Optional snacks
According to the Optavia rules, if you're following the 5 and 1 plan, you can have one snack per day.
When it comes to calories and portion size, the Optavia optional snacks should have approximately 50 calories (or less) and (ideally) as many protiens as possible.
A good choices include:
Boiled eggs
Cucumber sticks
Tomato cherrry
Low-fat cottage cheese
Celery sticks
Snap peas
Nuts
I like to use mixed nuts as an optional snack, as well as condiments for my lean and green meals, especially for salads or breakfast cereals.
Here's how my wife likes to serve nuts and dried fruits.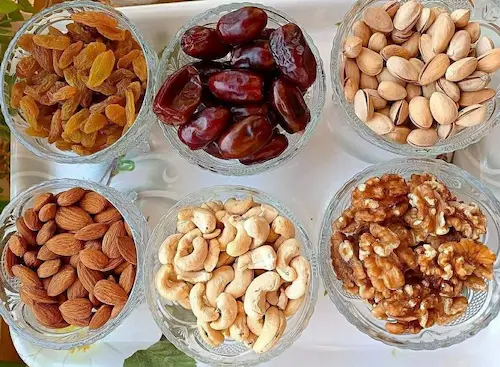 (Obviously, we don't eat the whole bunch at once.)
Instead of eating whole nuts, I often blend them.
(Yes, it's weird, but it doesn't make me feel guilty.)
Nuts are loaded with calories, so I like to sprinkle them on my salads for extra crunch.
They're satisfying and filling, but not in a way that makes me feel sluggish afterward. I also like that they're good for my digestion and stomach issues.
For me, low-calorie snacks has always been part of a healthy and balanced diet.
However, I don't use snacks to keep me full all day long.
I only have them when 5 fuelings and 1 lean and green meal don't fulfill my hunger during the day.
I try to avoid snacking when emotions such as boredom, loneliness, or worry trigger it.
10. Selected condiments
Becasue my family has a health history of diabetes, we don't keep any hydrogenated vegetable oils in our home.
As a part of my kitchen makeover, I decided to throw all vegetable oils and replace them with extra virgin olive oil.
I use olive oil, mainly as an Optavia condiment and/or healthy fat for homemade salad dressing.
Here's a photo of the olive oil that I buy in the local grocery store.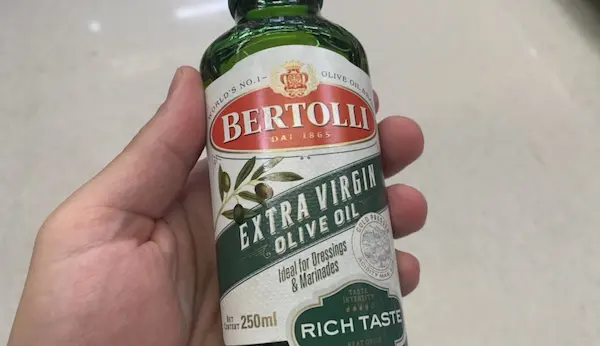 One tablespoon of this olive oil, which is around 14 grams, provides 126 calories (5).
What is not allowed on the optavia diet?
Now let's talk about what is not allowed in Optavia weight loss phase.
These foods typically tend to be higher in calories, carbs, or have other ingredients that kicks you out of fat burn state.
Just keep in mind, some foods listed below are okay in the maintenance plan, but don't make the cut in the 5 & 1 plan.
Here is the list.
Fruits
The most controversial food item that is not recommended in the plan, yet I love it to bits, is fruit.
As much as all fruits and vegetables promote healthful eating, Optavia 5 and 1 plan eliminates all types of fruits from their diet.
These include:
Bananas
Mangoes
Pineapple
Grapes
Papaya
Melons
Peaches
Oranges
Cherries
Kiwi
"Eliminating fruit from the meal plan helps to lower sugar intake and enhance weight loss results," according to Optavia guidelines.
That being said, I love to enjoy fruit, even when doing weight loss plan.
Here's how I like to snack on fruits.
Instead of eating the whole thing at once, I often cut the whole orange in half and then slice it, just like in the picture above.
This way I can enjoy the fruit for longer, and (most importantly) share it with others.
I never drink orange juice because it's loaded with sugar.
While they are available year-round, I prefer to buy them in the season (between November to April).
One medium size orange (154 grams) provides 77 calories (6).
Grains
Yes, you can forgot about eating grains on Optavia. According to their rules, grains have more carbohydrates and should only be introduced during the transition phase.
These include:
Rice
Wheat
Corn
Barley
Oats
Millet
Quinoa
Rye
Buckwheat
Flax
Lentils
Although I know these are not allowed, I must confess that I quietly include some of them in my lean and green meals, especialy quinoa because it's high in protein.
I also include quinoa in my homemade Optavia shakes, which I make every time I run out of Fuelings.
According to the Journal of the Science of Food and Agriculture, "quinoa contains phytohormones and work as cofactors in antioxidant enzymes, adding higher value to its rich proteins."
Plus, it's an excellent source of fiber and several other vitamins and minerals.
One cup of cooked quinoa (170 grams) provides 204 calories (7).
And while grains and wheat products, like bread, aren't allowed on the 5 and 1 plan, fortunately for us, there are many companies that produce low-calorie bread alternatives that can be used on Optavia.
Alcohol
Unsurprisingly, you cannot drink alcohol on Optavia, mainly due to the fact that it can lead to poor food choices and overeating.
However, most of the studies about alcohol and weight loss and not conclusive.
According to the study published in the Nutrition Reviews Journal, "drinking a small to moderate amount of alcohol, especially wine, may help prevent weight gain. However, drinking spirits has been linked to weight gain."
And, while I've noticed that 1-2 drinks can disrupt my sleep patterns, I do enjoy a gin and tonic with my wife after work on occasion. 
Bacon
Unfortunately, on the 5 & 1 phase of the plan, bacon may not be allowed due to its high-fat content.
However, turkey bacon is an excellent substitute! It has a similar flavor as traditional pork bacon but with fewer calories and less fat.
References
U.S. Department of Agriculture, Agricultural Research Service. FoodData Central, 2019. fdc.nal.usda.gov.